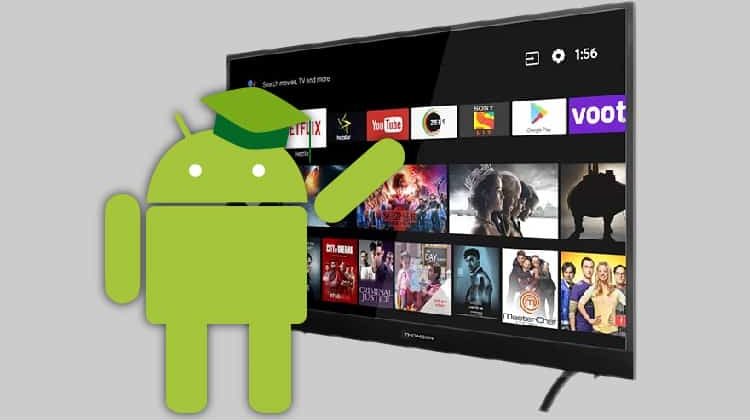 Far are the times when we have to take a look at the channels programming time-table to find out when our favorite TV show or movie will be aired. In this article, we'll tell you all you need to know about Android TV to enjoy this new amazing streaming era.
Home entertainment is not complete without a smart TV. Nowadays, you need a smart TV with the power to handle all entertainment tasks without relying on other accessories. Not many smart TV platforms have harnessed this power, but Android TV is an exception. Android TV is an all in one platform that can reliably perform various smart TV functions. With Android TV, you can install apps, cut the cord, go hands-free, and it plays well with other smart devices. Curious to know what else Android TV can do? Here is all you need to know about Android TV.
What is Android TV?
From the name, it is a no brainer! Android is Google's operating system for smartphones. Android TV is the modified version of this operating system specifically designed for smart TVs and TV boxes. This smart TV platform is not that different from the original Android in smartphones. In fact, Google has retained major functionalities and features. Notable differences include the ability to work with big screens, support a 4K plus resolution and the integration of smart TV functionalities.
Google has partnered with several TV manufacturers who use Android TV platform on their smart TVs. Notable Android smart TVs include Sony, Sharp, and Hisense among others. In addition, Google offers this platform to TV boxes and digital media manufacturers such as Nvidia. Some of these manufacturers might tweak Android TV to their liking while others offer the stock version.
Android TV features
Android TV sports unique features that differentiate it from other competitors. In this all you need to know about Android TV article section, we will look at the features that are available in the stock version. Most smart TV manufacturers have tried their best not to strip these features even when they are tweaking the platform to fit their needs. The features include;
Built-in Google Assistant/Voice search

Similar to Android devices, you can use voice commands to control Android TV. However, for this functionality to work, your Android Smart TV must have compatible hardware like a remote with a built-in mic.
Android TV uses Google's digital AI; Google Assistant, which uses voice commands and phrases. To access Google Assistant on Android TV, say "OK Google" after pressing the mic button. You can use Google Assistant to plan your day, play content, discover content via search, and get answers to any queries it can be able to handle. Additionally, you can also use Google Assistant to control your other smart devices without leaving what you are watching. How cool is that?

Apps, content, and games

Android TV gives you the ability to install an overabundance of apps – of course; this depends on the onboard storage on your smart TV. Android smart TVs come with a built-in Google Play Store designed for Android TV. This Play Store provides TV compatible apps and games. Depending on the hardware capabilities of your Smart TV, you can also install and play games. The store also offers movies and music.

Built-in Chromecast

Besides Google Assistant, Chromecast is one of the unique features that Android TV offers. Using this feature; you can watch anything such as videos, photos, and even listen to music on your smart TV from your other devices such as your mobile phone and computer. Most smart TV platforms offer limited cast functionality. To truly cast content to these other smart TV platforms, you will need a Chromecast HDMI dongle.

Sleek design and tailored content

The launcher incorporated with Android TV offers a uniquely intuitive user interface with everything you need presented neatly. Settings, apps, and voice search functionalities are easily accessible from the home screen. Android TV also recommends content to watch on various apps.
Get started with Android TV
Now on this all you need to know about Android TV article we have to say that getting started on Android TV is an easy and straightforward task. The process is similar to that in Android smartphones. If you are not familiar with the Android realm, worry not.
To get started with Android TV, you need an Android smart TV or an Android TV box.
Note: not all Android smart TV/TV boxes come with the stock Android TV platform. You might get a modified version depending on the manufacturer. Smart TV/TV box manufacturers who have a partnership with Google offer the stock Android TV platform with minimal alterations. They include; AirTV, Hisense, NVIDIA, Philips, Sharp Corporation, Skyworth, Sony, Xiaomi, among others.
Setting up Android TV
Just like any other smart TV platform, Android TV requires an initial set up to function correctly. Most Android smart TVs will have a walkthrough to guide you. If there is no walkthrough, here is what is required to successfully set up your Android TV.
Take care of all prerequisites such as a power connection, HDMI connection, and Internet connection via Ethernet and turn on your TV/ android TV box. If you have no Ethernet, you will have to connect via WIFI. The TV will ask you for your google account; it is necessary for accessing the Play Store and Google Assistant. You will also be required to set some preferences. The process is short, hassle-free and in no time, you will be at the home screen of your Android smart TV/ android TV box.
Using Android TV
The Android TV home screen/launcher presents you with all the features that you need to operate your Android smart TV/box. The essential ones, such as Settings, apps, and voice search functionalities, are neatly arranged on the home screen. You can use the remote or voice commands to navigate and control your Android TV. Using voice commands via Google Assistant lets you do more with your Android TV while freeing up your hands.
How to use Google Assistant on Android TV
As mentioned earlier, Google Assistant is an AI virtual assistant that works with voice commands. In Android TV, it is like a hands-free remote. The physical remote that comes with the Android smart TV/box has a dedicated Google Assistant button with an inbuilt mic.  Press the button and say "OK Google" to invoke/wake the Assistant.
Alternatively, here are some common phrases to use and do more with your TV's Google Assistant;
To open an app say, "Open [app name]"
To control media say, "Play," "Pause," "Resume," and "Stop" while watching or listening to music.
Besides the remote, you can also control your Android smart TV with your smartphone's Google Assistant provided you have an updated Google app. To use your phone as a remote, connect to the same network, open the Google app on your smartphone, and say, "Set up my Assistant device" and follow the on-screen prompts.
Installing Android TV apps and games
Apps provide the backbone of what content you enjoy on your Android smart TV/box. Android TV offers various methods for installing apps. The official method is by using the Play Store. Google Play Store has a plethora of apps optimized to work with big screens. The Play Store offers different categories of apps and what's more, there is access to various games. For a cord cutter, Google Play Store lacks many useful apps. The workaround is to sideload apps.
Sideloading apps is the unofficial way of installing apps, especially those that are unavailable in the Play Store. Sideloading can be done in various ways such as using a file explorer, a downloader or by using an unofficial app store.
Here is how to sideload apps on Android TV/box.
Popular Android TV apps
Streaming and entertainment apps are the most popular Android TV apps. They are followed closely by utility/productivity apps. These apps can be installed from the Play Store or via side loading. Other apps, such as popular streaming platforms such as Netflix are pre-installed. Some of the best streaming and productivity apps include;
A VPN app

Android TV is designed to interact with the internet. Almost all apps on Android TV get their content from the internet. To protect your connection and unlock more content, you will need to install a VPN on your Android TV. A VPN encrypts your internet connection, and this makes it invisible to prying eyes such as your ISP and other third parties. A VPN also tunnels your connection to various server locations. Depending on the server you connect, your apps will get content from those locations. By doing this, a VPN helps you bypass geo-restrictions and unblock content worldwide.
Here are the best free and paid VPNs for Android TV.

Kodi

Kodi is the ultimate full-featured media center for home entertainment. It sports an elegant user interface, fluid navigation and can organize and consolidate your media. It is also capable of playing any media content you throw at it. This Swiss army knife of streaming gives you the freedom to watch almost any content. To get the most out of Kodi, you need to install various add-ons. To avoid treading in the grey areas, always use Kodi with a VPN, especially when you are using third party add-ons.
Here are the best Kodi add-ons to use on Android TV
Other apps include; Puffin TV, AirScreen, VLC Media Player, Cinema APK, MediaBox HD, Apollo TV, Titanium TV, among others.
Here is a complete list of streaming apps to load on your Android TV
Best Android TVs
In this article about all you need to know about Android TV, is important to mention that there are a lot of Android Smart TVs/ boxes in the market. Several brands have different models with various features. If you are interested in an Android smart TV/Android box, you might find it hard choosing the right one.
Fortunately, for our readers, we have a list of the best Android Smart TVs and Android Boxes.
Additionally, here is a list of New and upcoming android TVs.
Wrap up
Android TV is one of the best-updated TV platforms; it is also getting better and better after each update. Apart from its useful features, Android TV is the best option if most of your devices are from Google. Android TV integrates well with the Google ecosystem. Additionally, Android smart TVs come in different models suitable for everyone. If you already have a smart TV and want to try out Android TV, you have the option of using an Android TV Box for a small investment.
We hope to have efficiently exposed all you need to know about Android TV and helped you start with this new streaming era. If so, please rate, share and give us your feedback.
Have a great day!
[kkstarratings]