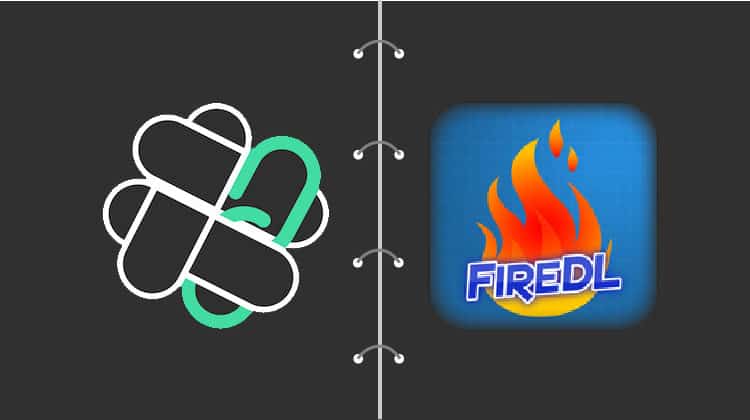 We can all agree that the whole process of knowing the best apps to download, getting their links, downloading, and then installing them on Firestick or Android TV is quite time-consuming. Heck, it even sounds tedious. This is why we usually provide you with updated guides on the latest streaming apps and addons.
But apart from the specific apps, there are other important utility apps that facilitate this entire process of sideloading apps. Besides the official Downloader app, the two main ones are FireDL and Filelinked.
These two apps are often mentioned together as they work similarly. However, they are different, and their suitability lies in their differences. In this guide, we break down both options by putting Filelinked vs FireDL to help you understand their ins and outs.
⚠ Caution: Mind your Activities!
Streaming is always a sensitive issue, especially when it comes to free streaming apps. Although both FileLinked vs FireDL provide access to hundreds of streaming apps, none of them host any of the files that you can download.
This helps them avoid any liabilities, and so should you. Whenever you streaming anything using third-party apps, you need to always use a VPN. This will help you ensure that your activities are kept private and that your connection is anonymous. This way, you won't find yourself in a copyright infringement mess.
The VPN we recommend
At BestDroidPlayer, we recommend that you go with Surfshark for all your streaming activities. Here is why:

⚡ Superb Speeds: Guarantees a smooth live streaming experience.
🌍 Huge Server Network: You can connect to a nearby server for a fast and stable connection.
😲 UNLIMITED Devices: Connect dozens of devices at the same time!
🔑Unblock Anything: Safe access to censored apps, websites and torrent sites.
😎 Best in Privacy: The VPN doesn't keep any activity logs, and so your activities are only known to you.
🔐 Top-notch Security: This VPN uses AES 256-bit encryption and provides multiple protocols alongside other security features such as a kill switch, DNS & IPv6 protection and WireGuard.
💳 30 Days RISK FREE Money-Back Guarantee: In case you do not like the service, you can get every penny back if you cancel within 30 days!
We are currently offering a 82%
on the VPN!
This makes this premium VPN to be available at an excellent price
:
Special Offer: $12.99 $2.30/month
30-Days Money-Back Guarantee
For a better understanding, we are going now to explain what are and how they work, so we can finally choose between FileLinked vs FireDL.
What is FireDL?
FireDL is a third-party tool that allows users to download and install streaming APKs using codes. Think of it as a downloader that uses codes instead of URLs to install streaming apps like Kodi and CinemaHD. For example, you only need the code "820807" to download MX Player.
Users could previously access and download FireDL from the Amazon App Store, but it was recently taken down. Now, you have to sideload the app on Firestick, but we have a guide that shows you how to do that.
If you are using an Android TV device such as the Mi Stick or Mi Box S, you can download Fire DL from the Google Play Store.
How FireDL works
FireDL does not come with any codes, and it's simply a downloader. After installing the app, you will get an interface that requires you to enter a code.
Once you do that, the app will automatically convert the code to a URL, and the app will then download your file. The only technicality here is that you will need the codes for each specific app you want to download.
FireDL codes usually last for 3 months, but you can always check for the latest at: https://aidymatic.co.uk/firedl.php
What is FileLinked?
FileLinked is another excellent way of downloading files for your device. The app is also a downloader, and it also uses codes to provide apps. However, FileLinked codes provide access to a wide variety of apps (sometimes more than a hundred), from APKs to Kodi builds. The app is not available on either the Google Play Store or the Amazon App Store, but we have a guide on how to install FileLinked on Firestick and Android TV.
How FileLinked works
Just like with FireDL, FileLinked code creators or developers create codes and link them with applications. However, FileLinked codes, link to stores instead of specific apps. Some developers set pin codes for their stores, whereas others share their codes without setting a pin.
Once you enter the code (and pin where necessary) on FileLinked, you can access all apps and files within that store.
This option is convenient and time-saving as you don't have to enter the codes for the individual applications manually one at a time (the main difference with FireDL).
However, as with almost everything on the internet, there is a possibility of your device getting exposed to malware. For this reason, we recommend only using FileLinked codes from trusted developers. This way, you can avoid downloading and installing a malicious file into your computer.
Check our guides of the best FileLinked stores.
FireDL: Which way to go?
If you are torn between the two, you don't have to. This is one of the cases where there is no right or wrong choice. The choice between the two simply comes down to whether you want to download a specific app or download multiple apps at a go. In the former, FireDL can do it for you, while FileLinked is most suited to those who want to explore multiple apps. But if both can work for you, why choose?
Have nice streaming!