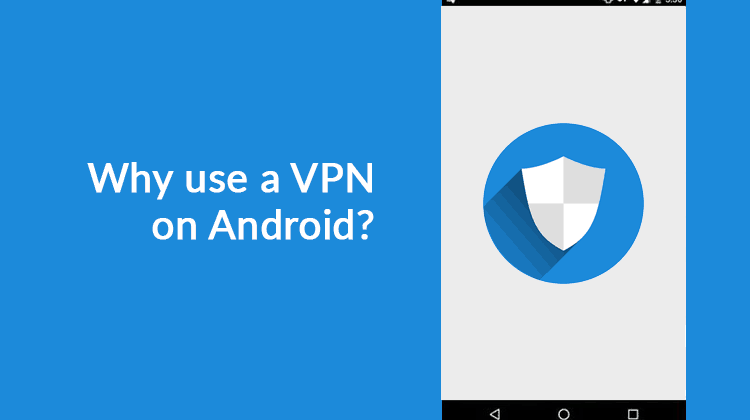 I guess you've been hearing a lot that you should use VPN on Android devices, but why?? On this article, I will give you 8 reasons why you should get a VPN to protect your device and data.
Let's start this discussion with some interesting words. Have you ever used an umbrella in the rain? Yes, just like an umbrella protects you from the heavy rain, similarly, use VPN on Android devices can protect you from the hackers attack.
Not interesting?…
Let's make it more interesting.
Have you ever heard that; always wear cond*ms while establishing a physical relationship with your girlfriend (grabbed your attention here ?). Because condoms protect you from various infirmity and pregnancy. In the same way, a VPN protects you from various security thefts and give you access to restricted web pages and streaming websites.
What is a VPN?
VPN stands for "Virtual Private Network" which using high-security firewalls and encryption techniques which allow users to avail various features while using on their device. There are various free as well as premium VPN providers offering the encryption service to users. But, the free version may compromise with security and features. So, it's always advisable to use a highly secure VPN software, if you are downloading or streaming copyrighted files over the internet.
How VPN's Works?
I know, you are curious to know that, how VPN's works. So, let me explain the working process of a VPN with the pictorial representation. Please see the image below and try to understand how VPN's protect yourself from hackers and theft protection.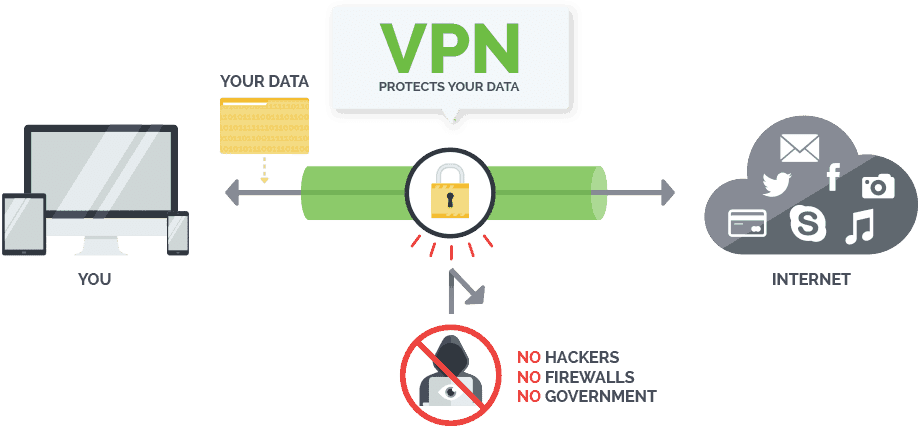 Have you got any idea? No…?
Let me explain this in simplest words. From the above figure, you can see that; there are three main stations from where your data passing through. Whenever you are not using a VPN and trying to access any file or data on the internet, all your activities are public. It can be monitored by the ISP (Internet Service Provider), hackers and government officials.
It means, anytime your data can be seen or access by hackers and government. But, when you enable an extremely secure VPN on your device; it'll generate a virtual IP address to the public. Now, your original data are safe and can not be accessed by hackers. The IP address available publically is already secured by various security encryption and firewall filters which is almost impossible to hack.
I hope you understand, how a VPN software protects your data and hide your online activity on the internet. Now, let move to know the benefits of using VPN software on Android phone.
8 Reasons Why You Should Use VPN On Android
So, when you see the title of this post, you'll understand that; our main topic is about the features and functionalities of VPN's on Android smartphones.
#1- Access Blocked Web Pages
The very first reason to use a VPN on Android is to access blocked web pages on the internet. If you are a movie lover (I am ?) then you might have experienced that, some movies are blocked on various popular movies apps like Hotstar and Netflix. Sometimes, YouTube and Facebook are also blocking some particular content in a particular location or countries. With the help of a VPN software on Android, you'll be able to access those web pages.
#2- Bypass ISP firewall filters
Another weird issue I experienced is, many ISP's (Internet Service Providers) put some filters on their firewall. Due to which, users unable to access lots of useful and entertainment stuffs online. This problem especially occurs when you are connected with your college or university Wifi. A strong VPN will bypass all those firewall filters and you can able to open whatever the websites you want.
#3- Hide your IP address
The primary purpose of using a VPN is to hide your IP address. Every device which is connected to the internet has a unique IP address. This is the identity of your device and everything can be traced using your IP address. IP stands for Internet Protocols which is the primary element to leak your identity. Using a VPN software will replace your IP address completely.
#4- Protect your device from hackers
If you want to protect yourself from the hackers then it must be recommended that, uninstall any unauthorize tools and apps on your device and use a premium VPN app on Android. Hackers always target you from your IP address. Once they know your IP, they directly attack your device. As, Android OS is not that much secure, all your data will be leaked. But, by using a VPN, you can replace your public IP address and whenever hacker tries to hack, they need to face high-security filters being offering by your VPN provider.
#5- Remove Geo-redirection
Many times you faced that, Google redirects you to their secondary URL as per your country location. Just like, whenever you open www.google.com from the Indian IP, it will automatically redirect your to www.google.co.in because you are trying to open it from India. If you don't want this redirection then a VPN will help you in this.
#6- Faster Internet Speed
You can boost your internet connection speed just by connecting to a fast VPN provider. I've tested various VPN services but found that, Express VPN is fastest among others. So, with the help of a VPN, you can speed up your downloading and streaming task.
#7- Protect your identity
Your data may be leaked and misused by any hacker. So, it's always advisable to use a VPN which provides high-security encryption. You can protect your identity while accessing pirated software, copyrighted files and torrent websites.
#8- Unblock Streaming Sites
India has banned various movies streaming sites which are violating copyright policies. If your favorite movie or tv show is available on that particular site which is blocked by your ISP then you can unblock it with the help of VPN. Just, connect your VPN to a different country and try to access that website.
The VPN we recommend
For all the reasons mentioned above, we strongly recommend the use of a Good VPN like Surfshark. You may use a free vpn but you'll end up thinking it doesn't worth the try, because somehow they leak in some important requisites like Speed geographic distribution or Zero-logs policy. Contrary, Surfshark is the most fast and reliable VPN service in the market as gives you Unlimited Bandwidth it has more than 1.100 servers and 40.000 IPs in 60 countries around the world, a Military class encryption, a solid Zero-logs Policy and, best of all, you can use it in up to 10 devices at the same time with a single account. Our trust on Surfshark is so strong that we've negotiated an exclusive discount of 82% to our readers. So, go ahead and grab it now!
Save 82% of Recommended VPN
Disclaimer: We are not encouraging anyone to spread piracy in any way. This tutorial is just for educational purposes so that you can understand about your data leakage and protect your data online. If a person will try to do any illegal activity, he/she is solely responsible for his/her activity.