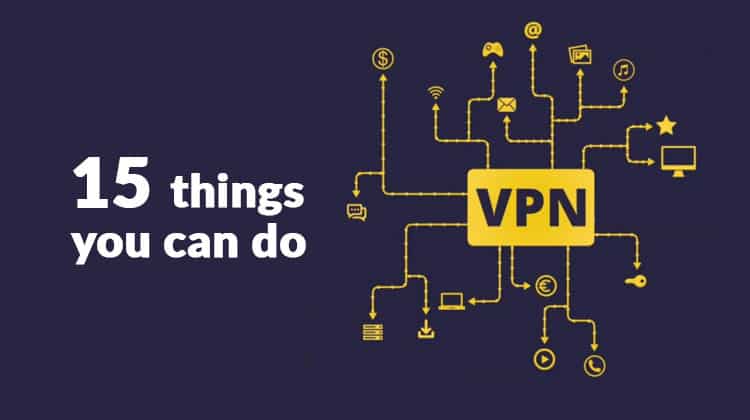 Long gone are the days when VPN services were associated with large corporations and paranoid internet users. Today, they have become a necessary tool for the average internet user.
Most of us are familiar with the use of a VPN for privacy reasons amid the ever-increasing ISP monitoring and government surveillance, as well as for accessing blocked content. A VPN is, however, worth much more than that, and you can use it for so many cool things. Today, I will show you 15 awesome things you can do with a VPN.
How a VPN Works
To make everything we are going to discuss possible, VPNs operate by coming in between your ISP and the internet.
When you connect to a VPN server, your VPN first encrypts your traffic to make it appear as a garbled mess to your ISP and any other party that may be monitoring your activities. It then forwards this traffic to the VPN server in a location of your choice. From there, you are then connected to the internet.
Since you are accessing the internet through the VPN server, your original IP address is spoofed with that of the new server. This means that your identity on the internet is completely changed, and you will also appear to be in a different location – the location of the VPN server you chose.
With the tips below, you can take advantage of these functionalities to enhance your online experience.
My Personal VPN of Choice
My VPN of choice is Surfshark – It's very secure, doesn't keep logs of your traffic, and it's probably the fastest VPN out there, which is very important for streaming and gaming. That's why I recommend this VPN on our streaming-related blog.
Also, because I really like Surfshark, I've negotiated a 82% discount for our visitors. Click here to get this discount.
Top 15 things you can do with a VPN
1. Prevent ISP Tracking
One of the first things that a VPN will help you accomplish is escaping from the prying eyes of your ISP. ISPs are required by law to monitor and keep logs of all online user activities, and even those that are not required still do this.
The data your ISP collects about your activities can be used to create a profile of you and what you like to do or access the internet during a particular time. It can also be accessed by the government and other authorized agencies without your permission. And worst of all, ISPs are free to sell your data to the highest bidder!
2. Access the web anonymously
Whenever you access the internet, your IP address gives information about your location and your ISP. Everything you do on the internet can therefore be traced back to you through your ISP.
Since a VPN spoofs your IP address, the address collected by online resources can't reveal your real identity, and it also can't be used to profile you. These IP addresses are usually shared between hundreds of users, making it almost impossible to associate a particular user with particular activities.
If you need more anonymity such that you can't be traced with a court order through your VPN service provider, you need to use one that keeps zero connection as well as usage logs. The best of these are Surfshark, IPVanish, ExpressVPN, CyberGhost VPN, and NordVPN.
3. Save money shopping online
Online marketers and advertisers use various techniques to make sales online. One of these techniques is geographical segmentation, where the same goods are provided to different areas at varied costs.
This kind of segmentation is mostly dependent on the economic level, and the difference can be lots of money. For example, hotel prices, car rental rates, and plane ticket prices are mostly provided depending on where you are accessing from. You can use a VPN to switch your location and buy the same goods or services at a lower price. You can also avoid price steering by clearing your cookies and using a VPN.
4. Stay safe on public Wi-Fi
We all love public Wi-Fi, but unfortunately, most people are unaware of the dangers posed by such connections. These connections are usually unsecured and are a haven for hackers, as they can easily steal user data and even plant malware.
Some hackers even go ahead and provide evil twins which are fake hotspots disguised as legitimate business Wi-Fi, just to lure in users. Once you connect, they can then intercept data that you are sending through the connection, which in most cases will be plaintext. Once you connect to a VPN, all the data you send through the connection will be encrypted, meaning hackers can't intercept it, and neither can they establish a connection to your computer.
IPVanish VPN sends you a notification every time you connect to an unsafe Wi-Fi connection, so you can easily turn on your VPN and protect your data.
5. Unlock more Netflix Titles
Streaming services usually impose geo-restrictions to determine who can access what on the service. Netflix, the most popular streaming service, is quite notorious for this. The streaming giant provides a custom catalog for all the 190 countries where it's available.
For example, according to Finder, Netflix US currently has 13,500+ titles. Out of these, only about 40% are available in the US, with the UK (the second-largest catalog) having just about 22%. Some countries even have just about 5%!
The good news, though, is that you can unlock more Netflix titles by changing your virtual location. For example, to access titles available in US, you only need to connect your VPN to a server in the US. The problem with Netflix is that it blocks most VPNs, so you will need a VPN capable of bypassing these VPN blocks. The best VPNs for Netflix are:
All the above VPNs provide SmartDNS, so you will be able to change Netflix country even on Smart TVs and consoles! They also come with a 30-day money-back guarantee.
Check here our article of how to unblock Netflix.
6. Access Geo-Restricted Content
Apart from Netflix, which plays with the content, lots of online services are only made available for specific regions, regardless of whether you have a subscription or not. A good example is BBC iPlayer which is available in the UK for free, but users outside the region can't be able to access it.
These geo-restrictions apply across many other services such as Disney+, Amazon Prime Video, HBO Now, Hulu, DAZN, Hotstar, Sky Go, etc. You can, however, unblock all these services by simply connecting to a VPN server located in the region where the specific service is available.
7. Bypass Government Censorship
Governments across the world have been keen on determining the content that their users can access. This ranges from mild censorship such as banning torrent sites or the controversial UK porn ban, to full-scale censorship, like the Great Firewall of China (GFW).
Either way, users can still use a VPN to access the internet as if they are from another country, effectively bypassing all government-imposed restrictions. However, you will need to go a step further if you are in highly restricted countries such as China, UAE, and Iran, among others.
These countries use Deep Packet Inspection (DPI) to block VPN traffic, rendering most VPNs useless. In such countries, you will need a VPN with obfuscation capabilities to disguise VPN traffic as normal HTTPS traffic. Some of the best at this are:
SurfShark VPN: Has a feature called NoBorders, a mode that obfuscates your VPN traffic when enabled.
ExpressVPN: The VPN has a website on the dark web, and it is the most reliable VPN in China.
NordVPN: Has labeled obfuscated servers. Just connect, and you'll be good to go.
All the above VPNs let you try out their service with a money-back guarantee to ensure that it works.
8. Access your home network
Some VPNs provide dedicated/ static IP addresses that can be used to establish a remote connection to your home network. Once you set it up, you can be able to access devices on your network, such as security cameras, computers, NAS devices, Raspberry Pis, etc. This will make your life easier as you won't have to worry about the distance, and you will also be accessing the internet through a network that you trust.
To access your home network, you will need a VPN that offers dedicated IP addresses. The best of these are SurfShark VPN, CyberGhost, and NordVPN.
9. Avoid Copyright Infringement notices
Governments and copyright agencies are keen to monitor piracy on the internet, and to do this, they use the logs collected by your ISP. Copyright trolls also monitor files on the internet then track you down using your IP address, and they may then send a DMCA notice to you or the ISP. Others may pretend to be legitimate parties acting on behalf of copyright owners just to make you cough up some good money.
To avoid all these issues, you can stream online, torrent, or download content using a VPN.  Since your activities will be encrypted, the only thing that your ISP can know is that you are connected to a VPN. Copyright trolls, on the other hand, won't be able to track you down since you are not using your real IP address.
10. Access your bank outside the country
Banks and other monetary institutions like PayPal are usually keen on IP addresses as a way of preventing fraud. If you are traveling, you will need to be careful with your online payment methods; otherwise, you can easily get blocked. Some banks won't even let you log in to your portal unless you are in the country.
This can be easily solved by using a VPN. If you are outside the country, all you need to do is connect to a VPN server located in your home country. The VPN will then give you a home IP address, and you will gain access without raising any suspicions.
11. Bypass ISP Throttling
ISPs are known to have a tendency to throttle internet connections, especially when a user consumes a lot of bandwidth. This can happen when using services such as torrenting and gaming or even watching Netflix or YouTube.
This kind of throttling is hardly noticeable when browsing, but you will start to notice that your streams are no longer in HD or your downloads have become slower. Actually, the issue with ISP throttling led Netflix to introduce its own speed test site, fast.com. This way, users can know when the ISP is slowing things down deliberately.
To prevent ISP throttling, all you need to do is connect your VPN. When your traffic is encrypted, they won't be able to analyze it and slow it down.
12. Save Money on Skype and VOIP Calls
VOIP services like Skype provide a fantastic way of making long-distance calls. These services are easy to use, and they are cheaper than traditional long-distance calls. However, VOIP calls can also be expensive depending on your country, and they vary from country to country.
You can get around this by using a VPN to change your location. VOIP services will just read your IP address and then give you the rates used in your virtual location. This will also be helpful in countries like the UAE, where VOIP calls are blocked to force residents into using expensive government-owned services.
13. Enhance your gaming experience
You probably don't know this, but a VPN can be super useful for gaming. Gamers can use a VPN to enhance their gaming experience through:
Early access to game releases
Accessing blocked games. For example, the hugely popular GTA franchise is banned in over 50 countries!
Preventing DDoS attacks – when things get too competitive
Changing your playing region – compete with opponents from a different region
Improving latency – by connecting to a server near the game servers
Avoiding ISP throttling
Although using a VPN for gaming can have an impact on your connection, this will be pretty much non-existent if you have a good connection.
I recommend IPVanish for gaming as they have the fastest servers.
14. Protect your IoT Devices
Most IoT devices are not created with security in mind due to their highly restricted resources. This makes it easy for hackers to access your devices such as home cameras, smart TVs, air conditioners, etc. These devices can then be used as part of a botnet to conduct illegal activities.
When you have a VPN, you can set it up on your router to ensure that your network is encrypted. After that, any attack attempts will be directed against the VPN server, ensuring that your devices aren't accessible outside the network. To avoid the inconvenience of having your whole network encrypted, you can segment it.
15. Get more from 'free' services and accounts
You may have been to sites that limit the number of times you can access content, such as articles or how many accounts you can create. These sites do that using your IP address. By changing your IP address multiple times with a VPN, you can create as many accounts as you want or access content without limits.
Wrap up
A VPN is one of the most useful cybersecurity tools you can have today. With one of the best VPN services mentioned above, you can secure your data, restore your internet freedom, and do so much more than is normally possible. You can choose one depending on your needs and unlock new possibilities!
My personal choice is Surfshark. I've used it for many years and never had any issues. You can also get 82% off using this link.