Many totalitarian governments like to censor content for political, religious, or ethical reasons. Some of the most popularly blocked sites are social media platforms, and Facebook is on the forefront as the most popular social media platform. With the social media platform presenting an opportunity for expressing views divergent to government positions, more than fifty countries have ended up blocking it.
If you are traveling to a country that blocks Facebook, you will need to circumnavigate the censorship. One of the most popular techniques used by residents in highly censored countries is Tor. To help people access the platform Facebook provides a .onion mirror site that you can access Facebook on the deep web.
How to unblock Facebook via Tor
Tor (The Onion Router) is a network of decentralized servers that allows access to the dark web, a part of the internet that can't be accessed via regular browsers.
This part of the internet, the dark web, is beyond the censorship of governments since it is decentralized and uses anonymous servers provided by volunteers across the world. Once you connect to the network via Tor, you can then access dark web resources without restrictions and unblock Facebook. You will also get to enjoy better security, anonymity, no tracking, and no advertising to name but a few.
Step 1: Connect to a VPN First
Governments that practice high levels of censorships are keen to monitor user activities, and these include connecting to the Tor network. Even though Tor already offers anonymity, it doesn't guarantee your privacy. You need to ensure that before you connect to Tor, you are not using your ISP's IP address, and anybody monitoring you can't know that you are using Tor.
By connecting to a VPN first, you are essentially creating a connection referred to as Tor over VPN. It is the most secure and popular way of connecting to Tor; it ensures that you are already private and your traffic is encrypted before you enter the network,. To use Tor over VPN, ensure that your VPN is connected to a server before you launch the Tor browser. Advisably, also activate the kill switch option for maximum privacy.
The required VPN features for a Tor over VPN connection
To ensure that you are private and secure, you will need a VPN that:
Does not keep any connection or usage logs
Uses AES 256-bit encryption
Has a huge server network
Is super-fast
Apart from that, it's important to note that some governments block VPN access; so, you will need a VPN with obfuscation capabilities to disguise your VPN traffic as regular HTTPS traffic.
The VPN I Recommend
The service that best meets the above criteria is ExpressVPN. The VPN is based outside the 14-eyes regions, and the region's laws do not require it to keep any logs. It also has a huge server network that the provider has distributed across the world. Such facilitates great speeds due to the less connection distance.
As for security, ExpressVPN uses the recommended industry standard encryption, and it enhances this through other important security features such as a kill switch and a IPv6 & DNS leak protection.
At the moment, ExpressVPN is providing a 49% discount which you can take advantage of through the link below.
Step 2: Download the Tor Browser
Tor browser is a variant of the Mozilla Firefox browser which the Tor Project developers have specially configured to provide access to the Tor network. The browser is available for various platforms; this includes Windows, macOS, and Linux. There are also mobile versions for Android and iOS.
However, most governments have blocked the Tor website; so you will need to connect your VPN first. Even in countries where it's not blocked, it's advisable to use a VPN to avoid raising any suspicions.
After that, just download and install the Tor Browser.
Step 3: Connect to the Tor Network
Once you have already connected your VPN and installed the Tor Browser, you can now open it. Upon opening, the browser will automatically start connecting to the Tor network. This may take several seconds. It will then open the page below.

Step 4: Connect to Facebook .onion domain to unblock Facebook
Now, you can type in Facebook's .onion address, https://facebookcorewwwi.onion/
Loading pages on Tor won't be as fast as when you are using a regular browser, but it still isn't terrible even with a VPN. Once the site opens, you will find that it looks like the standard Facebook login screen.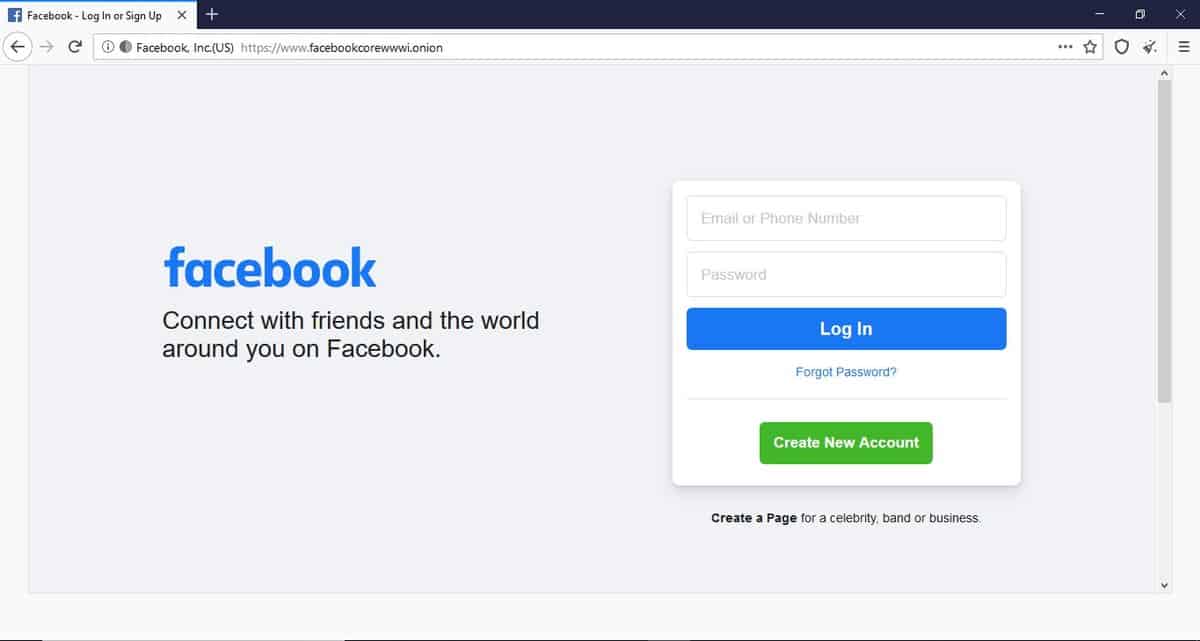 What else can I do with Tor?
Apart from the ability to unblock Facebook, there are lots of things you can do on the dark web that relate to unblocking content, browsing anonymously and securely, etc. These include using social media unrestricted, creating encrypted emails, joining chat rooms, making purchases, etc. You can check out our guide on the best deep web sites and directories.
See you later!