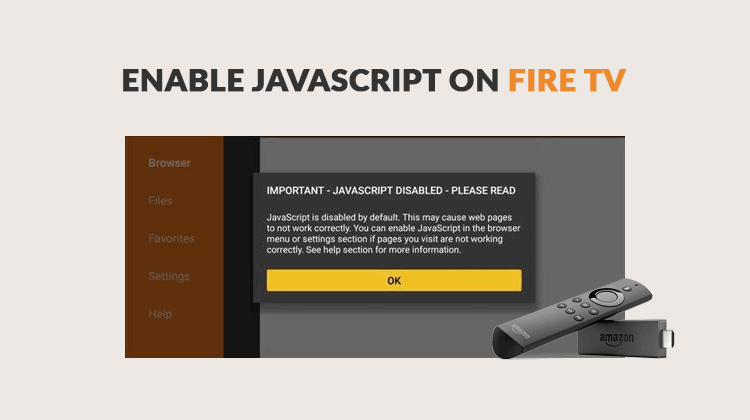 Enabling Javascript on Firestick and Fire TV is needed when you want to install unofficial apps on firestick or fire tv. In this tutorial, I am going to share how you can enable Javascript on Firestick and Fire TV.
Reports are coming in from some of our readers that users interested in installing unofficial APKs need to enable javascript on Firestick or other devices first. While I've not yet experienced these issues personally for the apps I've tried to install. This might occur for you so let's cover what you need to do and how to get it set up.
Before I get to that stage though, I'm just going to talk a bit about VPNs and why they matter. Whenever you use third-party and unofficial apps on your device, you need to have a VPN in place. Many of these apps access copyrighted content. And while you might not agree with the rules, you do not want to get penalized unnecessarily for accessing some of these streams.
VPNs setup a secure, and encrypted connection between your device and the VPN server. Any traffic passed over this connection is completely private and cannot be monitored. As such you do not need to worry about your internet connection being buffered or any nasty notices in the mail! When it comes to streaming video, the VPN I choose above any other is Surfshark.
Surfshark has clients for almost every device on the market (including the Amazon Firestick by the way) and is super easy to use and configure. Surfshark offers thousands of servers around the world to help you bypass georestriction issues. It is definitely one of the best options out there. Some great news for you though is the fact that we've managed to negotiate a special deal with Surfshark. Readers of our site get a 82% discount of the regular rate. You just need a simple click on the link and take advantage of the deal.
Enabling Javascript on Firestick & Fire TV
OK, let's get to the meat of the issue now. If you're using the downloader app (for example – our post on installing Kodi on the Firestick) to add new programs to your Firestick, you might have issues with Java. The downloader app allows you to access web pages and it's really these pages that causing the issue.
If you are being impacted by this, you only need to make a couple of changes to downloader to get you through this though.
Open Downloader > Settings
Select Enable JavaScript on the screen
Then select Yes when you get the pop-up warning.
Actually, that's it. There is no step 4! Pretty simple right?
Once you enable Javascript on Firestick with downloader you should have no further issues downloading and installing apk's from websites.