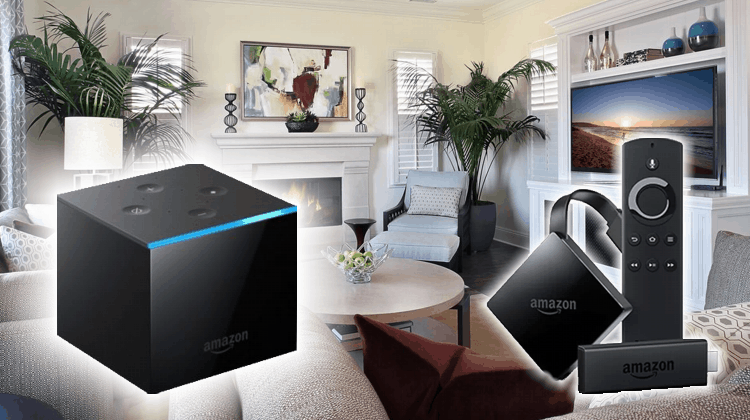 Fire TV cube is the remote streaming media player acquiring so much attention right now. In this article, we are going to discuss it's specifications, pros and cons, comparison with Fire TV and Firestick.
For those of you wanting more from your TV experience, the Amazon Fire TV Cube just might be what you're looking for. But, what exactly is it? Well, I'm glad you asked!
The Amazon Fire TV Cube which you can find here is Amazon's first hands-free streaming media player that comes along with Alexa, a virtual assistant created by the company (think of an Amazon version of Siri). This media system will elevate your entertainment experience; all you have to do is ask Alexa to turn on the TV and you're set. You can ask Alexa to do a range of different tasks from displaying various movies or television series options to controlling the lights and sound of your entertainment system – she can do all!
In this article, we will talk about its features, weigh out the Fire TV Cube's pros and cons, compare it with its predecessors, and tell you whether it's a good idea to invest in this product or not. Let's begin.
Specifications of Fire TV Cube
Let's be honest- the biggest attraction of the Fire TV Cube is Alexa's incorporation but when digging deeper into the specifications, you'll find a ton of great features. Its four mounted buttons offer volume controls as well as a button to physically call Alexa. There is a packaged Alexa voice remote, like all the other Fire TV gadgets, but obviously, you will be allowed to communicate without it. There's also a free mobile app to interact with the Cube.
The Cube combines Echo Dot, Fire TV Stick, and multi-directional IR emitters together. With its embedded eight mics, it enables you to use your voice to command Alexa with its far-field voice recognition technology. It also supports Dolby Atmos, 4K HDR videos, a speaker, and an LED light bar. Similar to the standard Fire TV, it has a 1.5 GHz processor, with double the internal storage at 16GB.
The product includes a one year warranty as well as a 2GB memory. It can support 2160p, 1080p and 720p up to 60 fps as well as HDMI 2.0a, Micro-USB, and IR ports. It also includes Bluetooth to be used with the Alexa Voice Remote or mobile app. Its audio is at a 7.1 surround sound with 2ch stereo. As for connectivity, in addition to the Bluetooth, you can easily connect it with your Wi-Fi with MIMO. If that's not enough, it also supports MP3 audio (up to 48kHz) and has a device operating system of Fire OS 6 which is based off Android 7.1.
Pros and Cons
Now that we're done with the features, let's move on to the highs and lows of the product.
Pros
The number one pro is, without a doubt, Alexa, because let's be honest: the major selling point of this product is the fact that Alexa can handle the job well without yelling at the top of your lungs because she cannot understand you. The Cube also connects to your cable box which basically means that Alexa can also tune into any cable TV channel that you want.
If that isn't a plus, we don't know what is! The Cube isn't only limited to your TV; you can get Alexa to access a whole range of smart household devices. It's actually very easy to set up. The product comes with a quick set up guide to the Cube and with its help, you can easily configure and connect the device with your TV in almost no time.
Cons
There are issues with connecting certain devices, and it can be very tiresome to give Alexa step-by-step instructions on what to do when asking for a few complex television tasks (You can't say "Alexa, please look for an interesting action movie for me"; it will only get annoying).
It does not include the necessary HDMI cable. There have been no updates offering Dolby Atmos content, or even a YouTube app. Also, there are too many ads- especially if you are not a Prime member. There are no voice controls on the remote which leads to our next problem, so you will need to ask Alexa.
The TV will stop working if you ask Alexa anything in the middle of watching a show or a movie, and that might be annoying.
Comparisons
Now we'll move onto comparing the Cube with its predecessors. This is integral to our article as it will determine whether the product is worth the buy or not.
Fire TV
Like Fire TV, the Cube offers 4K resolution, HDR support as well as over 5,500 channels and more than 1500 games. However, unlike the Cube, there's no ethernet adapter or built-in speakers to control Alexa. While the GPU, OS and storage RAM remains the same for both Fire TV and the Cube, the Fire TV has a lower internal storage system of the only 8GB (compared to the Cube's 16) and no internal speakers. The Fire TV does support Kodi so it is still quite viable as a low-cost entertainment option.
Fire TV Stick
Admittingly, the Stick is one of the most basic of the Fire TV range. It lacks virtually all of the Cube's dazzling features which includes the hands-free TV experience. And the Alexa voice control, internal speakers even a USB port for external storage. It even has a lower RAM of 1 GB and a much older OS (Fire OS 5) as well as only 1080p as its maximum resolution. Compared to that, the Fire TV Cube is phenomenal. That being said, the Fire TV Stick does support Kodi which dramatically increases its functionality.
Conclusion
In the end, we're going to answer the question everyone wants to know: should you get the Fire TV Cube? If you're the owner of an original Fire TV box, then this box is perfect.
After all, both hardware and software are incredibly out of date. As for everyone who either owns a newer version of the Fire TV series, or does not own any of it, if you are looking to enhance your television experience, or are simply dazzled by Alexa's integration, the Fire TV Cube is a good option for you. It covers all the basics necessities that a good home entertainment system should have- barring a few details here and there- but that's okay.
Overall, the Fire TV Cube is a great entertainment system and we would definitely recommend it; so, go ahead you'll find it here.
Stay tuned for our next post where we talk about installing Kodi on the Fire TV Cube.