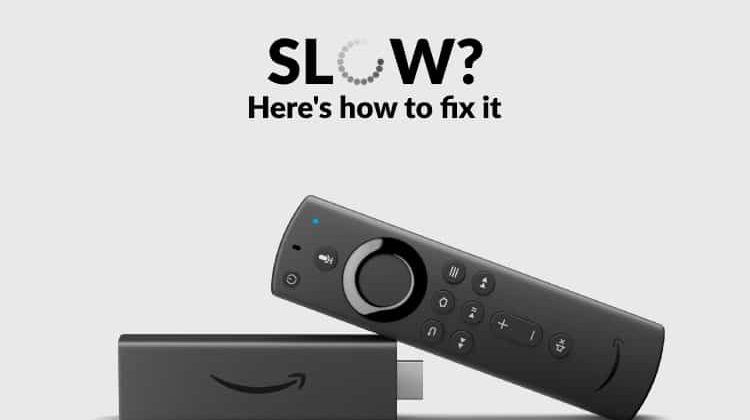 In this article, we will tell you all the fixes and tricks to make your slow amazon firestick run as fast as new.
The Amazon FireStick is one of the best streaming devices that is a must-have in your home. The latest FireStick generation has significant overall performance improvements, including a version that supports 4K quality. Now you can stream content and enjoy crystal clear videos and deeper color details; that's if you have a 4K screen. Generally, the Amazon FireStick always does a good job as compared to other streaming devices. Despite these improvements, it can be frustrating when you notice that your FireStick is slow, videos are lagging and buffering, and the overall response is not good at all. If your Amazon FireStick is slow, you have come to the right place.
FireStick Performance Issues
This is not something new in the streaming realm; even the best at times have their worst moments. Performance issues are the indicator that your FireStick is running slow. With the recent system update, you are likely to notice performance issues if you are a power user. This is because the new changes utilize more processing power, which could have been used by other resources.
Much of FireStick performance issues result from the use of the streaming device. As with most things, over a given period, performance degradation is something to expect. Major performance issue indicators include; overheating, overall system lag – slow response to input, unexpected buffering instances, video and sound out of sync, and crashing apps.
In this guide, we'll show you how to fix various performance issues that make your FireStick slow. Although every issue has its fix, performing a combination of these fixes will achieve better results. In this guide, we'll show you both hardware and software fixes.
Hardware fixes
Here are 3 Hardware fixes that can improve your slow firestick performance:
1. Use the original power adapter and USB cable – For optimal power delivery
The power adapter that comes with the Amazon FireStick is designed to deliver the optimal power that the FireStick uses. However, in most cases, FireStick users usually use other power adapters or plug the FireStick into the TV's USB port. As much as this works, the output from these adapters or the TV USB might not be enough to power the FireStick efficiently. This results in a sluggish performance. In other cases, there might be more power output from other adapters, and this may result in overheating. Overheating results in slower performance. Always use the manufacturer's USB charging cable and power adapter.
2. DIY: Make Holes in the Plastic Case – Solves overheating problems
Streaming content on FireStick for a longer time will likely make it to overheat. Moving the FireStick to a well-ventilated area might do the trick, but this may require changing other things like the location of your TV. If this is not an option, you can do a DIY design to ensure that your FireStick cools faster. This reduces overheating and improves performance. This DIY involves making small holes on the FireStick casing. Proceed as follows;
Using a flathead screwdriver (or strong opening picks) pry the FireStick plastic casing. It's relatively easy to open.
Using a small drill, carefully make holes on the casing and be gentle while doing it.
Close your FireStick and enjoy improved performance.
Note: We will not be responsible if you spoil your FireStick while performing the DIY.
3. Use an Ethernet adapter – For a reliable connection
A wired connection helps improve your internet speeds if you are not getting a stable WIFI connection. At times, WIFI cannot be reliable if you are too far from the router, if there's a lot of interference between the FireStick and the router, and lastly, if there are many users connected to the same access point. To solve this problem, you can use an Ethernet adapter; Amazon sells one specifically made for FireStick.
Software fixes and tweaks
Finally, we got 6 software fixes and tweaks to improve your slow firestick performance:
1. Restart your FireStick – Solves performance lags
The Amazon FireStick doesn't have a power-off button. Instead, when it's not in use, it goes to standby state, which can be woken up by a press on the remote. Due to this, most people leave it plugged in for a longer time. When using it again, you might experience some lags as it struggles to pick up. The best way to solve this lags is by performing a restart. This simple trick will unclog your FireStick's memory and solve additional underlying problems you didn't even know existed. You can also unplug it and plug it back after a few seconds. To restart your FireStick proceed as follows.
Press and hold the Home button for 3 to 5 seconds, then click on Settings

firestick – apps

Proceed to My Fire TV

Firestick – My Fire TV

Then select Restart

Restart Firestick

Confirm to restart your FireStick.
2. Use a VPN – To avoid ISP throttling, for a better streaming experience (solves buffering issues)
If you notice frequent buffering while streaming, it might be as a result of ISP speed throttling. At times, your ISP may block your streams if it detects P2P or torrent traffic. To solve this issue, a VPN is your best choice. An excellent VPN will not only bypass ISP throttling, but also offer other benefits such as; bypassing geo-restrictions, safeguarding your security and privacy, and also enable you to access torrent traffic.
We recommend using Surfshark for Firestick, and here is why.
Surfshark is a top-notch VPN service with a robust all-round performance. It has the largest network of servers optimized to deliver unlimited bandwidth and highest possible speeds. This makes it suitable for streaming content in HD without buffering. Additionally, Surfshark has a native app for FireStick. The VPN app is intuitive, user-friendly, and offers functionality in a usable manner. The VPN service uses a military-grade 256-bit AES Encryption, with a strict no-log policy.
Additional features include P2P support, a kill switch, DNS and IP Leak Protection, secure protocols, preconfigured profiles, and friendly customer support. Surfshark offers a money-back guarantee period.
We've managed to get a lucrative 82% Surfshark discount for our readers.
Click here to save 82% of Surfshark now!
Surfshark features:
Big VPN server network
Highest possible speeds
Unlocks various streaming services
Unlimited bandwidth and traffic
P2P/ torrenting dedicated profile
Simultaneous connections of up to 7 devices
Money-back guarantee
Getting started with Surfshark
Signup for an account, Click here to save 82% of Surfshark now!
On your Firestick search box, type Surfshark.
The app will appear as the first suggestion. Click on it
Proceed to hit the "Get" option.
The VPN will start downloading
After installation, launch it and sign in with your credentials.
Now you can connect to a suitable VPN server and enjoy a great streaming experience without buffering.
3. Uninstall/Force Stop/ clear data of the apps you don't use – Solves performance lags
Apps you don't use can have background processes that take a toll on the CPU and also your FireStick memory. Furthermore, these apps also occupy space in your internal storage. It's advisable to uninstall apps and addons you don't use to release significant CPU and memory resources. If you don't want to uninstall an app, always use the Force Stop option every time you use your Firestick. Moreover, you can get more internal storage by clearing the data and cache of apps you don't use frequently. Clearing data of apps will erase any saved settings, including logins. You will have to start afresh when using the apps. Additionally, delete APK files once you install them via the Downloader. To uninstall/force stop/clear data of apps you don't use, proceed as follows.
Press and hold the Home button for 3 to 5 seconds, then click on Settings

firestick – apps

Proceed to Applications

firestick – applications

Select Manage Installed Applications.

firestick – manage installed applications

Select the app you want to uninstall and click on it.

firestick – cinemaHd v2

On this screen, you can Uninstall/ force stop/clear data and cache of apps you don't use.

FIrestick Force stop
4. Disable system apps/ turn off features and services you don't use – Solvesperformance lags
FireStick comes with bloatware; system apps, and features that most users won't use, mainly Amazon Photos and Whispersync. These apps processes' may occupy significant memory and also utilize CPU resources that can be used elsewhere. Since you can't get rid of this bloatware, the best way to deal with them is to disable or turn off system apps and features you don't use. To disable system apps/turn off features and functionalities you don't use, proceed as follows.
Press and hold the Home button for 3 to 5 seconds, then click on Settings

Firestick – Apps

Proceed to Applications

Firestick – Applications

Select Amazon Photos,

Firestick – Amazon Photos

Toggle off Allow guest connections and even disable Access Amazon Photos

Firestick – Allow Guest Connections OFF

While on Applications, select Gamecircle

Firestick – GameCircle

Toggle off Whispersync for Games.

Firestick – Whispersync for Games
5. Tweak your FireStick preferences – Solves performance lags
Your FireStick preference settings such as data collection and monitoring make up the most power-hungry background processes in FireStick. You can release the CPU and memory to handle other processes by turning off these preferences. Proceed as follows.
Press and hold the Home button for 3 to 5 seconds, then click on Settings

Firestick – Apps

Proceed to Preferences

Firestick – Preferences

Then Privacy Settings.

Firestick – Privacy Settings

Turn off these settings, Collect App Usage Data, Device Usage Data, and Interest-based ads.

Firestick – Device Usage Data

Additionally, you need to turn off Data Monitoring. Proceed as follows.

While on the Preferences screen, select Data Monitoring option

Firestick – Data Monitoring

Next, turn off the Data Monitoring

Firestick – Data Monitoring OFF
6. Factory reset your FireStick – Start over again, might solve all your problems
If all the above solutions don't fix your slow FireStick, then it's about time to factory reset it. This is the last resort solution that will bring your FireStick to its default state, as it came out of the box. A factory reset erases all your data and settings. After a factory reset, it is advisable to apply the above solutions to give your FireStick a powerful performance boost. To factory reset your FireStick, proceed as follows.
Press and hold the Home button for 3 to 5 seconds, then click on Settings

Firestick – Apps

Proceed to My Fire TV

Firestick – My Fire TV

Then select Reset to Factory Defaults and confirm to reset your FireStick.

Firestick – Reset to Factory Defaults
Wait until FireStick finishes the reset process.
Firestick Slow – Wrap up
This guide offers multiple solutions and various troubleshooting techniques that will solve common issues and speed up your Amazon FireStick. These optimizations will ensure that your slow FireStick runs smoothly and seamlessly.