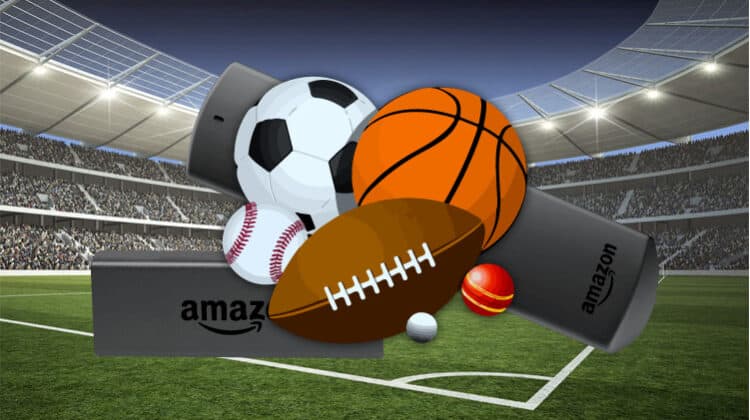 This guide will show you how to install Dofu Sports on Firestick and Android TV. Screenshots accompany the guide, and it can be used on all versions of Fire TV and Android TV boxes/sticks.
Dofu Sports has quickly become one of the most popular apps among Android TV and Firestick users. One of the reasons behind its popularity is that the app is available on the Google Play Store (as of this writing), and it provides links to watch lots of sports for free. However, it's not available on the Amazon App Store, so you have to sideload the app if you want to install it on Firestick.
This guide will let you know everything you should know about the app and show you how to install the Dofu Sports Live Stream app on Firestick.
Here's how to install Dofu Sports Live Stream App on a PC
What is Dofu Sports App?
Dofu Sports is a free Android and iOS app that provides live streams of games from the NFL, NBA, NCAAF, MLB, and NHL. The app sources these streams from the internet and doesn't host any of them. It also doesn't play the links but sends you to your browser for the live streams. This way, it manages to evade the strict copyright infringement crackdown procedures used by Google on Play Store and Apple on App Store.
Besides live sports streams, Dofu Sports also provides live scoreboards and standings. These pages are very detailed; you can use filters such as weeks, box score, play-by-play, team stats, division, season, etc.
Dofu Sports is completely free to download and use, so you won't need any subscription. However, note that it is powered by ads, so you may come across a few.
Is Dofu Sports App Safe & Legal?
Dofu Sports is completely safe as the app doesn't host any malware, based on our analysis of the app on VirusTotal. The adverts used to support the program are also safe.
Now, is Dofu Sports app legal?
Unfortunately, things are not that straightforward when it comes to legality. This is because Dofu Sports provides links to premium TV channels and streaming services, which would otherwise be paid for. The app operates like a third-party app by scraping these sources from the internet, leaving the responsibility of vetting them to the user.
⚠ Stream safely!
Your ISP always watches and logs the sites and resources you access online, so it's important to ensure that you do not access illegal content unknowingly.
👉 To keep your online activities private, we highly recommend using a VPN.
A reliable VPN will encrypt your entire internet traffic to ensure your ISP and government can't snoop on you, and it will also change your IP address to make you anonymous.
The Recomended VPN for Streaming
For maximum privacy and a smooth streaming experience, we recommend you use Surfshark. The VPN provides a superb balance of privacy, speed, and security, making it the best VPN for streaming.Surfshark highlights:
⚡ Superb Speeds: Guarantees a smooth live streaming experience.
🌍 Huge Server Network: You can connect to a nearby server for a fast and stable connection.
😲 UNLIMITED Devices: Connect dozens of devices at the same time!
🔑Unblock Anything: Safe access to censored apps, websites and torrent sites.
😎 Best in Privacy: The VPN doesn't keep any activity logs, and so your activities are only known to you.
🔐 Top-notch Security: This VPN uses AES 256-bit encryption and provides multiple protocols alongside other security features such as a kill switch, DNS & IPv6 protection and WireGuard.
💳 30 Days RISK FREE Money-Back Guarantee: In case you do not like the service, you can get every penny back if you cancel within 30 days!
You can
get Surfshark at 82% off
using the link below!
How to Install Dofu Sports app on Firestick & Fire TV Cube
Since Dofu Sports live sports app is available on the Google Play Store, all you need to do is search for the app and install it. On Firestick, we'll need to sideload it by following a few steps.
Step 1: Install Downloader App
To install Dofu Sports on Firestick, we'll first need to install the Downloader app. The app will then facilitate the installation of Dofu Sports.
On the main page, hover over Find, then click Search.

Type Downloader and click on the suggestion to search for the app.

The Downloader app should be displayed on the results page.

Select it and click Download.

After the installation, you'll get an Open option. There is no need to launch the app yet, so go back to the home screen.
Step 2: Enable Installation from Unknown Sources
After installing the Downloader app, you'll now need to allow your device to install third-party applications downloaded through the app.
Go to Settings on the main page and select My Fire TV.

Open Developer options.

Turn on Apps from Unknown Sources.

If you are using Firestick Gen, Firestick Lite, or Android TV, the option will be Unknown Apps. Once you select it, you will see Downloader, and you can then click it to turn on the option.

👍 You can now use Downloader to install apps. However, you should also consider disabling data sharing to enhance your privacy (in addition to using a VPN service) if you have not done so.
Go back to the home screen, then click Settings > Preferences > Privacy Settings. Now, turn off "Device Usage Data" and, most importantly, "Collect App Usage Data."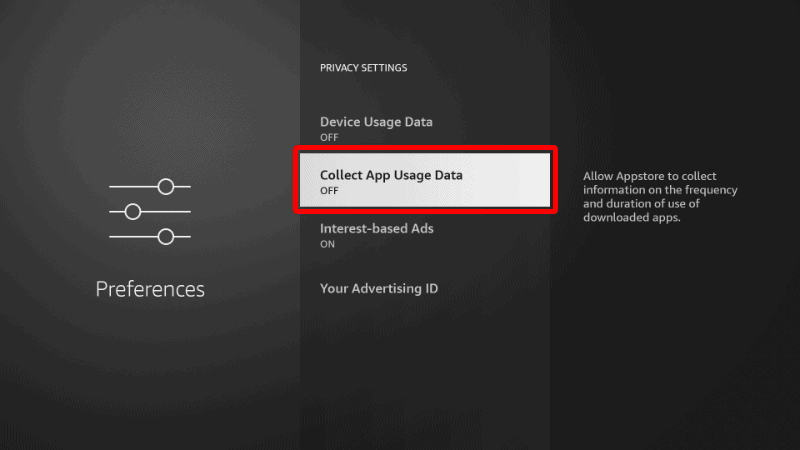 This will ensure Amazon doesn't collect data on the apps you use.
Step 3: Install Dofu Sports on Firestick & Android TV
To install Dofu Sports on Firestick, we'll use the app we've just installed.
Open Downloader and go to the URL section. Type https://bit.ly/3hubfCE in the URL box and click Go.

The installation file should now start downloading.

You'll then be prompted to install it. Click Install.

After the installation is complete, click Done.

From there, you'll get an option to delete the apk and save space. Click Delete.

Click Delete once more to confirm.

After that, go to your apps section, and you will find the new app.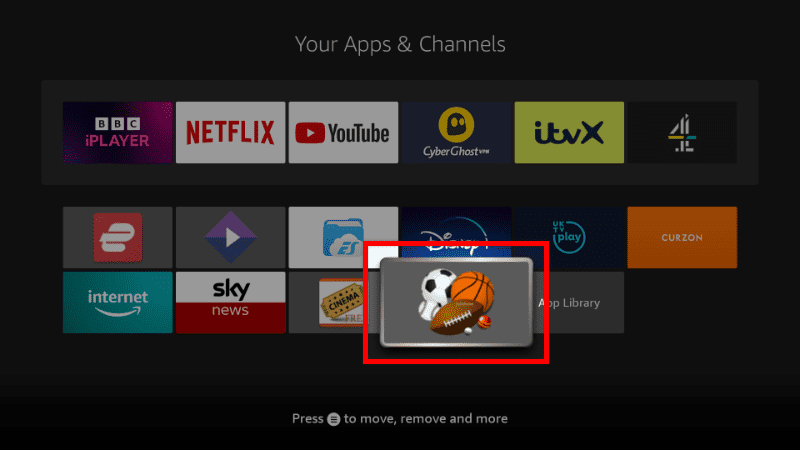 How to Use Dofu Sports on Firestick
Before using Dofu Sports, it's important to note that the app has been designed for touchscreen devices. This means that operating it with your remote may be frustrating, so we recommend you first install the Mouse Toggle app. This will allow you to operate the app with mouse-like capabilities.
Besides that, Dofu Sports fits well on the big screen as the app's landscape mode is well designed. The app provides a simple interface that is easy to navigate through. It is basically split into three sections:
Events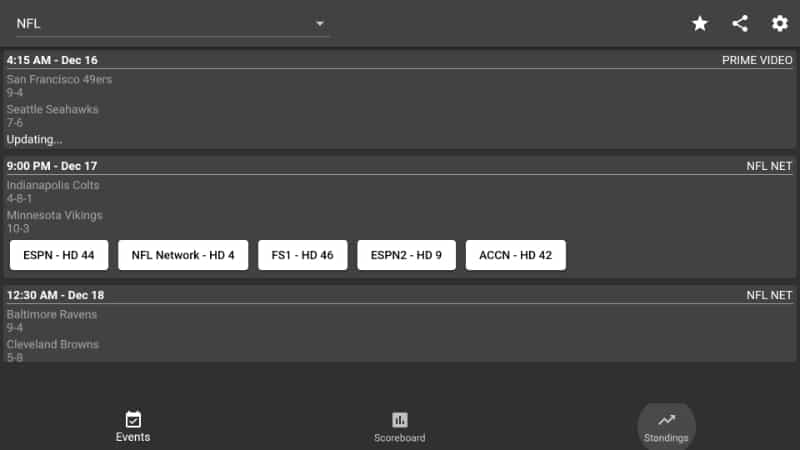 This section lists all upcoming events. When a game is almost starting, you will get links to the various broadcasters that are airing the game. The default option on this page is NFL, but you can use the drop-down button on the upper side to switch between NFL, NBA, NCAAF, MLB, and NHL.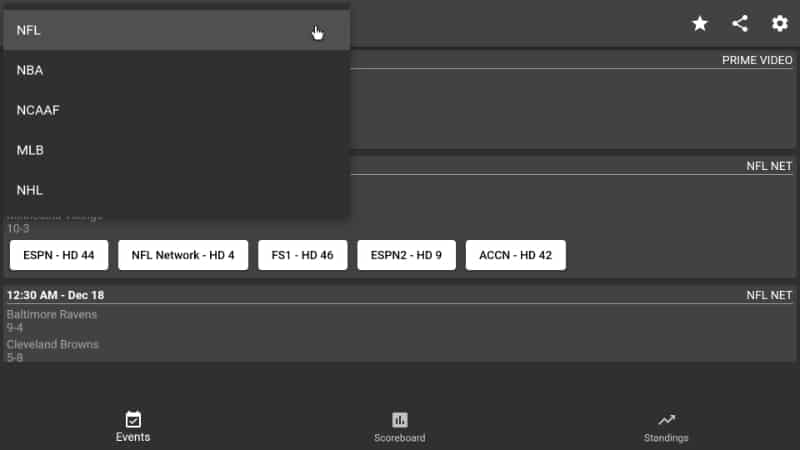 Scoreboard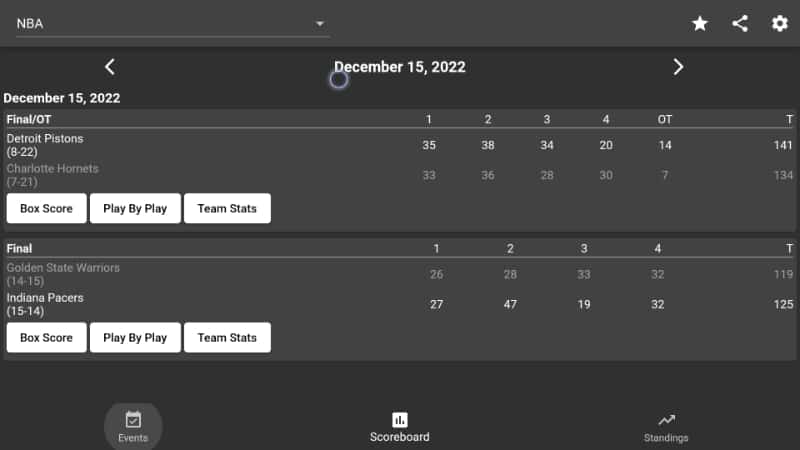 This section of the app shows the latest scores from the various competitions it provides. You can check results from ongoing games and past games using the various filter options provided. These include year and week.
Standings
The Standings section lets you track how the season progresses by providing the table standings from various divisions and conferences. You can also see how teams performed during the pre-season and previous seasons.
When you select a link on Dofu Sports, it will open on your browser. You can click play to start streaming.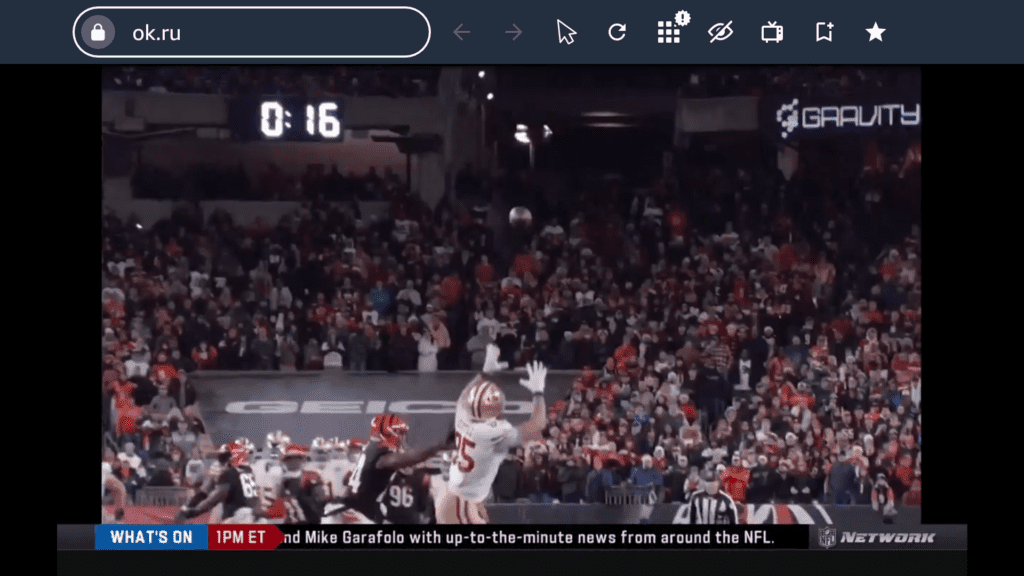 🤔 FAQ
Do you have to pay for Dofu Sports?
No, the Dofu Sports app is absolutely free. You won't need to pay or even create an account to access streams.
How can I watch Dofu sports on my TV?
You can watch Dofu Sports on your TV by installing the app on Firestick or Android TV box. Alternatively, you can cast the app to your TV from your Android or iOS device.
Does Dofu sports work on iPhone?
Yes, Dofu Sports works on iPhone. The app is available on the App Store as of this writing, and you can access free streams through it. The app is known as "Dofu NFL Football and more" on the platform.
Is Dofu Sports Available on Roku?
Unfortunately, Dofu Sports is not available on Roku. You also can't sideload the app, so you may need another platform to use the app. You can install Dofu Sports on Android, Android TV, Fire OS, iOS, and PC.
Check out more Firestick Guides
Wrap Up
Dofu Sports is an excellent streaming app that takes live streaming to the next level. The app combines live updates with multiple streaming links for the same game, and all these are available for free. However,
Enjoy!