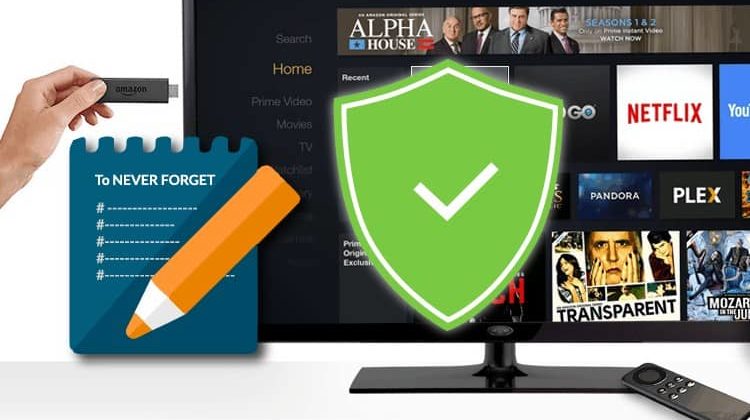 Cutting cord may seems a great idea, but the counterpart may be worse than the first. For that you need to pay attention to your security and privacy, because there are many streaming apps out there that can put you in serious problems. This article is just to spare you those inconveniences by letting you to know the main 5 Reasons to use a VPN on Firestick & Fire TV while streaming…
Amazon Firestick and Fire TV have made cord cutting easy and home entertainment livelier. Besides popular paid streaming services such as Netflix, Amazon Prime, Hulu, and many more others, these devices offer a wide range of entertainment; you can get almost anything you want. In fact, Amazon Firestick and Fire TV are the holy grail of modern streaming. With a variety of streaming apps to choose from, you can stream live TV, live sports, movies and tv shows, and any channel that possibly exists.
The cost of cord cutting; Beware of Pirated Streams
Before you start cord cutting and streaming anything on Amazon Firestick and Fire TV, there are some precautions you should take. And the first one is using a good reputable VPN.
This is because most of the streaming apps available for Amazon Firestick and Fire TV don't have content of their own. Instead, they help you stream for free content; that is either free or premium content that should be paid for. You'll never know which content you're streaming. Most of them get this premium content via piracy.
And according to laws; Streaming pirated content is a breach of copyright rules and can get you into trouble with the ISP/ authorities. Such trouble includes jail time, hefty fines, or both.
It's therefore important to ensure your Amazon Firestick and Fire TV streaming activities are kept private and secure by a reputable VPN like Surfshark!
So, before focus on the 5 Reasons to use a VPN on Firestick and Fire TV, lets talk about VPNs…
What is a VPN?
A VPN – Virtual Private Network, is a secure connection that uses encryptions to ensure that your Amazon Firestick and Fire TV streaming activities are kept secure from prying eyes such as ISP, copyright agencies and even cybercriminals. A VPN also protects your online identity by making you private.
How does a VPN work?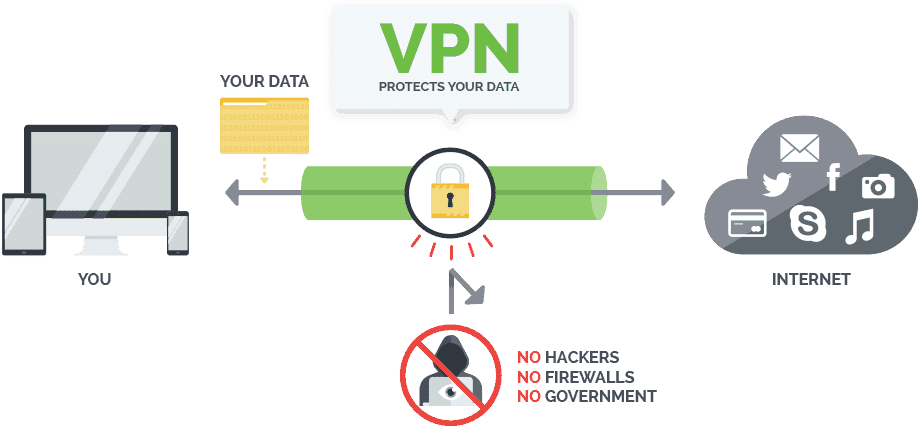 When you connect to a VPN, the VPN service makes a secure tunnel in which your streaming traffic is sent to and from your Amazon Firestick and Fire TV and also to and from the VPN server. This tunnel is secure as various un-hackable and unbreakable encryption protocols protect it.
The VPN servers also assign your Firestick and Fire TV devices a virtual IP address.
VPN for firestick.
VPN for Firestick and Fire TV devices should have the following features:
Security and privacy – VPN for Firestick and Fire TV devices should have the highest level of encryptions available. They should also have DNS leak and IP protection; also they should not log or record any activities that may implicate the user.
Unlimited Bandwidth – streaming content in HD requires a lot of bandwidth; the best VPN for your Firestick and Fire TV devices should offer unlimited bandwidth with unlimited server switches. Besides bandwidth, the VPN should also offer lightning speeds for a smooth streaming experience.
Globally distributed servers – a great streaming experience involves streaming content from anywhere in the world. A VPN with many globally distributed servers will provide a gateway in which you can access content even when you are in restrictive countries. Also, VPN servers are key to gaining access to geo-restricted services.
Surfshark is the best VPN for Firestick & Fire TV devices and it has a native app. We managed to get an exclusive 82% discount of Surfshark for our readers.
5 Reasons to use a VPN on Firestick and Fire TV
Now that we know how VPNs work to give us a layer of security and privacy, lets to unveil the Reasons to use a VPN on Firestick and Fire TV
There are numerous reasons why you should install and use a VPN on your Firestick and Fire TV devices. Here the major reasons;
#1 – Security and privacy
Cord cutting involves streaming and downloading torrent content from various sources. Some of these sources may contain copyrighted content; streaming or downloading them may put you on the wrong side of the law and land you in trouble. Copyright agencies usually monitor torrents; you may not know if one of the peers is a law enforcer. Without a VPN, all your streaming and downloading activities are visible to various prying eyes such as your ISP, copyright agencies, law enforcers and even cybercriminals.
When using a VPN, your internet activities are encrypted and tunneled securely through the VPN server until they reach their internet destination. This tunneling and encryptions make your activities invisible to prying eyes. All they can see is VPN traffic which even if they intercept, they won't gain access to it due to the encryptions.
#2 – Bypass censorship
Some government regimes restrict the free access of internet to its users. In such countries, cord cutting is greatly hindered as streaming sources may be restricted or the whole internet, in general, might not be accessible. If you ever travel or reside in one of these countries (China for example) and you have a Firestick or Fire TV device, and you still want to stream content, a VPN is necessary.
As mentioned earlier, a VPN assigns you a virtual IP address that hides your real IP address; this, in turn, spoofs your location to that of the server. Combining this with other features such as OpenVPN encryptions which scramble your streaming traffic and make it seem like normal traffic, you will evade government watchdogs and hence bypass censorship.
#3 – Unblock Netflix and Other Geo-Restricted Services
Content copyrights ensure that content is only available to legible places. This has forced content providers to impose various methods such as geo-restrictions to ensure that the copyright requirements are met. Sometimes this is unfair as you might miss your favorite content if you travel to places where it's not provided.
For instance, BBC iPlayer is only available in Great Britain. Netflix is segmented, and Netflix USA has the best and largest library of movies and tv shows, but you can't access it outside the US. Other geo-restricted services include Hulu, HBO, Spotify and so on.
To gain access to these services and circumvent geo-restrictions, all you need is a VPN. Depending on the server you connect, i.e., a US server, a VPN will assign you a US address; this automatically makes your internet traffic seem to be originating from the US. With this ability, you will be able to watch Netflix US from anywhere in the world.
#4 – Use streaming Apps Freely 
Besides unlocking geo-restricted services, using a VPN gives you the confidence to use streaming apps without worries; your internet traffic is not accessible by prying eyes. You might not know what sources your Apps are streaming from; so, one of them might give you access to copyrighted or pirated content. To be on the safe side, use a VPN and stay undetected when streaming content on your Firestick & Fire TV devices.
#5 – Avoid ISP throttling
Internet services providers (ISPs) are known to throttle internet bandwidth when their systems sense streaming activities. ISPs can throttle your bandwidth due to various reasons such as to eliminate competition – when they want you to use their streaming service they will throttle bandwidth for other streaming services, to give bandwidth to higher paying customers – in peak hours when the internet is congested, your ISP can throttle your bandwidth and give to premium customers. Nevertheless, the reason, throttling will hinder streaming as you will experience a lot of buffering and lagging; if you are lucky enough, you will get a low-quality stream.
This is an injustice which must be stopped, and the only way to do that is by using a VPN. With the encryptions involved, your ISP won't know if you're streaming and hence, they won't throttle your bandwidth.
Wrap up
While cord cutting  is good for your wallet, this involves risks that you have to consider as a cost. They are: to be infected by malware and virus, ISP's throttling and blockages as well facing legal charges for accessing copyright protected contents . This article walked you through the 5 Reasons to use a VPN on Firestick and Fire TV in detail which you must never forget. So, when streaming, your best bet to avoid all those problems is to use a Good VPN like Surfshark. If you already have one, you need to check if its a suitable VPN, by visiting the List of the Best VPNs for Firestick and Fire TV!
Hope this article on the 5 Reasons to use a VPN on Firestick and Fire TV , have been useful.
Have a safe streaming!
Disclaimer: We are not encouraging anyone to spread piracy in any way. This article is just for educational purposes so that you can understand about your data leakage and protect your data online. If a person will try to do any illegal activity, he/she is solely responsible for his/her activity