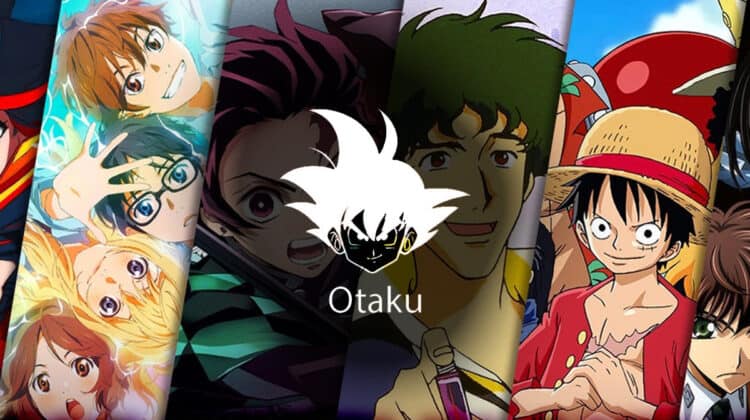 This guide will give you step-by-step instructions on how to install Otaku Kodi Addon. The guide is applicable to all devices that support Kodi, including Firestick, Android TV Box, Google TV devices, Nvidia Shield, Windows, and macOS.
Otaku is a new Kodi addon and one of the best for anime. The addon offers thousands of HD anime movies and TV shows, and it comes with lots of great features that most other addons don't have. Some of these are anime airing calendar, subbed and dubbed categories, continuous playback, and skip the intro and next episode dialogs, among others.
If you are into anime, then this is a must-have Kodi addon. It will let you enjoy anime content, both classic and new, in HD.
Stream Safely!
Otaku is a third-party Kodi anime addon that provides links aggregated from various unofficial sources, and these can include questionable anime streaming websites and cached torrent links that can easily lead you to access pirated content, which is illegal in most countries. On top of that, some of the links provided by the addon may be blocked by your ISP as they are torrent-based.
👉 To avoid copyright infringement notices or ISP blocks, we strongly advise that you use a reliable VPN. The VPN will encrypt your traffic to ensure nobody can know what you are doing online, and it will also change your IP address to make you anonymous. However, you will also need to choose your VPN well.
⭐ The Best VPN for Kodi
The best VPN for Kodi and streaming, in general, is Surfshark. The VPN provides excellent privacy and security and allows HD streaming without buffering.
Here are a few of its highlights:
⚡ Superb Speeds: Guarantees a smooth live streaming experience.
🌍 Huge Server Network: You can connect to a nearby server for a fast and stable connection.
😲 UNLIMITED Devices: Connect dozens of devices at the same time!
🔑Unblock Anything: Safe access to censored apps, websites and torrent sites.
😎 Best in Privacy: The VPN doesn't keep any activity logs, and so your activities are only known to you.
🔐 Top-notch Security: This VPN uses AES 256-bit encryption and provides multiple protocols alongside other security features such as a kill switch, DNS & IPv6 protection and WireGuard.
💳 30 Days RISK FREE Money-Back Guarantee: In case you do not like the service, you can get every penny back if you cancel within 30 days!
To get you started, you can
get 82% off Surfshark using our exclusive discount
below.
💡 However, VPNs usability does not restrict to streaming; discover here all the awesome things you can do with a VPN!
How to Install Otaku Kodi Addon
You can install the Otaku Kodi addon by following the 4 steps below.
Step 1: Enable "Unknown Sources"
To install any third-party Kodi addon, we'd first need to enable installation from "unknown sources."
From the Kodi app main page, open Settings.

On the next page, select System.

Hover over Addons and enable Unknown Sources. Click "Yes" when prompted for a confirmation.

We can now go ahead with the actual installation.
Step 2: Add Otaku Kodi Addon Repo Source (Hooty's Repository)
The Otaku Kodi addon is hosted under the Hooty repository, which also hosts the Kaito Beta Kodi addon. To install the addon, we'll first need to install the repo.
✋ But before that, we suggest that you turn on Surfshark to avoid any copyright and ISP blocking issues.
From there, you can go back to Kodi Settings and select File Manager.

Double-click Add-Source and type in the URL https://goldenfreddy0703.github.io/repository.hooty/ into the window that opens. It will insert "repository.hooty" in the textbox below it, and you can leave it like that and click "OK."

Step 3: Install Otaku Kodi Addon Repo (Hooty's Repo)
We can now install Hooty's repository.
Return to the Kodi main page and click Add-ons on the left side menu.

Click the open box icon on the top left side of the screen.

Select "Install from Zip File."

Select "repository.hooty," or whichever name you gave it.

Click on repository.hooty-x.x.zip.

Wait for the Kodi notification when the repo installs successfully.

Step 4: Install Otaku Kodi Addon
We can now install the Otaku addon on Kodi.
While on the same page, click "Install from repository."

Select "Hooty's Repository"

Select "Video Add-ons" and then click on "Otaku."

You will now get an "Install" option. Hit it.

You'll get a pop-up of all the dependencies that will be installed along with the addon. Just click OK, and the Addon will now install. After the process is complete, you'll get a notification.

Otaku should now be among your installed Kodi addons. When you open it, you'll find that it's easy to explore. One of the addon's standout features is the Airing Anime Calendar, which lets you know when you can get the next episode of the TV shows you are watching.
On the main page, there are lots of categories that will let you access a wide variety of anime titles. You can open whichever seems more appealing to you.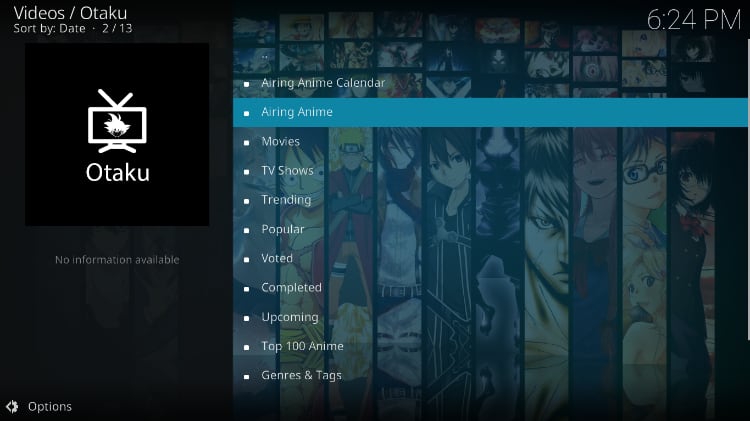 When you see the title you want to watch, you can go ahead and select it.
Otaku will then look for streaming links and select an HD one to start playing automatically.
Check out more Anime Kodi addons installation guides.
FAQs about the Otaku Kodi Addon
What is the Otaku Kodi addon?
The Otaku Kodi addon is a third-party extension of the Kodi media platform. The Kodi platform allows users to stream external anime content on their devices through specialized add-ons like Otaku.
How to install the Otaku Kodi addon?
Installing Otaku Addon on Kodi is easy as installing any other Kodi Addon. Just follow the steps above in this guide to install the addon successfully.
Can I use the Otaku Kodi addon to stream anime content for free?
Yes, the Otaku Kodi addon allows streaming anime content for free. However. keep in mind that many of the streams available can be from questionable sources. Reproducing such streams can lead users to break copyright rules. To avoid legal troubles, always use a reliable VPN like Surfshark.
Is the Otaku Kodi addon legal?
The Otaku Kodi addon itself is legal. However, the legality of the content you stream depends on the sources from which you obtain the content. To avoid legal issues, we recommend only accessing licensed and legal content or using a reliable VPN.
Does the Otaku Kodi addon work on all devices?
The question is if Kodi works on all devices. The answer is not clear, as despite Kodi having apps for most devices and OSs, it doesn't work on Roku. However, even in that scenario, you can take the hand from side solutions to install Kodi on Roku.
Are there any specific requirements for using the Otaku Kodi addon?
After installing Kodi, you only need to make sure the Otaku addon was successfully installed on Kodi and that you have an Internet connection with a speed and bandwidth compatible with the reproduction of online streams.
Wrap Up
Otaku Kodi addon is unrivaled in the amount of content it offers and the quality of streams provided. The addon will allow you to play 1-click titles in HD, and you can install it using the guide above. However,
Enjoy the best of Anime with your newly installed Kodi addon!