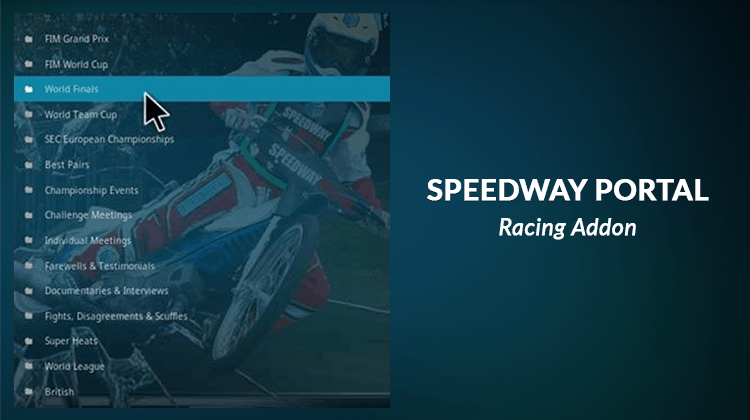 For every racing enthusiastic, Speedway Portal Kodi Addon is a great addon to watch. It's your single source for hundreds of hours of high octane excitement. In this article, we are going to illustrate how you can install Speedway Portal Kodi addon.
If you're a fan of sports car racing than you definitely want to take a look at the Speedway Portal Kodi Addon. This add-on includes the Grand Prix, Championship events, Challenge Meetings, Documentaries and much, much more. Racing fans' absolutely need to get this Kodi addon.
Keep in mind that this is not an official Kodi add-on so it's best to have a VPN in place before downloading and using the add-on.
Why do you Need a VPN?
There are two primary reasons to consider a VPN with the Speedway Portal add-on and other third-party add-ons of a similar nature. The first consideration is from a privacy and security point of view. You want to ensure that your activities online are completely secure and unmonitored. The second reason is something called geo restrictions.
Security and Privacy
Lets' talk about the first consideration … first! In the latter half of 2017, the US government changed the laws around net neutrality. What this means to you is that the government is able to monitor your internet activities. ISPs perform this function and if they discover that you are streaming content you shouldn't be, they will either report this (potentially leading to fines and legal repercussions) or buffer your connection – or both!
With a commercial VPN like Surfshark in place though, you don't have to worry about this as your connection to the internet is completely secure and private. Commercial VPNs setup a secure encrypted tunnel between your device and the VPN server that you're connecting to. This connection cannot be hacked or spied upon giving you complete privacy and ownership.
Georestrictions
Georestrictions occur when you try to access content that is not available in your country or region. In these instances you'll receive an error message or simply will not able to stream the content. VPNs are able to bypass these restrictions. With a VPN you simply connect to a VPN server in a country where the content is available and the server will mask your IP address making it appear as if you're located in that country!
Surfshark is probably the best option when it comes to streaming content online. Not only does it have clients for almost every device imaginable (including the Firestick), it's really easy to setup and use. The best news though? We've negotiated a special deal with Surfshark for our readers.Simply click here to take advantage of a massive 82% discount.
Installing Speedway Portal Kodi Addon
Here are the steps to take when installing the Speedway Portal Kodi addon.
Open Kodi and go to the 'Settings' icon on the left side of the screen.
Click on 'File Manager' then 'Add Source'. Select <None> in the window that appears and copy the following web address; http://kodi.metalkettle.co and name the source 'metalkettle' at the bottom field and click on 'OK'.
Go back to the Kodi main menu and click on 'Addons'. Click on the 'Package symbol' at the top left of the window and then select 'Install from zip'.
On the next screen, select 'metalkettle' > 'repository.metalkettle-1.7.3.zip'. A notification will appear confirming the repo installation.
Select 'Install from Repository' > 'MetalKettles Addon repository'> 'Video Addons' > 'Speedway Portal > 'Install'.
Wait for a while until you see a confirmation message confirming the addon has been installed.
You can now restart Kodi and enjoy the Speedway Portal Addon on your streaming device.
Use a VPN to unblock all Kodi Streams and keep you anonymous
>> Click here to know how to set up a VPN for your Android Box or Fire TV
Save 82% on the Best VPN