This guide shows you how to install and set up Netflix on Kodi 9 Matrix.
Netflix is the most popular streaming service, and the streaming giant offers a wide range of content that includes Movies, Documentaries, TV shows, Kids Content, and Anime. The streaming service operates independently through its official app and website, but sometimes normal is too boring. For those who like Kodi and appreciate its superb interface, the desire to keep all our media and content together is sometimes too strong. So why not integrate Netflix on Kodi?
Setting up Netflix on Kodi will still require a Netflix account, but it will mean that you don't have to change the app every time. This guide will show you a step-by-step procedure on how to install, set up, and use Netflix on Kodi. But first, here's why you may need something more than just a Netflix account.
🤔 Why You Need a VPN for Kodi
A VPN won't be necessary for installing Netflix, but it will greatly boost your streaming experience. While Kodi is known for breaking restrictions, Netflix enforces geo-restrictions that provide titles on a country-by-country basis. This means that there are titles that are available in many countries but are not available in yours.
For example, according to a specialized source, Netflix US currently has 1326 TV shows and 4339 movies. Netflix UK, on the other hand – which is one of the three largest libraries – only has about 542 TV shows and 2425 movies. Some countries even have a total of fewer than 700 movies and TV shows!
Even with the huge library, Netflix US has recently lost some great titles to rivals like Disney+ and HBO Now (Friends, anybody?). This means that you may also need to switch between various countries to access some great titles. For example, you can only watch Doctor Stranger in Canada!
👌 With a VPN, you can easily change your IP, making it look like you are in another country – the country you'll select from the list made available by the VPN itself.
✋ However, most VPNs have been blocked by Netflix, and a bigger percentage of those that still work only supports Netflix US.
The VPN we recommend for Netflix
The VPN we recommend for Netflix is Surfshark VPN. Surfshark has only been in the market for a few years, but it's already one of the best VPNs for Netflix. It is a favorite among the streaming community due to its excellent speeds and unique server-level smart DNS functionality.
Once you get an account, you need to install it and connect to any server in the following countries to get the specific library:
USA
UK
France
Netherlands
India
Italy
Japan
South Korea
Poland
Australia
If you'd like Netflix US, you can connect to any server near you (apart from the countries mentioned above), and you will be automatically redirected to the American version of Netflix!
How to Install Netflix Addon on Kodi
Despite Netflix being an official streaming service, there's no official Kodi addon for Netflix on the in-built Kodi repository. The addon is only available via a third-party repo, and so we'll need to enable "unknown sources."
How to Enable Unknown Sources
Here's the procedure for doing so:
While at the Homepage, open Settings by clicking the cog button.

On the system page, select System.

Hover over Addons and enable Unknown Sources.

Kodi can now install addons from third-party sources.
To install Netflix on Kodi, we now need to install its host repository.
Adding the Repo Source
Start by turning an effective VPN for Netflix On. This is important as some ISPs frequently block various Kodi repositories to curb copyright infringement.
After that, go back to the Kodi home screen, click the Settings button, and select File Manager.

Double-click "Add-Source" and type in the URL https://castagnait.github.io/repository.castagnait into the window that opens. This is the source that contains Castagna IT repo, which in turn hosts the Netflix Kodi Addon. Under the textbox below, Castagnait then click "OK."
Installing Castagna IT Repo
Now that we have the source, we can install Castagna IT
Go back to the Kodi home screen. On the left-hand side menu, click "Add-ons."

On the top left side of the screen,click the open box icon.

Select "Install from Zip File."

Click Repos and then select "Castagnait."
Click repository.castagnait- x.x.x.zip (where x.x.x. is the most recent version).
You will receive a notification when the repo installs successfully.

Install Netflix Kodi Addon
Now that we have Castagna IT Repo installed, we can finally go ahead to Install Netflix on Kodi, following the steps below:
While on the same page, click "Install from repository."

Select "CastagnaIT Repository."

Select "Video add-ons" and then click on "Netflix."

You will now get an "Install" option. Hit It.

You will then get a list. Click on the top option to get the newest version of Netflix on Kodi.

You'll get a pop-up of all the dependencies that will be installed along with the addon. Just click OK, and Netflix Kodi addon will now install. After the process is complete, you'll get a notification.

Up to this point, the Installation process of Netflix on Kodi is complete. However, to enjoy the massive content offered by Netflix, we need to set up the addon by adding an account.
How to Set up Netflix on Kodi
Like in the original Netflix app, the setup process is pretty straightforward. You'll only be required to log in to start streaming content.
Here's how to set up Netflix on Kodi:
After installing Netflix, go back to Kodi's home page. Hover over "Add-ons" and select Netflix. When you install it for the first time, give it a minute to start background service.

Open the addon, and it will give you two login options to your Netflix account: Authentication Key or E-mail/Password. Click "E-mail/Password" option.

A window will then open up. Enter the email associated with your Netflix account and click "OK."

Type in the password set for your Netflix account and click "OK."

You will then be logged in to your Netflix account.
How to Use Netflix on Kodi
Once you have logged in, like in your usual Netflix app, you will see your profiles. Select one.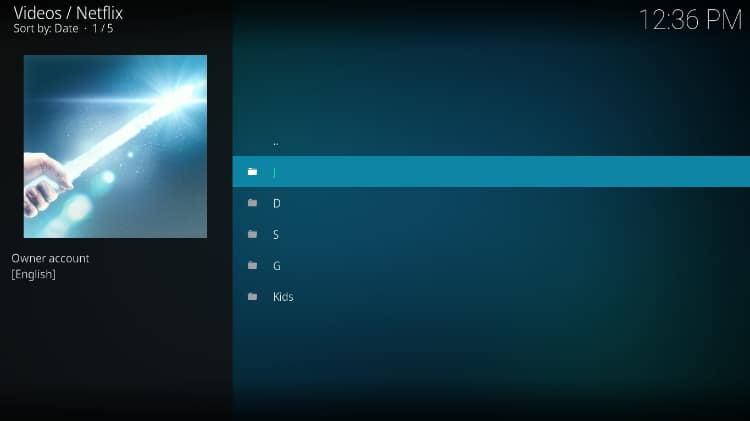 From there, you will see that the content has been grouped into various folders, including Trending Now, My List, and Continue Watching. From the many folders, you can pick your preferred option and select the content to stream. You will see that there's not much difference in the Netflix Kodi addon menu from the Netflix app. If you want something specific, you can scroll down to the Search option> New Search. You can then search by genre/subgenre ID, term, subtitles language, and audio language.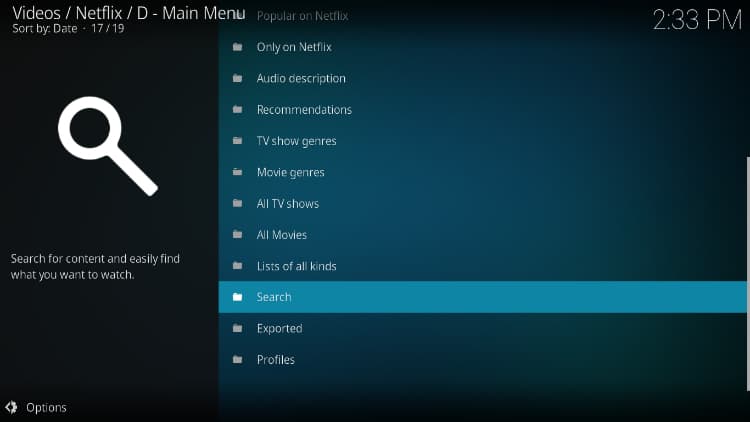 You'll see a poster on the right and an outline on the left for every show you select.

Just select what you want to watch and enjoy Netflix on Kodi!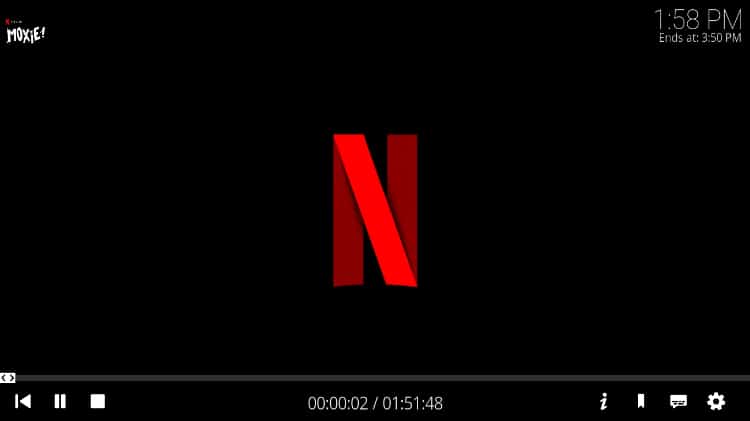 Wrap Up
Netflix Kodi addon enables you to enjoy content offered by the streaming service on Kodi. The addon provides access to everything you would on the official addon, so you will be able able to combine the power of Kodi with that of the most popular streaming service.
Enjoy!