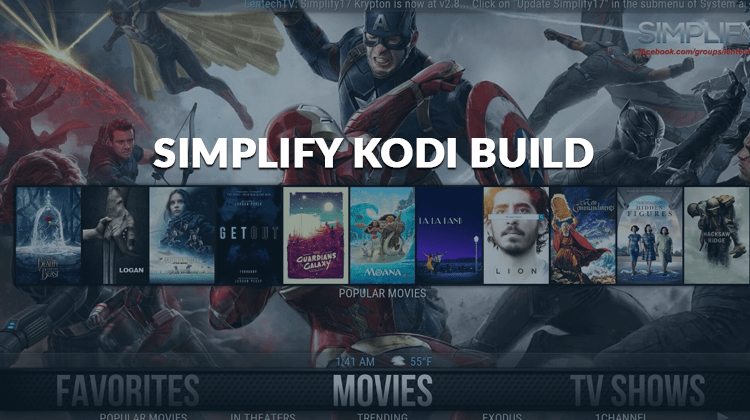 The Simplify Build for Kodi really does live up to its name. Its one of the easiest Kodi builds I've played with and really does make your life … simpler! Here's how to install it.
The new Simplify Build for Kodi is one of the most convenient builds you will ever have for your streaming needs. At only 192 MB, the Simplify Build can be used comfortably with devices with low resources and is perfect for the Amazon Fire TV stick or other Android boxes.
Generally speaking, this build has an easy-to-use interface that makes it so much simpler to navigate and search for your favourite shows and movies. The Simplify build on Kodi is filled with tons of channels from kids' television to IPTV shows and also offers a Sports section with channels grouped appropriately.
This build works perfectly with other third-party add-ons like Elysium, Stream Army, 4K Movie Trailers, FTFA, Goodfella, YouTube, Quantum, SportsDevil and many more. If you love streaming on different channels then the Simplify Build is the ideal streaming tool for you.
Important: Stream on Kodi Anonymously
Before you install this build or in fact any add-on within Kodi it is in your best interest to get a VPN. The freedom given to internet service providers (ISPs) by the government has allowed them to snoop and spy on the browsing information of their customers. Aside from the invasion of privacy, this has also led to many ISPs throttling services for customers that stream lots of content online and Kodi is generally one of main services that they target.
VPNs protect you from this intrusion by creating a virtual tunnel between your device and the VPN server. This encrypted tunnel completely blocks access and ensures that any activity over the connection is completely private.
Another common issue online is geoblocking. This often occurs when you try to access content that is restricted to a certain country. If you try to access the content from a different location, you are automatically blocked. VPNs however are able to bypass these restrictions.
By connecting to a server in a country where the content is available, you are able to mask your IP address thereby granting yourself access to the stream.
Surfshark is one of the best VPNs currently on the market. It is far superior to the "free" VPNs that are available. I would stay as far as possible away from these VPNs as they not only slow you're your connection, they sometimes install malicious software! With Surfshark you do not need to worry about this at all.
Surfshark has clients for almost every device on the market and as a special offer for our readers you can click this link to get 82% of the normal price. Check out our post about VPNs and Kodi for more details on this subject.
How to install the Simplify Build
For you to install Simplify Build on your streaming device, you have to first add a media source known as Lentechtv repository. After downloading and installing this media source, you can then download the Simplify Build through this application. Below is a step-by-step process of downloading and installing the Simplify Build on your Kodi device:
Since Kodi does not allow installation of add-ons from unknown sources, you will have to change that first in the settings. First go to 'Settings' on the left side of the screen after opening Kodi. Click on 'System Settings' then select 'Add-ons'. Enable 'Unknown sources' and Click on 'Yes' when the dialogue box appears.
After disabling this function, head back to the Home Screen. Click on 'Settings' followed by 'File Manager'. Click on 'Add Source' and in the dialogue box displayed paste http://lentechtv.com/lentechtv/ in the URL box. Name the source Simplify Build or something else memorable and select 'OK'.
Go back to the KodiHome Page. Click on 'Add-ons' then followed by the 'Install Add-on' icon at the upper left side of the screen. Select 'Install from zip File'. Click on 'Simplify Build' or the name that you gave the file then select "plugin.program.lentechtvbuildinstaller.zip"
After installation, a confirmation message will appear on the screen. Go back to the home screen and click on 'Program Add-ons> Lentechtv Build Installer > Simplify Krypton for Kodi Build and select 'Fresh Install'. Let the program install and when it's done, select Force Close. After about five minutes, Simplify Build will be ready for use and you can check out the unique features it has.
Features of the Simplify Build
The default screen offers the following main categories – Movies, TV Shows, Free TV, Sports, Kids, System, Power and Favorites.
When you scroll to a specific category, you are automatically prompted with appropriate and relevant content at the top of your screen. For example, selecting TV Shows gives you a list of popular shows to watch. If you go to Power, you'll get a weather forecast.
You can also drill down within each category to get more information using the supplied add-ons.
Overall the speed of the build in general is impressive and it responds extremely well. When selecting a title to play it automatically sources the highest quality title and launches it for you which is a nice extra step, saving a little bit more time.
Don't forget to use a VPN like Surfshark to keep you anonymous and unblock all the sources. This is very important! Click here to apply 82% discount on Surfshark.