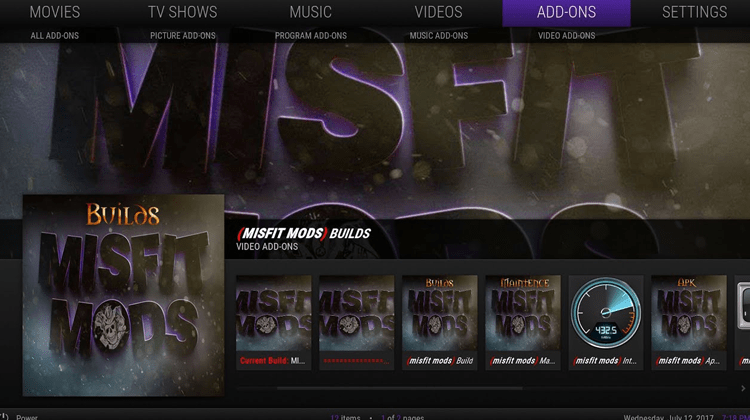 Misfit Mod Lite is a Kodi build that provides you with a simple and easy to use media experience. Misfit Mod Lite has everything you need to already installed and ready for you. Here's how to install Misfit Kodi Build.
With a barrage of new Kodi builds hitting the internet, choosing the right one can be somewhat difficult. As each build tends to overwrite the default Kodi look and feel as well as any previous builds, it's worth spending a bit of time upfront understanding what is included before you spend the time and effort installing it on your device.
Some are too heavy, or too slow, or simply incompatible with your favorite add-on, so they are easy to discard.
Misfit Mod Lite Kodi Build is a great fit for most devices, especially Amazon Firestick, because of its lightweight nature and speed. It has great versatility with different options from its own Misfit repository, including the original build (500+ MB), the lite version, and one designed for women.
Misfit Mod Lite is loaded with popular Kodi add-ons such as:
FEN

The EndZone 19

Mad Titan Sports

Magic Dragon

Patriot

Seren

The Loop

The Oath

Venom
Protect your Identity when using Kodi
A VPN is crucial for this, and other Kodi builds, as while Kodi itself is 100% legitimate, many of the add-ons included with Misfit Mod Lite and other Kodi builds are not. While, in most cases, the add-ons do not host the content themselves, you can definitely run into issues with your ISP when you use them.
As you might already know, net neutrality laws were recently changed to allow Internet Service Providers (ISPs) to filter and collect your data without the users' consent. Streaming copyrighted content can get you in trouble with the law, and a number of Kodi users have received warnings due to this. Additionally, the ISPs can block you from accessing certain content which results in Kodi errors and connection throttling.
VPNs help protect you from this situation. A VPN creates a virtual tunnel between your device and the server you are accessing. Information sent through this tunnel is completely encrypted and secure. It's impossible for your ISP or anyone else to determine what you are doing over the link.
Another advantage to VPNs, though, is that they help mask your location. You've probably encountered a situation online where you try to access certain content, and you receive an error message stating that the content you're trying to access is not available in your country?
This is called geoblocking or geo-restrictions. It happens when content providers restrict access based on a specific geography which is often quite arbitrary. As an example Netflix in the USA blocked access to Star Trek: Discovery as CBS was trying to force American's to purchase a subscription to their pay service. In the rest of the world, though, this same show was available through your Netflix account! With a VPN, you can actually connect to a server in another country and make it appear as if that is where you are actually based.
When selecting a VPN, Surfshark, is a great option for Kodi users to protect their identity, privacy and streaming freedom. It is compatible with all Kodi builds and improves performance due to its high-speed infrastructure.
As the name suggests, Surfshark hides your IP address with its 1000+ anonymous servers in 60+ countries. This means regional/ geo-restrictions won't apply, allowing you unlimited access to content. Other perks include 5 simultaneous device usage, no traffic logs, unlimited bandwidth and server switching. In addition to all of these features though, all of our readers get a 82% discount from the standard rate with Surfshark simply by clicking the link! You really cannot afford to miss this deal!
How to Install Misfit Mod Lite
First and foremost, we need to enable 'Unknown Sources' installation since Kodi, by default, doesn't accept unofficial builds and add-ons. To do this, open the Home Page and click on the 'gear' (settings) icon on the top-left screen. After this, open 'System Settings' > 'Add-ons' from the left sidebar. Toggle the 'Unknown Sources' option and click 'Yes' on the warning pop-up.
Now that that's done go back to the Kodi 'Home Screen' and click the 'gear' icon to open the settings. Double click on 'File Manager' and click the 'Add Source' option from the following menu. This will open a pop-up window with two text fields; select <None> from the first and enter the URL http://misfitmods.com/mmwiz/repo/ when asked for a website path. Enter 'Misfit' as the media source on the bottom text field and click OK to add a new media source.
Navigate back to the Home screen, and open 'Add-ons' > 'Install from zip file', which will open a pop-up window; scroll down and select 'Misfit' from the menu. Next, click on 'repository.misfitmods.zip' and wait for a pop-up informing you that 'Misfit Mod Repository Enabled'.
Still on the 'Add-on browser' menu, choose 'Install from Repository' > 'Misfitmods Repository'. Next, open 'Program Add-ons' > 'Misfits Mod Wizard' and hit the 'Install' A pop-up window will appear with a message that 'Misfit Mods Wizard' is enabled.
If you're not automatically prompted to go to the Builds menu, navigate back to 'Program Add-ons' and open the newly created MisfitMod wizard. On the subsequent list, locate 'Misfit Mods Builds' and open it. A list of different builds will appear from which you should pick the 'Misfit Mod Lite Build'. You might get an option to return configuration to defaults; click 'Continue', which will ask you to select either a 'Standard install' or 'Clean (Fresh) install'. Choose the latter if you want to discard existing add-ons or 'Standard install' to keep add-ons. Hit the 'Yes install' button, and when the download and installation finish, click 'Force close' to finish.
How to Use Misfit Mod Lite
Instead of bombarding you with a million categories, Misfit Mod Lite has only nine well-organized categories –
Movies

TV Shows

Real-Debrid

Sports

Kids Zone

Music

My Addons
Pros and Cons for Misfit Mod Lite
Pros
Live TV offers iVue TV guide – while some configuration is needed to get it to work its inclusion is a huge plus.
When a video is selected, you're automatically provided with multiple sources for viewing, including HD and 1080p resolution.
Simple menus mentioned earlier are easy to navigate and very responsive.
The video player provides lots of options regarding subtitles and audio offset within the player itself. No need to look for an external source here!
Very clean and crisp menu and overall look/feel with menus that autohide to minimize space.
Cons
Some add-ons need to be downloaded and installed even though they are listed as available. This can be somewhat confusing at first glance.
Don't forget
Don't forget to use a VPN like Surfshark to keep you anonymous and unblock all the sources. This is very important!
.