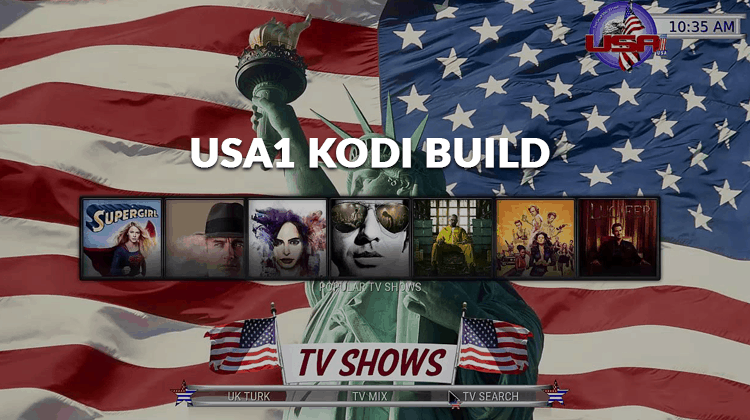 If you're a fan of the red, white and blue then the USA1 Kodi Build is definitely something you should be exploring. With access to all of the common Kodi add-ons included it is a good solution for most. Here's how to install the USA1 Kodi Build.
The new USA1 Build for Kodi is one of the most convenient builds you will ever have for your streaming needs. Coming in at a decent 350MB, the USA1 build is an average size Kodi builds but is really fast and can comfortably be used with devices with low resources.
Generally speaking, the USA1 Build has an easy-to-use interface that makes it so much simpler to navigate and search for your favorite shows and movies. It is filled with tons of channels from kids' television to IPTV shows, and the Sports section is nicely grouped to help make it easy to navigate.
This build works perfectly with other third-party add-ons like Elysium, Stream Army, 4K Movie Trailers, FTFA, Goodfellas, YouTube, Quantum, SportsDevil and many more. If you love streaming on different channels, then USA1 Build is the ideal streaming tool for you.
Important: Protect Yourself With a VPN
With the changes in the latter half of 2017 to the net neutrality rules, ISP have been given more freedom by the government to snoop at browsing information for any client they so wish. This can prove to be an invasion of privacy on the client's part. In addition, depending on the content being transferred, ISPs can throttle or otherwise slow down the internet traffic of their clients.
Your only protection from this is the use of a VPN. A VPN basically sets up a private encrypted tunnel between your device and the VPN server. All traffic through this tunnel is untraceable and helps keep your internet activities anonymous. This is extremely important when using Kodi and any third party add-ons on the system.
While Kodi itself is 100% legitimate, the third party add-ons that use Kodi as a base – some of them mentioned above in fact – often give you access to copyright information and without a VPN to give you privacy you could be impacted.
There are many different VPN solutions on the market – both paid and free, but the best option by far is Surfshark. Surfshark has clients for almost every device on the market, and they have servers all over the world. This is an immense benefit when trying to access geo-restricted content as using a server in a country where the content is available lets you simply and securely bypass the restrictions. With free VPN solutions, you often end up having slowdowns that are even worse than ISP throttling and there have been many instances where they have acted as a trojan and ended up installing malicious software on your system!
Surfshark, by contrast, is one of the most trusted VPN solutions available and as a special offer for our readers, we've negotiated a 82% discount with them. Simply click on the link to gain access to this amazing deal.
How to Install USA1 Build on Kodi
For you to install the USA1 Build on your streaming device, you have to first add a media source known as Lentechtv repository. After downloading and installing this media source, you can then download the USA1 Build through this application. Below is a step-by-step process of downloading and installing USA1 Build on your computer.
Since Kodi does not allow installation of add-ons from unknown sources, you will have to change that first in the settings. First go to 'Settings' on the left side of the screen after opening Kodi. Click on 'System Settings' then select 'Add-ons'. Enable 'Unknown sources' and Click on 'Yes' when the dialogue box appears.
Head back to the Home Screen. Click on 'Settings' followed by 'File Manager'. Click on 'Add Source' and in the dialogue box displayed paste http://lentechtv.com/lentechtv/ in the URL box. Name the source USA1 Build and select 'OK'.
Go back to the KodiHome Page. Click on 'Add-ons' then followed by the 'Install Add-on' icon at the upper left side of the screen. Select 'Install from zip File'. Click on 'USA1 Build' or the name that you gave the file then select "plugin.program.lentechtvbuildinstaller.zip" After installation, a confirmation message will appear on the screen.
Go back to the home screen and click on 'Program Add-ons> Lentechtv Build Installer > USA1 Krypton for Kodi Build and select 'Fresh Install'. Let the program install and when it's done, restart your computer. After about five minutes, the USA1 Build will be ready for use, and you can check out the unique features it has.
Features of the USA1 Build for Kodi
Overall it has a clean look and feel and is very easy to navigate. You are not inundated with lots of extraneous information – Movies for example only shows movies. If you want to see other categories, you need to navigate to that category … the screen is not cluttered.
The build also has the added advantage of automatically cleaning up any add-ons that are not working. This helps ensure that the program is streamlined and clean and nothing slows down your experience.
The main screen provides an automatically sorted list of the most popular choices in any given category which again makes things simpler and quicker.
Overall a nice, quick and easy to navigate build. Not my favorite, but still worth a look.
Don't forget to use a VPN like Surfshark to keep you anonymous and unblock all the sources. This is very important! Click here to apply 82% discount on Surfshark.