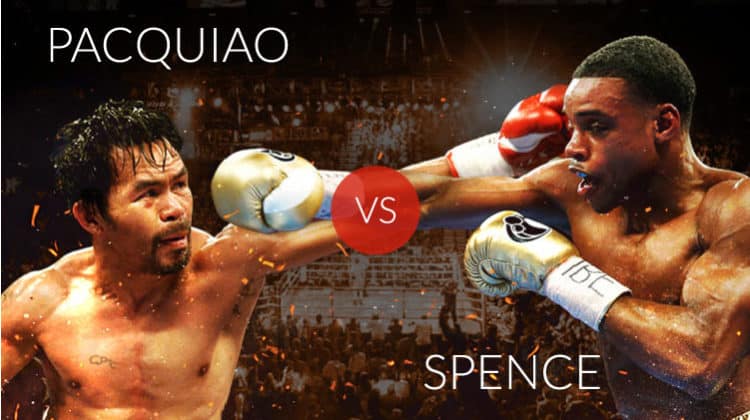 The fight Pacquiao Vs. Errol Spence Jr. is happening very soon. The T-Mobile arena can accommodate a maximum of 18,000 spectators (pre-Covid19), but that will not be enough for their many fans. Pacquiao and Spence Jr.'s followers who cannot make it to the venue will have to watch through their home screens via Pay Per View (PPV) and live-streaming.
Manny Pacquiao (62-7-2, 39 KOs) and Errol Spence Jr. (27-0, 21 KOs) will clash on August 21, 2021, at the T-Mobile Arena in Las Vegas, Nevada. At stake will be the WBC and IBF welterweight titles currently held by Spence.
Who are Manny "Pacman" Pacquiao and Errol Spence Jr.?
Manny "Pacman" Pacquiao
Immanuel "Manny Pacman" Pacquiao (62-7-2, 39 KOs) is the first and only boxer to win eight (8) world championships. He started his professional career as a flyweight (112 lbs) in 1995 and won his first title in 1998.
Manny "Pacman" Pacquiao belts:
Flyweight (112 lbs): 1995
Junior Featherweight/Super Bantamweight (122 lbs): 2001
Featherweight (126 lbs): 2003
Lightweight (135 lbs): 2008
Junior Lightweight/ Super Featherweight 9130 LBS): 2008
Junior welterweight (140 lbs): 2009
Welterweight (147 lbs): 2009
Junior Middleweight/ Super Welterweight /Light Middleweight (154 lbs): 2010
Pacquiao's career is a history of epic clashes against champions destined for the boxing Hall of Fame. He defeated big names such as Oscar de la Hoya, Juan Manuel Marquez, Eric Morales, Antonio Barrera, Ricky Hatton, and Antonio Margarito.
Pacquiao is known for his hand speed, strength, and seemingly awkward attack angles. Using those tools, he finished 39 of his opponents via knockout.
Errol Spence Jr.
Errol Spence Jr. (27-0, 21 KOs) is the reigning WBC and IBF welterweight champion. He is undefeated and seen as one the best pound-for-pound fighters in the world (today).
A southpaw like Pacquiao, Spence Jr. has a sharp, fast, and accurate jab. Combined with his guard and excellent footwork, he is the best Welterweight on the planet today. His technical boxing skills knocked 21 of his opponents. Even Pacquiao and his coach Freddie Roach admit that Spence is the "best guy out there." Spence Jr.'s defensive game is also superb. He trades powerful punches with anybody at any distance or while moving (forward/backward).
When And Where is the Fight
The Pacquiao vs. Errol Spence Jr. fight will happen on August 21, 2021, at the T-Mobile Arena, at the Las Vegas Strip, Paradise, Nevada, United States.
Event: Manny "Pacman" Pacquiao Vs. Errol Spence Jr.
Date: August 21, 2021
Time: Approx 9 pm (It will follow after the undercards)
Venue: T-Mobile Arena, Las Vegas Strip, Paradise, Nevada, United States
Live Streaming: To be announced
Fighters' Stats
Birth Name: Emmanuel Dapidran Pacquiao
Age: 42
Height: 5′ 5½″ / 166cm
Reach: 67″ / 170cm
Bouts: 71
Wins: 66 (39 via KO)
Loss: 7
Draws: 2
Career: 1995-2019
Debut: 1995-01-22
Nationality: Filipino
Residence: General Santos City, Cotabato del Sur, Philippines
Birthplace: Kibawe, Bukidnon, Philippines
---
Birth Name: Errol Spence Jr.
Alias: The Truth
Age: 31
Stance: southpaw
Height: 5′ 9½″ / 177cm
Reach: 72″ / 183cm
Bouts: 27
Wins: 27 (21 via KO)
Loss: 0
Draws: 0
Career: 2012-2020
Debut: 2012-11-09
Nationality: USA
Residence: Desoto, Texas, USA
Birthplace: Long Island, New York, USA
How much is at Stake In This Fight
Sources estimate that Manny Pacquiao's combined earnings (purse + PPV shares) will be $15~25 Million. The same experts expect Errol Spence Jr. to make an estimated $7~10 Million. Spence may be perceived to be the superior fighter, but Pacquiao remains to be the much bigger draw.
Odds
Pacquiao and Spence confirmed the fight on social media, and soon after, betting started. Spence was the overwhelming favorite at -450. It means that placing a bet of $450 on Spence will net $100 if he wins.
When Pacquiao arrived in the US to train, videos showing him in training circulated. Soon after, the odds lowered. Betting now puts Spence at -225 and Pacquiao at +176. It means that a $100 bet on Pacquiao will win $176 if he wins.
How to Watch the Full Fight
We have articles about how to watch the boxing fight Pacquiao Vs. Errol Spence Jr. on different devices and apps. There are sites advertising paid and free viewing. Check out the articles below (soon available).
The Preparation of Manny Pacquiao for the Fight
People thought that Pacquiao is long past his prime. However, current videos show that he is still that same warrior that won eight world titles. Pacquiao is now in the US with his long-time coach, Freddie Roach, and seems ready to win the bout. Roach declares that they will be using the same techniques used to beat Antonio Margarito.
At 5 ft 11 in (180 cm) and with a reach of 73 in (185 cm), Margarito is slightly bigger than Spence. He's a strong puncher and was a danger to the Pacman. However, Pacquiao used In-Out fighting techniques to stay away from trouble and convincingly won. Margarito admitted that his biggest mistake is not allowing his corner to end the fight early in a recent interview. He stubbornly fought until the end, and it caused him dearly. He had to undergo many operations to repair the damage to his right eye. Eventually, Margarito retired from professional boxing.
The Preparation of Errol Spence Jr. for the fight
Recently, videos came out showing Spence Jr. doing 700 pushups in 30 minutes. It's probably safe to assume that he can easily throw 1400 power punches in the same amount of time. That's something worth pondering.
Other than that, there are very few videos of him in training.
He is said to be very lowkey but confident in his fighting abilities. That says a lot about him.
How did it all happen
The idea of a Pacquiao Vs. Spence Jr.'s boxing fight began to take shape on March 16, 2019. A few minutes after his win over Mickey Garcia, Spence asked Manny Pacquiao to join him in the ring.
Spence: "He's been here before, he's broke records before, he's a legend of the sport, and it would be my honor to fight him next."
Called to the center of the ring, Manny replied: "Yeah, why not? We'll give the fans a good fight."
On May 21, 2021, Manny Pacquiao announced, on social media, that he will be fighting Errol Spence on August 21, 2021.
Let's get ready to rumble!
Analysis
This fight is crucial for both fighters. Pacquiao is already 42 years old and considered way past his prime. Being able to go toe-to-toe against the reigning champion will prove his boxing longevity. It is also an excellent way to retire. Spence, on the other hand, is in his prime. Despite that, he hasn't made the kind of money that Pacquiao made from every fight. In addition, he hasn't received the kind of adulation that Manny has. Every Pacquiao fight makes good money for Manny and his opponent. Fighting Pacquiao is a clever way of making good money. Convincingly beating him promises bigger purses, more tickets sales, and PPV viewers in future bouts.
Actually, the reasons behind this Boxing fight Pacquiao Vs. Errol Spence Jr. are:
– Pacquiao needs Spence on his path to immortality.
– Spence needs Pacquiao to get into the big game.
Who Will Win The Pacquiao Vs. Errol Spence Jr. fight?
Many people thought that Pacquiao already lost much of his speed and power. However, he proved them wrong by dropping a previously undefeated Keith Thurman in the first round. Pacquiao's fans said that Thurman started playing it safe after that knockdown. As a result, Pacquiao got deprived of the chance to knock Thurman again. Manny won that fight via a split decision.
That was, however, more than two years ago. One analyst claim that Pacquiao lived a normal lifestyle after beating Thurman and even grew a belly. Other analysts also think that two years of inactivity made the Pacman rusty. He should have scheduled a tune-up bout before fighting Spence. Many fighters also made their opinions known. It's not easy to find one who boldly predicts a Pacquiao victory. Manny may be fast and powerful, but he's already 42 years old. He will be up against an intelligent, bigger, stronger, and fast-moving Spence. It will not be easy for Pacquiao to win.
Pacquiao may have lost some speed, but he remains quick and agile. He can still move around and confuse his opponents while peppering them with power punches. However, the boxing world is yet to find out if Pacquiao is fast and powerful enough for Spence.
Spence has the qualities of an elite fighter. He has the discipline of an Olympian and the intelligence, strength, and agility of a future member of the hall of fame. He also is much bigger than Pacquiao. Some even say that Spence is too big for the Welterweight division.
If Pacquiao can avoid and absorb Spence's power punches, this fight will reach the distance. Otherwise, he can convincingly beat Spence Jr.
If Spence's power punches can hurt Pacquiao, this can be a short fight. Otherwise, he can become another Margarito.
Sources:
https://boxrec.com/en/proboxer/629465
https://boxrec.com/en/proboxer/6129
https://www.spin.ph/boxing/margarito-regrets-not-stopping-title-fight-against-pacquiao-in-2010-a793-20200329
https://bleacherreport.com/articles/2746354-breaking-down-each-boxing-weight-class
https://www.ringtv.com/539415-best-i-faced-lehlo-ledwaba/
https://www.boxinginsider.com/columns/good-errol-spence-jr/
https://www.rappler.com/sports/boxing/betting-odds-spence-pacquiao-slice-half-las-vegas
https://www.rappler.com/sports/boxing/manny-says-why-not-errol-spence-challenge
https://www.ringtv.com/622251-manny-pacquiao-errol-spence-jr-and-yet-another-wba-muddle/