Sports Fusion WWE is a new Android application for the fans to be instantly updated on news, rumors, and gossip in an integrated manner, easy to use.
The Sports Fusion WWE News Edition app is an entertainment app that features news about WWE superstars and divas. This app includes show events and discusses WWE rumors and gossip. If you need more sports news, Sports Fusion has a dedicated boxing news app for Android phones.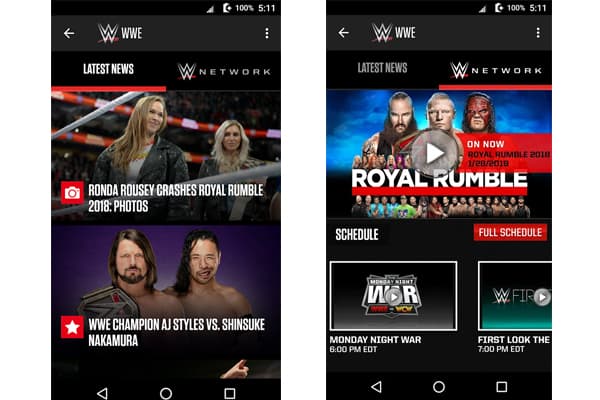 Sports Fusion WWE News Edition details
If you're interested in finding one of the best ways to keep the latest WWE news, gossip, events, and other WWE info at your fingertips, this WWE news app, brought to you by Sports Fusion is all you will ever need. Thus if you consider yourself the number one WWE fan, you'll want to make sure you have this app on your Android phone.
Improvements
Since the launch of this app, the developers have made many improvements, including:
Enhanced community app features
Q&A section
Enabled comments
Inline images
The option to "follow" different app users
Updates
These specific app updates were made on April 9, 2019.
As of September 25, 2019, over 50,000 Android users have installed this app. It is 18M in size and requires Android 4.1 or higher for proper operation and function. The content of the Sports Fusion WWE News Edition app is rated for teens and adults. This app requires specific permissions to run correctly, including:
Receiving data from the internet
Viewing network connections
Full network access
Controlling vibration
Preventing the device from sleeping
The Sports Fusion WWE News Edition app is available through Android's Google Play Store. It takes only seconds for this app to download, and it's free to use. There are also in-app purchases in this app.
  Is a VPN Necessary to Use on My Phone?
Like most people, you're probably wondering why you need a VPN on your phone. A VPN (a virtual private network) ensures security between devices, such as your cell phone, and internet connections. When you're connected to the internet, VPNs secure your private data. Unless your phone service is not currently active, your phone is always connected to the internet, unless you turn your mobile data off. You also have Wi-Fi capability on your phone, which means you can connect to Wi-Fi wherever you are.
Your phone can connect to "open" or public Wi-Fi networks easily because they are not encrypted with passwords. Secured Wi-Fi networks are encrypted with a password. You cannot gain access to a secured network unless you have the password. Whether you're using a secure, public, or your provider's mobile data, you should use a VPN like Surfshark.
What Are the Benefits of Using a Mobile VPN?
Remote Access
Your VPN goes wherever you go. There's no need to bother carrying around more than one device to get the security you need. Also, with remote access, you can live anywhere in the world and have access to many of your favorite shows and not have to worry about location restrictions. Even if you're using your phone for work, you're not restricted to a desk to use a VPN. When you're ready to get going, so is your mobile VPN. This is especially important in countries that block or restrict content. In some cases, you can be in the same country and the shows available are different from one location to another based on specific broadcasts rights. This often happens in the US for different sporting events, for example. A VPN like Surfshark helps bypass these restrictions giving you unfettered access to everything you want to see online.
Price
If you're preparing yourself to pay an insane amount of money to get a VPN, you can breathe easy. VPNs are inexpensive and equipped with a wide range of benefits. Many VPNs come with a variety of payment plans, including daily, weekly, bi-weekly, and monthly plans, so regardless of what your payment schedule may be, it's convenient for you to pay for your VPN on a schedule that works for you.
Many people really worry about the cost though and think that free VPNs are the solution for them. This really is not the case as free VPNs can in some cases end up costing more in time and money. You see, free VPNs don't offer the same level of security that commercial VPNs like Surfshark do. This often means that your data is not as secure as you think and can be requested and reviewed by the authorities and even your ISP.
Peace of Mind
One thing you can't put a price on is peace of mind. VPNs protect your personal information and keep your cellular device secure, even when you are not using it. There's no need to worry about hackers gaining access to your credit and debit card information, your address, and other types of personal information. This is especially so with a commercial VPN like Surfshark. It has clients that work with any device you can imagine – including your smartphone – and it can be configured to automatically start whenever your phone does so you can literally set it, and forget it. For true peace of mind, you need to get Surfshark and the best news for you is that we managed to get it at an exclusive price!
How to Install Sports Fusion WWE News Edition App on Your Android Phone
On your Android cell phone, find the Google Play Store. The Play Store is a play button that is colored yellow, blue, red, and green. Tap or double click the icon to open the Play Store.
At the top of your phone's screen, there's a search bar that states "search for apps and games." Click on the search bar and wait for your phone's keyboard to pop up.
In the search bar, type Sports Fusion WWE News Edition. The app's logo is red with a gold wrestling belt.
Click on the Sports Fusion WWE News Edition logo. You will be taken the installation screen. Select the "install" option. When the installation is complete, launch, or open the app.
Congratulations! You are now the owner of the Sports Fusion WWE News Edition app. You can start this app anytime you want, anywhere you are.
How to Use the Sports Fusion WWE News App
At the top of this app, you will see tabs that have the newest information regarding the WWE world. There are also tabs labeled "major" and "discussed." Clicking the tab labeled major gives you more information about what's going on in the world of WWE, facts, and fight predictions. The tab labeled discussed talks about more WWE news and focused more on individuals in the world of WWE.
At the bottom of the app, you will find the content you have liked and tabs for the community, saved items, and notifications. There is also a tab for all news that shows you content from the entire site and not just based on your preferences. There is a side menu that gives you the option to share the app with your friends, rate the app, badges you've earned, and the opportunity to remove the in-app ads.
Wrap up
The Sports Fusion WWE News Edition app is excellent for all things wrestling. It's free to use, but there are in-app ads. The good news is these ads can be removed by purchasing a subscription.
In any case, make sure you always use a mobile VPN like Surfshark to keep your information private
. VPNs offer security for the files on your phone, including documents, pictures, and other content and media you may have on your phone.
Always use a VPN when you use this app and others on your phone.
In the VPN settings, set the VPN to operate or "run" in the background, so it doesn't pop up every time you need to use it. Set the VPN function to "always-on" to ensure you have the security you need when you're streaming and browsing content on the internet and downloading apps.
It's always better to be safe than sorry.
Have good WWE news, rumors, and gossips!
[kkstarratings]