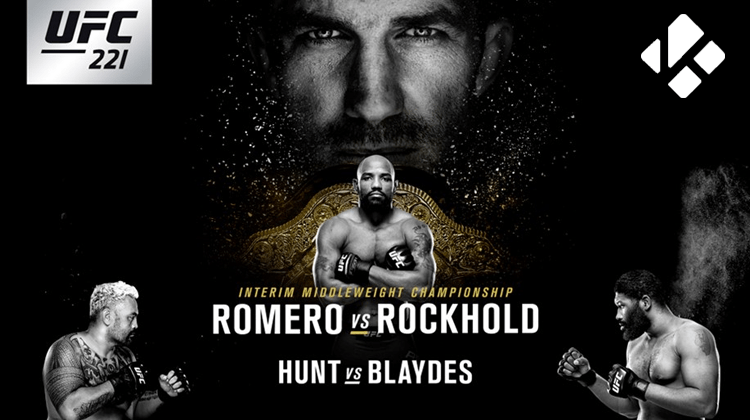 How do you actually watch UFC 221 on Kodi? Well, you're in the right place! Kodi is one of the most used media and entertainment platform in the world. Check here the best kodi addons to watch Romero vs Rockhold on Kodi.
The Ultimate Fighting Championship, or simply UFC, is one of the most watched sports on TV today. While it might have had a bump in viewership due to the McGregor vs. Mayweather battle in August last year, it didn't really need it.
UFC 221 is one of the most anticipated fights of the year. In this battle, "Soldier of God" Romero from Cuba is going up against Rockhold. Rockhold hails from the USA and while he might not have a moniker, he's bigger and has a longer reach. I think these two factors are going to have a significant impact on the nights' festivities! From a stats perspective though, it looks to be a fairly evenly matched contest and either fighter could take home the prize.
When is the UFC 221 Romero vs. Rockhold Fight
Perth Arena
UFC 221 is scheduled to take place on February 11th at Perth Arena in Perth, Australia. Due to the time difference, the main card is scheduled to start at 11:00 am local time in Perth. This will ensure that the event is broadcast during prime time hours in North America the day before! So make sure that you set your clocks and calendars to ensure that you do not miss it. The main event will start at 10:00 pm (EST) on the 10th, with the full card of events scheduled to begin four hours before that.
Main Card Starting time:
Saturday @ 10:00pm EST
Sunday @ 3:00am UTC
Sunday @ 11:00am (WST Local Time)
Preliminary card starts: 4 hours before the Main Card
Such big UFC matches are usually available on a pay per view basis, therefore you might have to burn a hole in your pocket to watch it. But don't worry we have some alternatives that you need to consider. Before we do that though, let's make sure that you're secure and protected.
Unblock streams with a VPN
VPNs play a key role in protecting you and your network from intrusion. However, when it comes to streaming content online they are just as critical. You see when you stream and browse the Internet your ISP is able to track this. A VPN, however, blocks them from doing so because it creates a virtual tunnel between your device and the server you are connecting to. No one is able to break into this tunnel and you are completely secure.
With the recent changes in the net neutrality rules and ongoing changes about what is and isn't legal all around the world, this security has become even more important. But security and encrypted tunnels are not the only things VPNs help with.
Another great plus of a VPN is that they can bypass geographic restrictions. You've probably experienced this if you've ever traveled and you notice that all of your Netflix shows are different. You see what is allowed on Netflix in one country is not allowed in another! With a VPN though, you can mask your IP address and connect to almost any country you want to. This is a huge benefit of VPNs and it completely opens up the entertainment world.
There are lots of different VPNs out there but if you're anything like me, you want one that is simple to use and just works. We always recommend Surfshark for just that reason. It's got clients that work with every device on the market and they are really fast which is super important. Even better for you though, we've negotiated a deal with Surfshark and if you click this link you can get it for 82% off! What are you waiting for?
Using Kodi to Watch UFC 221 (requires a VPN)
Once you've got a VPN organized you can get onto the next step – how do you actually watch UFC 221 on Kodi? Well, you're in the right place! Kodi is one of the most used media and entertainment platform in the world. You can seamlessly view sports content of your choice for absolutely no cost.
Planet MMA (UFC Finest) Addon: When using Kodi, you want to make sure that you are using the right add-on. Fortunately for UFC, the best one to get is Planet MMA. We've written a whole install guide for you so check it out!
BoB Unleashed Addon: Within Kodi, though you have lots of other options for sports and live TV so you need to explore these also. A great add-on that is worth looking at is BoB Unleashed. It's not specific to UFC like Planet MMA, however, it has lots of live sports available. Check here the install guide for BoB Unleashed.
Halow Live TV: The third option within Kodi is Halow Live TV. Similar to BoB Unleashed, this add-on gives you more than just MMA. If you want to watch thousands of different channels including many PPV sporting events – definitely give Halow Live TV a look.  Here's how to install Halow Live TV.
Finally, Kodi lets you access some IPTV streams directly. Check out our guide for the Best Free IPTV Lists for Kodi for more information.
Also, here's our always up-to-date list of UFC Kodi addons, just add to your favourites and have a look on it before each UFC event.
Other Ways to Watch UFC 221 Online for Free (VPN Required)
While I've primarily focused on Kodi for UFC 221, there are other ways to watch this event if you have an android box, fire tv device or other android device.
Two of the best apps that I've used for more than just MMA are Mobdro and Live NetTV.
Live NetTV is similar to many other apps. While the number of channels is constantly growing – its now at 700 – it works very similarly to other apps. Check out our full review of Live NetTV and learn how to install it.
The other option that you should explore is Mobdro. Mobdro is slightly different in the way that it works as instead of a simple list of channels, you actually choose a network. Once you've selected a network you can then pick the channels you want to watch. It actually sounds a lot more complicated than it is, but one suggestion is that you should save the channels you like to your favorites. Check out our full guide on Mobdro so you can get more details about it and how you can use it.
Note that…
The usage of a VPN is mandatory to make this work. Your ISP won't allow you to access live streams of PPV events for free, so you will need to use the VPN to make your traffic anonymous.
Hopefully, this guide is useful to you and you enjoy the mayhem! Let us know in the comments if there is another way that you are watching.