If you ever wondered if there were any good FireDL codes to watch movies, we got you! Some of you may ask what in the world are FireDL codes. This article will guide you throughout installing the FireDL app and using it at its full potential.
As you may already know, FireDL is an application available on the Google Play Store. Like any other app available, it's pretty easy to download and install. If you're using a Fire TV stick, though, there a few extra steps that need to be taken care of before you will be able to use FireDL.That said, with FireDL, you will be able to get and install a bunch of applications right onto your device from simple codes.
What is FireDL and how does it work?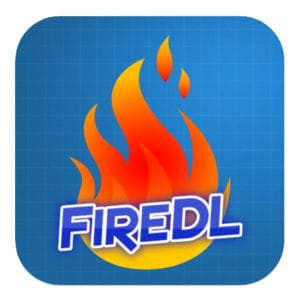 To put it short, FireDL is a handy app that allows downloading one or a group of other applications on an Android device or a Firestick / Fire TV. Once installed, FireDL gives the possibility to access and use official applications and third-party ones like Kodi.
The process is pretty simple: the user will just have to put the appropriate code in the FireDL app. Afterward, it will automatically download and install the chosen applications' latest version.
It's a nice and practical alternative if you are used to getting your Android apps with APK files. In fact, you won't have to crawl the entire Internet for those APKs after every app update. A FireDL Code will most likely provide the latest distribution of an application. Finally, FireDL can also be used to download regular files easily.
⭐ You may also like this: we covered the differences between FireDL and Filelinked in a complete article.
---
How to install FireDL and use codes for movies?
FireDL installation
The FireDL app is available for download on the official Google Play Store for Android users. You'll just have to go and search for it in the Play Store before downloading and installing it.
If you own a Fire TV Stick, you'll have to use a quick but easy turnaround. Instead of going to the Amazon Store, you'll have to use an alternative app to get it. Don't worry; we listed the different steps needed to do it right.
What are FireDL codes?
Once FireDL is successfully installed on your device, all is left is to look for the famous codes and insert them right into the app. You should know that each code can link to a unique application, but it can pack a bunch of apps. In this article, we dedicated a section to FireDL codes for movies.
Is FireDL legal?
Now, before we move to the process of installing FireDL on a Fire TV Stick device, we should consider some useful details. The FireDL application is legal and trusted by hundreds of thousands of users around the world. That being said, it's the use of the app that can be seen as illegal.
A large number of the contents are available online under copyright protection. Applications such as FireDL, as well as downloading and streaming apps, are used for sharing and providing pirated content. And copyright infringement triggers corporations and governments. That's how you'll likely get a DMCA notification or legal issues.
Protect your data and your privacy while using FireDL
Browsing and accessing online content is great and practical. It gives access to huge content collections across the globe. But it can come with a price: confidentiality issues and critical data loss. As you may already know, nowadays, almost everyone can grab pieces of information from you when you are browsing around. That mostly includes personal information such as location and identity details. And so does your ISP.
Internet Service Providers, alongside official agencies sometimes, can actually see what you are up to when you use their networks. Meaning those entities can keep track of your online activities. In other terms, they can be notified when you use certain kinds of platforms, software, or websites.
Now there is a way to get the most of both worlds and enjoy protection as much as freedom of access. It implies using VPN services, the kind of software you use to browse online anonymously and safely.
Why use a VPN with FireDL?
FireDL itself may not need the use of a VPN. Anyway, the apps installed through it are more likely to be from third-party sources. That means the users won't ever really know how those applications behave. VPN services may come in handy to keep things secure and act as a safeguard between the user and his ISP.
They use a tunnel-like concept to assure confidentiality and anonymity when browsing online. A good and reliable VPN service will provide some additional features like server location choice, no-log policies, and high bandwidth access.
Does a VPN throttle your Internet?
Many users point out that a VPN will likely affect the quality of your Internet connexion. That is partially true, as services like Virtual Private Networks actually act as a bridge between the user and his Internet Service Provider. Any query coming in and out is routed via that VPN's servers before being to the ISP's.
The same process applies when the user gets his content or search results on his screen. Those have been sent through the ISP's servers, then the VPN's servers before getting to the user. With a good VPN service provider, there shouldn't be any major delays, though, if they are using fast and powerful servers around the world.
The little trick to optimize that connection is to choose a VPN server located close to your actual location. That will limit the delay and may even make any throttling noticeable.
The VPN we recommend
Our team regularly put available VPN services to the test, to see which ones are the best depending on the actual use type. For online streaming and the use of streaming/downloading apps like FireDL, we got particularly satisfied with Surfshark.
This Surfshark actually gives the needed features for such use-cases. Here are a few of those :

⚡ Superb Speeds: Guarantees a smooth live streaming experience.
🌍 Huge Server Network: You can connect to a nearby server for a fast and stable connection.
😲 UNLIMITED Devices: Connect dozens of devices at the same time!
🔑Unblock Anything: Safe access to censored apps, websites and torrent sites.
😎 Best in Privacy: The VPN doesn't keep any activity logs, and so your activities are only known to you.
🔐 Top-notch Security: This VPN uses AES 256-bit encryption and provides multiple protocols alongside other security features such as a kill switch, DNS & IPv6 protection and WireGuard.
💳 30 Days RISK FREE Money-Back Guarantee: In case you do not like the service, you can get every penny back if you cancel within 30 days!
On top of that, we managed to secure a nice deal for our community!
Special Offer: $12.99 $2.30/month
30-Days Money-Back Guarantee
We got an exclusive 82% for our community !
How to install Fire DL
How to install FireDL on an Android device?
On an Android device, it's pretty easy to install FireDL. You just have to head your device's Play Store and search for FireDL. In case you have difficulties finding it, it is made by aidyMatic.
Once you find the FireDL app, you just have to launch the installation process.
How to install FireDL on a Fire TV Stick device?
Some time ago, FireDL was still available through the Amazon Store. Unfortunately, it's not the case anymore. Now, the Internet community rapidly came up with an answer: sideloading. Luckily, the Fire TV Stick ecosystem already has the perfect tool for that. We just have to make sure the Downloader app is installed on your Firestick device, and then we can move to FireDL installation.
You can also check our full guide for installing FireDL on a Fire TV Stick or an Android device.
Prerequisites
Plug your Fire TV Stick in your TV or monitor.
Head for the « Settings.»
Click on the « My FireTV » button.

Head to the « Developer Options » in the appearing drop-down menu.

Now, access the « Apps from unknown sources » and « ADB debugging » sections. When there, turn it on to allow your device to install third-party applications.


Install Downloader
If you don't have Downloader on your device yet, then you'll have to get it from the Amazon Store and install it.
To install Downloader, head to the Amazon Store and search for « Downloader .»

The app should be one of the first coming up in the results. Click on it.
Click on the « Get » button to download the sideloading application.

From there, you'll be able to follow the next steps easily. Just launch your Downloader app, and accept/allow the different prompts that appear on the screen.
Install FireDL on a Fire TV Stick with Downloader
Once you get to the Download app's main screen, you'll likely see a specific field for URL.
Paste this URL into that field: https://bit.ly/34ycGat

Click on « Go.» That should initiate the download of FireDL's .apk file.

Once the download is complete, you can proceed to install FireDL. Click on « Install » when prompted.
When the installation process is finished, you can click on « Done.»

The downloader will then ask if you want to keep the .apk file or if you want to keep it. If you want to save some space, you can safely delete it. You may have to confirm it an additional time; just click on « Delete » again.

Now, FireDL should be available in your app list and ready to use.
Best FireDL codes list for movies
You will need the appropriate applications to watch movies on your Fire TV Stick or your Android device. That's where FireDL comes in handy: it works pretty much the same way as Downloader and gives access to many apps through simple codes.
All you have to do is open the FireDL app, and insert your code in the correct field. Below, we listed the codes that will get you the most popular and useful movie-related and streaming apps.
HBO Movies: 680010
Titanium TV: 000420
Freeflix HQ: 452090
Movie HD 4.5.5: 440289
Popcorn Time: 158818
CinemaHD: 613287
Plex: 632975
Redbox TV: 693082
CINEMAX: 680032
Newest Movies V 1.4: 539401
TVTap 2.1: 170607
Kodi (Leia 18.5): 784843
Kodi (17.6 Krypton): 296283
Sidenote
As you may already know, FireDL codes are regularly updated. That means some code may work only within a three-month timeframe. After that, you may need newer codes if you want to install/re-install apps through FireDL. You can also check the latest codes at https://aidymatic.co.uk/firedl.php. We also keep an updated list of the best Android APKs.
Conclusion
Now, you should be able to use FireDL and install your favorite movie apps. Feel free to pick from our list of the best FireDL codes for movies. Plus, this application is useful whether you intend to use it on a Fire TV Stick or with Kodi Media Player. Last but not least, you don't have to look for complicated URLs anymore; pretty much any app now has its own code!
On a side note, remember that you are responsible for what you have and do on your device. Furthermore, many third-party applications can get you in trouble. Make sure to turn on a reliable VPN like Surfshark before using any of those streaming apps. That's the easiest way to stay protected and yet enjoy your favorite movies!
We hope this article was able to help you figure out the best FireDL Codes for movies!
Enjoy!