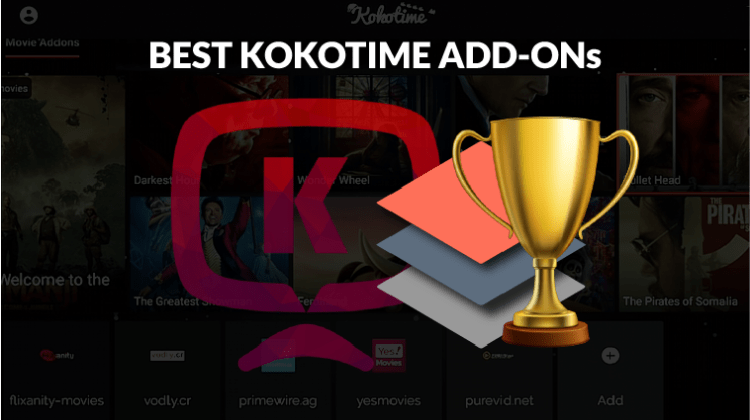 Kokotime is an application for entertainment media streaming. If you want watch free movies and TV series, you are in the right place, as this review will focus on the Best Kokotime Add-ons for that purpose.
Watching movies and TV series online can be a real hassle if you don't know where to look. Because of this reason a lot of people end up paying tens and hundreds of dollars on monthly cable subscription plans. It can be a real hassle and it isn't easy on the wallet. Therefore, we recommend using software that allows you to watch your favorite movies and TV shows online – for free! So, stick around as we tell you all about Kokotime. You can use Kokotime to watch unlimited amounts of free content online and in this article, we're going to include some of the Best Kokotime Add-ons available online that you can use to view free content.
But first- what is Kokotime?
Kokotime is a free, simple software that allows you to watch your favorite movies and TV series without any problems. It is basically a media software content player which you can use to live stream everything; from movies and live games to TV specials and live news. Kokotime offers a variety of user-friendly features including the use of subtitles, a file manager and a range of different media formats.
But that thing that makes Kokotime stand out is the level of customization it offers. Once you've picked your fair share of content to view, you can add artwork, ratings and much more, to your media library.
Additionally, Kokotime also supports third party add-ons so that you can use a variety of different add-ons to view various kinds of content according to your liking.
You may know more by visiting our reviews on How to Install Kokotime on Fire Stick or How to Install Kokotime on Android TV Box
If you want to use Kokotime add-ons to enhance your online streaming experience, we recommend using a VPN to help you do so. This might be baffling to those who don't have prior experience with VPNs, but using a VPN can be a total life saver.
What is a VPN?
If you don't know what VPNs are, VPNs are basically private networks that form a kind of a tunnel between you –  your computer – and the public networks that you use when accessing the internet. VPNs filter out things like your personal data, your geographical location, the IP address of your computer, etc; so that you're completely invisible online.
And now you're probably wondering why you need a VPN to make you invisible? After all, if you have nothing to hide, then there's nothing to fear, right? Wrong! On the internet, it doesn't matter how good of a person you are; you need to be careful about the information you give out on the internet.
Therefore, by using a VPN you are protecting yourself from hackers and government inspection. Furthermore, some governments have a habit of censoring their citizens' internet access; so by using a VPN you're also protecting yourself from government censorship and monitoring.
So what kind of VPN should you use? We're glad you asked! Because we recommend using Surfshark.
Surfshark
Surfshark is the best VPN service available online. It provides state of the art privacy services and a great customer service that will help you through any of your problems. We're pretty confident that you won't have any problems with Surfshark but, in case you do, the customer service is top notch, to put it mildly.
It has a zero traffic logging policy; basically that means that all of the data that is coming through the VPN will not be recorded. This is important because some free VPNs online have a policy of storing logs which can be used by hackers and governments to track down your online activity based on digital patterns that form when your data history is recorded.
But Surfshark isn't like those VPNs. Of course, it comes with a subscription plan, but this is for the maintenance of the quality of the service. You will not be disappointed by the VPN. Additionally, you can use this VPN across a wide range of operating systems from Windows to iOS to Android; also you can use it simultaneously in several devices – so what are you waiting for? We strongly believe that Surfshark is the best VPN for Streaming as well for all other internet activities. We managed to get an exclusive 82% of Surfshark.
Click here to save 82% of Surfshark now!
Best Kokotime Add-ons for 2023
Now with security and privacy out of the way, let's talk about the best add-ons you can use with Kokotime to enhance your online experience. If you still don't know, you should visit first our tutorial on How to Install Kokotime Add-ons
Watchseries

Watchseries has a website on the internet that allows users to watch the latest TV shows the day after they are released or maybe earlier, depending on whether these uploaded online on other links available on the website. The Watchseries add-on on Kokotime does the same and more. Unlike the website, which can be illegal to use in some countries, Kokotime allows you to use this add-on without any such hitch so you can easily watch your favorite TV shows. This is a great choice, when talking about the Best Kokotime Add-ons.
Animefreak.tv
A lot of people are watching anime these days and finding free anime can be quite difficult. Luckily, Kokotime has got you covered! With animefreak.tv you can watch unlimited anime TV shows and movies on Kokotime for free without any legalities attached to it! So, Animefreak.tv deserves to be here mentioned as one of the Best Kokotime Add-ons.
PrimeWire.ag
Similar to the two add-ons mentioned above, you can watch your favorite movies on a service called PrimeWire. ag. It's quite simple to run and provides streaming service from the PrimeWire website itself so you can easily watch them without any interruption or third party intervention.
PrimeWire-shows
Another great add-on by PrimeWire features the option to watch shows only. PrimeWire-shows made our list because, like the PrimeWire.ag add-on for movies, this one is great to watch TV shows on. We understand that sometimes, you have to look at various places to find your favorite TV show online; so we decided to include this wonderful add-on in case Watchseries or animefreak.tv doesn't have what you're looking for. PrimeWire-shows is bound to have it as it does not only depend on other links for streaming and also uses its own platform to show TV shows directly.
Conclusion
This article talked about the Best Kokotime Add-ons you can use to watch your favorite TV shows and movies. We highly recommend Kokotime as it is very user friendly. You can check out add-ons on its website where it provides a link to all its add-ons available for usage. The add-ons we've mentioned in this article are the most reliable ones available on the platform. We hope you find this useful! And remember with these Best Kokotime Add-ons – it's best to use a VPN  to increase your own online security.
Have fun!