There are several options at your disposal for downloading and sharing files on the internet. Torrents stand out from the pack thanks to their easy accessibility and great speeds that have progressively become faster over the years.
However, getting the right torrents is not as simple as most people think. The ease and convenience you enjoy when finding a torrent file often come down to the type of torrent search engine you use. These engines make it easier for you to locate torrents on the internet by indexing peer-to-peer files from different torrent sites.
Torrent search engines vs Torrent sites
Torrent search engines are tools presented as sites that don't particularly host torrent files but direct users to actual sites to find the torrents. On the other hand, Sites host files and often feature a search functionality for easy access to these files. You can check out our best torrent sites of 2023.
Torrent search engines help overcome torrent sites' limitations by allowing you to search for torrent files on multiple sites simultaneously. Below, we've compiled a list of the best currently available torrent search engines you can use. The options provided are the pick of the bunch as this list is based on several factors, including user experience, reputation, number of ads, ease of use, and search base volume.
But before we get into that, it's only right to talk about the issues associated with torrenting.
⚠ Torrenting Concerns & Cautions
Torrents & Legality
The technology used by torrents is completely legal, and there's nothing wrong with using torrents. However, torrenting has been notorious for sharing copyrighted content illegally. This has led to various people being prosecuted and being heavily fined and various torrent sites being taken down.
However, there's lots of stuff on torrent sites that you can download or stream legally. The only problem comes in that you can't always tell what's legal. For this reason, it's highly advisable to always use a reliable torrenting VPN like Surfshark.
Blocking of Torrent Sites
As a measure to combat copyright infringement, governments across the world have directed ISPs to block torrents. This is true in countries like the UK, Australia, France, Germany, Russia, Spain, Sweden, Belgium, Italy, and so many others.
In such countries, if you wish to access torrent sites, you have to connect to a VPN server outside the country. The VPN will then encrypt your activities and spoof your IP address to make your traffic appear as if it's from a different country. This way, you can access any site blocked by your ISP.
The VPN we recommend
At BestDroidPlayer, the VPN we recommend for torrenting is Surfshark. This is because of the following:
Torrent on All Servers: While most VPNs prohibit P2P traffic and others only limit it to a few servers, Surfshark allows users to stream on all their servers.
Socks5 Proxy: The VPN provides a proxy that can be set up within your torrent client if you don't want to use the VPN. This will let you change your IP address without affecting your speeds or the rest of the computer. However, note that the proxy doesn't encrypt your activities.
Kill Switch: A kill switch terminates your internet connection in case you lose your VPN connection. This ensures that you do not get exposed. Such is especially useful when changing servers or if you want to leave your computer downloading torrents.
Super speeds: Surfshark is one of the fastest VPNs available, and so you will be able to torrent without having to take a significant hit on your speeds.
To help you get started, we have a special 82% discount for BestDroidPlayer readers 😃. You can use the link below, and you will also be eligible for a 100% money-back guarantee just in case you wish to cancel.
Also, you may want to check out 15 awesome things you can do with a VPN!
Torrenting terminologies
Here are some commons terms you will come across when dealing with torrents and what they mean.
A torrent is a file that contains metadata with information about the files to be distributed in a torrenting network.
A seeder is a torrent user who has already wholly downloaded a particular file and is now sharing it with other users who are still downloading it. The number of seeders determines the speed of the download.
Peers are torrent users who have only downloaded part of a particular file and are only able to share what they have downloaded.
Leechers are users who download a file and prefer not to seed it at all or only seed a small part of it.
Best Torrent Search Engines of Trust
1. AIO Search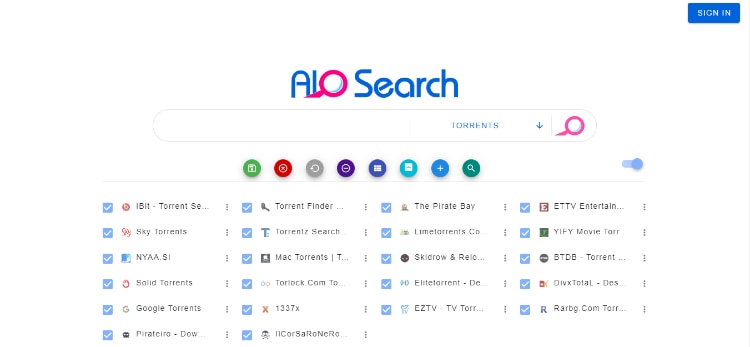 AIO Search is one of the best torrent search engines today. It features a direct but appealing home page thanks to its colorful theme. Beyond its striking appearance, the search engine has virtually everything you would want.
It has a handy filter option that helps you sort out your search item in terms of torrents, subtitles, videos, streaming websites, and images. The search functionality modifies your results accordingly in line with your selection. There's a sign-in option that lets you register or sign in to your Google account. We reckon you will not want to use it unless you want to have more control over the search results.
The homepage shows a sneak peek of different torrent hosting sites tagged with checkboxes. You can check or uncheck these boxes to define the sites where or not to search the torrent. You'll also find options that allow you to manipulate some aspects of the search engine to your liking. The search engine additionally comes with an extension that can be added to your Google Chrome and an add-on for Mozilla Firefox users.
2. Snowfl
The Snowfl torrent search engine describes itself as a torrent aggregator and, it is indeed. Its straightforward website makes it easy for even the most basic netizens to navigate through. There are several easily confusing filter options presented but don't be misguided they only add to the expediency.
The filter options afford you convenience by giving you the option to narrow your results down to the specific torrent files you are after. The engine's search results are as comprehensive as can be. They come with detailed information of the torrents including the number of leechers & seeders, the size of the torrent, the hosting website, the type of torrent, and the age recommended for the torrent.
The search results are also numbered. If you want to search for a new torrent after getting the result of a previous search, you can use the reset option instead of navigating back to the homepage. The reset option refreshes the page allowing you to perform a new search. The site also has fewer ads compared to the majority of the other search engines.
3. Veoble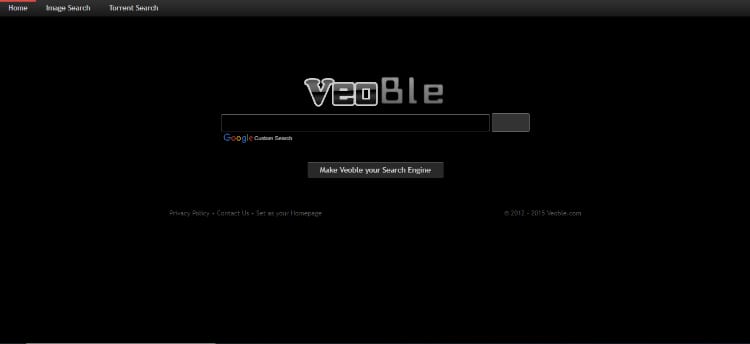 This all-in-one search engine brandishes a dark-themed website with an elementary home page. The search engine uses Google's custom search to access search items from all corners of the web swiftly. In addition to torrent searches, it also provides results for normal searches and images.
You can choose the specific search you want by selecting from the three tabs presented, i.e., home, image, and torrent searches. Veoble fetches your results from hundreds of torrenting sites, including popular ones like ISO Hunt, The Pirate Bay, 1337X, and RARBG. You'll only come across a few ads on Veoble's site, which is a plus.
4. TorrentSeeker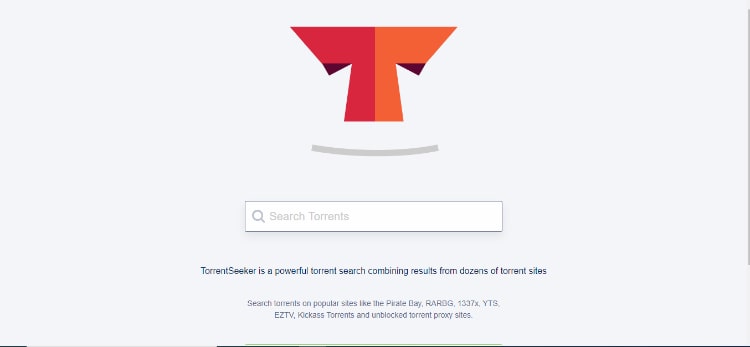 TorrentSeeker does precisely what its name implies. Much like Veoble, it also utilizes Google's custom search to browse through more than 100 torrent hosting websites such as RARBG, EZTV, The Pirate Bay, and YTS. It combines these sites' results to present reliable links on the plain website where it is hosted.
The site's torrent index is frequently updated to capture the recent torrent proxy sites, popular torrent indexes, and even language-specific torrent sites. There are hardly any ads on TorrentSeeker, making it's a good option.
5. Xtorx
Xtorx is another of the best torrent search engines, and it uses Google custom search to check through several torrent hosting websites for the best results. Xtorx's clean user interface should not fool into thinking less of it. On the contrary, it is a powerful search engine with very few ads.
It claims to be faster than any other torrent search engine. While this can't be confirmed, there's no arguing it has breakneck speeds. The site presents search results quickly, but it doesn't offer many details about them.
Instead, it only provides a redirecting link to the host website without other crucial details such as the number of seeders and leechers. Besides the lack of search result details, its other downside is the lack of a filter option.
6. BTDigg
BTDigg is a minimalistic and plain torrent searching tool that uses mainline DHT to track peers via BitTorrent protocols. It allows the visitor to customize searches into European and Asian languages. It also has sorting functionality that does grouping by age, relevance, size, and info files.
The search engine presents just enough details alongside the search results to give you an idea of what the torrents encompass. BTDigg barely has any ads or random redirections.
7. Academic Torrents
Lastly, here is one for the academics as a bonus. This search engine is ideal if you are looking to read or research a paper. The search engine defines itself as realistically one of the best options to access just that kind of material. It boasts of enabling access to much over 65TB of research data.
The load ranges from research papers, lecturer reviews, past exam papers, lectures, and datasets. The search engine roams through several online repositories to give you the search item's best search results.
Academic Torrents has been up and running for over 7 years now. Though it has seen several developments over this period, it still could be bettered. A much larger file base, for instance, would be a good start. On the bright side, it has very few ads that will hardly bother you.
Wrap Up
Torrenting comes with its share of risks, such as exposure to malware. This is why it is important you get your torrent files only from the sources you absolutely trust.
Also, when accessing torrents using any of the search engines above remember to protect yourself using a reliable torrenting VPN such as Surfshark. This will help you avoid any copyright issues and unblock sites blocked by your ISP.
By last, if you haven't done it yet, you may be interested in visiting our articles on the Best torrent sites of 2023, the Best torrent sites for music files downloading, or the Best Torrent sites for downloading comic books.
Enjoy!