Looking for the best alternatives to FileLinked?
FileLinked has been one of the most popular methods to install third-party apps on Firestick and Android TV devices. However, the app is no longer working, and it has been taken down from Play Store and the website brought down!
If you have already downloaded the app and you try accessing a particular store, it is now just throwing an error!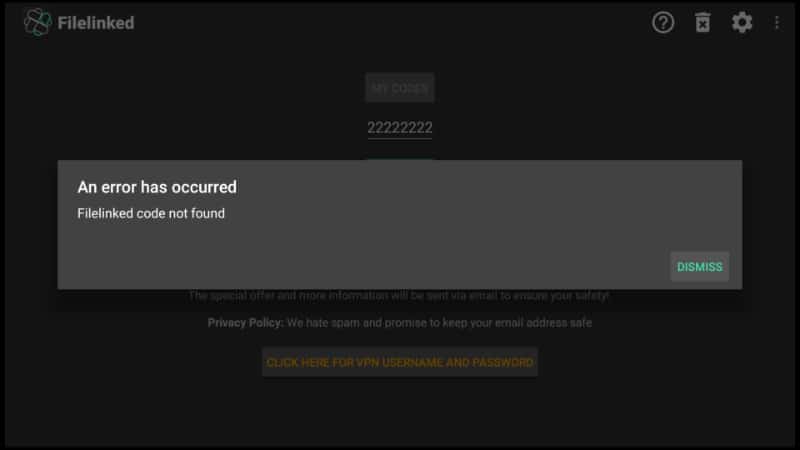 This is quite a blow to those who used the utility tool as it made it easy to install multiple apps, and all you needed was a FileLinked store code. Nevertheless, the streaming world just keeps on expanding despite the challenges it faces, and there are several other ways you can install your favorite streaming and utility apps. This guide shows you the best alternatives to FileLinked.
⚠ Important: Stay Private & Anonymous
The methods suggested here are not official installation methods. However, just like FileLinked, these methods allow you to install all types of apps, including those that infringe copyrights. This is maybe the major reason behind the disappearance of FileLinked, so you need to be quite careful.
Your ISP always monitors everything you do on the internet, and they know the apps you use, and the websites you visit. This means that they can easily know when you access pirated content, and they can also easily throttle your connection.
To stay safe and use other apps that may be blocked by ISPs, such as Stremio and Popcorn Time, you need always to use a VPN. A good VPN will encrypt your activities and make your connection anonymous.
The VPN We recommend
At BestDroidPlayer, the VPN we recommend is Surfshark. This is due to the VPN's excellent balance of speed, security, and features. Below is a highlight of what the VPN offers:
⚡ Superb Speeds: Guarantees a smooth live streaming experience.
🌍 Huge Server Network: You can connect to a nearby server for a fast and stable connection.
😲 UNLIMITED Devices: Connect dozens of devices at the same time!
🔑Unblock Anything: Safe access to censored apps, websites and torrent sites.
😎 Best in Privacy: The VPN doesn't keep any activity logs, and so your activities are only known to you.
🔐 Top-notch Security: This VPN uses AES 256-bit encryption and provides multiple protocols alongside other security features such as a kill switch, DNS & IPv6 protection and WireGuard.
💳 30 Days RISK FREE Money-Back Guarantee: In case you do not like the service, you can get every penny back if you cancel within 30 days!
To help our readers stream and browse privately and securely, we have partnered with the Surfshark VPN, and you can now
get a subscription at 82% off
!
Top 5 Best Alternatives to Filelinked
1. Downloader
Downloader comes first in our list of the best alternatives to FileLinked. The app is not similar in its mode of operation, but it helps accomplish the same task quite easily. In addition, the Downloader provides an easy way to install apps by entering the app URL or even browsing for the app you'd like.
We use this app for most of our sideloading guides, and we usually provide links for all popular streaming apps. If you don't have the link, you can also install the app's browser plugin and search for a link on Google.
👉 Downloader is readily available on the Amazon App Store and the Android TV version of Google Play Store.
2. Apk Time
Apk Time is your best destination if you are looking for a platform that can offer all popular third-party apps. Unlike FileLinked and Downloader, Apk Time hosts the apps it provides, which are in the thousands!
One of the biggest advantages of Apk Time is that just like FileLinked, the store provides modded apps alongside their original versions. This means that you can download an ad-free version of an app like Bee TV. You'll also get your apps easily as the store is organized into categories such as New Updates, Top APKs, Android TV, Animation, etc. There's also a search button that helps find a particular app easily.
👉 Visit at: https://apktime.com/
3. Fire DL
Fire DL is the closest app to FileLinked in terms of operation. Just like the latter, FireDL uses codes to allow users to download apps. These apps usually last for about three months, and you can always get the latest from the FireDL website (aidymatic.co.uk/firedl.php).
The major difference between FireDL and FileLinked is that Fire DL links only provide a single app. Unfortunately, this means that to download multiple apps, you'll need multiple codes.
👉 Visit the FireDL install guide!
4. Aptoide TV
Aptoide TV is the largest third-party alternative to the Google Play store and the Amazon App Store. One of the greatest advantages of using Aptoide TV is that all the apps on the store are safe. Before they are uploaded, they are all subjected to a security test, and they have a green shield to show that.
However, this also means that some apps that use aggressive ads or allow users to share resources such as SwiftStreamz and Live NetTV may not be available. Nevertheless, you can still download apps like Stremio without hassles.
👉 Visit at: https://en.aptoide.com/
5. APKPure
APK Pure is another third-party store that is similar to Aptoide TV. The store has been created to make it possible to install apps and update them on the Play Store and vice versa. Since you can't install Play Store on the latter, why not use APK Pure? This makes it quite convenient for Android TV Box users, and it also works great for Firestick.
APK Pure does well to provide some unofficial free streaming apps such Live NetTV. However, APK Time is the way to go if you need the latest streaming apks.
👉 Visit at: https://apkpure.com/
Mobdro no longer working? Here are the best alternatives
Wrap up
The loss of FileLinked comes as a huge shock to the streaming community. However, this doesn't mean that the fun stops!
The above guide gives you the top 5 best alternatives to FileLinked. All the apps provided work differently, but they should help you install just about any app you desire.