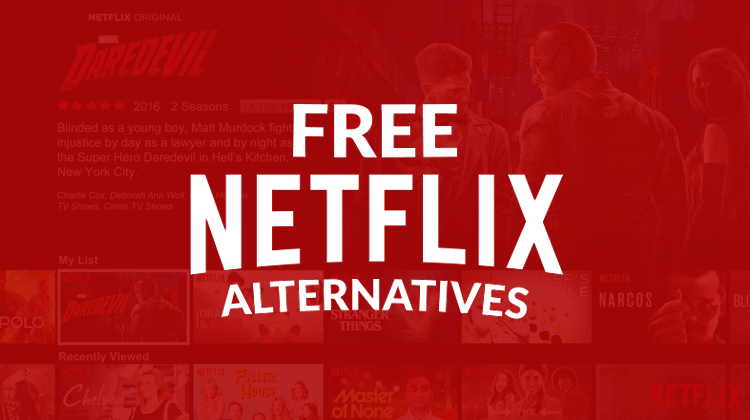 Considering the online streaming, Netflix and Hulu are the most popular streaming media. Many people worldwide are continuously looking for free alternatives to Netflix and Hulu. In this article, we are going to share some Legal apps and websites which can be considered as good free alternatives to Netflix and Hulu.
Netflix and Hulu might be some of the most popular media streaming services out there, but they are definitely not the only ones. Actually, there are a huge number of Alternatives to Netflix and Hulu that offer a wide range of TV shows and movies, spanning almost all genres.
The prices for these two services have continued to increase, and this may be a put off to many. The good news is, you don't have to pay a penny just to enjoy watching your favorite TV shows and movies. There are free streaming services ready to let you go to Netflix and Hulu, and start enjoying as you stream for free. You can also use these services as a compliment for Netflix and Hulu, and the services still lack some of our favorite titles.
You won't have to worry about copyright rules as the streaming services listed here are completely legal. Let's dive right in and have a look at some of the best free legal alternatives to Netflix and Hulu.
Important Note: Since these streaming services don't ask for a penny, you should understand that they are ad-supported. This means that you will see ads before and even when watching the content. This is the only way that the systems can acquire the TV shows and movies offered, as well as maintain their servers.
Further, all of them are geo-restricted to USA IP Addresses in order to comply with the requirements of content producers. You will therefore need a VPN to overcome this, and the VPN we recommend for this is Surfshark. This is because of its speeds, overall functionality and actual ability to work with these free legal alternatives to Netflix and Hulu.
Top Free Alternatives to Netflix and Hulu
1. Tubi TV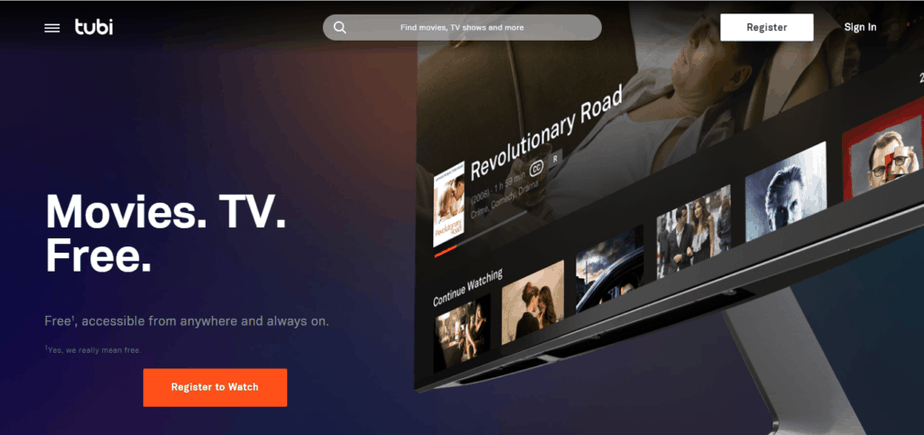 Simply known as Tubi, Tubi TV boasts one of the largest databases of TV shows and movies, second only to Netflix. It is actually referred to as the free version of Netflix and is the best description of a free and legal Alternatives to Netflix and Hulu.
The streaming service started in 2014 with 2000 titles to its name. From there, Tubi TV has grown through signing new partnerships and adding new titles every single week. The streaming service now has over 7400 titles that you can enjoy all for free.
Being free, the selection on Tubi TV is pretty much hit or miss. They may not have the biggest names on offer, but they sure do have some crackers from over the years. Actually, there are some very good movies and TV shows that you can find on Tubi TV but not on Netflix or Hulu.
In terms of fee, you won't need to pay anything with Tubi TV. Even if you want to, you can't. Tubi solely relies on ads for revenue, and therefore you won't face a paywall at any point. Neither can you pay using your credit card to remove ads from the service.
The ads that Tubi TV serves are pretty much short and innocuous, and so you won't have to worry about them for a free service. Adverts maybe 15 seconds or 30 seconds long. They alternate, and one can show before your movie/ episode, and probably one more or two others during play. For just that, you can stream legally in HD, free!
Unfortunately, Tubi TV is not available in Europe due to changes in EU laws. Continue reading to know how to unblock tubi TV if you live outside US.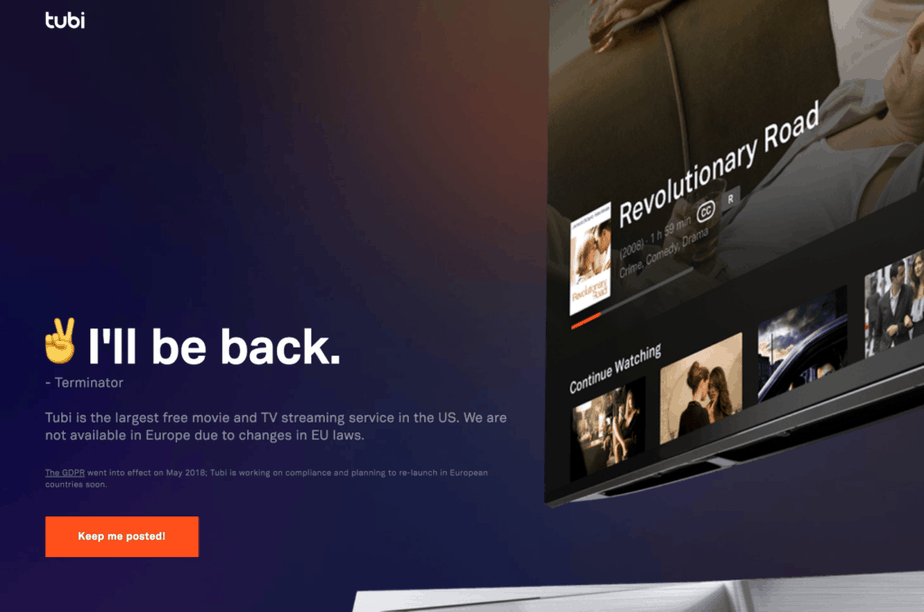 To overcome this, you will need your Surfshark account. The VPN works seamlessly with Tubi TV, and you won't experience any buffering due to reduced speeds.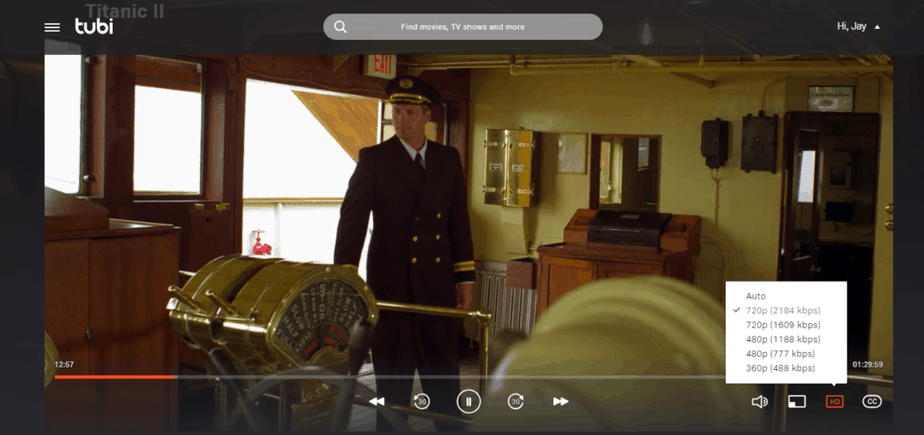 You can use Tubi TV on the web, Roku, Samsung & Sony Smart TV, Amazon Fire TV/ Stick, Apple TV 4th Generation, Chromecast, Xbox, Play Station, iOS, and Android devices.
Unblock Tubi outside US
2. Popcornflix
Popcornflix is another superb alternative to Netflix and Hulu. The streaming service was launched in 2011, already stocked with films from the house of Screen Media. During that time, the streaming service operated only in the US and Canada. It would later expand to 61 other countries, though some content is still restricted for viewing on in the US.
The title selection on Popcorn is quite good for a free service. The only problem is coming in the quality of the movies. They are mostly offered in DVD quality, which isn't superb like with Tubi TV.
Available content is arranged in terms of genres like Comedy, Troma, Action, Thriller, Drama, Rockstars, Before They Were Famous, Family/ Kids, TV Series, etc. to help you with the browsing. You can then sort the films inside a category by most popular or by title.
To make it even easier, Popcornflix has created two additional sites for watching movies. These are Popcornflix Kids and FrightPix. The former focuses on children programs, while the latter features horror films.
Just like Tubi TV, Popcornflix relies on ads for revenue. Ads run on Popcornflix are normally 15-20 seconds long. They tend to appear after an interval; one before the movies, and another one after around every 15 minutes. This means that the longer the movie, the more the ads. It doesn't matter though, after all, it's a free service. You won't even have to create an account to watch, but it would still be great so that you can continue watching from where you left off.
However, Popcornflix is restricted to only a number of countries, mostly in the American region. Continue reading to know how to unblock popcornflix if you live outside US.
To overcome this frustration, you will need to connect your Surfshark to a US server, and you won't experience any problems.
You can use popcornflix on the web, iOS, Android, Roku, Windows, Xbox, Chromecast, Samsung TV, Blackberry world and Amazon Fire TV/ Stick.
Unblock Popcornflix outside US
3. Crackle
Crackle is a better-known name than Tubi TV and Popcornflix, being a subsidiary of Sony Entertainment Pictures and having been around for 11 years now.
Sony Crackle brings you a wide variety of movies and TV shows all for free. The streaming service usually has over 100 full-length movies and full episodes from over 50 TV shows. The content is quite varied, and you will find some classic greats as well as new content.
On the main page of the Crackle app, you will find featured movies and series. Below that are the two main categories that let you choose between movie and TV shows. The content is well organized, and you won't have a hard time looking for a film you are interested in.
When you play a movie or episode, the player will allow you to customize your experience. You can alter the foreground, background, border, etc. You can even enable/ disable subtitles as well as customize how they appear.
Since Sony crackle is ad-based, you will have to deal with a number of ads while watching. The first one appears before you movie plays, while others will appear at intervals of around 10-15 minutes. The good thing is that you can always tell when an ad will play.
However, the biggest problem with Sony Crackle is the quality of the films here. Even the best of selections are capped at 480p, which is pretty bad compared to Tubi. The service is also only available in North, Central and North America. To use it beyond those regions, you have to spoof your IP address and get an American one. You can get an US IP Address using a VPN service like Surfshark.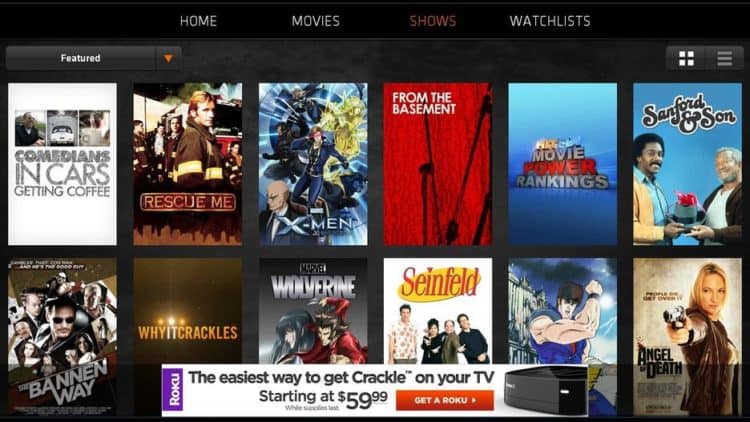 You can use crackle on the web, PlayStation 3, PlayStation 4, Apple TV, Roku, Xbox 360, Xbox One, Samsung, LG, Sony & Toshiba Smart TV, Fire TV, Chromecast, iOS, and Android.
Unblock Crackle outside US
You will need a VPN
As you have seen, the major problem in getting a proper free and legal alternative to Netflix and Hulu is geo-restrictions. Fortunately, with the right VPN, you will overcome this with no struggle.
However, you should note that not all VPNs are good for streaming. Some VPNs offer terrible speeds that can't allow you to stream without buffering. If you need a VPN for streaming on these Netflix and Hulu alternatives, we advise that you get Surfshark. The VPN is super fast, has many American servers, and does not limit your bandwidth whatsoever.
Use this link to save 82% of Surfshark!