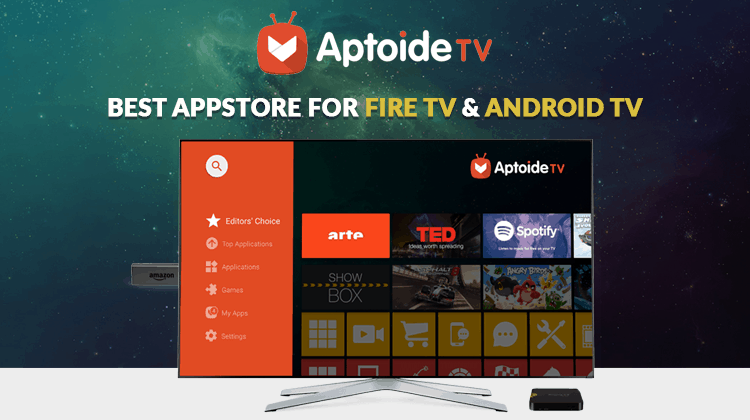 Aptoide TV store is an Android-based app which can be installed on any device. In this tutorial, we are going to show how you can install Aptoide TV on Firestick, Android TV Box or Android Smart TV.
Where do you get your apps? Depending on the type of Smart TV or TV box you have, there's only one place, the official store which came with the device. For native Android platforms, it's the Google Play Store, for Fire TV, it's the Amazon store. Despite their advantages, these official app stores have limitations such as compatibility issues and the main one is that not all apps are available. Essential streaming apps such as Mobdro can't be found in these official stores, and this is a big blow to cord cutters out there.
What if I told you there's another store where you can get all your apps, especially streaming apps. Well, to all esteemed cord cutters with TV boxes, now it's time to ditch the official stores for something more bountiful. The alternative app store I'm talking about is the Aptoide app store. The name Aptoide comes from the combination of APT – an installation package and the word OIDE which is the syllable voice from the name 'andr-OID.' This store is available and compatible with different screen sizes. Hence there's Aptoide for smartphones and Aptoide TV for TVs. The one we are going to look into is Aptoide TV. This one has apps compatible with big screens.
Installing Aptoide TV
Aptoide TV store is Android based, and hence it can be installed on any device which runs on the Android platform. It can also be installed on Fire TV as it runs on Fire OS, a variant version of the Android platform. Since this is an alternative store and due to the non-compete clause, you can not install Aptoide from the Official App stores such as Google Play and Amazon store. But worry not, there's another way in which you can get this store into your various TVs.
How to install Aptoide TV on Android TV Box/Android Smart TV
Aptoide TV is an app from a third-party source, and for this reason, you will need to enable required permissions on your Android TV for it to install. To install Aptoide TV, proceed as follows;
On your Android, go to the Settings Menu.
Look for the Security option and select it
Then check whether the "Unknown sources" checkbox is ticked. If not tick it, if it is, go to the next step.
This is the final step, installing the app. Go to https://m.aptoide.com/installer-aptoide-tv on your TV's browser, download the app and install
After step 3, you can also download the App to your computer via the above link and then copy the APK file to a flash disk. Plug in the Flash disk to your Android TV/TV box and install the app.
After a successful installation, you can now install streaming apps which are not available in the official stores.
Install Aptoide Tv on Firestick
Like said earlier, you cannot install Aptoide TV from Amazon Store. Similar to Android you will also have to enable some permissions. Here is the procedure on how to install Aptoide TV on Firestick;
On your Fire TV, open
Then go to Device.
And select Developer Options.
From the developer options, enable ABD debugging and Apps from Unknown Sources by ensuring they are turned on.
Go back to the home screen and head over to the Search option and type Downloader. If you already have the downloader skip to step 8.
After typing, the Downloader will show up, click it and then select Get to download and install it.
After installation, open the downloader and click on the http:// address box section.
Type https://aptoide.en.aptoide.com and select Go.
On the Aptoide page, select download, wait for it to finish and then click install.
Open the app and Tada! You have the Aptoide Tv store.
Popular Streaming Apps available to Download from Aptoide TV
How secure is Aptoide?
If you are worried about the safety of this store, always download apps with the "Trusted" badge on them. But generally, it's secure and free of malware.
Why you will need a VPN
It's highly advisable to use a VPN for any online task as it provides security and privacy. In this case, a VPN will be helpful in enabling you to bypass geo-restrictions and gain access to restricted content when you are streaming.
We recommend using Surfshark for HD streaming without buffering. This VPN offers incredible speeds which are essential for HD content. Click here to Save 82% of Surfshark