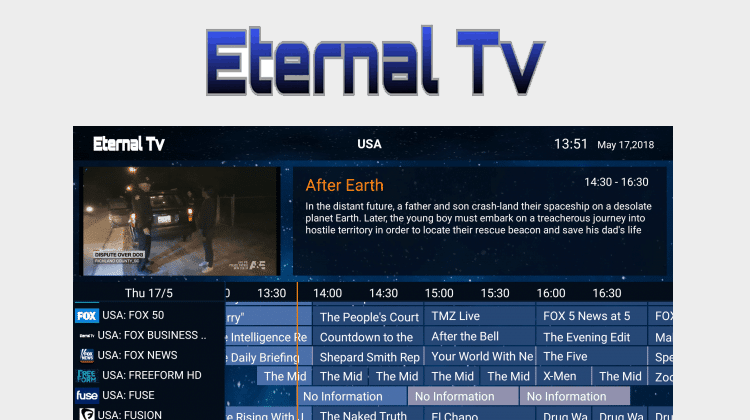 Eternal TV is an excellent IPTV solution for both Android and Kodi. With thousands of channels for a minimal price its an excellent choice. In this article, we are going to share how you can install Eternal TV for Firestick and as Kodi Addon.
The Eternal TV App/Kodi Addon is a great place for getting all your favorite TV channels. The eternal TV app/addon has more than 2000 live TV channels from all over the world and is a good complement to other solutions like cCloud, Live NetTV, and Terrarium.
Eternal TV gives you all sorts of categories including Entertainment, Kids shows, Sports events and channels, Movies, UK Sports, NBA NHL, EPL, Music Vid and Live shows (including pay-per-view). The Eternal TV add-on is very simple to use and has an easy-to-use EPG menu which is user user-friendly enables you to scroll through channels and choose your preferred option. With the Eternal TV addon, you can get some of the best TV channels online through Kodi. Before installing any Kodi add-on though, it's really important to get a VPN.
Why you Need a VPN
If you stream online content regularly, then a VPN is your best protection against monitoring. A VPN is a software service that provides you with a private network within the public network you normally operate in. This enables you to stream without exposing your personal information to other parties online.
When streaming on Kodi, a VPN is very important for a variety of reasons. For one, you can forget about geographically restricted websites. A VPN helps you bypass any geo-restriction you may face when streaming online. It works by protecting your IP address and masking it with a more suitable one that can be accepted in the specific geographic area.
Another reason to consider VPNs and one that's really important is anonymity. With changes to the net neutrality laws in late 2017, ISPs were given the legal right to monitor internet activities. Many ISPs have used this authorization to flag streaming clients and actively slow down their connections. In some more extreme cases, its led to customers receiving legal notices. With a VPN service like Surfshark though, you can maintain your online anonymity as you stream. Commercial VPNs setup a virtual tunnel between your device and the VPN server they connect to. Monitoring of traffic and internet activities through that tunnel is completely restricted.
For the best VPN service, you can rely on Surfshark. Surfshark is designed to make streaming easier and more convenient for the customer and with a  multitude of different clients for every device under the sun, it's one of the best options out there. A huge plus for you though is the deal we've negotiated with Surfshark. All of our readers are able to take advantage of a massive 82% discount on the regular price. Simply click on the link to enjoy this special deal.
How to Install Eternal TV App on a Firestick
Before you can install and watch channels on the Eternal TV add-on, you have to open a monthly subscription Eternal TV account. If you get an 'out of stock' response, repeat the process after some time since this error is due to excessive requests on the website. For Android Firestick users, follow the instructions below to install.
Select 'Settings'. Click on 'Security tab' > 'Developer options'. Select the 'Unknown sources' option and go back to the main screen.
Install the 'Downloader Application' from the app store then open the downloader main screen and select the OK button on the remote to access the website space.

Type in

www.troypoint.com/etv in the URL slot then select 'Go'. The Eternal TV app will start downloading on your Android TV.
Select 'Install' and wait for the application to install. After installing, open the application and log in using your Eternal TV information to access your Eternal TV account.
How to Install Eternal TV Addon on Kodi
Open Kodi and select 'Settings' > 'System Settings' > 'Add-ons' and switch the 'Unknown Sources' to on.
Go back to the 'Main Screen' and select 'File Manager'. Select 'Add Source' then select click on <None> in the window that follows.

Type this URL on the website slot

http://misfitmods.com/mmwiz/repo/ then click 'OK'. Type 'eternal' on the bottom slot and select 'OK'.
Head back to the main screen and select on 'Add-ons' then click on the 'Open box' icon at the upper left side of the display.
Select 'Install from zip file' > 'Repo' > 'repository.misfitmods.zip' and wait for a notification confirming the repo is downloaded.
Select 'Install from Repository' > 'Misfit mods repository' > 'Video add-ons' > 'Eternal TV'. Click on 'Install' then open the Eternal TV add-on to enjoy unlimited TV content on the Eternal TV add-on.