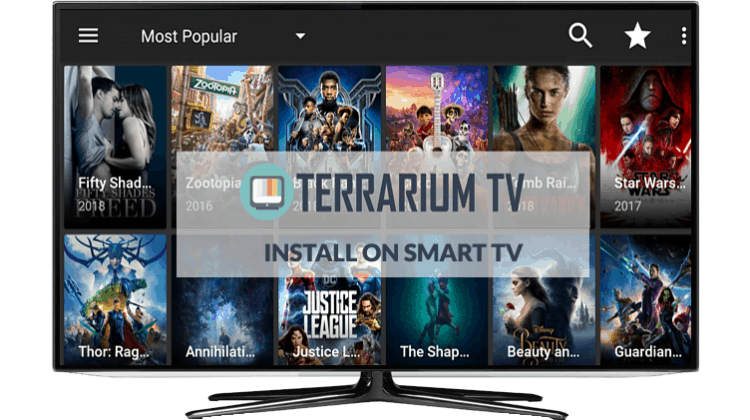 Terrarium TV could be a great addition to your android smart TV for watching thousands of movies and TV shows. In this tutorial, we are going to discuss how you can install Terrarium TV on your Android Smart Tv…
If you own an Android Smart TV, you have unlimited access to all forms of entertainment, both paid and free. This is because Android is the most popular operating system, and therefore boasts the most app developers. There's a wide array of Android applications that you can install on your Android Smart TV to get thousands of entertainment hours. If you are a fan of movies and TV shows, one of your best options is Terrarium TV. Thus this tutorial on How to Install Terrarium TV on Smart TV.
Terrarium TV is a popular mobile TV app that lets you streams movies and TV shows in 1080p on your Android device. Since your Smart TV is powered by Android or you have an Android TV box, you can then enjoy Terrarium TV on the big screen. Almost every popular series and movies are available to stream on demand and with subtitle support. In this guide, we'll show you How to Install Terrarium TV on Smart TV.
Is Terrarium TV Safe & Legal?
In terms of malware, Terrarium TV is completely safe. The Android app itself doesn't contain any form of viruses that can harm your device whether installed on a Smart TV, Smartphone, or Android box. This applies if you download it from a trusted source.
However, the lines become a little blurry when it comes to legality. Terrarium TV doesn't host any videos but rather scrapes for content from third-party websites on the internet. The tricky part is that Terrarium TV isn't picky on the sources that they can use to avoid presenting users with copyrighted content. In their terms of service, they clearly state that "it is the responsibility of the user to avoid any actions that might violate the laws governing his/ her locality."
This means that if you use Terrarium TV, you do so at your own risk. We would, therefore, like to advise all our readers to take care of their privacy and security first before they can watch anything on Terrarium TV. The only way you can do that is through the use of a reliable VPN. The best VPN for Terrarium TV should offer you true privacy, nearby servers, and super speeds to let you stream in HD without buffering. A VPN that meets these conditions and more in a convincing way is Surfshark. It is based in the British Virgin Islands, has servers in almost every region of the world, and is the fastest VPN around. We managed to get an exclusive 82% of Surfshark.
Click here to save 82% of Surfshark now!
How to Install Terrarium TV on Smart TV
Terrarium TV is not an official Android app, and so it's not available on Google Play Store. That, however, doesn't mean that installing the app is difficult. All you need to do is download the .apk file of the app.
Before that, you need to ensure that you have connected your Android Smart TV to the internet. In case you are just considering to buy one, you can check out the best Android Smart TVs to make sure you get the right product.
To connect your Android Smart TV to the internet:
Go to "Settings" and then "Network settings" of the Smart TV. Now, select "Connect to Wireless network."
You can then select the network and enter the password to connect.
The next step is letting your Smart TV allow installations from "unknown sources." This is usually required for all apps that are not on the Google Play Store.
Go to "Settings"
Scroll down to "Personal," and select "Security and restrictions." Now, enable "Apps from Unknown sources."
Now, we can download and install Terrarium TV. To avoid downloading an app that contains malware, we'll advise that you download Terrarium TV from Aptoide, the best alternative app store.
For this you need to install Aptoide TV. This app, known as the mother of all the apps, acct as your private app store. After install it you'll find numerous version patches for Terrarium TV; just pick the most rated patched version and give it a try.
Before you can stream anything on Terrarium TV, you need to ensure that your VPN is already running. A good VPN like Surfsharkwill keep your online activities private such that your ISP can't tell what you are doing on the internet.
To get your VPN running,
Go to your App list and launch Play Store.
On the search bar, type Surfshark and search.
Select the first option and click "Install."
Connect to a server near you and enjoy a new level of privacy.
Such privacy is important when streaming from Terrarium TV on Smart TV, or in other device, as your ISP can't send you a DMCA notice for copyright infringement. The ISP will also not be able to throttle your internet speeds due to excessive data usage.
How about an Android TV Box?
If you have an Android TV box, then you have an Android Smart TV. Actually, an Android TV box offers far much flexibility than a Smart TV. To install Terrarium TV on Android box, you'll just need to follow the same procedures outlined above. However, some specifics may vary depending on the manufacturer of your Android TV box.
You will need a Video Player
Terrarium TV doesn't come with a pre-installed video player. Instead, when you try streaming a video for the first time, they prompt you to install a player. They used to suggest a basic player called ExoPlayer, but they have now replaced it with Yes Player. However, this is still a basic player, and you may need a much better player especially if you are a power user. If there's an Android Video player you like, you can install it. In case you don't have a specific one, you can install MX Player. The video player is smooth, and its interface very intuitive.
MX Player is available on the Google play store. Just open the store, search for 'MX Player,' and install it. It's from J2 Interactive.
Wrap Up
Once you install Terrarium TV on Smart TV, a reliable VPN, and a good video player, you'll be ready to go. You can then enjoy unlimited movies and TV shows on Terrarium TV without having to worry about your ISP.
If you haven't a VPN yet, you can visit our review for the Best VPNs in the market, and choose the one fitting your needs.
Hope to have helped you to install Terrarium TV on Smart TV. Have fun!