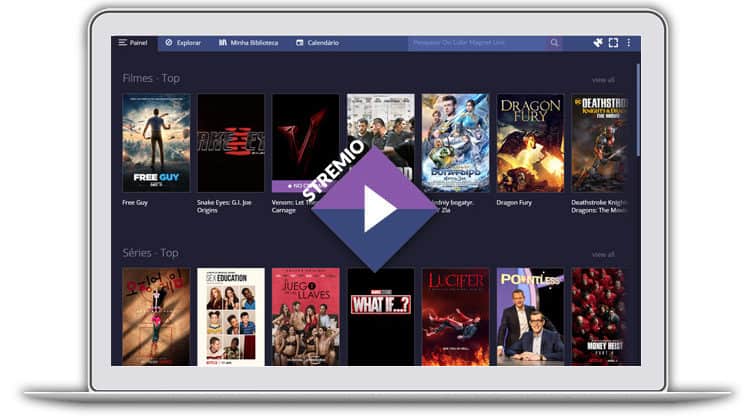 Familiar with Stremio? There is a browser version of it, and here is how to load Stremio in a web browser and everything else you should know.
We have to admit that cord-cutting solutions have gained massive popularity with people ditching traditional sources of entertainment such as cable TV. One of the most popular cord-cutting options is Stremio, and the media center is now a favorite among streaming fans.
The streaming platform is available for Windows, macOS, Linux, Android, and iOS (limited version). However, there are times when you only want to use your browser and access your favorite content. This guide will show you how to load Stremio in your web browser and look at what you can and can not do.
What is Stremio?
Stremio works similarly to Kodi and Plex. It requires you to install addons, and it then provides access to a wide range of content that includes movies, series, documentaries, and web channels. Before you install these addons, Stremio is usually blank; this allows it to be available on the Google Play Store (although not available on App Store and Amazon Store). In its original state, it only lets you discover content according to a category, genre, rating, recency, etc.
Stremio offers both Official and Community/ 3rd party addons to unlock the magic in the platform. The best part about it is that both types of addons are available within the app; you won't have to go looking for sources like we do in Kodi. After installing them, you can stream content directly from torrent websites.
Besides that, the most remarkable thing about Stremio is that the platform is cloud-based; your content, addons, and settings are in synchrony among all your devices. This functionality makes it possible to use Stremio on the browser, keeping your settings by simply logging in and accessing your entire catalog.
However, before we dive into that, here is an important consideration.
⚠ Caution: Stremio is based on Torrents
Stremio mostly gets its links from torrent sites to offer content; all restrictions and concerns applicable to torrent sites also apply to Stremio. While P2P and BitTorrent technology are entirely legal, the practice is often associated with copyright infringement. As a result, governments and copyright agencies have been cracking down on piracy through torrents, and so you can quickly receive a DMCA notice or cease and desist letter from your ISP.
Some people have also had their cases escalate to court, and others have been heavily fined.
On top of that, ISPs have banned torrent sites and their mirrors in many countries like the UK, Australia, France, Germany, Russia, Spain, Sweden, Belgium, Italy, etc.
👉 To circumvent these restrictions and avoid any legal actions if you access illegal files unknowing, you should always use a VPN.
✋ However, not all VPNs are suitable for torrenting; some don't allow BitTorrent traffic, and others may even suspend your account if you access illegal files.
The VPN I recommend
At BestDroidPlayer, the VPN we recommend for torrenting is IPVanish. This is because of the following:
Torrent on All Servers: While most VPNs prohibit P2P traffic and others only limit it to a few servers, IPVanish allows users to stream on all their servers.
Socks5 Proxy: The VPN provides a proxy that can be set up within your torrent client if you don't want to use the VPN. This will let you change your IP address without affecting your speeds or the rest of the computer. However, note that the proxy doesn't encrypt your activities.
Kill Switch: A kill switch terminates your internet connection whenever you lose your VPN connection. This ensures that you do not get exposed. Such is especially useful when changing servers or if you want to leave your computer downloading torrents.
Super speeds: IPVanish is one of the fastest VPNs available, and so you will be able to torrent without having to take a significant hit on your speeds.
We are currently offering a 82% discount courtesy of the VPN, so you can sign up at a discount using the link below. After your subscription, you will be eligible for a 100% money-back guarantee just in case you wish to cancel.
How to load Stremio in Web Browser
It's important to note that the browser version of Stremio is still in beta, so some functionalities are not yet working.
To load the current Stremio web version:
Open the browser version by clicking http://app.strem.io/shell-v4.4/#/ or typing the link in your browser. This will open Stremio on the browser.

Now, you need to log in. Click the options button on the top right side, and you'll see the option to log in.

You'll now get the option to sign up. Click Log In if you already have an account. From there, provide your account credentials and click Log In.
If you don't want to create an account, it's ok; just click on SIGN UP WITH EMAIL, and you'll have the option to Log in as an Invited user, avoiding the hassle of creating an account.
You should now see the Continue Watching functionality and everything else on your account (not available as Invited User).

The browser version has a simple user interface that is pretty similar to the Stremio application. The content offered on the Stremio web version is also not different from in the native Stremio app. You can stream Movies, Series, and Web Channels.
Stremio web version also offers both Official and community/ 3rd party Stremio addons. For the 3rd party Stremio addons, you can install them based on the content you would like to stream. There are several 3rd party Stremio addons to choose from, and you can install them by going to Community Addons > All and clicking Install on the one you'd like. Within a few seconds, you will receive a notification saying that the addon has been installed.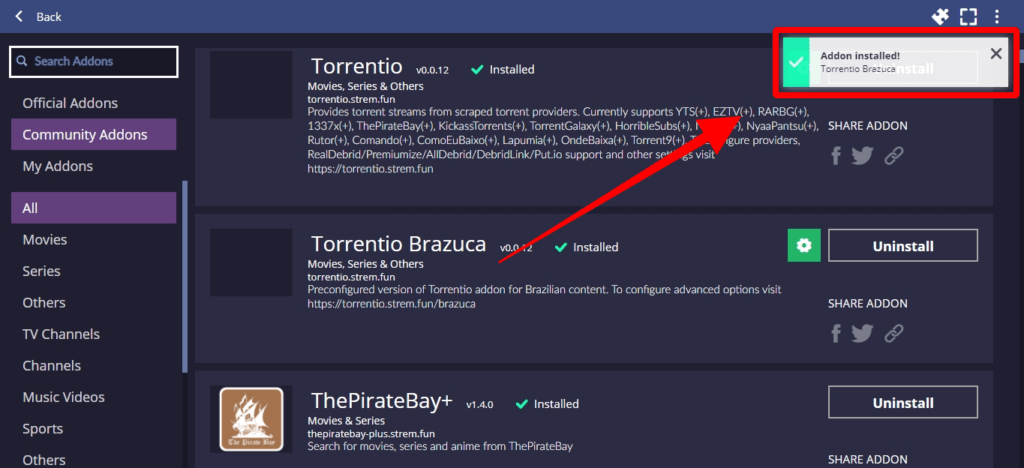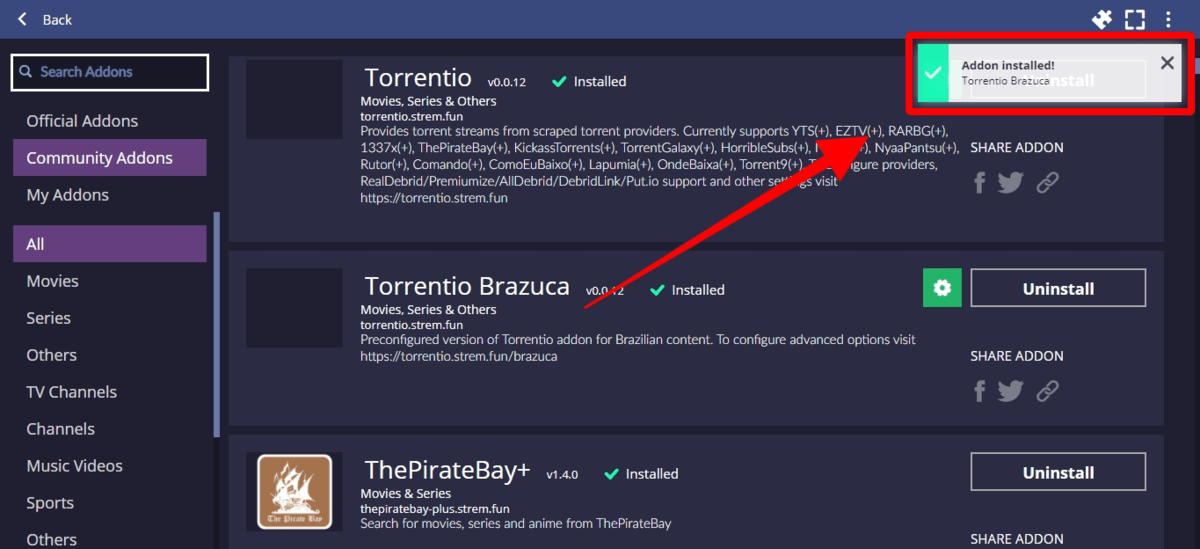 You can quickly tell that the Stremio web version functions quite similarly to the native Stremio app. However, as you would expect, there are things that it can't do due to the limited functionalities of browsers leading us to our next sub-topic on what you can and cannot do having loaded Stremio in a web browser.
🤔 What You Can and Cannot Do Using Stremio Web Version
The Stremio web version has some limitations in contrast to the native Stremio app. With the Stremio web version, you don't have the luxury to stream torrent-based content on your mobile phone because the web version requires torrent engines.
However, on your PC, the case may be different. You may successfully stream torrent-based content using the Stremio web version on your PC, on the condition that you first turn on the desktop Stremio app. Sometimes, this technique may fail, so we recommend hassle-free using the native Stremio app to watch torrent-based streams.
Nevertheless, it doesn't mean you cannot stream on your mobile devices using the Stremio web version. If you need to use the web version on your mobile phone, you can try watching non-torrent-based streams such as 123 Movies, Twitch, YouTube, and DTube.
Another functionality that you won't have on the browser is playing URL/ Magnetic links. The web app tells you that it can't read your clipboard on the browser when you try to.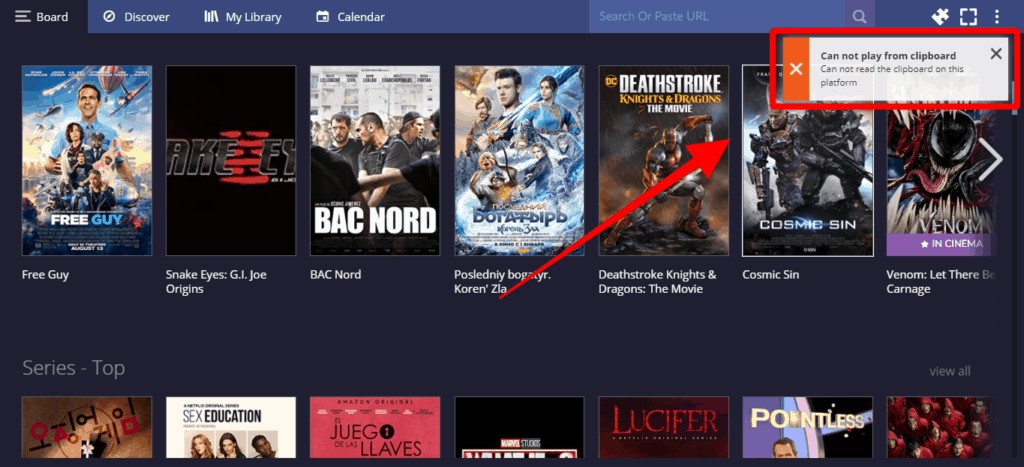 Nevertheless, there are still some perks to using the Stremio web version, which includes simplicity and that you won't need to install or update the app. Another great advantage of using the web version is you can stream with no stuttering or buffering issues. It is also lightweight compared to the Stremio app, which requires you to download approximately 80 MB on your computer.
Wrap Up
The Stremio web version is not a replacement for the native Stremio app. The web version complements the popular Stremio app as the web version gives us quick access to Stremio, and it is straightforward to navigate through it. The guide above should show you how to load Stremio in a web browser and what to expect.
If you prefer to use the Stremio app instead, visit the guide for:
However…
Remember that most of the content available on Stremio is torrent-based. This means that you will need to fire up a reliable torrenting VPN like Surfshark to avoid copyright fallouts and prevent ISP throttling.
Enjoy!