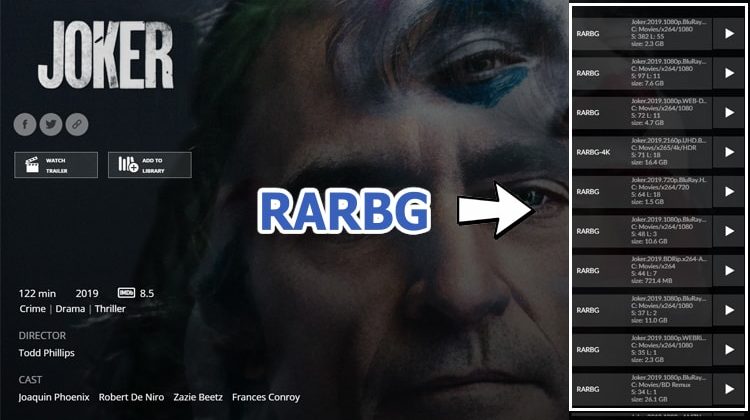 Gone are the days when you needed to download a movie from torrent sites then transfer to USB or connect your laptop to your TV. Thanks to Stremio, you can stream torrents easily and directly to your big screen without downloading. This guide will show you how to stream RARBG Movies on Stremio.
This guide illustrates how to RARBG Torrents addon to stream RARBG  movies on Stremio.  The Stremio app can be installed on Firestick/ TV, Android TV Box, Windows PC, Mac, Linux, Android TV,  Android Smartphones, iOS devices, and Nvidia Shield. 
RARBG is one of the most popular and most respected torrenting sites today. The site has been around since 2008, and it provides files for Movies, TV Shows, Games, Music, and Software among others. It also has a unique feature of a blog section on the right which provides entertainment news.
Apart from offering diverse content, the site is quite popular among Movie and TV Show fans as it usually hosts files with up to 4K quality and it's frequently updated. To check the latest movies, there's a box office section that provides recently released content. There's also a top 10 list that lets you check out what is popular among the torrenting community.
RARBG + Stremio
Stremio is a media center that lets users stream almost any Movie and TV Show. The software is meant specifically to work with torrent files, and it can obtain content from torrent sites and let you stream without any buffering issues.
RARBG is one of the best torrent sites to use with Stremio and the two services integrate extremely well to allow you to stream any title on RARBG without the need of downloading it. This is made possible by a RARBG addon that was created specifically to obtain files from the site. Integrating the two is quite easy, and this guide will show you how to stream RARBG movies on Stremio.
Caution: Stremio is still subject to torrenting concerns
ISP Blocking
As a measure to combat copyright infringement, governments across the world have directed ISPs to block torrents. For RARBG, this is true in more than 20 countries which include the UK, Australia, France, Germany, Russia, Spain, Sweden, Belgium, and Italy among others.
In such countries, if you wish to access torrent sites, you have to  connect to a VPN server outside the country. The VPN will then encrypt your activities and spoof your IP address to make your traffic appear as if it's from a different country. This way, you can access any site blocked by your ISP.
Copyright Infringement
Torrenting has been a focus of copyright agencies for a long time as it's one of the primary copyright infringement means. The technology itself is not illegal, but millions of people around the world use it to download copyrighted content.
This has therefore led to multiple lawsuits, shut down of torrent sites, ISP blocking, huge fines, and copyright infringement notices. To avoid such, torrent users all over the world need to encrypt their online activities and hide their IP addresses to stay safe.
Best VPN for Torrenting
After analyzing various VPNs with regard to torrenting, BestDroidPlayer recommends that you use IPVanish. This is because of the following:
Torrent on All Servers: While most VPNs prohibit P2P traffic and others only limit it to a few servers, IPVanish allows users to stream on all their servers.
Socks5 Proxy: For downloaders, the VPN provides a proxy that can be set up within your torrent client, if you don't want to use the VPN. This will let you change your IP address without affecting your speeds or the rest of the computer. However, note that the proxy doesn't encrypt your activities.
Kill Switch: A kill switch terminates your internet connection in case you lose your VPN connection. This ensures that you do not get exposed.
Super speeds: IPVanish is one of the fastest VPNs available, and so you will be able to torrent without having to take a significant hit on your speeds.
To help you get started, IPVanish is offering a special 72% discount for BestDroidPlayer readers. You can use the link below, and you will also be eligible for a 100% money-back guarantee just in case you wish to cancel.
How to stream RARBG Movies on Stremio
Install Stremio
Stremio is quite easy to install as all you need is download and run the file package or download the app from the store. The media center can be set up on the following platforms:
Windows
Mac OS
Linux
Android (Firestick, Fire TV, Nvidia Shield, Android TV Boxes, & smartphones)
iOS (limited version)
The apps for Android and iOS can be installed from the store, but for the other platforms, you will need to download the installation file.
To do that, just head to stremio.com/downloads and download the appropriate version for your device. From there, ensure that you have allowed installation from other sources, and then run the file. Stremio should install.
You can choose to create an account (for free) or log in as a guest. If you'd like to use Stremio on multiple devices, we suggest that you create an account to allow syncing of your addons and watch lists.
How to install and set up Stremio on Firestick & Fire TV
How to Install Stremio on Android Smart TV
Install RARBG Addon on Stremio
After you have installed Stremio on your device, it should open on the discover page where you'll be able to see lots of top movies and TV shows.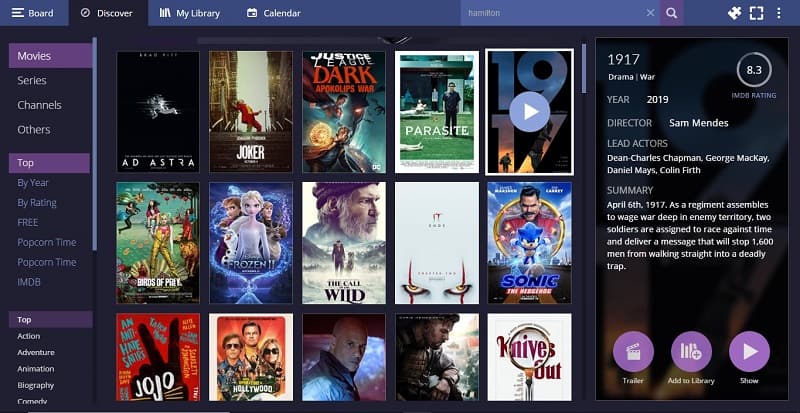 However, if you try playing any of them, they won't play. This is because you haven't configured any addons yet. Follow the procedure below to install RARBG addon on Stremio – it should take less than a minute:
On the top right side, click the add-on icon
Ensure that "Community Addons" is selected, then type "RARBG" on the search box.
The RARBG Torrents addon should be the first option. Click "Install"
On the pop that follows, click "Install"
RARBG Torrents will now install, and you will get a notification. You can also install the RAR and Torrentio addon. The latter provides torrent streams from multiple torrent providers.
After installing RARBG addon on Stremio, you should close stremio and open it again. Now if you select or search for a movie title, you should be able to see RARBG streams, ranging from SD to 4K. In this step you should be using the VPN to avoid being blocked by your ISP.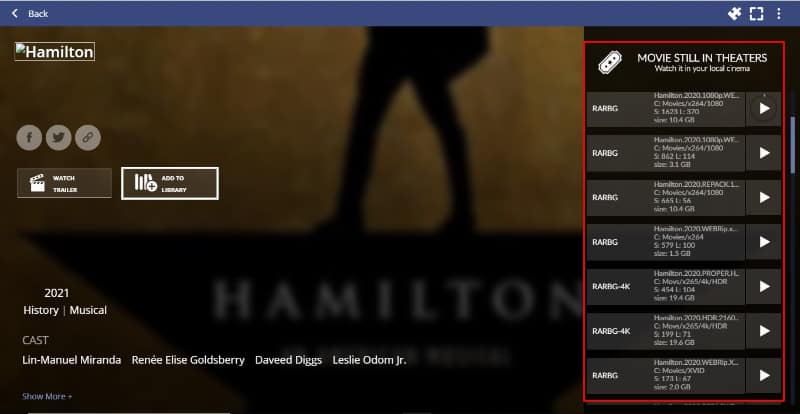 From there, you can now enjoy RARBG movies on Stremio. You can also enhance your experience by installing the OpenSubtitles Stremio addon.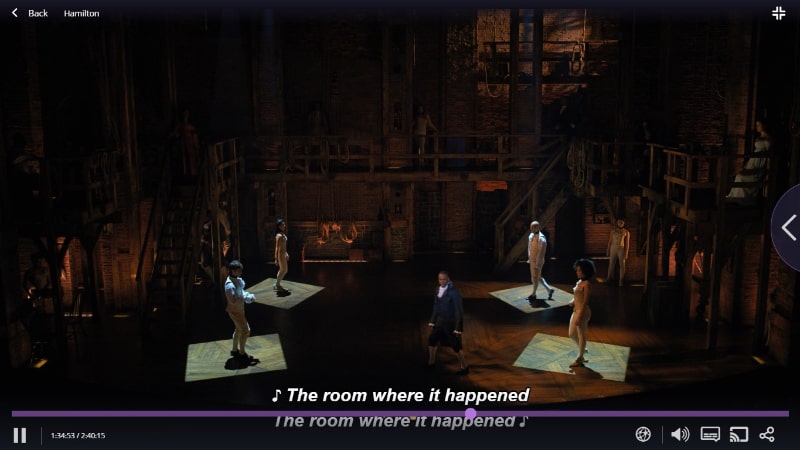 Apart from eliminating the need for downloading your movie, Stremio will offer you the following:
Ability to resume where you left (Available at the "Board" section)
Feature to add a title to your library
The app's interface makes it easy to search for Movies or TV shows as you can filter by type, genre, rating, and even year.
Wrap up
Thanks to Stremio, downloading movies from torrents will soon be a tale of the past as you can easily stream torrents directly through Stremio. This will save you the waiting time and also enhance your streaming experience through a fantastic interface, top-notch features, and multi-device syncing.
But to ensure that you do not risk any legal action or DMCA notice, you will need to ensure that you connect to an IPVanish server first.

Disclaimer! BestDroidPlayer does not support or promote the consumption of illegal content. The information provided here is only meant to be educational, and so you use it at your own risk. To stay safe, always make sure that you use a reliable VPN while torrenting!