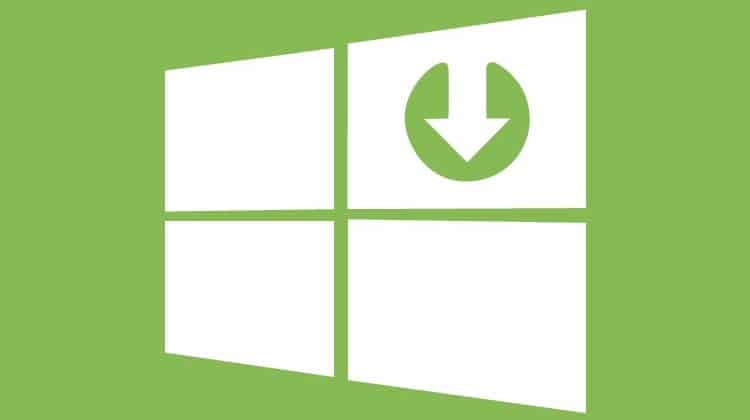 Here, we have a look at the top seven free torrent clients for windows in 2023 that you can use to download and manage files efficiently.
Torrent clients are the perfect tools you can use to easily download and manage large files like videos, audio, games, and other software. Normally, downloading large file sizes from host servers takes time and can cause traffic if other users try to get the same content. However, if you use a free torrent client, you can download parts of the content you want from users who already have them – seeding. The torrent client then compiles the downloaded parts into a single file that you can use.
The top 7 torrent clients for Windows listed in this article will sport varying features and benefits. Remember that we've tested every client on the list. As such, whether you're in the market for a torrent client that works fast, or one that offers multiple download management options, this article will offer something for you.
Are torrents legal?
Digital piracy is an illegal practice that can often land you in trouble. Torrents aren't exactly illegal and often sport legitimate uses like downloading open-source material from public domains. But this is always overshadowed by pirated content that users get through torrents.
Additionally, most governments globally have instructed various internet administrators and internet service providers to block most torrenting sites and IP addresses used to access them. There are also copyright trolls that report users who access pirated content via torrent sites and clients. Therefore, you need an effective VPN service that can efficiently mask your internet activity from prying eyes.
The Best VPN for Torrenting
At BestDroidPlayer, the VPN we recommend for torrenting is IPVanish. This is because of the following:
Torrent on All Servers: While most VPNs prohibit P2P traffic and others only limit it to a few servers, IPVanish allows users to stream on all their servers.
Socks5 Proxy: The VPN provides a proxy that can be set up within your torrent client if you don't want to use the VPN. This will let you change your IP address without affecting your speeds or the rest of the computer. However, note that the proxy doesn't encrypt your activities.
Kill Switch: A kill switch terminates your internet connection if you lose your VPN connection. This ensures that you do not get exposed. Such is especially useful when changing servers or if you want to leave your computer downloading torrents.
Super speeds: IPVanish is one of the fastest VPNs available, so you will be able to torrent without taking a significant hit on your speeds.
To help you get started, we have a special 72% discount for BestDroidPlayer readers. You can use the link below, and you will also be eligible for a 100% money-back guarantee if you wish to cancel.
Pressed for time? We've listed the 7 Best Torrent Clients for Windows
uTorrent – Easy-to-use interface, light, top features.
BitTorrent – Drag and drop file feature and customizable interface.
qBittorent – Customizable features, zero advertisements.
Deluge – Open source, easy to customize, thanks to multiple plugins.
Vuze – Simple interface, powerful search engine.
BitComet – Intelligent Disk Sharing, powerful.
BitLord – Powerful search engine, adaptable.
How we picked the best torrent clients for windows
Choosing the right torrent client for your PC can be tricky with all the available options. The best clients provide a quicker solution to get large files on your windows computer. Thankfully, we've done all the necessary research and tested several clients so that you don't have to do it. We're accustomed to using specific techniques that we've listed below:
User interface: We recommend torrent clients that offer a clean and well-laid app interface.
Download process: The best torrent client is the one that allows you to download a file with just a few clicks. Simple and fast!
Fast speeds: A good client offers the best seed-to-leach ratio for all files.
Offers sufficient information about the downloaded file: The best torrent client should be able to provide imperative details about the files you're downloading, including upload and download speeds, time consumed, seeds, peers, share ratio, and more.
Customizable settings: A torrent client should allow you to customize various settings and features, including upload and download options – a trick that lets you specify speed caps.
Free clients are the best: We don't encourage users to opt for paid torrent clients while there are hundreds of free options on the internet.
Top 7 free torrent clients for Windows in 2023
1. uTorrent – Easy-to-use interface, light, top features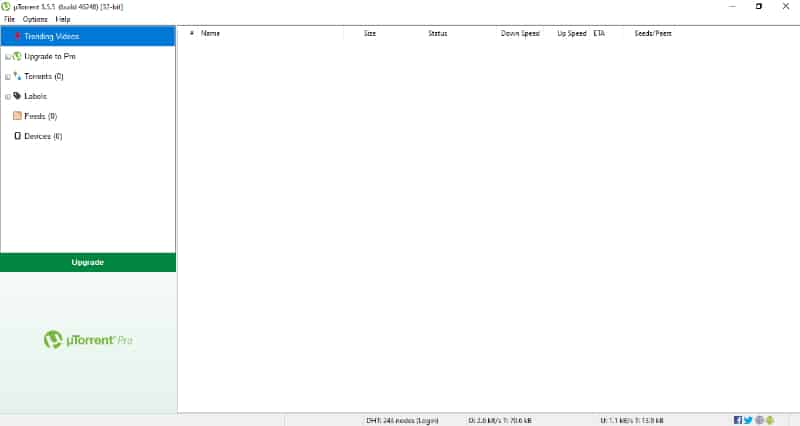 uTorrent is our top choice torrent client for Windows in 2023. The client was launched back in 2005, and it's currently the most popular torrent client in the industry. uTorrent identifies with its lightweight and easy-to-use interface best suited for beginners. Getting started with uTorrent – which includes downloading and installing – takes less than a minute. It's also worth mentioning that uTorrent runs faster on Windows than on any other platform.
uTorrent also offers an impressive range of customizable options. For instance, you can schedule downloads, prioritize different files, verify seeds, and set bandwidth limits. The client also offers a powerful in-built search engine and multiple third-party plugins that you can use. Finally, uTorrent sports a rare media player that lets you stream torrents while downloading. Cool, huh?
2. BitTorrent – Drag and drop file feature, customizable interface, web-based

BitTorrent is another excellent torrent client for your Windows computer in 2023 and arguably the most popular across all platforms. The client is a rebranded version of uTorrent, but it is a stand-alone client on its right. BitTorrent stands out because it offers web-based seeding and commenting, and it's mostly preferred by private trackers that don't like uTorrent. The best part is that it's easy to use, and it's also an excellent choice if you want a torrent client that'll give you a quick introduction.
BitTorrent features several customizable options that can allow you to make it very simple or complex to use. The drag and drop functionality is the highlight feature as it makes downloading torrents much easier. Other notable features include a built-in bandwidth booster (allows you to dictate upload/download speeds for faster downloads), streaming torrents, scheduling torrents, support for magnet links, and remote management of paired devices. It's also worth mentioning that BitTorrent uses less CPU percentage, meaning it works fast on your PC. BitTorrent is also available in more than 70 different languages globally.
In terms of security, BitTorrent provides IP filtering – a feature that lets you determine the IP traffic that goes through your network to secure your torrent activity. But while this is a great addition to security, we still recommend using a strong VPN alongside BitTorrent to mask your online identity from copyright trolls. On the downside, BitTorrent's free version client shows ads, which you can avoid by switching to its premium plan.
3. qBittorent – Customizable features, zero ads, open-source
qBittorent is another of the best torrent clients for Windows that you should check out. It is one of the few open-source torrent clients, which implies that they're transparent with their coding. The client also sports a somewhat mixed balance of not too simple or complex user interface, meaning it offers a lot more than its competitors without compromising a lot.
qBittorent features zero advertisements and malware. It achieves this advantage by constantly releasing updates to prevent bugs and attacks. You can take advantage of rare features like sequential downloading, media playback, torrent creating, bandwidth scheduling, IP filtering, RSS feed support, UI lock, and a powerful search engine. You can easily customize features on the client according to your liking, but you'll be somewhat limited as it doesn't support plugins.
4. Deluge – Open source, lightweight, sports multiple plugins for customization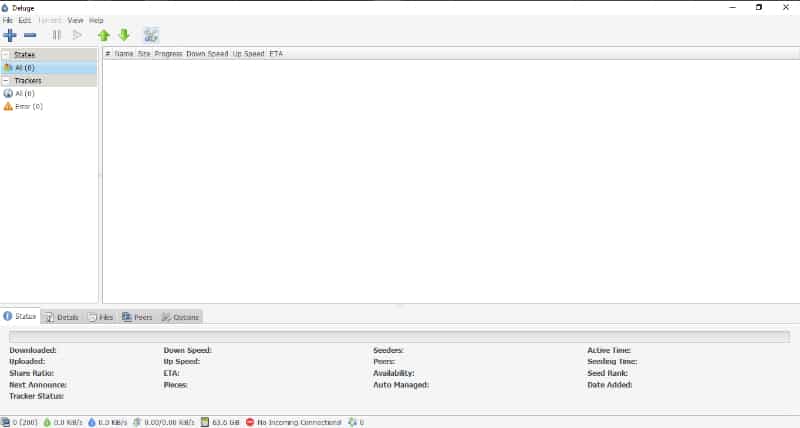 Deluge is another great torrent client choice for Windows users. It's open-source, very lightweight, and simple to use. You can use Deluge as a standalone client app that can run in the background or access it remotely via a client-server interface. And since Deluge is lightweight, it runs well on old computers – and consumes less CPU percentage. So expect instant downloads when you add torrent files.
The highlight advantage of Deluge is its huge support of plugins, which allows for easier customization because you can add unique features to increase speeds and security. Some of the features that ship with Deluge include alphabetical downloading, IP filtering, robust encryption, and bandwidth scheduling. Deluge also allows you to discover local peers for even faster file downloads.
And while Deluge's horde of plugins can take some time to get used to, the client sports zero ads and is free to use.
5. Vuze – Simple interface, powerful search engine
Vuze is another of our top 7 torrent clients for Windows. The client is a new version of its defunct predecessor, Azureus. Vuze is designed to provide a clean user interface that's simple to operate—additionally, Vuze ships with one of the most powerful search engines in the industry. You only need to enter simple tags or titles to get the exact torrent files you require.
Vuze allows users to install extra plugins and features for the full torrenting experience. Some of the top Vuze features include IP filtering, media playback, bandwidth scheduling, and support for magnet links. The best part is that you can manage Vuze torrents from your smartphone.
Remember that Vuze displays ads, which can consume a lot of your device resources which may not be a good choice for users with old Windows computers.
6. BitComet – Intelligent Disk Sharing, powerful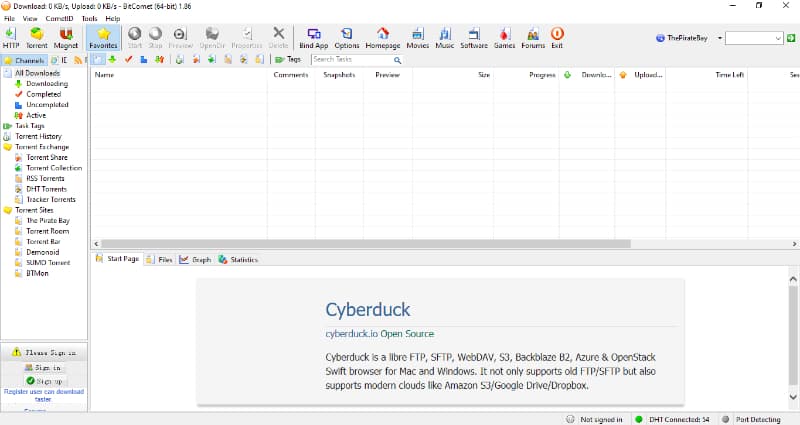 BitComet is one of the oldest torrent clients that works very well with Windows computers. And because it's an old torrent client, it sports an impressive long-term seeding experience. BitComet is also quite powerful and stands out for its fast downloads and simplified torrent creation.
Additionally, one of the major highlight features of BitComet is its intelligent dish sharing. The feature allows BitComet to increase download speeds by eliminating the need to read and write files on your hard disk. You'll also get advanced features like magnet links, HTTP support, previewing files before downloading, and DHT (Distributed Hash Table) network support.
It's also worth mentioning that BitComet's efforts to provide a simplified user interface might make it look somewhat dated to the eyes of advanced internet users.
7. BitLord – Powerful search engine, adaptable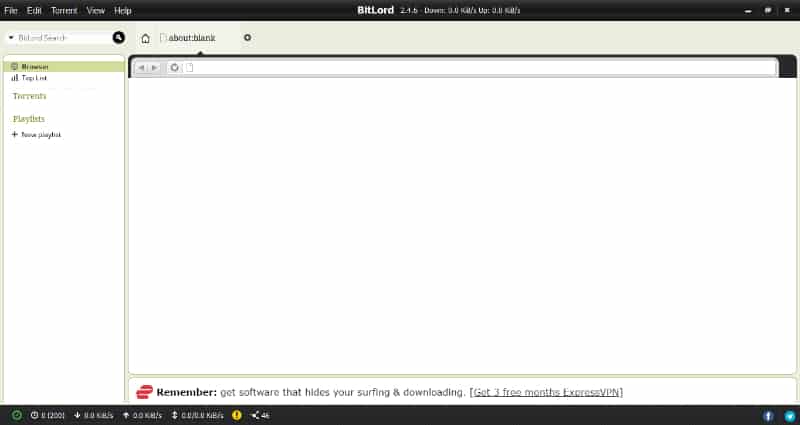 BitLord completes our top seven torrent clients for Windows in 2023. Like BitComet, BitLord is an old torrent client but offers enough torrenting features to make you excited. Thanks to its adaptability, the client is also an excellent choice for both beginners and advanced users. Furthermore, BitLord ships with an advanced search engine that makes finding torrent files easier.
Among its top features are a password protector, a download organizer, an automated subtitle feature, medial playback, and simplified torrent creation. BitLord displays download speeds at the top and bottom menu bars for improved visibility.
However, BitLord often downloads added installs. Because of that, we caution you to look out for unnecessary software installs when you get started with BitLord. On top of that, some users might find the user interface to be dated.
Top Torrent Sites for Movies in 2023
Best Torrent Sites for Music in 2023
Bottom Line
uTorrent is our top choice torrent client for Windows users in 2023. The client offers an easy-to-use interface that accommodates both beginners and experienced users. uTorrent is lightweight, meaning you can install it on older computers, and it still works well. The client is feature-packed and includes some of the best torrenting features in the industry.
We also encourage you to try all the options from our top seven torrent clients for Windows. Every client we've listed accommodates a certain category of users, which is included in the reviews above.
Enjoy torrenting on your windows computer!