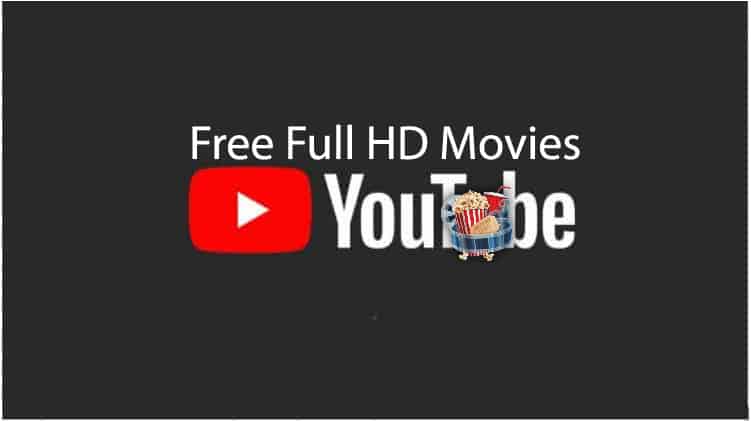 Are you looking for multiple ways to watch the best free full movies on YouTube in HD? In this post, I am going to list the steps to watch Full YouTube Movies in HD for free. These methods are compatible with Fire TV, Amazon Firestick, Roku, PC, and Android Devices. However, the easiest way to watch free full HD movies on YouTube is to use your Google account (if you have one) because it doesn't need you to go through the sign-up process. Anyways, there are multiple ways to enjoy YouTube movies in HD for free!
However, before you get too excited about having access to free movies on YouTube, I do need to share some bad news. These free movies are often only available in the US so if you do not live in the US you could be left out in the cold. Luckily there is a way to get around this restriction…
Use a VPN
First thing first, you must look for a reliable VPN with servers in the United States. If a VPN isn't able to connect your device to a US IP address, YouTube HD Movies will remain out of your reach. But having a US server is not the only requirement. You need to take care of various important features in addition to regional restrictions.
The methods listed below to watch full HD YouTube movies for free might use unreliable public domain servers. This is risky because most of the countries now practice consistent monitoring of internet users with the help of the ISPs. Things don't stop just monitoring the browsing history and online activities. The ISPs, in most of the countries, have legal permission to save and even sell private personal information to advertising agencies. Advertising agencies use this information for optimal target-marketing.
While you probably do not need to worry about the government or your ISP spying on you for using YouTube, one thing you do need to be concerned about is restrictions on content. YouTube like many other services on the internet has geographic restrictions in place that ban certain content based on the country you are attempting to view it from. Luckily VPNs are the perfect solutions to bypassing geographic restrictions.
However, not all VPNs are reliable and, in special, suitable to bypass geographic restrictions.
The VPN I recommend
I have been trying different VPN services over the years. Being a streaming geek, I constantly look for the best VPN service while evaluating the performance, privacy level, and streaming speed of multiple VPNs. Definitely my recommendation goes to Surfshark. Not only that Surfshark is fast but it is also reliable for various reasons. The company has its servers in over 50 countries. This network of servers covers 6 continents. This is how Surfshark lets you easily bypass regional restrictions on media in different countries.
⚡ Superb Speeds: Guarantees a smooth live streaming experience.
🌍 Huge Server Network: You can connect to a nearby server for a fast and stable connection.
😲 UNLIMITED Devices: Connect dozens of devices at the same time!
🔑Unblock Anything: Safe access to censored apps, websites and torrent sites.
😎 Best in Privacy: The VPN doesn't keep any activity logs, and so your activities are only known to you.
🔐 Top-notch Security: This VPN uses AES 256-bit encryption and provides multiple protocols alongside other security features such as a kill switch, DNS & IPv6 protection and WireGuard.
💳 30 Days RISK FREE Money-Back Guarantee: In case you do not like the service, you can get every penny back if you cancel within 30 days!
Surfshark has imposed a Zero-Log policy. None of the Surfshark is allowed to save the browsing history of any user. Whatever you do on the internet remains a secret. The high-end encryption ensures that no hacker or watchdog finds a way to extract data from the virtual tunnel which Surfshark creates while data travels through your internet connection.
If you are a frequent traveler or you have to rely on the public WiFi networks for most of the time, Surfshark encryption protects your device from the potential hackers looking to break into your device through the public WiFi connection. If you're interested in finding out what else a VPN is capable of, I'd suggest you take a look at this post for more information.
Surfshark is the optimal VPN for streaming online.
We were able to get an exclusive 82% of Surfshark for our readers.
Save 82% of Surfshark, now!
How to Watch Free Full HD YouTube Movies on Firestick or Fire TV
The following demonstration to watch full YouTube Movies in HD for free is done on the Amazon Firestick 4K but the same method works on Fire TV as well. Before you start I recommend that you activate Surfshark and ensure that it is set to a server in the US so you do not have any problems getting the content.
Note: In the case of an Android device, you can download and install YouTube directly from the Google Play Store.
For Firestick or Fire TV, do as follows:
Start Firestick or Fire TV
Navigate to the search icon (magnifying glass) at the home screen and then type YouTube
From the available options, press YouTube (Under Apps & Games) and hit Download

The installation will take a few seconds
Once the app is installed on the device, you have the option to open YouTube but I recommend you to wait and first press the home button on your remote
Go to Apps. Place the pointer on the YouTube app and then press Move
You can freely move the App Icon to place it wherever you want

Make sure you have a Good VPN like Surfshark active and configured for US servers and then open YouTube
You can sign-in if you prefer but watching movies on YouTube doesn't require sign-up.
Press Movie & Shows from the menu on the left side

To reveal all movies, scroll to the right and hit view all
I recommend you to type full movies in the search bar and you will find rather more number of movies than the panel was showing before. You can select the Free to Watch category to get a full list of available movies.

How to Watch Full HD YouTube Movies using Silk Browser
If you do not want to install an app on your Firestick you do have another option with the built-in web browser. You can also use the Amazon Silk Browser to watch full movies on YouTube really easily following these instructions. Remember, even if you're not using the YouTube app, you'll still need to ensure that a Good VPN like Surfshark is active and pointing to a US server.
Run the Silk Browser

Hit Search and type youtube.com – press GO

Scroll down the main screen and select free to watch
Hit YouTube Movies

Press View All and enjoy the show!
How to Watch Full HD YouTube Movies on Roku
Roku is a great streaming device and many smart TVs now have Roku as a default system making them even more popular. However despite this popularity, they still need an active VPN to access US YouTube. So, make sure you use a Good VPN like Surfshark connected to a server in US, before you start trying to access and watch Full HD YouTube Movies on YouTube. This method works for all Roku devices. I am using Roku Streaming Stick+ for this demonstration:
Run Roku and go to Search

Type YouTube and select the first result

The interface will take you to the following screen

Select Add Channel

The device will take a few seconds to add the YouTube channel on Roku
Press OK
Return to the home screen and find YouTube in the Channel List
Signing-in isn't necessary so you can skip this step
The rest is the same process as I did above on the Firestick section
Conclusion
It is pretty convenient to watch full movies free on YouTube in HD as long as you remember the importance of having it configured to point to a US server first. You can use different streaming apps and devices for this purpose.
For optimal speed and no-buffer-streaming, run a Good VPN like Surfshark while watching full HD YouTube movies for free. In addition, make sure you have the VPN active if you're trying to watch content from different regions so you do not get blocked.
If you found this article useful, please share it with your friends so they also can watch Free Full Movies on YouTube in HD. Also please rate this article and let us your experience in the comments section below.
Have a nice streaming of movies in HD!