Do you wish to unlock the amazing US library on Paramount Plus in the UK but find that it isn't unable to watch due to geo-restrictions? Are you missing out on your favorite shows and movies while traveling or living abroad? Fret not; there's nothing a premium-quality VPN can't solve for you.
Paramount Plus is one of the most well-renowned streaming platforms in the US, with a huge content library featuring top-class movies like Titanic, Scream, The Godfather, Interstellar, and amazing shows such as Star Trek: Discovery, Ink Master, Evil, and many others. The platform recently, on June 22, 2022, became accessible to the UK audience and offers a free 7-day trial as well.
Paramount Plus is a must-have subscription, but unfortunately, it works only in a few countries. Don't worry; this guide will tell you how you can access the Paramount Plus US library in the UK, which VPNs to use, what to watch on Paramount Plus, how much it costs, and much more.
How to Unlock US Library Content on Paramount Plus in the UK
Just like many streaming platforms, Paramount Plus also has different content libraries for each country. You can't access the US library in the UK, which means missing out on top releases. This happens due to geo-restrictions, and the only way to get out of this situation is by using a top-notch VPN that changes your IP address and lets you stream all you want, regardless of your location.
If you're looking for a way to unlock US library content on Paramount Plus in the UK, then here's what you need to do:
Subscribe to a VPN that works with Paramount Plus (we recommend using SurfShark).
Install the VPN app on your device.
Connect to the US server.
Head to the Paramount Plus website or app, then log in or sign up for a new account..
Start searching for your favorite shows and movies and enjoy streaming for hours on end.
Stream Paramount Plus with SurfShark!
Why Do You Need a VPN for Accessing Paramount+ US Content in the UK?
You need a VPN to access Paramount Plus US content in the UK due to geo-restrictions. The platform has to comply with legal arrangements with content producers who decide where the content will be broadcasted based on multiple demographic factors. To avoid any law breach, Paramount+ uses geo-blocking technology to identify your IP address and block your access to other countries' content libraries.
Whenever you try to stream the US content library on Paramount Plus in the UK, you will be halted with an error message saying:
"Paramount+, home to the world's favorite stars, stories, and brands, is coming soon*. Get ready to experience stellar originals, exclusive premieres, hit movies, and the very best must-see TV."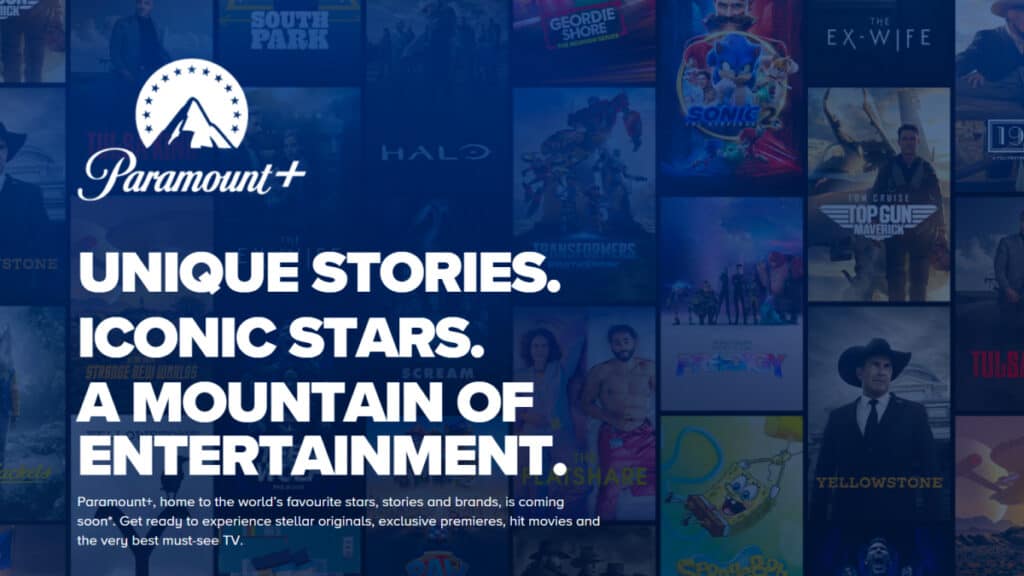 💡 A Top VPN is one of the safest and fastest solutions to get Paramount Plus in the UK, changing your virtual location. They have hundreds of servers available around the globe to let you watch your favorite shows and movies hassle-free.
When you connect to the US server through a VPN from the UK, you will appear as someone trying to access Paramount+ from within the US. You will be instantly granted access to their US content library, where you can stream blockbuster movies, incredible shows, documentaries, and more.
👍 Unblock Paramount Plus in the UK!
Best VPNs to Watch Paramount Plus in the UK – [Expert Picks]
Top-class streaming services like Paramount Plus can't be accessed from just any VPN. You need a premium-quality, paid VPN to get past geo-blocks and stream all you like on the channel. Unfortunately, there are many options available online—which one should you trust?
✋ Before you select any VPN, make sure to ask yourself a few questions that will help you choose the best VPN in no time.
Does this VPN unblock Paramount+?
What is the global server network size of the VPN, and does it offer any location-specific servers?
How good is the performance and speed of the VPN?
Does the VPN have a kill-switch mechanism or obfuscated servers to protect you while using VPN?
What are the VPN's security and privacy features like?
What kind of customer support are they offering, and do they have any money-back guarantee?
Does the VPN support different devices and offer multiple connections at the same time?
If the answer to each of these questions is positive, then you're all good to opt for that VPN. Don't get overwhelmed; we have summed up the three best VPNs through these criteria after carefully checking 20+ VPNs online to let you have the best experience. Choose any of these, and you're all set to stream Paramount+ US content library in the UK.
SurfShark – Our #1 Rated VPN to Watch Paramount Plus in the UK.
NordVPN – Vast Network to Watch Paramount Plus in the UK.
CyberGhost – Incredible Features to Watch Paramount Plus in the UK.
SurfShark – Our #1 Rated VPN to Watch Paramount Plus in the UK
SurfShark is an exceptional VPN that not only unblocks Paramount+ US content library in the UK but offers about 3200+ servers in about 100 countries. Currently, they have about four servers, including Edinburgh, London, Manchester, and Glasgow, available in the UK.
With its 88.14 Mbps download speed and 83.72 Mbps upload speed, there won't be a moment of lag during streaming. This pocket-friendly VPN also supports multiple devices such as Windows, Linux, PlayStation, Roku, Chromecast, Apple TV, Xbox, macOS, Android, and IOS.
Enjoy unlimited simultaneous connections per account and ensure your online privacy with military-grade AES-256. It also has VPN Kill Switch, Clean Web, Bypasser, and Camouflage Mode to hide the fact that you're using a VPN to access Paramount Plus in the UK.
The best thing about SurfShark is the 24/7 live chat customer support and a 30-day money-back guarantee, so you don't have to risk your money. The price for this VPN is also only GB£2.01/month i.e., US$2.49/month, a lower price as compared to other VPNs such as ExpressVPN, which charges about GB£5.39/month. If you take a 2-year plan, then you will get an additional 83% off on SurfShark VPN.
Pros
Ensures lag-free streaming
Affordable to purchase
Allow access to mainstream services
24/7 live chat support
Cons
It takes time to establish a connection with some servers, such as Edinburgh
NordVPN – Vast Network to Watch Paramount Plus in the UK
Next on the list is NordVPN, with over 5364 ultra-fast servers in about 60 countries, and it can unblock Paramount Plus very smoothly. Only within the UK, they offer about 440+ servers in cities like London, Manchester, Edinburgh, and Glasgow. They recommend connecting to the closest server to your location to enjoy lightning-fast and buffering-free streaming.
At a time, NordVPN allows six simultaneous connections. You can enjoy download speeds of 86.49 Mbps and upload speeds of 79.42 Mbps at a 100 Mbps base connection. The VPN also supports many devices, including PlayStation, Firestick, Chromecast, Kindle Fire, Nintendo Switch, Raspberry Pi, Chromebook, Android, IOS, Windows, and Mac.
NordVPN does not record your personal information and browser history, thanks to its no-logs policy. Apart from it, NordVPN's SmartPlay feature allows safe access to any virtual material, while NordLynx Protocol ensures high secrecy and connection speed.
Lastly, NordVPN is only available at US$3.29, with a further 60% off on a 2-year plan. They also offer a 30-day money-back guarantee and a 24/7 customer support team.
Pros
Huge server network
Excellent performance
Unblocks many streaming services
Lag-free streaming
Cons
High cost
Torrenting is not supported on several servers
Glitchy desktop app
CyberGhost – Incredible Features to Watch Paramount Plus in the UK
Last on the list is CyberGhost, a VPN with many unique features, along with 9000+ in about 91 countries and 116 locations. This VPN is known for unblocking several mainstream services, including Paramount Plus in the UK. The UK alone has over 724 servers in Berkshire, Manchester, and London.
With CyberGhost, you can enjoy buffering-free streaming at a download speed of 86.49 Mbps and an upload speed of 79.42 Mbps on a 100 Mbps connection. Furthermore, you can use CyberGhost on many devices as well, such as iPhone, Mac, IOS, Android, Windows, and several others.
Your online information stays private with the 256-bit AES encryption by the VPN. Also, the automatic kill switch saves you from data leaks on unsecured networks. You can also bypass online censorship through CyberGhost and control what you see and do online. The cherry on top is the NoSpy servers, and no-logs policies are perfect to let you stream anonymously.
Enjoy quick torrenting and seven simultaneous connections at a price of only US$2.75/month and 79% off on a 1-year plan. CyberGhost offers a 45-day refund policy as well as live chat support.
Pros
Unblocks major streaming services
Comes with a free browser extension
Unique features for online privacy
7 concurrent connections
Cons
Limited P2P sharing
Does not support split-tunneling
What's On Paramount Plus UK?
If outside the territory, first, you need a trusted VPN to access Paramount Plus in the UK (we recommend using SurfShark) to bypass the geo-restrictions. In the same way, if you can't access the US content library on Paramount+, connect to your nearest US server on SurfShark VPN and get restriction-free access to the Paramount Plus US content library in the UK without any hassle.
You can watch shows on Paramount Plus UK or stream classic movies to fill your nights with fun and entertainment.
Here are some of the Paramount Plus content examples that you can start streaming in May 2023!
| | |
| --- | --- |
| TV Shows | Movies |
| The Tiny Chef Show | Bend It Like Beckham |
| Blue's Clues & You! | Cast Away |
| Rosie's Theatre Kids | Dragon Lord |
| Kung Fu Panda: Legends of Awesomeness (Season 1) | Forrest Gump |
| Love & Hip Hop Atlanta (Season 10) | Date Night |
| Siesta Key (Season 4) | Gone in 60 Seconds |
| Breaking the Sound Barrier | Failure to Launch |
How to Get Paramount Plus in the UK on Sky?
Paramount+ is also available for Sky TV customers with Sky Cinema. If you're a Sky Cinema subscriber with Sky Stream, Sky Glass, or Sky Q, then here are all the steps you need to follow to enjoy Paramount+ shows and movies from the comfort of your home.
On your Sky Q, go to apps. If you have Sky Glass and Sky Stream, then go to My Sky, then Sky Shop.
Add the Paramount+ app from the store or apps.
Click on 'Get Paramount+.'
Utilize the QR code to access the dedicated Sky website or head to sky.com/paramountplus-activate.
Proceed to sign-in with your Sky account to authenticate your subscription.
You'll then be redirected to the Paramount+ website to either set up a new account or log into an existing one – this account will hold your subscription.
That's all! Now, revisit the Paramount+ app and sign-in with your new account.
Choose how you would like to sign in.
Select the show or movie you would like to watch and start streaming right away!
Note that for Sky+ HD customers using a Sky+ set-top box, direct access to the Paramount+ app may not be available. However, the full range of Paramount+'s excellent content is not out of reach. It can be conveniently found in the Paramount+ section within the Catch-Up category on the homepage.
How Much Is Paramount Plus in the UK?
Paramount+ offers monthly and yearly subscription plans in the UK. You can choose from their ad-free and ad-supported plans based on your budget.
Here are full details about Paramount Plus subscription plans with prices to help you decide wisely.
| | | |
| --- | --- | --- |
| Plan | Cost | Features |
| Monthly Plan | £6.99 | Full access to all contentAdapts to any device or OSFree trial on offerHD and 4K resolution supported |
| Annual Plan | £69.90 | Full access to all contentAdapts to any device or OSFree trial on offerHD and 4K resolution supported |
Can You Watch Paramount Plus in the UK With a Free VPN?
While it's technically possible to access Paramount Plus in the UK using a free VPN, it's not generally recommended. Free VPN services often have limited server options and lack the resources to consistently bypass geographic restrictions set by streaming services like Paramount Plus. Moreover, they often have data caps and slower speeds which can hamper the streaming quality.
The best alternative to this problem is a paid VPN, which comes with unlimited servers, excellent online privacy protocols, and several other features. You can check out the best VPN deals to find the most budget-friendly option for you and get up to 84% off on the best VPNs on the market right now. 
FAQ
Is Paramount Plus Available In the UK?
Yes. Paramount Plus became available in the UK last year on June 22, 2022. 
Is Paramount Plus the Same in the UK as in the US?
No. Paramount Plus is not the same in the UK as it is in the US. It's different in terms of both subscription packages and content libraries. The shows and movies that you can find on Paramount Plus in the US might not be available on Paramount Plus in the UK. 
Can I Get Paramount Plus UK for Free?
No. Paramount Plus is a paid streaming platform and is not available for free. 
How do I get Paramount Plus for free in the UK?
Paramount+ itself is a paid platform; however, if you have a subscription to Sky Q, Sky Glass, or Sky Stream, then you can get it for free on your device. 
Final Thoughts
Geo-restrictions by Paramount+ can be a big hassle, especially when you're traveling abroad or shifting to another country. Accessing Paramount Plus US content library is no longer a daunting task, thanks to the incredible VPNs available at your disposal.
We highly recommend users get a subscription to SurfShark to enjoy lag-free streaming with complete privacy and a vast server network as well. It's not only affordable but also offers great customer support to help you tackle any problems! Don't wait; get your subscription today to watch all you want on Paramount+!
Enjoy your Paramount Plus!