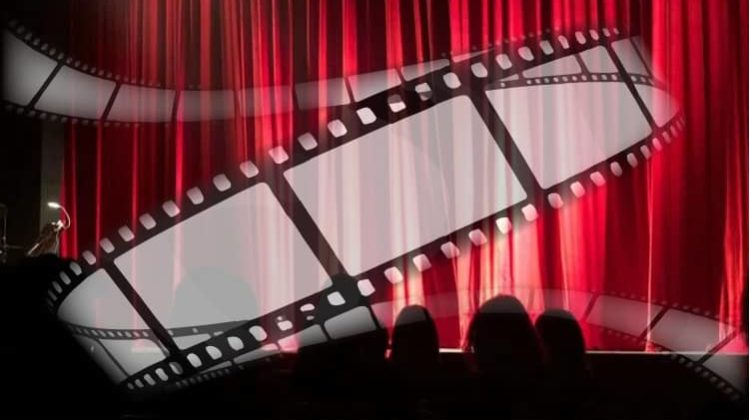 Thanks to loads of streaming options available today, to watch the latest movies is not as hard as it used to be. You don't have to go to the theatre anymore or even shell out big bucks for a digital version of a movie. This is because there are lots of avenues that let you watch theatre movies online for free, and we will show you how.
Cutting the cord has become the norm today, and the industry has responded by providing premium streaming platforms such as Netflix, Hulu, Amazon Prime, etc. However, these platforms can be quite expensive, and they are not even reliable for watching the latest blockbusters.
Fortunately, there's a bevy of free streaming options; they can let you enjoy the latest films, fill gaps in your film history, and even discover some hidden gems. These free streaming options operate in very different ways and use different technologies; so, it ultimately comes down to what you prefer, though it's advisable you opt for a variety. In this post, we'll provide an in-depth beginner guide on how to watch theatre movies for free.
How to Watch Theatre Movies Online Free
Caution: Stream Carefully
It's important to note that while you can stream movies online for free, some of the links you get, and especially for blockbuster movies, are usually pirated. This means that viewing and downloading such content is illegal and can easily land you in trouble.
There is also an ongoing crackdown on torrents, Kodi addons, and streaming apps that allow users to access copyrighted content illegally; this has led to shutdowns and bans of some popular streaming options. Thousands of users have also received copyright infringement notices; others have faced legal charges.
How to stream safely
Whenever you want to watch theatre movies for free, we strongly advise that you never do so without connecting to a Good VPN. A reliable VPN helps protect your identity as well as your data by encrypting your traffic; then, securely tunnel it to a private server of your choice. This server spoofs your IP address to give you a new identity; then it connects you to the internet.
However, you also need to be keen on the VPN you choose; not all VPNs are suitable for free streaming. Some VPNs do not provide the required levels of privacy and security; others are not fast enough to stream content hosted on free servers smoothly.
The Best Streaming VPN
The VPN we recommend for streaming is Surfshark, and it's the best VPN for streaming. To come up with this conclusion, we tested and compared several of the top VPNs in the market. Surfshark stands out due to its excellent streaming capabilities that include:
Superb speeds
Zero logs policy
Allows P2P and torrenting
Huge server network
Easy to use apps
Top-notch encryption security
100% percent money-back guarantee.
To help you start streaming securely, Surfshark is currently offering an exclusive 82% discount to BestDroidPlayer readers. You can use the button below to get your discount. After subscription, you will still be eligible for a 100% money-back guarantee.
To watch theatre movies for free, you can either use Kodi, Stremio, or third-party streaming apps.
Free Streaming on Android Apps
Free streaming apps have grown quite popular over the years; there are apps that can let you watch anything from live sports, live TV, TV shows, and movies. The biggest issue with such apps is that apart from needing frequent updates (and so an active developer), they are also highly targeted by copyright authorities over piracy issues.
One popular app that was shut down is Terrarium TV; an app that pretty much defined the era of free streaming apps. After Terrarium TV was dropped by the developer, lots of clones sprung up to try and fill the gap.
Most of these apps are created for the Android platform; so, they can be installed on Fire TV/ Stick, Android TV Box, Nvidia Shield, and Android smartphones.
Due to the popularity of free streaming apps, we usually provide a frequently updated list of the best Android streaming apps at any moment. Apart from that, here are a few apps to get you started.
Before you stream any title using a free streaming app, you need to ensure that you won't be held responsible for any copyright breaches. Make sure that you have your Surfshark app connected to a server.
CinemaHD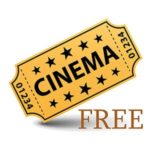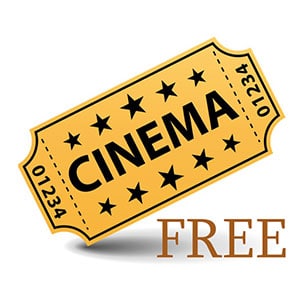 Just as its name suggests, Cinema HD is a dedicated streaming app that lets you watch recent and popular movies as well as TV Shows. The streaming app is completely free, and it lets you search for almost any movie or TV show you are interested in.
Cinema HD is super easy to use, and it presents you with tens of streaming links that can be viewed in up to 1080p.
You can also integrate Real-debrid to get HD links and Trakt.tv to keep track of what you are watching. Check it out below.
How to Install Cinema HD on Firestick & Android TV Box
ZiniTevi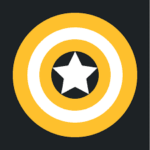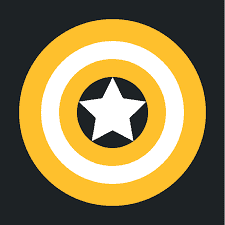 ZiniTevi is a relatively new streaming app, and one of the best that you can opt for. The app is completely free; it gives users a chance to enjoy their favorite movies and TV shows in HD and without adverts.
One of the things we love about ZiniTevi is its awesome interface that resembles Fire OS apps and is virtually fully compatible with the Firestick remote.
The app lets users enjoy 720p and 1080p titles which are very well categorized for ease of access. The app supports casting as well as syncing history and favorites.
How to Install ZiniTevi on Firestick & Android TV Box
Popcorn Time
Popcorn Time is a bit different from the above streaming APKs in that it uses torrent technology to provide content. The app has an integrated BitTorrent client that lets you stream movies and TV shows through an inbuilt player. One of the best things about Popcorn Time is that it downloads a portion of the file before it starts streaming. This means that even with a slow internet connection, you can enjoy smooth streaming.
However, torrenting has been targeted by ISPs and government agencies for the last few years as millions around the world use it for illegal streaming. It's therefore essential to ensure that before you start Popcorn Time, you fire up a Good VPN like Surfshark for privacy and anonymity.
How to Install Popcorn Time on Android TV Box
Free Streaming on Kodi
Kodi is one of the most popular streaming platforms and it lets users stream theater movies with ease.
The platform in itself doesn't come with any content, but it can be easily configured to access titles by installing Kodi addons. In case you are not familiar with Kodi addons, these are small programs that are capable of scouring the web and returning links that can be used to stream various titles.
Kodi addons are grouped according to the content they offer as there are movie and series addons, sports addons, live TV addons, and all-in-one addons. We usually review the best and latest addons.
Here are some of the best Addons to watch Theatre Movies on Kodi.
 Exodus Redux & V8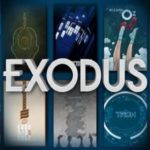 The loss of the Exodus Kodi addon dealt a huge blow to the Kodi community. This resulted in many clones of the same, but the addon was later rebooted with Exodus Redux and Exodus V8. These two are quite similar, although there are little differences in terms of the scrappers.
Both work efficiently and can be used to stream movies and TV shows in HD, for free. The two are among the best performing Kodi addons in 2020.
How to Install Exodus Redux Kodi Addon
How to Install Exodus V8 Kodi Addon
Magic Dragon
Magic Dragon is one of the most popular Kodi addons thanks to its huge content list. The addon is an updated version of The Dog Bollocks Kodi addon, and it can breathe fresh content to your Kodi.
Apart from streaming movies, Magic Dragon also lets users watch a variety of different content that includes sports, TV shows, live TV, radio channels, documentaries, and more in up to 4K.
To enhance your movie streaming experience, the addon lets you connect with Real-Debrid for high-quality links and Trakt.tv to keep track of your watch list.
How to Install Magic Dragon on Kodi
Venom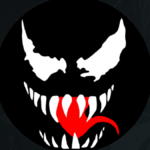 Venom is a highly popular movie and TV show Kodi addon that provides lots of free content in HD. The addon is a fork of the original Exodus addon, but it has some enhanced features and gets its links from various sources.
One of the standout features of Venom Kodi addon is an auto-play feature that automatically selects the highest-quality link and plays it. This means that it's a one-click play addon since users only need to select a title. The addon also allows the integration of Real-Debrid and Trakt.tv.
How to Install Venom Kodi Addon
Kodi Tip: You can automatically add addons to your Kodi and enhance your viewing experience by installing one of the best Kodi builds. 
Watch Theatre Movies on Stremio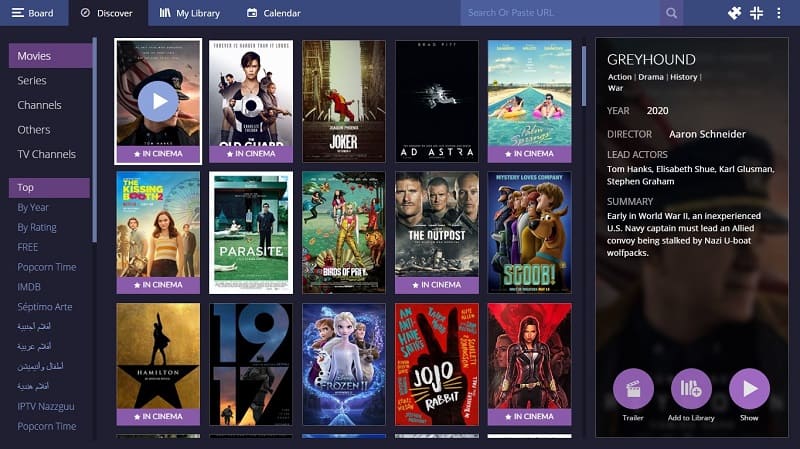 Stremio is a free media center that in some ways works similarly to Kodi. The app has grown extremely popular even among Kodi fans because of its simplicity and excellent functionality.
Just like Kodi, Stremio lets you install third-party addons that you can use to stream anything from news, sports, movies TV shows, music, and Live TV.
However, the media center differentiates itself from Kodi in that it is cloud-based. When you install an addon on Stremio, it is not just added to your device, but rather to your cloud-based account.
This means that when you install an addon on your smartphone Stremio app, it will also sync to your PC, Firestick, or Smart TV. This greatly improves the usability of the software.
The app is also more secure than Kodi in that malicious developers who inject malware into an add-on to infect your device can't do so with Stremio. You can install the media center on Windows PC, Mac, Linux, Android, and iOS devices (limited version).
Before streaming on Stremio, it's important to understand that the app picks its streaming from torrent sites through community addons. This means that you always need to make sure that your VPN is connected for both privacy and to unblock any restricted torrent sites.
How to watch theatre movies for free on Stremio
Streaming theatre movies for free on Stremio is far much easier and smoother than using Kodi. With Stremio, all official and community addons can be installed within the app, and so you won't go to much trouble or need a build.
The first thing to do is install Stremio on your device from the store or download it from the official website – stremio.com/downloads. From there, we suggest that you create a free account so that you can be able to sync your content across various devices.
Once you open Stremio, you will find a "Discover" section where you can find almost any title that you are looking for. These can be sorted in terms of Movies, Year, Genre, etc.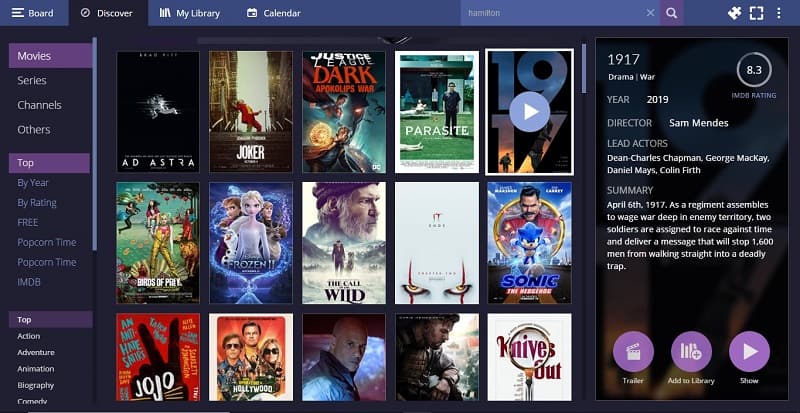 Since the app doesn't host any content, you will need to install addons to get links for these titles. You can go to the addon section by clicking the addon icon on the top left side.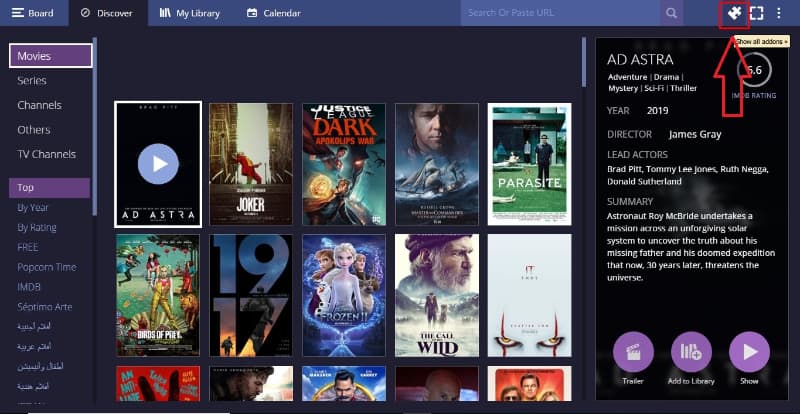 You can select the Movie filter to get only addons that offer movies. From there, just click "Install"
Once you have installed several, now go back and click or search the title you want. You will then get links with up to 4k quality.
You will be able to add movies to your library, and Stremio will even let you continue from where you left on any device. This option will be available under "Board."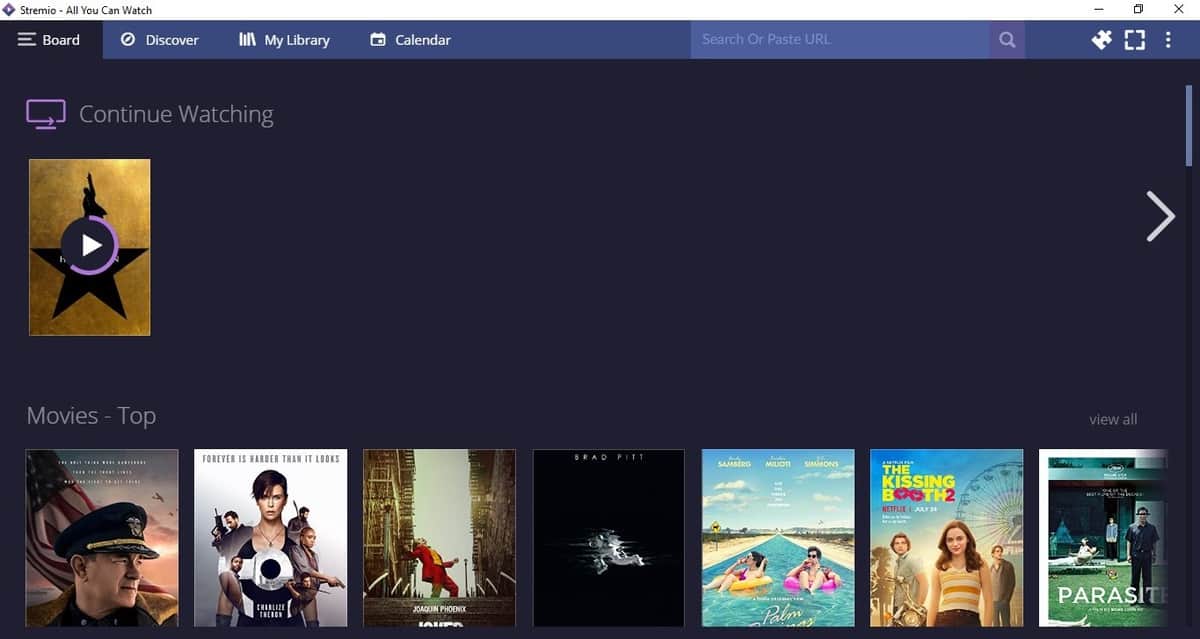 Stremio is my favorite movie streaming option!
How about Streaming Websites?
There are websites that crop up from time to time that allow users to stream various titles. However, these websites are usually filled with obtrusive adverts that make it hard to get started. Further, most of them usually feature old titles, and you won't really be able to stream in 1080p and 4K.
Apart from that, such websites get pulled down after a short period of time, making this an unreliable option.
Kodi, Stremio, and streaming apps are the most reliable ways to watch theatre movies for free.
Wrap up
With the tips above, you can easily enjoy theatre movies for free. However, nothing free comes without a catch and, in this case, it's your privacy and security. To ensure that you do not land into any legal trouble, always connect to a Good VPN like Surfshark to remain private and secure.
Enjoy your movie experience!