Firestick and Roku are the ultimate devices for streaming. Depending on the point of view they may be very similar or very distinct. In this comparison article we are putting Firestick and Roku, face to face, so you know everything about both devices as well answering the million question on Should I Buy a Firestick or Roku?…
Digital media players are taking over the world and cable TV providers are feeling the pinch from it. Digital players connect directly to stream media. They have been around since the year 2000 and are just starting to gain momentum. The rise in available online streaming content has led to a rise in the number of these available digital players. In this article, we are going to discuss two of the best players on the market, the  Amazon Firestick and Roku. We are going to do a comparison to decide which is better and for what reasons. But first, let's look at a brief introduction of the two players.
Firestick
The Firestick digital media player is developed by Amazon. With the Amazon Firestick, you can watch high-resolution content streamed to your TV and play games using a game controller or a mobile app.
There is also a bigger option of the Firestick known as Fire TV – the Firestick comes as an HDMI plugin while the Fire TV comes as a set-top box.
The Firestick was released in November 2014 as the smaller version of the Fire TV. Its first generation model has 8 GB internal storage and 1GB RAM.
The Amazon Firestick and Fire TV runs on Android software and you can download many apps from the Amazon app store to expand its capabilities. Kodi for example is available on the Firestick following these simple instructions.
Roku
Roku digital player is developed by Roku Inc. – an American company based in Los Gatos, California. The name Roku is Japanese for sixth. The company was named Roku by its founder, Anthony Wood, for being the sixth company he started.
With the Roku digital player, data is transferred through an audio and video cable or an HDMI cable. The Roku streaming stick connects via the HDMI.
The first Roku media streaming device was launched in 2008 for Netflix. It runs on Linux OS which means you still cannot install Kodi on Roku. But you can still run Kodi in a Android Device and have it on Roku, mirroring it; shortly we'll write an article about this.
Roku's content is provided by partners. Roku also launched its own free channel in 2017 that is free.
We are now going to look at how the two digital players compare by features.
VPNs and Why You Need It
While this post is primarily about the difference between the Amazon Firestick and the Roku, I'd be doing you a disservice if I didn't discuss the importance of VPNs when it comes to streaming content online. VPNs or Virtual Private Networks were initially created in the business world. Used by employees around the world as a means of communicating with their offices in a secure manner, they have gradually made the transition to the commercial world where they have found rabid fans!
You see with constantly changing rules and regulations around the world, not to mention draconian measures in some jurisdictions from a censorship perspective, individuals need to protect themselves. This is where VPNs come into play.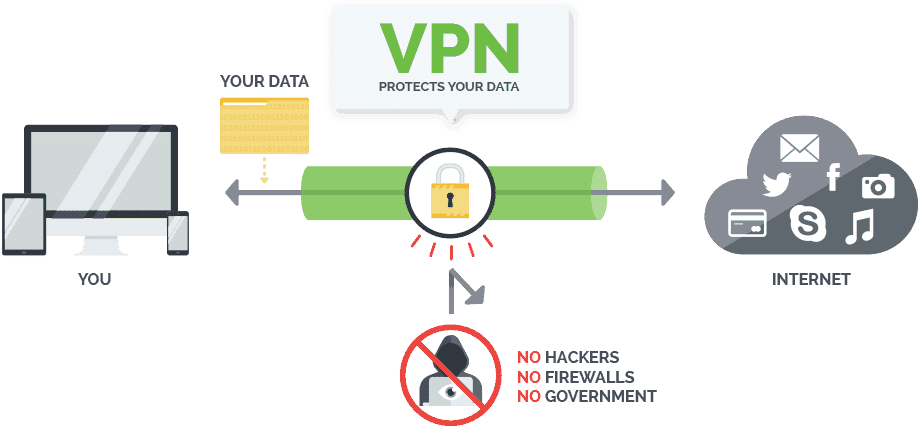 VPNs help create a secure, private connection between your streaming device and the VPN server. Anything you are browsing over that connection cannot be monitored, traced or tracked. This is really important.
However, that's not the only reason to think about a VPN though. Another concern is something called georestriction. Basically this means that the content you are able to watch is limited, based on your location. As we're discussing the Firestick and Roku in this post, if you're anything like me, you're going to want to take it with you when you go on a holiday. If that is the case, imagine your disappointment if when you get to your destination, the shows you were watching are not available! Well, a VPN can help here and it's really quite easy. You see, when you connect to a Good VPN like Surfshark, you simply have to select the server location you'd like to connect to and then the VPN software will mask your IP address making it appear as if you're in that location!
Choosing the right VPN
Now choosing the right VPN can be difficult, but fortunately for you, I'm here to make things easier! You see, there is one VPN – Surfshark – that I think is the best for both the Amazon Firestick and Roku. It's one that I'm happy to recommend to you and even better for you; we've managed to get you a special 82% of Surfshark.
Firestick or Roku?
OK, lets get into the details of comparing the Firestick and Roku now, so that you can choose the best option for your needs.
Specifications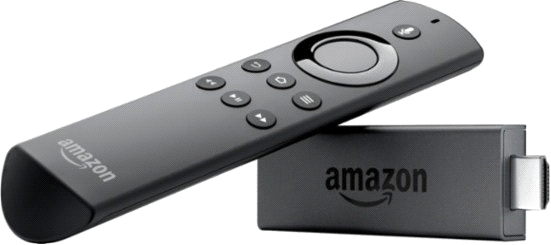 The basic Amazon Firestick has a 1.3GHZ  processor, supports Bluetooth 4.1, and has 8GB internal memory. It plays videos in the 720p to 1080p resolution range at 60FPS (Frames per second).
The 4K model offers a 1.7GHZ processor and supports Bluetooth 5. Its internal memory remains 8GB though it supports 2160p resolution. The 4K model also offers Dolby vision.
The Roku Streaming Stick, Express and Express+ offer 1080p resolution. The streaming stick+ however offers 4K resolution (2160).
No model of Roku offers Dolby vision.
In this category, Amazon Firestick wins considering it offers more features at a lower price than Roku.
Cost
The entry-level Amazon Firestick goes for $39.99 while the high-resolution 4K model will cost you $49.99. Roku, on the other hand, has more options ranging from $29.99 for Roku Express to Roku Streaming stick+ that goes for $59.99. In between, there is the Roku Premiere that goes for $39.99, the Premiere+ that goes for 49.99 and the Roku streaming stick which also goes for $49.99. Roku thus has more variety and a much cheaper starting point.
In terms of cost, Roku is a clear winner with a lower base starting point and more options available.
Controls
Both Roku and Amazon Firestick come with a remote control.
The Amazon Firestick devices comes with Alexa. Alexa is Amazon's virtual assistant where the user can control the device using voice commands.
Some of Roku devices also come with voice control. They are Roku streaming stick+, Roku Streaming , and Roku Premieree+. The other models don't.
Both Roku and Amazon firestick also come with a mobile phone control app.
In this category, it's almost a tie since both devices provide good controls. However, some lower end Roku devices do not come with a voice recognition assistant hence the Firestick narrowly wins.
Interface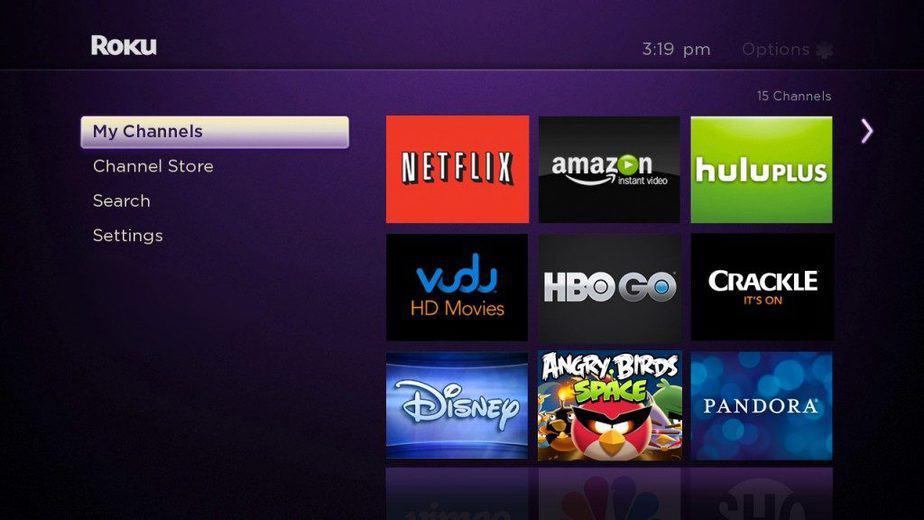 The Amazon Firestick interface is very modern and attractive. It looks more refined and has that futuristic feel. The only disadvantage about it is the fact that it tends to give priority to Amazon Prime Video content. You'll see Amazon Prime Content even if you don't subscribe to it.
Roku's interface looks basic but is very customizable. You have the option of placing your channels in groups just the way you want them.
Even though Amazon Firestick's interface looks more modern and appealing, I would choose the more realistic and convenient Roku which allows me to arrange my channels the way I want them. This might be personal preference only but I say Roku wins.
Streaming Content
Roku has the best agnostic device on the market. It is compatible with almost all media streaming apps including Hulu, Netflix, Spotify, Youtube, Google Play Movies, Tunulnen Radio etc without requiring any adaptation software.
Roku also offers a large variety of private channels. You might want to use a VPN on these private channels though as some of them provide access to copyrighted content.
Amazon Firestick offers no Youtube native app. Misunderstandings with Google also saw Google pull its apps from them. Amazon with its somewhat restrictive app store doesn't help here either as many apps are only available through the use of a downloader app.
In this category, Roku wins once again.
Surfing
Amazon Firestick lets you surf the internet. You can surf using the Fire TV remote control on Firefox and Amazon's Silk Browser.
Roku does not offer web browsing. Amazon Firestick wins.
Screen Mirroring
This feature allows you to mirror whatever is on your mobile device's screen onto your TV screen. Roku devices have a technology called Miracast built within that offers screen mirroring services. Amazon Firestick used to offer screen mirroring on its earlier devices but interestingly they no longer offer the feature currently.
Roku wins.
Gaming
Both Roku and Amazon Firestick offer gaming. Many gamers though prefer games on Amazon Firestick to those of Roku. Roku games may not entertain a hardcore gamer much. Neither device is really suitable for this though and other android boxes are a better option. However in the interest of fairness, Amazon wins.
The Winner is…
In this comparison article we put face to face the two ultimate streaming devices and we ran a deep analysis on various important features that may influence your choice.
So, which should you buy between the Firestick and Roku? Frankly, it's a tricky task to make the choice considering the two devices are largely similar. However, Roku tends to have more important advantages over Amazon Firestick.
I consider the most important feature on a digital media player to be the amount and variety of channels available. Roku seems to do better in this category which places it slightly higher than Amazon Firestick. I would go with Roku, but the choice is yours.
Hope this comparison article has helped to answer your question on Should I Buy a Firestick or Roku. If so, please share it with your friends as probably they have the same doubts!