Is Roku not connecting to WiFi? Here are several troubleshooting tips to help sort the issue out in a few minutes.
Roku devices are fantastic at watching your favorite movies, TV shows, documentaries, and music videos. However, you need to have an active internet connection to do this. Unlike other issues, such as Roku remote not working that can be sidestepped by using the remote mobile app, you have to solve the Roku not connecting to WiFi issue to stream your favorite content.
No reason to fret, though, as you can easily solve the connection issue. This guide lists several troubleshooting steps to get Roku working as it should within a few minutes.
Roku WiFi Not Connecting: Common Issues
Roku won't connect to WiFi issues can be caused by various things, and they will throw different warnings.
Unable To Connect To Wireless Network
If you get this error, the problem is with your network connection, not the internet connection. The notification usually appears when you enter the wrong credentials for your network.
Checking connecting loop
Roku usually checks your connection for a few seconds after entering your network credentials. This starts with the network connection, then goes to the internet connection. Unfortunately, Roku can get stuck in the second step after successfully checking your network connection. This is usually referred to as the Roku checking connection loop in troubleshooting forums.
Not Connected To the Internet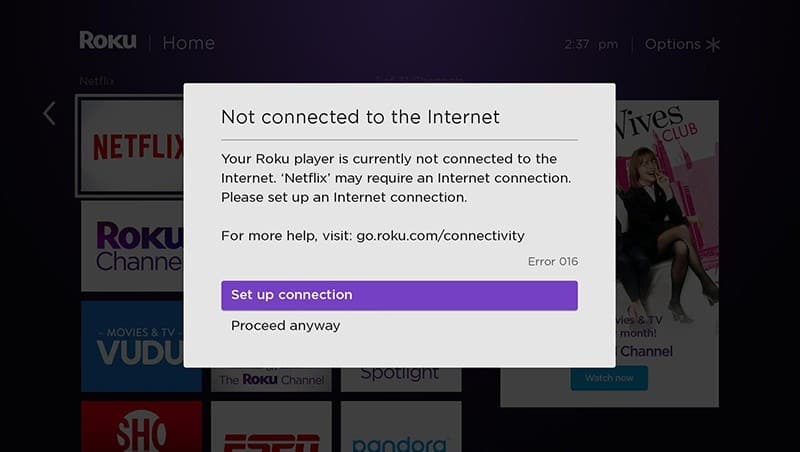 The Roku not connected to the internet error is quite common, and it's usually caused by an issue with your internet connection, not the device. The error will show up if a streaming channel fails to connect to the internet when launching it.
Loading
The Roku "loading, please wait" error is similar to Roku not being connected to the internet. The error usually occurs when your device loses internet connection during a program playback. You'll get an option to exit and set up a connection, but you won't likely need it unless you have a second wired or wireless connection.
Ways to Fix Roku Not Connecting To WiFi
There are several ways you can solve the above Roku TV not connecting to WiFi errors.
Check the Internet Connection
This should be the starting point whenever you experience any Roku connection errors. This is because the local network is usually stable for the most part, but it may lose internet connection due to issues with your Internet Service Provider (ISP). To check if this is the issue, you can:
Navigate to Settings using the directional arrows on your remote.
Select Network, then Network page.
On the network page, you will have two options. One is checking whether you have a network connection, and the other is testing the strength of your network.
About Page: This page gives network connection details. It displays details about your connection, such as your local IP address, Mac details, signal strength, and download speeds. You will need to check your connection if this information is unavailable, as Roku is not connected.
Check Connection: If the About page shows your network connection details, you may need to check the quality of the connection. In this section, you can test your connection and show your internet connection status, signal strength, and speed.
Another way to check whether you have an active internet connection is to use another device connected to the same network, such as your phone. Disable your mobile network data connection, then see if you can still connect to the internet. If you can't, the network is down, and you have to wait for your internet provider to correct the issue. If you can, check out the other Roku not connecting to WiFi troubleshooting tips below.
Check your network credentials
If the About page on Roku doesn't display your network credentials or you are getting errors such as "Unable To Connect To Wireless Network" or "Not Connected To the Internet," the problem may be your Wi-Fi credentials.
The Service Set Identifier (SSID), also known as the Network ID, must be correct, and the same goes for your network passwords. If any of them are wrong, the network won't connect. You can follow the guidelines below to update your network credentials.
Press Home on your remote
Scroll and select Settings
Select Network
Select Set up connection
Choose Wired or Wireless
If you select Wired, your Roku TV or streaming stick will automatically connect to your network and the internet. If you select Wireless, continue to the next step.
Select your network from the list of available networks. If you do not see your network, select Scan again to see all networks.
Enter your network password. To see the password as you type, choose Show password.
Select Connect
This should connect the Roku stick or TV to your network, and it should show on the About page under Roku network settings.
Check your VPN Connection
You can set up a VPN on Roku through your PC or router to get access to a wide range of geo-restricted content. However, if you are using a VPN hotspot from your PC, you can run into connection issues if your kill switch gets activated. In case of a drop in the VPN connection, the kill switch will disable your internet connection, affecting your Roku connection. Check if your VPN is active, then turn it off to disable the kill switch if it's active. You can then reconnect the VPN to watch free movies, or whatever you want, on Roku.
Restart Your Roku
One of the easiest remedies to connection errors and a range of other issues is restarting Roku. This allows the Roku streaming, Stick or TV, to eliminate any operation errors that may have occurred during boot-up or have been caused by other programs.
To restart Roku:
From the home screen, navigate to the Settings page using the remote's right arrow.
Scroll down to System and select System Menu.
From the options provided, select System Restart.
Highlight Restart using the right arrow, then press OK.
After the device restarts, it will then connect to the network.
Move Roku Closer to Router and Modem
Sometimes, the issue may be a weak wireless signal reaching your Roku TV. This may be due to physical interferences or even over-congestion of the network. To solve this, simply move your router or modem close to the Roku device (or Roku to router/modem), or position them well to avoid physical obstacles. This will improve the quality of your connection.
Connect an Ethernet Cable to Roku
An even better way to deal with a weak signal is using an Ethernet cable. This is a great option if your Roku device supports it, as physical cables provide a more stable and reliable connection than wireless networks, ensuring smoother streaming. Cable connections are also immune to physical obstacles and tend to solve the network congestion issue.
After connecting your router and Roku device using the ethernet port:
Press Home on your Roku remote
Scroll and select the Settings menu option.
Select Network.
Select Set up connection.
Choose Wired.
The connection will be established automatically.
Power Cycle Wi-Fi Router and Modem
If Roku doesn't connect to WiFi still, the problem may as well be your router or modem. These are computers complete with a motherboard, memory, CPU, and software just like any other, and sometimes restarting them may solve a wide range of issues.
To solve any running errors, you can power cycle your router to clear the cache. Power cycling is quite straightforward:
Unplug the modem and wireless router from the power outlet.
Wait at least 15 seconds.
Plug the modem back into the power outlet first, wait 1-2 minutes, then power on the router.
Wait for all panel lights on your cable modem to become green before testing your internet connection.
Waiting for some time after unplugging the router allows any energy stored in the power capacitors to dissipate.
Contact Roku Support
You can always contact Roku support if nothing seems to be working for you. Start by visiting the company's knowledge base and exploring its troubleshooting guides, which are quite detailed and issue-specific. You can also reach out to the Roku support team via live chat or the various social media channels on the website.
Pro Tips
You can also try these troubleshooting tips if you are a bit techy.
Connect To the 5GHz Wireless Network
Most routers today support both the 2.4 GHz and the 5 GHz bands. The former is used in most cases as it has a much better range, but it's usually slower and prone to interference. This means that you may want to enable the 5 GHz band on your modem if your Roku streaming device supports the band.
Switching the band can help overcome issues such as a congested network and interference, so it's a good alternative to an ethernet connection.
Change the Wireless Channel
Apart from changing the band, you can also change your router's wireless channel. Both the 2.4 GHz and 5 GHz frequency bands are divided into channels that are used to send and receive data over the network. For the former, channels 1, 6, and 11 are usually the best choices as they don't overlap. For the latter, there are 24 non-overlapping channels you can choose from.
Most routers use the 2.4 GHz band and channel 6 by default. This means that neighboring Wi-Fi home networks that run over the same channel usually generate radio interference. If it is significant, it can cause network performance slowdowns. Changing the Wi-Fi channel will avoid this interference and enhance your network's quality and reliability.
🤔 Frequently Asked Questions
How do I reset my Roku network settings?
To reset your Roku network settings, go to Settings > System > Advanced System Settings > Network Connection > Reset. Select Factory Reset to restore all settings to the default.
Why Is My Roku Not Connecting To WiFi
Roku can fail to connect to WiFi due many reasons, ranging from a wrong password to network congestion and cache issues. This guide should help you sort out the issue in a few minutes.
My Roku won't connect to WiFi but other devices will?
In this case, the problem is with your Roku device. Power cycle your Roku to see if the issue will resolve. If it doesn't, try resetting Roku network settings.
Conclusion
Roku not connecting to WiFi is easily one of the most frustrating issues you can face on the device, as there isn't much else you can do without an internet connection. However, it's also one of the easiest issues to solve, and the guide above should help you do that. Finally, after solving the issue, remember…
Enjoy your Roku!