WiFi adapters play a crucial role for all hard-core internet gamers. We have evaluated the best in the market, and here are the best WiFi adapters for gaming.
If you are an online gamer, hardwiring your internet via an ethernet cord often seems the way to go, as it provides stable connections. However, if you like to game wirelessly or away from home, you still have options that can make your internet connection just as stable. Using one of the best WiFi adapters for gaming, you can upgrade standard wireless connections to match ethernet connections and get a superb online gaming experience.
In this guide, we've picked the best WiFi adapters for gaming that you can use. We took into account all the crucial factors such as the speed, range, throughput, and technology used to create the list.
VPN For Online Gaming
👉 Using a VPN can enhance your online gaming experience in several ways:
Reducing ping if the servers are far away
Preventing DDOS attacks from malicious gamers
Facilitate playing with gamers from different regions
Avoid ISP throttling, which slows down connections
If you'd like to take advantage of these benefits, you can connect your PC or Mac to a gaming VPN and then fire up your game.
The Best VPN for Gaming
If you'd like a wholesome gaming experience, we recommend that you go with Surfshark. The VPN provides a well-balanced VPN experience thanks to its speeds, huge server network, and overall performance.
Below are more highlights of the VPN:
⚡ Superb Speeds: Guarantees a smooth live streaming experience.
🌍 Huge Server Network: You can connect to a nearby server for a fast and stable connection.
😲 UNLIMITED Devices: Connect dozens of devices at the same time!
🔑Unblock Anything: Safe access to censored apps, websites and torrent sites.
😎 Best in Privacy: The VPN doesn't keep any activity logs, and so your activities are only known to you.
🔐 Top-notch Security: This VPN uses AES 256-bit encryption and provides multiple protocols alongside other security features such as a kill switch, DNS & IPv6 protection and WireGuard.
💳 30 Days RISK FREE Money-Back Guarantee: In case you do not like the service, you can get every penny back if you cancel within 30 days!
You can get 82% off the VPN using the link below.
What you need to know about WiFi Adapters for gaming in 2023
WiFi adapters are relatively easy to use once you've installed them. However, things aren't so straightforward when choosing one. Some are easy-to-use USB sticks that involve simple plugging into your PC. But others require you to manually open your PC tower to install on PCIe (Peripheral Component Interconnect Express) slots.
How do PCIe connectors compare to USB adapters?
Internal PCIe wireless adapters sport higher performance compared to their USB counterparts. PCIe connectors have better data transfer than USB sticks. And even though we now have USB 3.0 upgrades, the PCIe's data transfer is still subpar.
USB 3.0 is also better than USB 2.0 as it's much faster. Unfortunately, your PC has to have USB 3.0 ports to take advantage of these speeds.
The rest feature multiple antennas for improved wireless signals. This WiFi adapter category heavily depends on the Beamforming and MIMO techniques to interface with your local router.
What is Beamforming?
Beamforming is a radio frequency (RF) management technique where you face or direct your wireless signal to the receiving device to improve connection performance. All 802.11ac adapters have beamforming capabilities by default, so this should not worry you.
What is MIMO?
MIMO (Multi-Input, Multi-Output) is a technique that allows multiple antennas to work as both transmitter and receiver.
What is MU-MIMO?
MU-MIMO (Multi-User, Multi-Input, Multi-Output) works similarly to MIMO but allows multiple devices to use your local router concurrently.
All three technologies are designed to interface your wireless adapter to the local router network. Therefore, if your local router doesn't have these technologies, your wireless adapter can't interface.
What about Mac users?
Mac users have limited options when opting for a WiFi adapter for gaming. But there are still decent alternatives. Most of the USB wireless adapters we've listed below will work with macOS – albeit with varying compatibility requirements. Remember to check if a USB WiFi adapter supports Mac desktops.
Are WiFi adapters for Linux users?
Most wireless adapters we have covered below promise great support for Linux platforms. However, you might have trouble landing a perfect solution if you're a Linux user running on the latest kernel versions. This is why we haven't suggested any Linux-compatible WiFi adapters for gaming.
Best WiFi Adapters for Gaming
If you want uninterrupted online gaming on your PC, the list of WiFi adapters listed below should help you achieve that. For each adapter, we pinpoint the features and benefits while also mentioning the downsides to help you choose well.
1. Asus PCE-AC88 WiFi PCIe Adapter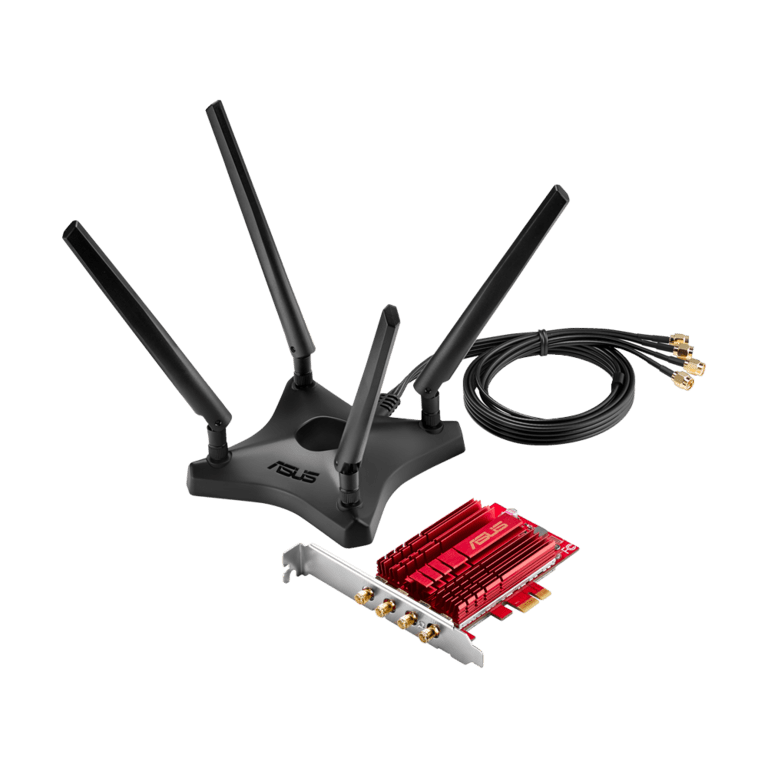 Asus manufactures some of the best WiFi adapters for gaming. The Asus PCE-AC88 is a top PCIe wireless adapter from the brand and works perfectly with desktops.
The WiFi adapter uses the 802.11ac WiFi protocol. As such, it offers ultra-fast speeds of up to 1000 Mbps on the 2.4 GHz band and 2100 Mbps on the 5 GHz connection wave. Finally, the Asus PCE-AC88 wireless adapter is compatible with multiple operating systems, including Windows 7, 8, 8.1, 10, and 11.
👍 Pros
Super-fast speeds on both 2.4 GHz and 5GHz bands
Multiple antennas for improved WiFi signal
👎 Cons
2. Rosewill RNX-AC1900PCE Rnx WiFi Adapter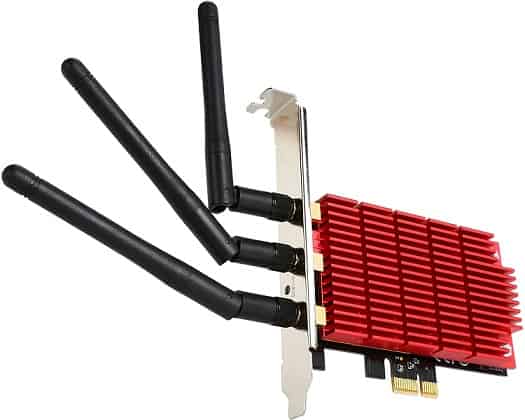 Rosewill manufactures high-performance computer accessories, including the RNX-AC1900PCE WiFi adapter for gaming. Thanks to its PCIe connectivity, this is one of the best WiFi adapters for desktop gamers. The connectivity means that you can install it on your PC motherboard directly.
You can expect speeds of up to 600 Mbps on the 2.4GHz and up to 1300 Mbps on the 5 GHz connection. The Rosewill RNX-AC1900PCE WiFi adapter works perfectly with Windows 7, 8, 8.1, 10, and 11. Confirm that the wireless adapter supports modern gaming desktops.
👍 Pros
Perfect for desktop gamers
Decent speeds
Fairly priced
Multiple antennas for improved wireless signals
👎 Cons
Troublesome for laptop gamers.
3. Netgear Nighthawk AC1900 USB WiFi Adapter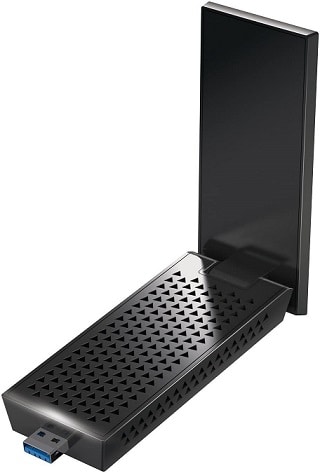 Netgear is a giant networking products manufacturer, and the Nighthawk AC1900 USB WiFi adapter for gaming is a top-performing product. The wireless adapter is a USB stick and works superbly with both desktops and laptops.
Nighthawk AC1900 USB WiFi adapter offers speeds of around 600Mbps for 2.4GHz and 1300Mbps for the 5GHz connection. The adapter is compatible with Windows 7, 8, 8.1, 10, and 11.
👍 Pros
Top performance USB stick
Suitable for both laptop and desktop users
Wide range of signals
Decent connection speeds
👎 Cons
Somewhat subpar speeds compared to its Asus competitor.
4. Trendnet AC1900 Dual Band WiFi USB Adapter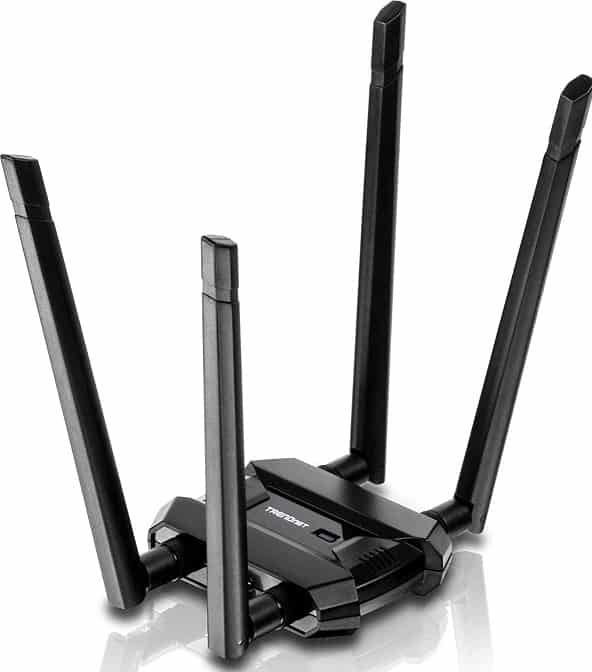 Trendnet is another popular multi-gigabit product maker, and its high-performing products include the Trendnet AC1900 dual-band WiFi adapter for gaming. The adapter comes with 4 high gain dual band detachable antennas and integrated high-powered amplifiers for long-range connectivity.
Trendnet AC1900 also offers high speeds of 600Mbps for 2.4GHz and around 1300Mbps for 5GHz. The adapter supports both macOS and Windows.
👍 Pros
Best for both desktop and laptop gamers
Sports 4 antennas for improved signals and speeds
Excellent connection speeds
USB stick option
👎 Cons
5. TP-Link AC1300 PCIe WiFi PCIe Adapter
TP-Link is one of the most popular networking products manufacturers, and TP-Link AC1300 PCIe is among its high-performance wireless adapters for gaming. The WiFi adapter is designed for desktop gamers, and it uses PCIe slots to work.
You can expect fair speeds of about 400Mbps on 2.4GHz and up to 867Mbps on 5GHz, which are more than sufficient for most gamers. The adapter operates on an 802.11ac Dual Band, which makes it perfect for hi-intensity network usage. It also has 2 external antennas to ensure a greater range of WiFi connection and stability.
👍 Pros
Decent speeds for gaming
Perfect for desktop gamers
Sports antennas for high-performance signals
👎 Cons
Doesn't match top speeds like its competitors
6. EDUP USB WiFi Adapter EP-MS1558GS
Edup is a network equipment manufacturer that makes gadgets like routers, repeaters, and dongles. Its products are affordable, and the Edup USB WiFi adapter for gaming makes a list.
If you're on a tight budget, you can depend on the Edup EP-MS1558GS USB wireless adapter to give you competitive gaming speeds. It offers speeds of around 150Mbps for 2.4GHz and up to 300Mbps for 5GHz. And while the speeds aren't comparable to its competitors, they're sufficient for gaming.
It's worth mentioning that the Edup USB WiFi adapter uses the 801.11ac protocol for dual-band connections. However, this is understandable considering it entered the market recently.
👍 Pros
It's a USB portable wireless adapter
Very affordable
Decent connections speeds for gaming
Works on both laptops and desktops
👎 Cons
Not high-performing compared to its competitors
7. NET-DYN Mini AC1300 USB WiFi Adapter
Net-Dyn is a recent addition to the industry. Its official name is Net-Dyn Mini AC1300 USB wireless adapter, and it features a minimalistic dongle design. And even though it is most common among laptop users, you can still plug it on your desktop and connect to a wireless network.
Net-Dyn is also very affordable and offers impressive speeds for gaming. Its speeds can reach around 300Mbps on 2.4GHz and 600Mbps on 5GHz. The best part is that it works well with both Windows and macOS.
👍 Pros
Entry-level WiFi adapter
Small and compact design
Great for portable use
👎 Cons
8. D-Link AC1900 Ultra WiFi USB Adapter
D-Link is widely known for making smart home technology. One of its latest cutting-edge solutions is the AC1900 Ultra WiFi USB adapter for gaming. The wireless gadget features an eye-catching ball shape that's futuristic.
The WiFi adapter uses the latest generation of wireless AC speeds, and it is fast and perfect for streaming HD content and gaming without lags. You can get top speeds from 600Mbps for 2.4GHz to 1300Mbps for 5GHz.
D-Link AC1900 Ultra WiFi USB Adapter works well with both laptops and desktops, and it offers a USB option. The adapter works well on both Windows and macOS.
👍 Pros
High performance
Top speeds for gaming in HD
USB 3.0 connectivity option
Compatible with all major operating systems
👎 Cons
Doesn't work well with USB 1.1 or USB 2.0 ports
WiFi Adapters for Gaming Comparison Table
| | | |
| --- | --- | --- |
| Asus PCE-AC88 | D-Link AC1900 Ultra | Netgear Nighthawk AC1900 |
| Best WiFi for desktop gaming PCIe connectivity Flexible antenna placement Specialized heatsink design Dual-band wireless Uses 802.11ac wireless protocol Speeds of 1000Mbps on 2.4GHz and 2100Mbps on 5GHz Works on Windows 7, 8, 8.1, 10, and 11 | Best USB WiFi adapter for laptop gaming USB 3.0 connectivity option Powered with a 3 x 3 antenna design WPS Button Dual-band wireless Advanced AC smart beam Interference-Free Bandwidth High Powered Amplifiers Uses 802.11ac wireless protocol Speeds of 600Mbps on 2.4GHz and 1300Mbps on 5GHz Works on Macs and PCs | Best USB WiFi adapter for both desktop and laptop setups USB 3.0 connectivity Sports an antenna Dual-band wireless Beamforming technology Uses 802.11ac wireless protocol Speeds of 600Mbps on 2.4GHz and 1300Mbps on 5GHz Works on Windows 7, 8, 8.1, 10, and 11 |
| Check Price | Check Price | Check Price |
Buying Guide for the Best WiFi Adapters for Gaming
Anyone can make an online purchase of just about anything. But buying technical gadgets requires before-hand knowledge of what to look for when making up your mind. And it doesn't just involve the lowest price.
Thankfully, we've covered the most important aspects to look at when buying the best WiFi adapters for gaming. Here's what to look out for.
Wireless connection protocol
Always choose WiFi adapters that use the latest generation of AC speeds, which is the 802.11ac protocol. The wireless protocol is only available on dual-band high-performance routers with a 5GHz frequency, so bear in mind that older WiFi adapters use the slower 802.11n protocol.
Compatible connector
Ensure you've bought a WiFi adapter with the right PC connector. There are two types of adapter connectors: USB and PCIe. USB connectors are easy to plug and work on both laptops and desktops. PCIe connectors are only compatible with desktop setups.
It's also worth mentioning that PCIe WiFi adapters offer the best connection speeds. However, USB wireless adapters are preferred because of their ease of use and wider compatibility.
Maximum speeds on 2.4GHz
Buying a new wireless adapter for gaming with maximum speeds on 2.4GHz frequency is crucial. This is because the 2.4GHz frequency offers a wider signal range while compromising speeds. The recommended 2.4GHz speed is around 600Mbps, but 150Mbps going up is acceptable.
Maximum speeds on 5GHz
Equally, check the maximum speeds offered on the 5GHz of your target WiFi adapter. The 5GHz frequency offers a limited range, but you'll get maximum speeds from 1300Mbps. This means that having maximum speeds for both frequency bands is better.
Device and OS compatibility
Most PC games are optimized for Windows platforms. As such, you need a WiFi adapter compatible with your device and operating system.
The Top 10 Best Gaming PC Under $1500 (this guide will be available soon, here)
FAQs
Most gaming desktops, as well as older laptops, lack wireless connectivity. And if you don't have an Ethernet cord, it'll be tough to game online without a proper WiFi adapter.
Check the list above for the best WiFi adapters for gaming. We've carefully reviewed and tested the gadgets listed above putting into consideration their features, benefits, and compatibility.
What is the best WiFi Adapter for Gaming?
The Asus PCE-AC88 WiFi PCIe is the best WiFi adapter for gaming, and it's perfectly suited for desktop PCs. The adapter uses "NitroQAM" (1024-QAM) technology that offers top speeds of around 1000Mbps on 2.4GHz and 2100Mbps on the 5GHz.
What is a good WiFi Dongle for Gaming?
Net-Dyn Mini AC1300 USB is a very good WiFi dongle for gaming. The wireless adapter features a minimalistic design that you can easily plug on both laptops and desktop setups. The Net-Dyn wireless dongle offers speeds of around 300Mbps on 2.4GHz and up to 600Mbps on 5GHz. The fact that it's very affordable also gives it a competitive edge.
How long do USB WiFi adapters usually last?
A USB WiFi adapter's lifespan depends on how often you plug and unplug it from your desktop/laptop gaming device. It's estimated that it can last about 1500 connection/disconnection rounds. This means that if you frequently plug and unplug your USB wireless adapter, it'll last about 12 months.
How does a wireless adapter for gaming work?
A wireless adapter for gaming works by offering a strong safety net in instances where the build-in WiFi or LAN ports fail. Moreover, you can connect the WiFi adapter via USB or PCIe slots to ensure you remain online at all times while gaming.
Are USB WiFi Adapters good for gaming?
USB WiFi adapters are a decent option for internet gaming. This is especially true if you don't want the hassle of installing PCIe wireless adapters on your desktop motherboard. USB wireless adapters also come in handy for online laptop gamers.
Is a WiFi adapter better than Ethernet?
Modern WiFi adapters are better than Ethernet cords. Apart from allowing gamers to be mobile, they provide strong signal speeds that can match Ethernet connections.
Is a USB WiFi adapter good for gaming?
Yes. The best USB wireless adapters upgrade your subpar internet speeds and provide uninterrupted connections for smooth gaming.
Wrap up
This article on Best WiFi Adapters For Gaming is intended to serve you as a guide on the multiple options and help you get the one fitting your needs best. However,
Enjoy!