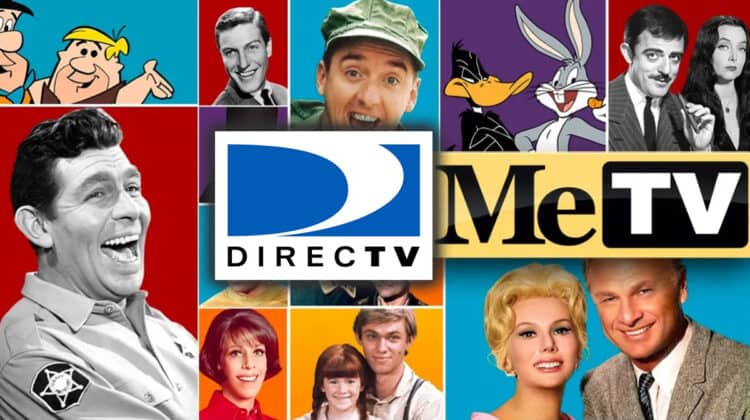 Can't find MeTV on DirecTV? Don't worry. In this guide, I'll show you how to watch MeTV on DirecTV and alternative online streaming platforms.
If you're a fan of nostalgic TV, then you probably love MeTV. The television network airs over 50 classic TV shows weekly, including iconic programs like Star Trek, The Andy Griffith Show, and The Twilight Zone.
Unfortunately, DirecTV doesn't have a national MeTV channel and, as a result, doesn't offer the network to everyone. If you're missing the channel, I have some good news –you can still get it indirectly on DirecTV.
Keep reading to learn how to watch MeTV on DirecTV.
What's MeTV?
MeTV, which stands for Memorable Entertainment Television, is a popular channel that offers a wide variety of classic TV shows.
The network began broadcasting in 2005 and offers shows from the 1930s through the 1990s. The programs are aired in their most recent digitally restored versions for a better viewing experience.
By 2008 the channel was only available in Chicago and Milwaukee but has since expanded throughout the country via 177+ affiliates. These are offered through various DirecTV packages.
How to Watch MeTV on DirecTV?
You can access MeTV on DirecTV, but the process can be tricky. Although DirecTV doesn't directly offer MeTV, you can still watch the channel if a local affiliate in your area is carrying it.
To get the MeTV channel to watch on DirecTV, you need to use an over-the-air (OTA) antenna when tuning your TV. Compared to cable, Antennas are relatively inexpensive and quite easy to install.
After installing your antenna, perform a channel scan to add MeTV to your local guide. Alternatively, you can use your remote to search for the MeTV signal. If you experience any functional issues with the remote, a quick reset should clear up any temporary issues.
That's it! You should now get MeTV and other Digi-nets for free.
✋ Note that this only works if your local station has MeTV on the main channel, not a sub-channel. That's because DirecTV no longer supports sub-channels and only lists MeTV if it's being broadcast on the -1 channel.
This has caused many DirecTV users to lose access to MeTV. On top of that, many local television stations are dropping the channel altogether as they migrate to new frequencies.
On the bright side, DirecTV has acknowledged this and is finally testing carrying a national MeTV channel on DirecTV Stream.
What Channel is MeTV on DirecTV?
MeTV's availability and channel number on DirecTV to watch varies from location to location. Here are a few channel numbers for the network:
| | | |
| --- | --- | --- |
| Network | Location | Channel Number |
| MeTV | New York | 33 |
| MeTV | Los Angeles | 20 |
| MeTV | Chicago | 23 |
| MeTV | Atlanta | 32 |
| MeTV | Seattle | 12 |
| MeTV | Pinedale, WY | 44 |
| MeTV | Anchorage | 33 |
💡 You can also use MeTV's lookup tool to find the channel number in your location. Simply enter your zip code in the "Regional Sports  & Local" section, and you should see the channel number if MeTV is available in your area.
MeTV Content
MeTV boasts a wide variety of content, from new original programming to golden oldies like The Beverly Hillbilies. Whether you're a fan of sitcoms, dramas, sci-fi, and westerns, the channel has something for everyone and all ages.
Below are some of the available shows:
Sitcoms
The Beverly Hillbillies
The Brady Bunch
The Flintstones
The Andy Griffith Show
The Love Boat
The Dick Van Dyke Show
The Honeymooners
Hogan's Heroes
M*A*S*H
The Three Stooges
Dramas
Highway Patrol
The Fugitive
The A-Team
Mission: Impossible
The Waltons
Adam-12
Peter Gunn
Barnaby Jones
Perry Mason
Cannon
In the Heat of the Night
Mannix
Sci-Fi TV series
Star Trek
Lost in Space
Kolchak: The Night Stalker
The Invaders
The Time Tunnel
Thunderbirds
Land of the Giants
Voyage to the Bottom of the Sea
Westerns
Gunsmoke
The Big Valley
Rawhide
The Rifleman
Wagon Train
Wanted: Dead or Alive
The Wild Wild West
Anthology
The Twilight Zone
Alfred Hitchcock Presents
Animated
Bugs Bunny & Friends
Looney Tunes
Merrie Melodies
Popeye
Pink Panther's Party
Betty Boop
The Inspector
Roland and Ratfink
The Tom and Jerry Show
Droopy
Barney Bear
Screwball Squirrel
DirecTV Alternatives for Watching MeTV
While DirecTV is a fantastic TV service, its lack of MeTV availability to watch as a national channel is a huge drawback. If you can't get MeTV in your area with an antenna or the signal is weak, I recommend switching to the following alternatives:
Frndly TV
Frndly is the perfect DirecTV alternative for watching MeTV on a budget. The live TV streaming service is available for as little as $7/month and, in addition to MeTV, offers 40+ national and local channels.
Philo
Philo is another affordable live TV service that offers MeTV. It has 70+ channels, including familiar and popular TV like A&E, AMC, and Hallmark.
Other TV services that offer MeTV as a local channel include the following:
Spectrum TV
RCN
Wow
Mediacom
Local BTV
You can also visit the MeTV website for a more detailed list of the stations where it's broadcasting.
DirecTV Features
DirecTV is an excellent choice if you're a big fan of live TV. Key features include:
Video Quality
DirecTV has excellent video quality both on Satellite and Stream. You can watch in 4K everything from live sports to on-demand movies and TV shows.
But 4K content is only available on DirecTV Satellite. On the other hand, DirecTV Stream channels are available in 1080p and 720p.
On-Demand
DirecTV lets you buy, rent, and stream your favorite movies and TV shows. In addition to its collection of on-demand content, DirecTV allows you to sample new original shows from premium networks like Showtime and HBO.
Live TV
DirecTV Stream has a selection of over 140 channels, including regional sports networks. You also have the option to add on premium networks like HBO, Starz, MGM+, Showtime, and Cinemax at no extra cost for the first three months.
Premium DVR
DirectTV Satellite offers massive 1TB DVR storage. As it's known, the Genie DVR records in HD and allows you to record up to 5 shows simultaneously.
You get an even better deal with DirecTV Stream's Cloud DVR, which offers unlimited storage.
Conclusion
DirecTV is an excellent streaming service for watching MeTV. Although you need a workaround to get the channel, the viewing experience is fantastic, thanks to DirecTV's superb video quality.
I hope this guide about how to watch MeTV on DirecTV and the alternatives available has been helpful, and you can now access the channel reliably. If so, kindly share it with your friends.