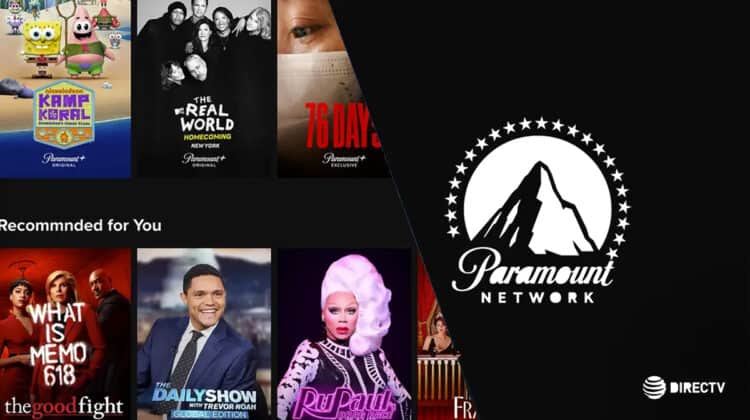 Looking to access the Paramount Network via your cable subscription? Get To Know What Channel Is Paramount on DirecTV.
With more and more people ditching cable TV for digital live TV streaming, premium TV channels now have digital ways to enable their subscribers to stream online. One of these channels is Paramount. You can find the Paramount Network on several live TV streaming networks like DirecTV, YouTube TV, and Sling TV, among others.
In this article, we focus solely on how to access Paramount Network on DirecTV. Keep reading to find out more.
What Is Paramount?
The Paramount Network is an American-based cable and satellite TV channel owned by the ViacomCBS Domestic Media Networks division. Initially launched in January 2018 as Spike, the network started as a general entertainment channel targeting the male audience. In 2018, it underwent a rebranding which saw it assume its current name and shift its focus to incorporate a wider range of programming, including reality shows, documentaries, and drama series. The TV channel is accessible to over 80 million American homes and has aired popular programs like "Yellowstone" and "Lip Sync Battle."
What is DirecTV?
DirecTV is a popular satellite TV provider offering HD TV to American households. The company has excellent coverage; even people in the remotest areas can access its services. DirecTV is among the world's largest digital entertainment providers and offers premium video by utilizing state-of-the-art technology.
If you want to access the several channels offered by the company, the first step is purchasing a subscription. After that, you can access most broadcast and cable TV channels and premium channels by streaming or via satellite.
What Is Included in Paramount?
After getting access to the Paramount Network channel through DirecTV, you can watch a wide range of content. This includes original programming, movies, and reruns of popular TV shows. The network primarily caters to a general audience focusing on drama and comedy.
Paramount Channel on DirecTV
The Paramount TV Channel is available on DirecTV under various packages. So, what channel is Paramount on DIRECTV?
You can find Paramount on channel 241. Alternatively, you can use the DirecTV channel guide and find it under the "Entertainment" category.
It is important to remember that your location and selected programming package can significantly influence the availability of channels of DirecTV. If your DirecTV programming package includes the Paramount Network channel, you can go to the DirecTV website and look at the channel line-up. You can also contact DirecTV customer service to find out more.
| | |
| --- | --- |
| Channel | Channel Number |
| Paramount Network | 241 |
 On the other hand, networks like HBO on DirecTV cab be accessed via channel 501, and Fox on DirecTV can be found on channels 360, 219, 359, and 618. However, the channel for accessing MeTV on DirecTV varies depending on location. For instance, Seattle residents can access it via channel 12, while for Los Angeles residents, the network is available on channel 20.
How to Access the Paramount Channel
The Paramount channel is available on various devices and platforms. You can access it on most streaming devices, including laptops, mobile phones, smart TVs, and gaming consoles. However, this depends on your cable service. If you use DirecTV, you can install the DirectTV app on Android, iOS, Amazon Firestick, Roku, Chromecast, Apple TV, Xbox One, and PlayStation 4. You can also use your web browser on your laptop.
An important thing to remember is that Paramount Network, unlike Paramount Plus (the streaming service), does not allow you to search for shows and watch them. Instead, you'll have to check the program line-up and know when your favorite movies will air.
Also, if you tune into channel 241 and do not see the Paramount TV channel, it indicates that it isn't included in your DirecTV subscription package.
List of Shows on Paramount
From the latest SpongeBob spin-off series to your favorite murder mystery series, Paramount movie Network keeps you and your loved ones entertained all day long.
Here are some shows on the TV channel to brighten up your day:
Comedy Series
Young Sheldon
The Neighbourhood
Comedy Central stand-up specials
Chappelle's Show
Daria
Mom
Wings
Kids' Shows
SpongeBob SquarePants
Blue's Clues
Bob the Builder
The Backyardigans
Bubble Guppies
CatDog
Peppa Pig
The Fairly Oddparents
Clarissa Explains it All
Movies
Charlie's Angels: Full Throttle
Failure to Launch
Black Sheep
Sin City
Grease
The Uninvited
Minority Report
From Dusk till Dawn
Vanilla Sky
Original Shows and Movies
Mayor of Kingstown
1883
Guilty Party
Star Trek: Lower Decks
Star Trek: Prodigy
The Game
The Good Fight
Evil
Mike Judge's Beavis & Butt-Head
iCarly
Star Trek: Discovery
Star Trek: Picard
Live Sports
Paramount Network also lets you enjoy sports events aired by CBS TV and CBS Sports Network.
How to Get Paramount Network on DirecTV
Fortunately, DirecTV has affordable plans that help you save money without compromising on entertainment.
You can opt for any of the following plans, all of which promise superior entertainment:
Entertainment: $64.99/month
Choice: 84.99/month
Ultimate: 109.99/month
Premier: 154.99/month
The subscription plans also come with the following:
An extensive channel line-up with all your favorite genres
Free on-demand services
Limited HDR and 4K programming
Genie HD DVR service with a 200-hour capacity
Live streaming using the DirecTV app
Access to Cinemax, HBO, EPIX, STARZ, and SHOWTIME, among other premium channels
Devices That Support Paramount
Again, you can go to Paramount.com to stream content using a computer or laptop or the Paramount mobile app using Android and iOS devices. Other than that, the TV channel is accessible wherever CBS All Access is supported, including:
Chromecast
LG TV
Apple TV
Amazon Fire TV
Samsung TV
iPhone and iPad
Android TV
Android phone
Android tablet
Sky Q
Xbox
Portal TV
PlayStation
Sky Glass
Vizio TV
Roku
Xfinity Flex
Is Paramount Plus the Same as Paramount Network?
The answer is no. Unlike Paramount Network, Paramount Plus isn't a TV channel but rather a streaming service. The service is a rebrand of CBS All Access, which has been around since 2021. Paramount Plus features on-demand programs from Viacom media networks such as CBS, BET, Comedy Central, Nickelodeon, MTV, and The Smithsonian Channel. There are also new and classic movies and Paramount Plus originals you won't find anywhere else.
What Does Paramount Plus Include?
According to a statement by Viacom CBS, the live-streaming service features the following:
Over 30,000 episodes
2,500 movie titles
Over 1,000 live sporting events
Around-the-clock news coverage
Some popular shows aired on Paramount Plus include:
The Daily Show With Trevor Noah
The Late Show With Stephen Colbert
Young Sheldon
The Godfather
Criminal Minds
DirecTV Alternatives for Watching Paramount Network
While DirecTV is an excellent streaming service, sometimes functional issues can frustrate your efforts to watch your favorite Paramount Network shows. However, this shouldn't worry you as there are several live-streaming alternatives to turn to in such cases. They include:
Philo
This live-streaming platform features over 60 channels, unlimited DVR storage, and allows you to stream on multiple devices. However, the service doesn't provide sports channels and may not be ideal for sports enthusiasts. But if you can access this content elsewhere, you can try Philo.
Hulu
Another way you can watch Paramount Network is through Hulu. A Hulu Streaming Library subscription gives you access to Paramount Network shows' past seasons. If you want to enjoy the new Paramount Network episodes, you will need to subscribe to Hulu Live TV. Besides the Hulu Streaming Library, Hulu Live TV includes a subscription to ESPN+ and Disney+.
Another factor that makes Hulu Live TV a household favorite is that it allows unlimited cloud DVR storage, and you can store episodes for up to nine months after recording. What's more? The streaming platform will enable you to skip commercials and stream on two devices simultaneously.
Sling TV
If you are having trouble accessing the Paramount Network on DirecTV, Sling TV is another alternative you can explore. The most popular subscription package on this platform is the Sling Blue plan which allows you to stream on three devices simultaneously. All Sling TV packages offer a cloud DVR to record your Paramount Network content and keep it for as long as you want. In addition, it is compatible with most tablets. TVs and computers.
YouTube TV
With YouTube TV, you can stream all the popular Paramount Network shows and even record them. The live-streaming platform offers six account profiles for each subscription, all of which have a cloud-based DVR. The DVR has unlimited storage and allows simultaneous recordings. YouTube TV will enable you to stream Paramount Network content on three devices simultaneously and is compatible with Apple Tv, Chromecast, Roku, iOS, and Android, among other devices.
Other streaming services you can use to watch Paramount Network include:
FuboTV
Fubo Elite
Vidgo
Paramount Plus
Dish
Frndly TV
Conclusion
The world is going digital, and it's no surprise that you can access your favorite shows wherever and whenever. Thanks to technology, you no longer need to sit in front of the TV to watch games or world news. Provided you have a compatible device, streaming services like DirecTV guarantee a memorable entertainment experience. I hope this article addresses any questions you might have had about watching the Paramount channel on DirecTV and the various alternatives to DirecTV.