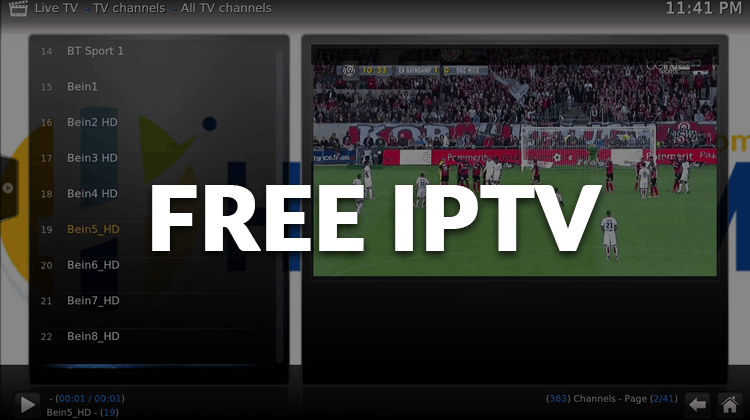 Kodi is a free and open-source media player application. It allows its users to play games, view videos, music, and movies. Audio and Video add-ons let the viewers stream internet content. Internet Protocol Television (IPTV) is a streaming media that delivers television content and it is also available on Kodi; it is really your one-stop-shop when it comes to entertainment.
Kodi Addons
This app is really a splendid media content management and player platform. But what makes Kodi so special and powerful are its addons.
What are addons?
As an open free platform, is given the official and community programmers the possibility to create plugins for Kodi, so users can install them and expand its streaming power, beyond the local files, giving it the capability to gather and play media from all the internet.
Types of Kodi Addons
Basically Kodi users have two types of addons:
Official Addons – those developed by Kodi foundation programmers
Third-party Addons – developed by the programmers of the Kodi community
While Official addons gather streams from the internet, legally, Third-party Addons do not respect the law boundaries, and often breaks copyright rights.
This is the case of most Addons for IPTV, that unblocks regular and Premium Channels, for free.
How to Unblock Channels and Keep Anonymous
However, when dealing with Kodi, VPNs are highly recommended to prevent issues with copyright rules and also bypass geolocation filters. VPNs not only encrypt and secure your content, ensuring that no-one knows what you are viewing, they also provide you with multiple access points around the world. This ability to appear as if you are in other countries is extremely useful when faced with geographic restrictions as you can simply appear to be in the country where the services are allowed!
There are many different VPN services available online, but only a few that are really any good. You need to ensure that whichever service you select is designed for streaming media and also ensure that it does not slow your connection down dramatically as you really do not want to b have everything you're watching be buffering!
The VPN we recommend
We always recommend Surfshark to our readers as its probably the best of the bunch right now. Some of the features are:
Strong 256 bits AES encryption algorithm
Strong Zero-logs policy
Many, thousands of super-fast servers scattered for more than 60 countries around the world
Unlimited  navigation and bandwidth
P2P dedicated servers
DNS and IP leak protection
Many connections/users with one only subscription
all these features and more for the best quality/price ratio at the price of:
Special Offer: $12.99 $2.30/month
30-Days Money-Back Guarantee
We've even negotiated a 82% discount for our users which is even better!
Best Free IPTV Kodi AddOns
There is a sea of addons available but only a few that are reliable and have good quality streams.
This list of free IPTV services or add-ons is given based on certain key factors.
The number of channels offered by the service
The functionality of the streams
Number of countries to which it offers
User-friendly
More variety for the users to choose from
Each addon has a URL of the repository where you can get the addon. If you don't know how to install addons on Kodi, read this article.
The following list contains addons that allow you to watch free TV Channels on Kodi:
1- TVOne111
TVOne 111 is a third-party Kodi addon developed by RACC, and it specializes in Live TV. The addon provides hundreds of channels from across the world, and there's content in over 10 languages.
Channels are arranged in several categories which include Sports, Kids, Science, Religious, UK, US, German, French, Arabic, Australian, Iranian, Philippines, Indian, VOD, and more. Each category contains the most popular channels, and so you can watch almost anything you want to live. The sports section contains a huge list of sports channels from Europe, North America, and the Middle East to let you watch any sport live and for free. As any third-party addon, this requires you to use a Good VPN like Surfshark to protect your privacy and unblock regional restrictions.
Here's the How to install TVOne111 guide!
2- cCloud TV
cCloud TV has one of the largest libraries for an add-on giving access to several choices for the viewers. The number of genres offered by this add-on is massive. You can have access to various movies, news, sports, movies, documentary, and music sorted by languages. You can install it by visiting the cCloud Install Guide.
3- Sportie
This add-on is especially for the sports lovers out there. It also provides other services. You can get various sports feeds and even watch recordings. You can get this add-on by installing the repo from http://areswizard.co.uk
4- BBC iPlayer
For people who are in need of high-quality BBC content, BBC iPlayer is the best add-on. It has exclusive UK content. You can get it from https://kodi.tv/addon/music-add-ons-plugins-video-add-ons/iplayer-www
iPlayer and some of the other UK Specific add-ons definitely need a Good VPN as they are geo-blocked.
These are some highly recommended Best Free IPTV services for Kodi. Watch your favorite shows for free and enjoy!
How to Install IPTV Lists on Kodi
Now while we've covered a bunch of different add-ons in this post, with Kodi you're not restricted to just using an add-on. You can also use specific m3u files to watch the content within Kodi itself. This is actually simpler than you might think.
To get this working, we're going to use an addon built into Kodi called PVR IPTV Simple Client but before we do that you're going to have to get a couple of m3u files, first. These files actually tell Kodi where to get the relevant stream, and your best way of finding them is as simple as a google search! We'd suggest you make note of a couple as the free ones are not kept up to date, and you might have to try a few till you get one that works for you. Also, keep in mind these lists change very often, so you might need to replace them in accordance.
Installing IPTV Lists
To set it up to you just need to follow the steps below:
Open Kodi and select Add-Ons and then My Add-Ons. If you scroll down the list you'll see PVR Clients. Click into this.
Inside PVR clients, scroll down the list till you get to PVR IPTV Simple Client and click on it.
Inside PVR IPTV Simple Client you'll need to click on Enable and then Configure. You now have two options – local or remote. Remote is a website address – http:// … whereas local would be a file that you've downloaded to your computer. You can find Free IPTV lists by performing a simple Google search.
Using one of the links you downloaded earlier, enter it into the field (make sure that you select remote or local appropriately) and then click OK. You'll see a message that Kodi needs to restart.
Exit out of Kodi and restart it. Once you log back in again, select TV from the list, and assuming that the m3u file you've selected works, it should start to load the channels and you can then start watching live TV for free!
Best Free IPTV Apps for Android or Fire devices (Alternatives to Kodi)
Live NetTV – Provides 700+ free live TV Channels. Want to know more about Live NetTV? Click here.
Mobdro – The famous Mobdro provides lots of channels! The stream quality isn't as good as the Live NetTV but as the quality is lower, it will need less internet speed to run it. Want to know more about the Mobdro app? Click here.
Swift Streamz – This is a brilliant app for streaming and watching your favorite shows, movies, and live TV online. It allows you to enjoy a number of TV channels on your Android devices, including TV shows, news channels, sports, and anything else you want from many countries such as the USA, UK, Australia, Canada, or India. Here's the review
These Addons and apps were tested on May 12, 2020! 👍
Wrap up
Though the restrictions, IPTV is an excellent way to watch Live TV Channels everywhere. Using paid or free services you just need a streaming device like a computer, a SmartPhone, an Android TV, or even a TV with an Android TV Box, and a streaming app, like Kodi, Live NetTV, Mobdro, or Swift Streamz.
However,
some paid IPTV services, are subjected to geographic restrictions, and free services, are usually illegal
. so, to
by-pass geographic blockages and to stay anonymous avoiding legal troubles, always use a Good VPN service like Surfshark
, and you're good to go.
We hope this article about the Best free IPTV lists and services for Kodi, Android Boxes, or Fire TV, has helped to unveil to you the world of the IPTV.  If so, please rate this post and share it with your friends and let us your experience in the comments section below.
Have a great day!