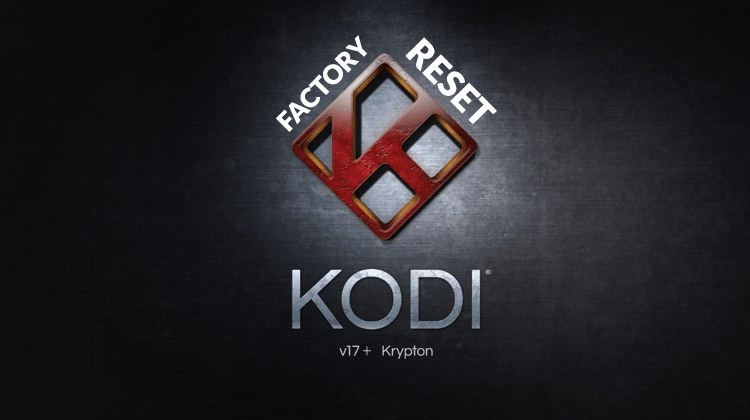 Having problems with Kodi performance? Learn How to Factory Reset Kodi preserving your favorite Addons and media, or as a fresh and clean install…
Kodi provides an outstanding platform for watching your favorite movies, TV Shows, and live TV channels online free or with a subscription. Adding to its media organization ability, Kodi is certainly the best multimedia entertainment center. However, just like any other software, Kodi can develop problems that may need you to know How to Factory Reset Kodi 17+.
It may be that you need to get rid of a build, want to clear some old content that is no longer needed or is slowing your Kodi down, or that you are getting many errors when you use the program. All these are quite frustrating, but we have a simple guide that will help you get a fresh start preserving your favorite media, or a clean install, within a few seconds.
Always install a VPN before using Kodi
We always advise you to connect to a strong and reliable VPN service when streaming content on Kodi- be it sports, live shows, or pay-per-view content. While Kodi is completely legal, third-party add-ons which provide access to premium content may do this illegitimately.
Streaming such content can easily land you in trouble especially in this day and age where governments and ISPs are always snooping on internet users. Kodi users have received DMCA notices, ISP warnings, and others even faced further penalties. It is for this reason that we advise all our readers to always use a VPN with Kodi.
The Best VPN for Kodi- Surfshark
Choosing the right VPN for Kodi is something that you need to do carefully, as some VPNs just don't suit the purpose. Surfshark provides you with the best choice, and it's frequently referred to as the best VPN for Kodi. This is due to its super streaming speeds, huge server network, solid security, and its strict zero logs policy, totally preserving you privacy. To help you get started, we have managed to get a 82% discount of Surfshark for all our readers.
Click & Save 82% of Surfshark!
How to Factory Reset Kodi settings – easy steps
Simply choosing to uninstall and re-install Kodi does not guarantee a fresh start; in fact some files will still remain in your device's memory. Further, that method won't give you an option to retain your favorite files. The best way to ensure the fresh start you desire is by factory resetting the whole build. While there are numerous ways through which you can Factory Reset Kodi, we'll show you the best.
Resetting Kodi using Ares Wizard
Ares Wizard has for a while been known by most Kodi users to give access to some popular external add-ons. Moreover, it is also known to have a great feature that allow users to perform a Kodi Factory reset. Not to mention, it gives you an option to keep some files as per your preference. When Factory Reset Kodi using the Ares Wizard, you will need to install the Ares repository first, as well as the Ares Wizard program. Here is how:
Enabling Unknown Sources
If you haven't done so already, the first thing you need to do is allow Kodi to install content from third-party sources. To do this:
First, turn your VPN On.
If you don't have one, visit our review on The Best VPN Services for Kodi, and pick the one suiting your needs
Launch Kodi, and at the home screen, click the Addons icon on the left side of the screen.
Click on the Settings icon found on the top left corner. It looks like a cog.
Under Add-ons, turn on the Unknown sources button, which will allow installation of third-party add-ons. If you get a pop-up, click "Yes."
Installing the Ares Wizard
Now, you will need to download the repository file located on this address: "http://ares-repo.eu/". Once you've opened the page, download a listed file called "areswizard-0.0.69.zip".
After that, return to the home screen and select on Add-ons, followed by clicking on either the open box icon on the top left corner then click Enter add-on browser button on the screen.
On the menu, select Install from zip file.
Select the zip shown below.
Next navigate to where you saved the downloaded Ares repository zip file, then tap to open.
Now wait for the Ares repository to install onto Kodi; after some few seconds you will see a pop-up confirmation message of successful. However, we noted that the Ares Wizard installed automatically without having to install it from its repository.
Nonetheless, if yours doesn't install automatically, then you will need to follow this steps:
Return to the add-on browser menu, and this time tap on Install from repository.
Once the new window open, navigate to Ares Wizard > program add-ons > Ares Wizard then click to Install.
Once the Ares Wizard is installed, return to Kodi home screen to launch the installed Ares Wizard by clicking on it.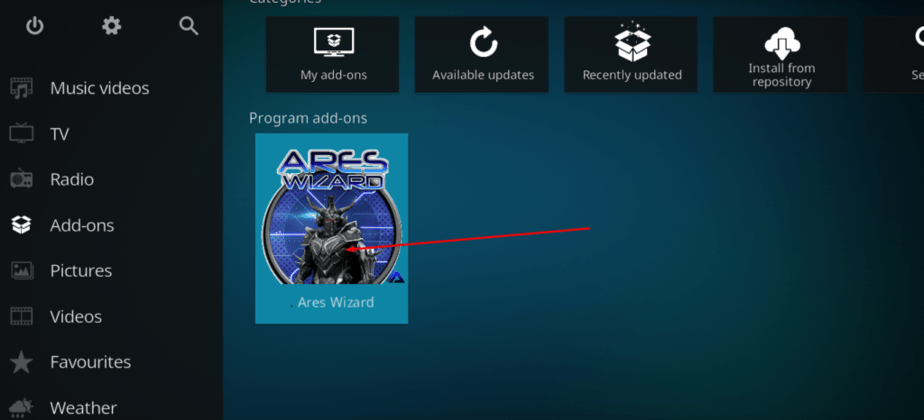 Resetting Kodi to factory settings
Once you've opened the Ares Wizard add-on, click to select the More tab found on at the top right side of the screen.
Now choose the Erase All Data/Fresh Start option on the menu list.
Wait for a pop warning that: "this will erase all add-ons etc. from Kodi. Are you sure?" Just click Yes to proceed.
Ares Wizard add-on has a feature that will allow you to choose which files to keep after the reset button. For instance you can chose to keep your favorite add-ons intact. Next click on Proceed.
Now Ares Wizard will begin resetting your Kodi build to its factory settings. Once it is done, it will prompt you to close Kodi. Just click OK to proceed.
The next time you are going to open Kodi on that device, you will enjoy a fresh start.
If you are also interested in a Factory Reset Kodi on your Android device, you can also use this simple procedure: Settings> Apps & Notifications> Apps> Kodi> Storage> Clear Cache.
Note: This procedure will vary depending on your device and Android version.
Wrap up
Kodi should now be back to the default Estuary theme. You can now customize the software to meet your changing needs. To help you out get started with your fresh start, we have a lot of Kodi guides that will help you know the best Kodi addons and builds for various tasks and how to install them. However, remember to always use your VPN whenever you want to stream anything on Kodi. Apart from the privacy and security on offer, you'll also be able to enjoy unrestricted freedom as well as avoid ISP throttling. In the event you still haven't one, just visit our review on The Best VPN Services, and forget security and privacy concerns for ever.
Hope to have helped you!