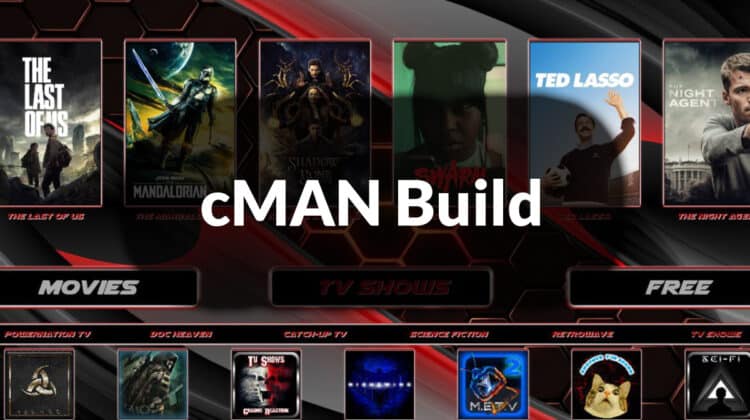 In this guide, we'll show you how to install cMaN Wizard Kodi builds. These builds are available for Kodi 19 Matrix and Kodi 20 Nexus and can be installed on Fire TV devices, Android TV sticks/boxes, and all other Kodi devices.
cMan is one of the most popular Kodi repositories and wizards. The repo provides some of the best addons, such as Torque Lite, Black Lightning, and Magic Dragon. However, cMan repo's strength lies in the quality of Kodi builds that its wizard provides and the sheer number of them. Through the wizard, you can install 60+ Kodi builds. These include cMaN builds and builds from SG Builds, Smokin, Cobra Themes, Cosmic Builds, Kodiman, and the Kodi Community.
Once you install cMan Kodi Wizard, you'll have access to a wide variety of popular builds, including cMaN build, The Light, Smokin build, Notflix 20, Superman build, One Shot, Eclipse, and Legacy Kodi build. All these come with some of the best Kodi addons available today. And in this guide, we'll show you how to install cMaN Wizard Kodi builds.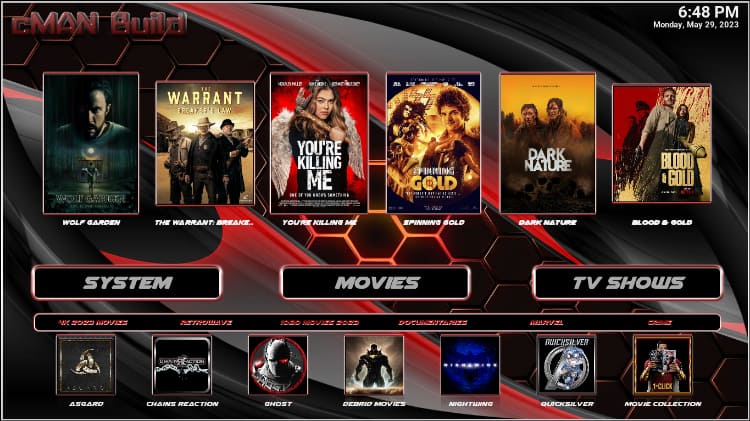 Stream Safely!
Kodi builds are usually hosted on third-party servers as they come pre-installed with Kodi addons that provide legally questionable content. As such, it's easy to find yourself accessing illegally hosted content, which would put you in contravention of copyright laws. Accessing pirated content is illegal almost everywhere, and it can lead to ISP notices, DMCA notices, or even legal processes.
To stream safely, we strongly suggest using a reliable VPN every time you stream on Kodi. The VPN will encrypt your traffic and spoof your IP address, making your activities private and anonymous. However, you will also need to choose your VPN well to enjoy maximum privacy with good speeds.
The best VPN for Kodi
Surfshark is currently the best VPN for Kodi and is the one we recommend. Here's why:
⚡ Superb Speeds: Guarantees a smooth live streaming experience.
🌍 Huge Server Network: You can connect to a nearby server for a fast and stable connection.
😲 UNLIMITED Devices: Connect dozens of devices at the same time!
🔑Unblock Anything: Safe access to censored apps, websites and torrent sites.
😎 Best in Privacy: The VPN doesn't keep any activity logs, and so your activities are only known to you.
🔐 Top-notch Security: This VPN uses AES 256-bit encryption and provides multiple protocols alongside other security features such as a kill switch, DNS & IPv6 protection and WireGuard.
💳 30 Days RISK FREE Money-Back Guarantee: In case you do not like the service, you can get every penny back if you cancel within 30 days!
You can
get 82% off Surfshark
using our exclusive discount below!
How to Install cMaN Wizard Kodi Builds
To get started, we'll need to enable installation from "unknown sources," as cMaN Wizard is hosted outside the official Kodi repository.
While on the main screen, launch Kodi and click the Gear Cog to open Settings.

From there, select System on the settings page.

Now, Hover over Addons and enable "Unknown Sources." When you get a warning, just click "Ok."

You should now be able to install unofficial addons and builds on Kodi.
Add cMaN's Wizard Repo Source
Now, we need to add the source for the repo that hosts cMaN's Wizard. But before that,
✋ You need to turn on Surfshark to say safe and avoid ISP blocking.
After that, go back to Settings and select File Manager.

Double-click "Add-Source" and type the URL https://cmanbuilds.com/repo/ into the open window. Type "cMan" or any other identifier in the textbox below it, then click "OK."

Note: If you can't find the colon button on the latest version of Kodi, just click Caps/Lock.
Install cMaN Wizard Repo
Now that we have the source, we can install the cMaN Wizard repository.
Go back to the Kodi main page, and this time click on Add-ons.
Click the open box icon on the top left side of the screen.

Select "Install from Zip File."

This will throw a warning. Just click "Yes."

Click Repos and select "cMan," the source we added earlier.

Select repository.cMaNWizard-x.x.zip (x represents the version number.)

You will receive a Kodi installed notification when the repo installs successfully.

Install cMaN builds Wizard
After installing the cMaN wizard repo, we can now install cMaN builds wizard.
While on the same page, click Install from the repository.

Select cMaN Wizard. Repository

Choose "Program Add-ons."

Select cMan and SG Builds GUI Wizard.

You will now get an "Install" option. Hit it.

The wizard will install, and you'll get a notification.

You will now have one or a few pop-ups. To make the installation process easier, ignore/close them.
Install cMaN Wizard Kodi Build
You can now install the cMaN Wizard Kodi build you are interested in.
Go back to the Kodi home page and click on cMaN Wizard.

The GUI will now open. Scroll through and select the build you'd like. For this guide, we'll use cMaN Build. Once you select the build, you can then click "Install" or "Fresh Install." The former will preserve your existing addons, but the latter will give you optimum performance.

You will get an option to confirm. Click "Yes" to continue.

The build will now start downloading and will install automatically after that.

After installation, you will then be asked to close Kodi and restart it. Click Ok.

Click Ok to confirm.

You can now restart Kodi and enjoy your new build.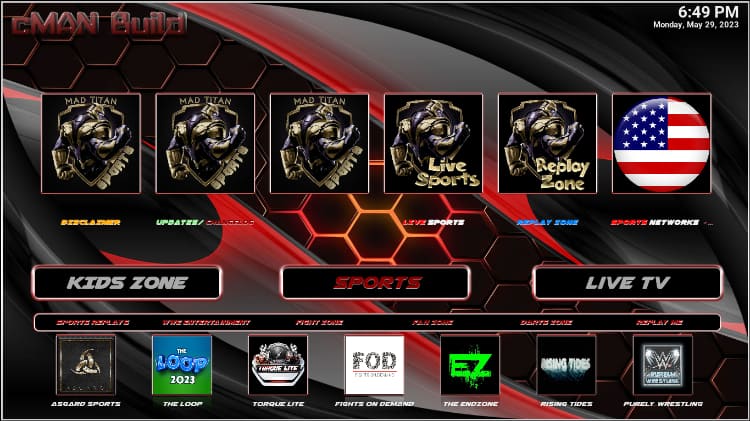 FAQ: Installation and Usage of Cman Wizard Kodi Builds
What is Cman Wizard Kodi Builds?
Cman Wizard Kodi Builds is a program that allows you to install custom builds on Kodi, a popular media center. It offers a variety of builds with different themes and settings to enhance the user experience.
How do I install Cman Wizard Kodi Builds?
To install Cman Wizard Kodi Builds, follow the steps above in this guide.
What is a build in Kodi?
A build in Kodi is a pre-configured setup of the application that includes specific themes, add-ons, and settings. It provides a customized experience with a different interface and features than the default Kodi setup.
What are the benefits of using Cman Wizard Kodi Builds?
Using Cman Wizard Kodi Builds offers several advantages, such as:
– Customized and appealing interface.
– Access to a wide variety of add-ons and extensions easily.
– The best settings for Kodi's performance and speed.
– Easy installation and updating of custom builds.
Can I uninstall Cman Wizard Kodi Builds if I don't like it?
Yes, you can uninstall Cman Wizard Kodi Builds at any time by following the steps below:
1. Open Kodi and go to the "Programs" section.
2. Select Cman Wizard Kodi Builds.
3. Right-click and choose "Information."
4. Select "Uninstall" and confirm the action.
5. Cman Wizard Kodi Builds will be removed from your Kodi.
Can I customize Cman Wizard Kodi Builds?
Yes, you can customize Cman Wizard Kodi Builds. The Cman Wizard Kodi Builds interface offers options to customize themes, add or remove add-ons, and adjust settings according to your preferences.
Are Cman Wizard Kodi Builds free?
Yes, Cman Wizard Kodi Builds are free. You can download and install any available build in Cman Wizard Kodi Builds without any additional cost.
Wrap Up
cMan Wizard is home to lots of the best Kodi builds, and its variety allows you to choose a build that suits your needs. These can also be customized, providing a personalized Kodi streaming experience. However, whichever build you choose,
Enjoy your newly installed cMan Wizard Kodi builds!