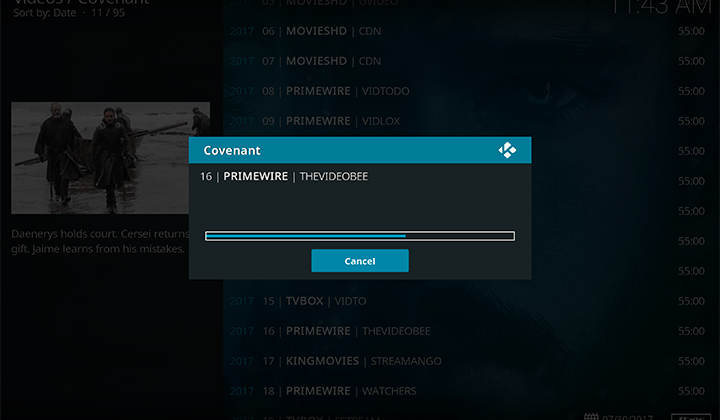 Does your kodi jumps most of the streams without opening it? Here you will find why you can't open movies / series streams on Kodi and how to fix that.
Lately a lot of kodi users are complaining about the kodi addons because they can't open certain streams and normally it takes a long time to kodi pick a stream after jumping many others. Well, there's nothing wrong with the addons, they just crawl the internet and find you the streams of what you're looking to watch. Who is actually causing you the troubles is your ISP (Internet Service Provider).
Your ISP is Blocking the Streams
Nowadays ISPs (Internet service providers) are taking a lot more effort blocking the sources of that streams. So when you actually select a movie in your favourite movie addon (eg. Exodus, Covenant, Elysium, Specto Fork, etc), kodi will try to open it and your ISP will reject the connection, so kodi jumps to the next source and try to open it again. If your ISP has most of the sources in their black list, it will take a while to open a stream and if they actually have all the sources in the black list, you won't be able to watch your movie.
In UK, Sky is the ISP that is taking more effort to block streams, BT comes in the 2nd place. Tests showed that SKY blocked 56% of the streams available in these video addons.
How to Unblock all Streams
There is a way to avoid your ISP of blocking your access to certain streams. A VPN it's a legal software that makes your traffic anonymous, if you use a VPN your ISP won't be able to see which website / stream you are connecting to, so it won't be able to reject the connection.
Using a VPN with Kodi unblocks a lot of stuff including Geo-blocked content (eg. choose US country on the VPN and watch live US channels).
Also, even if you don't have blocking problems, you should always be anonymous if you're going to stream premium channels, PPV events, sports events, movies and series. You don't want to receive an intimidating letter from your ISP right?
The VPN that I recommend you it'sSurfshark. They have easy to use apps for any device, 850+ VPN servers in 60+ countries, fastest speeds, unlimited traffic, strict policy towards logs (No activity logs, no connection logs), allows 5 simultaneous connections on multiple devices with the same account and 7 days money back guarantee in case you change your mind. So, everything you need for the best streaming experience!
We've got an exclusive 82% discount promo code with Surfshark to give to our visitors. Click in this link to apply the discount automatically.