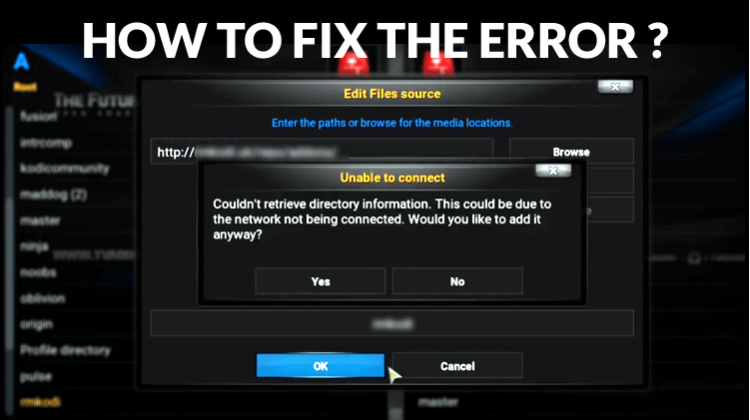 Are you facing trouble with the Kodi error: Unable to connect couldn't retrieve directory information? In this tutorial, we are going to share how you can solve this problem…
Though normally it's very user-friendly and doesn't have many complications, Kodi may show you errors at some point. This is not because of the Kodi software itself, but because an addon or repository that is not working as expected.
It's important to know how to solve these errors when they arise because the platform is just too good to forgo when something you want is not working properly. There are thousands of alternative add-ons that you can use to accomplish your intended purpose.
Not even that, you can easily solve these common errors, at least if you have the right information. If you have been met with the error "Unable to connect couldn't retrieve directory information. This could be due to the network not being connected. Would you like to add it anyway?" don't panic. We'll show you how to solve it.
Why I'm I getting this error?
Generally, this error "Unable to connect couldn't retrieve directory information" shows up when Kodi can't communicate with the website where it's supposed to get specific information. This mostly applies to repositories rather than addons.
There's a war against third-party Kodi repositories, which has left many repositories dead, while others have had to shut down for a period of time. This is because third-party Kodi repositories mostly host add-ons that help users access copyrighted content free of charge. This is a violation of copyright rules and can land you in trouble with the authorities. If you use such add-ons, you may end up getting a DMCA notice.
To avoid such a predicament, your only chance is using a reliable VPN service. You will need a VPN that doesn't keep logs, and it's also secure and private. The VPN also needs to offer you good speeds that can let you stream content in HD without buffering. The closest you'll come to meeting those conditions is with Surfshark
How do I solve Unable to connect couldn't retrieve directory information?
There are various ways you can solve the Kodi 'unable to connect' error.
#1: Recheck the Repo URL
It is possible to type a URL with a mistake, and this is the error you will get in such a case. To solve it, recheck the URL you typed for any errors. Maybe you have included space, or you typed "https" instead of "HTTP". You can also try copy-pasting the URL to Kodi.
If you had already saved the repo on Sources, you can go and edit it.
Go to Settings
On the System Page, locate and Select File Manager
Right-click on the specific repo
Select Edit Source
Click on the listed URL address
Remove any errors that may be
Click OK and Save
In case this doesn't work for you or the URL was correct, there are still other options.
#2: Replace the URL
Kodi repositories keep changing URLs when a domain is shut down. An example is the Kodi Bae repo, which can now only be accessed through www.lazykodi.com. You will, therefore, need to know the new URL for the repo you are looking for.
To find out, you can do a Google search for the specific repository. If you can't find any, check out the last solution in this guide about the error "Unable to connect couldn't retrieve directory information".
#3: Check your network Connection
This is the other thing that can make Kodi unable to communicate. To check whether this is the issue, try accessing the internet outside Kodi. If it works, try streaming on Kodi using another addon, or even just try installing an addon from the official repository.
If Kodi doesn't entirely connect to the internet, you can check the firewall and the antivirus. Try disabling them and if Kodi works, update them to settings that permit Kodi to access the internet.
#4: Use a VPN
If that doesn't resolve the issue, your ISP might be the problem. They are probably blocking your traffic that is directed to the specific IP address. This can happen when a particular repo contains an addon that has received complaints about promoting copyright infringement. An ISP can decide to block the traffic altogether to prevent the download of that addon. For example, in 2017, there were very many Kodi add-ons that were blocked in the UK for illegally streaming the Premier League.
You can overcome ISP banning with a good VPN like Surfshark since your traffic will no longer go through the ISP.
#5: Use an Alternative Repository
If the above methods don't work for you, then it's most probable that the repository has been shut down for good. At that point, there's nothing you can do about it. However, some add-ons are usually hosted in multiple repositories. For example, you can find SportsDevil Kodi addon on Kodil Repo (Kodi Israel), Supremacy Repo, Maverick Repo, and Bookmark Lite. In case Kodi Israel is shut down, why not use Supremacy Repo to install the addon?
If the addon you want could only be found in that repo, you can look for a similar addon. Most add-ons are usually forked whenever they are shut down, and you can also find others that offer similar content. We have comprehensive guides of Kodi addons used for various tasks that you can always check out.
When you get your desired addon, remember to stay private and secure by using a VPN to cover all your online tracks.
Hope to helped you solve the "Unable to connect couldn't retrieve directory information" error!