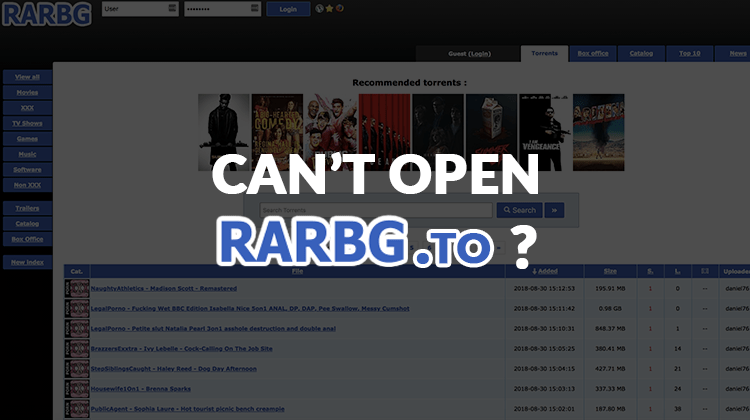 If you are a torrent lover, you would definitely love rarbg.to. In this tutorial, we are going to discuss how you can unblock RARBG website…
RARBG is one of the largest and most popular torrent websites at the moment. The website, which was founded way back in 2008, is widely known for its high-quality videos. It is actually one of the best torrent websites if you are a fan of movies and TV shows, as the website seems to major on that.
However, recently, RARBG has been facing blocks from various ISPs worldwide, especially in Europe, Australia, and India. This has come as a result of the intensified war against piracy, which American copyright organizations and content producers lead.
Why is RARBG being blocked?
The war on RARBG intensified in April when Hollywood studios got a blocking order against RAGBG in India. They described RARBG as a 'habitual' copyright infringer and demanded that over 20 ISP block the site. "It is submitted that the Defendant Website aids and facilitates the accessibility and availability of infringing material and induces third parties, intentionally and/or knowingly, to infringe through their websites by various means," stated the movie studios.
The ban was implemented, and the same has been happening all over. Other bodies like Twentieth Century Fox, Disney Enterprises, Paramount Pictures, Universal, Columbia Pictures, and Warner Bros. are also playing major roles in the push for blocking torrent websites, accusing them of being structural copyright infringers. This is because they provide content that should otherwise have been paid for free to users. What that means is that the copyright owners are losing revenue with every illegal download. Similar cases have been launched against other torrent websites like Pirates Bay, ExtraTorrent, 1337x.to
So is Torrenting Illegal?
Torrenting in itself is not illegal. It is just a form of technology that allows users to share files quickly and efficiently. This means that it's quite unfair for some ISPs that block torrenting altogether. Thankfully, there's a solution, and you can evade ISP blocking and unblock RARBG for your favorite content.
How do ISPs block Torrent Websites?
ISPs guide all your internet traffic. This means that anything that you access passes through their servers. This is why they can spy on you, see the internet resources you access, and websites that you visit often. Governments and courts, therefore, order them to block traffic to a particular website.
The first method that ISPs use to block a website is through DNS. This is the easiest method to establish and also the easiest to circumvent. When you type a website like rarbg.to on your web browser, the browser sends a query to the ISP servers asking for the website's IP address. If the ISP doesn't want you to access that website, they simply give you a null IP address or a wrong one. Your browser will then give you an error.
This blocking can be overwritten by simply changing your DNS servers. You can use a DNS server like Google's 8.8.8.8. However, ISPs know that this is not an effective blocking method.
Most ISPs have therefore opted to block torrent websites by filtering the website's IP address. This is done by configuring their firewalls to block all traffic directed to a particular IP address. This means that changing your DNS server can't help anymore. However, this method causes a lot of collateral damage. If the IP address that has been blocked happens to be shared with other unrelated websites, they also face the knife.
The only way you can overcome such blocking and therefore unblock RARBG is through the use of a strong and reliable VPN service.
Using a VPN to unblock RARBG
When you connect to a strong VPN like Surfshark, it encrypts all your traffic and then securely sends it over through a tunnel to the VPN servers.
At that point, your internet connection through ISP servers is overwritten, and you are given a new IP address that results in a new online identity. Since you are no longer accessing the internet through your ISP servers, you will now not be subject to any restrictions placed by your ISP.
However, you need to pick your VPN for torrenting carefully. Not all VPNs allow you to use P2P on their servers. Others that allow you to use the technology just let you use their servers only for legal torrenting. If you attempt to download any copyrighted content, your VPN subscription may end up being terminated. You should also avoid VPNs that keep activity logs as they can submit your data if need be.
If you'd like the best VPN for unblock RARBG or, generically torrenting, we would advise you go for Surfshark. The VPN is based in the British Virgin Islands, away from the invasive UK laws and the NSA. Most of its servers support torrenting, and so you will always have a server in a country near you. With Surfshark, you don't have to be restricted from using RARBG anymore!
We managed to get an exclusive 82% of Surfshark for our readers only.
Just click here to save 82% of Surfshark now!
If you prefer to take a list and choice the one that fits you, we suggest a visit to our Review of the Best VPN Services
Hope this tutorial helped you to know how unblock RARBG!