Looking for the best Soap2Day alternatives? Below are the top six!
Free streaming websites are quite popular as they allow users to access a wide range of movies and TV shows. If you are a fan of these sites, you've probably heard of Soap2day. So, what is Soap2day, does it still work, and what are the best alternatives?
Find out everything about the site in this article.
What Is Soap2day?
Soap2Day is a free online movie streaming site with a rich collection of your favorite movies, TV shows, and music. With the site, you can stream HD-quality media in several genres and languages.
An anonymous individual created Soap2Day in 2018, and it has quickly grown to become one of the top free streaming websites on the web. While it is a newcomer in the world of online streaming, its library, and streaming quality make it one of the best.
However, in 2021, Soap2Day was de-listed from Google, citing Copyright infringement and other issues. While the site has undergone several re-interventions and comes back under various domains and names, it is essential always to have an alternative, as Soap2Day is no longer reliable. Besides, although several Soap2day re-inventions exist today, selecting a dependable one may be hard.
In this comprehensive guide, we analyzed many other free movie sites like Soap2day and curated a list of the top six alternatives to the streaming site. All the sites let you watch free movies online.
Why Is Soap2day Famous?
When it comes to convenience, Soap2day carries the day. First, this is a free platform, so you won't need to sign up to enjoy your favorite shows. If you can't keep up with the subscription fees of other streaming services, Soap2day can be a good alternative.
In addition, the service gives you access to the latest content. The site uploads new content soon after it has aired, and it is also famous for its multiple proxy sites that users can choose from in case of error problems.
On top of that, Soap2Day lets users stream movies and TV shows in HD, and it doesn't have many ads, unlike most free streaming sites.
Reason for Shutdown
Here are some of the reasons why Soap2day was shut down and de-listed from Google:
Copyright Infringement: Many of Soap2day's movies and TV shows are thought to be copyrighted yet shared without the copyright holder's permission. In most countries, this is illegal, and Google has a zero-tolerance policy for websites involved in such activities.
Malware: Some proxies of Soap2day have been reported to contain malicious software that could pose a risk to user information and devices. However, this is not the case for the original Soap2Day website and its mirrors.
Proceed with Caution
In view of the above issues, it is imperative to be cautious even as you consider using the Soap2day alternatives listed here. Why? ISP keeps track of your online activities, and some of the servers through which you access online movies aren't usually secure.
⭐ The VPN we Recommend
If you opt for movie websites like Soap2day, we recommend using a secure VPN like Surfshark to mask your anonymity as you scour the internet for your favorite programs.
Here are a few more features of the VPN:
⚡ Superb Speeds: Guarantees a smooth live streaming experience.
🌍 Huge Server Network: You can connect to a nearby server for a fast and stable connection.
😲 UNLIMITED Devices: Connect dozens of devices at the same time!
🔑Unblock Anything: Safe access to censored apps, websites and torrent sites.
😎 Best in Privacy: The VPN doesn't keep any activity logs, and so your activities are only known to you.
🔐 Top-notch Security: This VPN uses AES 256-bit encryption and provides multiple protocols alongside other security features such as a kill switch, DNS & IPv6 protection and WireGuard.
💳 30 Days RISK FREE Money-Back Guarantee: In case you do not like the service, you can get every penny back if you cancel within 30 days!
As a BestDroidPlayer reader,
you can take advantage of our exclusive limited discount below
.
Top 6 Best Soap2day Alternatives
After carefully evaluating popular streaming services, we listed our favorite picks for Soap2day alternative sites.
1. FMovies
Website: fmovies.to
One of the most reliable sites similar to Soap2day is FMovies. While this movie site has been around for a short time, it is easily one of the best. Here, you will find a comprehensive movie database that is updated often to help catch you up on the latest shows.
A simple click on the website leads you to the main page, where you can sort the titles using six categories: Home, Movies, TV Shows, Genre, Country, and Year. Clicking on the "Home" option leads you to a rich catalog of the latest titles and shows what is trending and coming soon. The site has a vast movie library and even provides movies and TV shows aired in the 1910s. Also, if you have a movie title in mind, there is a search box that lets you input keywords so the site can generate relevant search results.
We also love that Fmovies is free, easy to use, and allows HD streams and downloads.
2. Watch Series
Website: watchseries.id
From its calming theme to the easy-to-navigate user interface, there is nothing not to love about Watch Series. Its main page doesn't display any content but features four categories: Home, Movies, TV Shows, and Top IMDb.
The site is free, and its content is available in several languages, such as Italian, Spanish, English, and Danish. When browsing through, you can opt to watch the latest titles or search by release year or genre. Watch Series has a diversified library, allowing you to enjoy different worlds from the comfort of your home, and it is also a reliable SolarMovie alternative. We also love its ad-free streaming experience and fast speeds.
3. 1Movies
Website: 1movies.la
1Movies is one of the best free movie streaming sites, and it also lets users enjoy the week's latest episodes. The website's homepage shows you the various titles available, including their release years, IMDb rating, and video quality to expect. Like the other listed sites, 1Movies lets you sort titles using country of origin, genre, and release year.
When you click on a movie, you can stream or download it in HD. The site also lists the several servers you can use to access your content, and at the end, it gives title suggestions that you may like based on your search history.Besides movies, you can also watch TV shows online using the site.
4. PrimeWire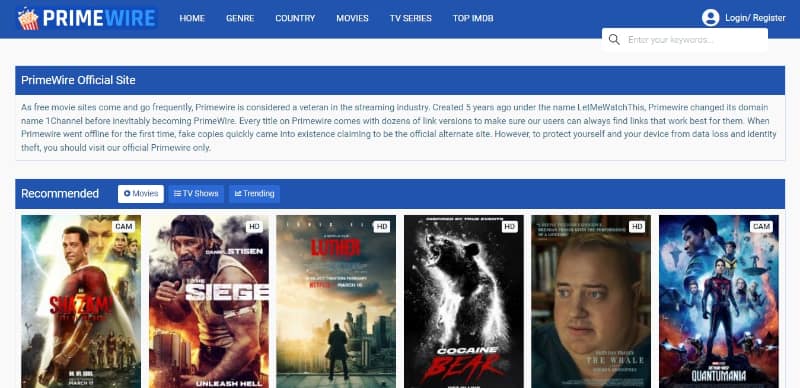 Website: primewire.id
Another Soap2day and CineB alternative is PrimeWire. Movie sites come and go, but it looks like PrimeWire is here to stay. Initially LetMeWatchThis, PrimeWire was created five years ago. Soon after that, it became known as 1Channel before taking on its present name.
PrimeWire's theme may be a bit plain, but it makes up for it in its extensive media library. We love that the website is ad-free, ensuring interruption-free entertainment. Also, you get access to premium-quality videos that you could have otherwise paid for on other platforms for free.
Once you click on a title, you are given different server options to select from. This way, if one isn't working, you can always turn to another to watch free movies. There is also a "Captions" option to ensure you do not miss even a word from your favorite actors.
5. Tinyzone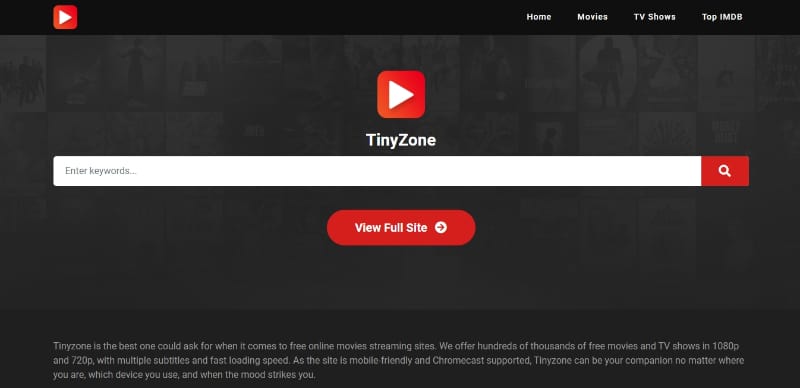 Website: tinyzonetv.to
Tired of movie sites bombarding you with unwarranted ads? TinyZoneTV is a capable solution. Besides the website's 25,000+ high-picture-quality movies and TV shows, you can enjoy its fast streaming speeds and mobile-friendliness. The site lets users easily watch movies online thanks to its fantastic user interface. It also offers impressive customer care services through various platforms such as WhatsApp, Telegram, Twitter, and Facebook.
Like 1Movies, Tinyzone is thoughtful enough to give you a title's IMDb rating to help you decide whether it is worth your time. An "Add Favourite" option also helps you easily find your favorite movies and shows later on.
6. DosMovies
Website: dosmovies.com
DosMovies is another superb Soap2Day alternative, and the site can be best described as an all-in-one movie site. With its database featuring over 10,000 TV show titles, 80,000+ movies, and lots of forum posts, this is your go-to free social movie network. DosMovies allows users to create playlists, watch lists, and watched lists and rate their collections. With just a click, you get updates on the latest episodes and watch movies for free. You can also read reviews from several users to give you insight into what to expect in a particular movie or TV show.
DosMovies social features allow you to add photos and videos, as well as create posts. You can also add like-minded friends and message them privately. Below the search box on the main page, there are six categories you can click on: Home, Movies, TV Series, Forum, Playlists, and Users.
Are Soap2day Alternatives Legal?
Determining the legality of online content can be tricky. However, it is likely that some movies and TV shows you find on streaming sites may be illegally distributed. This is why protecting yourself when navigating free streaming sites is essential. Ensure your Surfshark app is turned on at all times.
Conclusion
Soap2Day has long been one of the best movie streaming sites, but that is not the case anymore. Following the site's shutdown, you may need to look at other alternatives. The guide above lists the top 6 best Soap2Day alternatives, which should help you get everything available on Soap2Day. However,
Enjoy!