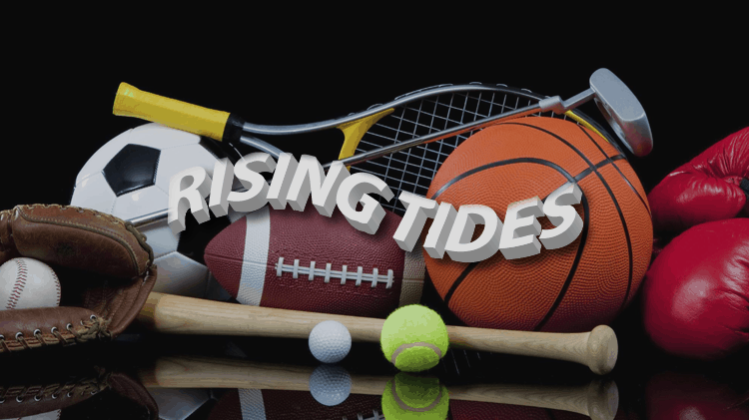 If you consider yourself the ultimate sports fan, you'll want to know about the Rising Tides Kodi addon and all the features it has to offer after the install. The Rising Tides Kodi addon allows you to watch all sports-related content, including content that pertains to tennis, golf, basketball, football, hockey, motorsports, and almost anything else you can think of – Aussie Rules, anyone?
Many Rising Tide users consider this addon one of the best for the Kodi platform. This addon gives you access to previous and live sports content. If sitting at home with your favorite snacks and beverages, streaming different sports sounds like a good time, this is the addon you've been waiting for.
Many Kodi sports addons are not as popular as other addons because they don't work well. The Rising Tides addon sets itself apart by being reliable and offering live streaming options. Users familiar with the Kodi platform appreciate how well-planned and user-friendly Rising Tide is.
Unlike other addons for Kodi, Rising Tide is organized and categorized by a certain sport. This type of organization allows you to find what you want without spending countless hours browsing different links before finding what you need. It works and is kept continuously updated, which means there's always fresh sports content available. Before we get deeper into this guide of How to Install Rising Tides Kodi Addon, let's make some important security recommendations.
Why is Using a VPN with Rising Tides Important?
If you want to use Rising Tides on Kodi, you need to use a virtual private network (VPN). Having internet access leaves your personal information available for anyone to steal unless you have a VPN. Before you load Kodi, make sure a Good VPN like Surfshark is already connected to avoid unnecessary issues. A virtual private network offers a variety of benefits, such as:
Hiding Your Internet Activity
Did you know your internet service provider (ISP) can view everything you do on the internet? Streaming content in many countries is illegal. If you are caught breaking the law, you could face jail time and have hefty fines to pay. You can hide your internet activity by using a VPN. In addition, many ISPs throttle the internet speeds for streaming people. This constraint tends to cause buffering, stuttering and crashes when watching, which is nothing if not painful.
1. Bypassing Government Censorship
If you're a citizen of a country that blocks access to certain websites, such as China, you could find yourself limited to the things you can stream online. Many sports and entertainment events around the world, including wrestling, are blocked in certain countries. If WWE events interest you, you will not be allowed to watch them unless you are using a reliable VPN.
2. Safety Using Public Wi-Fi
Nothing seems better than having a public Wi-Fi network you can use free of charge. These internet networks may be free to use, but it's not worth risking giving someone access to your personal information. Identity theft costs hundreds of thousands of dollars to correct. Instead of allowing yourself to become a victim of identity theft and wasting your hard-earned money, use a VPN to protect your personal information and other files on your computer. If you use Kodi on your smartphone, this protection is something you can easily take advantage of.
3. Enjoying Your Privacy
VPNs keep everything hidden from everyone. Not only is your information and internet activity hidden from your ISP and government, but search engines also can't track your location! Surfing the internet or streaming while using a VPN makes you a ghost. No one can see you or track where you are while you reap the benefits of online streaming.
4. Peace of Mind
Using a VPN gives you peace of mind by keeping your files and sensitive information safe from prying eyes. You can stream as much content as you want without worrying about legal action being taken against you and having to face other consequences. A reliable VPN gives you the freedom to use Kodi without any hassles.
When it comes to choosing the right VPN, there are options available to you. You could go the free route or pay for commercial service. Free services sadly simply do not work. Not only are the servers available slow – which impacts your streaming – they are limited in location, so if you want to access a specific stream, it will not be available.
Our recommendation
With Kodi, there is really only one choice in my book; Surfshark is the best VPN for Kodi. The following features guaranties a safe, anonymous and flawless streaming:
⚡ Superb Speeds: Guarantees a smooth live streaming experience.
🌍 Huge Server Network: You can connect to a nearby server for a fast and stable connection.
😲 UNLIMITED Devices: Connect dozens of devices at the same time!
🔑Unblock Anything: Safe access to censored apps, websites and torrent sites.
😎 Best in Privacy: The VPN doesn't keep any activity logs, and so your activities are only known to you.
🔐 Top-notch Security: This VPN uses AES 256-bit encryption and provides multiple protocols alongside other security features such as a kill switch, DNS & IPv6 protection and WireGuard.
💳 30 Days RISK FREE Money-Back Guarantee: In case you do not like the service, you can get every penny back if you cancel within 30 days!
Luckily for you, we managed to get an
exclusive discount of 82%
for our readers.
Our recommendation
Using Rising Tides for the Kodi Platform
Users can't get enough of the Rising Tides addon because it offers hundreds of sports feeds worldwide, which means your sports viewing options are endless. Rising Tides is one of the most courteous addons because the links to sports events are listed at least 45 minutes before an event starts, giving you enough time to get settled with food and beverages to enjoy the event.
This Kodi addon is popular because you are not limited to the sports you can watch. Many streaming addons dedicates to a certain sport – for example, UFC and MMA – but with the Rising Tides addon, you can choose which sports are your favorites and watch them regardless of the time of day or night.
Another perk of using this popular addon is its update schedule. The developers of this addon provide users with the most recent content. This addon is updated daily, which means you always have something to watch, including news, broadcasts, sports, highlights, tv shows, and many other sports content. Kodi has a community of thousands of users. With this support system, you get the answers you need that will help you enjoy the Kodi platform to its full potential.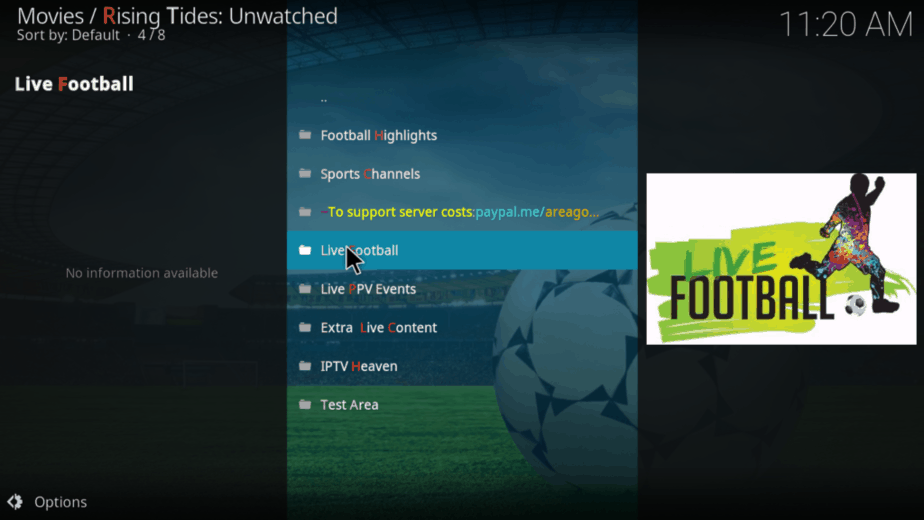 How to Install Rising Tides Kodi Addon
These instructions are for the Kodi 18 Leia and Kodi 19 Matrix download. Follow these instructions to Install Rising Tides Kodi Addon and ensure you access all the sports events, news, and other forms of sports content.
On the home dashboard>Select "Add-ons" Settings tab or button > Select the tab or button to "enable unknown sources". A warning window may pop up asking if you are sure you want to allow unknown sources to access the Kodi platform. Select Yes. You have a VPN, so none of your information is accessible by other people.
Launch Kodi and click on to go to "System". From the list of options available to you, select the "File manager" option > then, select "Add source" and double click on "<None>".
👉 For Kodi 18 Leia, enter the link: http://mullafabz.xyz/Repository/ in the box at the top of your screen. Make sure that you type this in exactly as provided.
👉 For Kodi 19 Matrix, enter the link: http://mullafabz.xyz/Repository/K19/ in the box at the top of your screen, making sure that you type this in exactly as provided.
Enter the words "Rising Tides" in the bottom box > Select "Ok".
Return to the home screen > select the "Add-ons" tab > then click on symbol to go to Add-ons browser
Select the "Install from zip file" > Rising Tides > repository.Rising.Tides-x.x.zip.
Wait for the "Add-on enabled" notification to appear on your screen.
Select the "Install from Repository" > Rising Tides Repository > Video add-ons > Rising Tides > Install.
Wait for another "Add-on enabled" notification to appear.
Congratulations! You've just installed Rising Tides on your Kodi platform! Everything is ready to use. Enjoy your new addon. Happy streaming!
Conclusion
Being a sports fan is awesome. You're dedicated to supporting your favorite teams, whether you are attending the events in person or supporting your teams from the comfort of your home while watching live events. If you followed all the steps here mentioned on How to Install Rising Tides Kodi Addon, you'd now be able to Watch countless Sports Live.
Before you start enjoying the sports content on this addon, make sure you have an active subscription for a VPN. It's better to pay the small fee for total protection instead of paying astronomical legal fees or not being able to watch your favorite sports events. Avoid the hassles and troubles of streaming by using a Good VPN. Your information and location are kept private, and you have access to every sports event from around the world!
Have a nice sporting day!