Wondering what the best torrents sites to download eBooks are? There are huge libraries full of digitalized books and audiobooks across the Web. You just have to know where they are, right? Today, we will share several leads for those who want to avoid endless download times and suspicious files.
If you are looking for the best torrent platforms for that, then you already know there are plenty of them too. It may sometimes be challenging to know which one is actually worth it. We are talking about torrents with enough seeders, so you can actually download the ebook that you wanted.
⭐ You may also like: the Best and Most Popular torrent sites in 2021:
Download eBooks from torrents websites
Why are eBooks so popular?
Digitalized books have been around for a while now, and they have proven how useful they are. Electronic books are everywhere, carrying vast parts of history, information, or even strategy and education. Whether for professionals or students, those digital documents are practical and lightweight.
Portable books and documents also play their part in making the world more sustainable: in fact, this alternative to physical copies limits the use and waste of paper. It's also a great way to bring along essential documents with hundreds of pages, without the regular hassle of a suitcase. Nowadays, you can fit hundreds of books in a single USB flash drive.
Why would we download eBooks with Torrents?
Finding a book on the Internet can be far more complicated than finding a movie. Some books never get to be digitalized and, sometimes, ebooks are even more expensive than physical ones. Today, we'll help you find the best torrents sites to download eBooks.
That's where torrents come in. Many actors make ebooks available and accessible throughout the Internet, thanks to peer-to-peer technology and a still-growing torrent community. How torrents work, makes sharing and downloading ebooks way easier.
On the other hand, it's a great alternative to discover indie books and underrated masterpieces. There are massive libraries available with torrents, each providing ebooks in almost any category.
Download eBooks with torrents safely and anonymously
✋ Keep your browsing safe when downloading ebooks
Torrent platforms can be very convenient, especially when using poor Internet access. The other side of the coin is, it's also filled with lots of pirated material. And that's where the trouble begins. ISPs, governments, and copyright owners are doing their best to take down third-party un legit platforms and content providers.
If you are using torrents regularly, then you should worry about your privacy. Your torrent client often keeps and displays pieces of information about you, such as your IP address and location. And you wouldn't want to be tied into any legal issues just because of some digital books, right?
🤔 Why use a VPN with torrents?
A reliable VPN service protects your digital footprint as well as sensitive information. How? This one-of-a-kind software encrypts anything that comes in or out of your connected device. In other words, ISPs won't be able to access your browsing history: they won't know what websites you were visiting, thanks to your VPN.
On the other hand, you may want to keep your IP address and location data private. The best way to achieve that is using a VPN. This kind of service will put you in a different location while providing an auxiliary IP address. However, there are many VPN services out there, and can be challenging to figure out which one is the best, especially when it comes to torrents. Our piece of advice would be to choose according to your needs and type of use.
The VPN we recommend for torrents
In this particular case, and after several benchmarks, we recommend Surfshark. Here are the following features that kept our attention on Surfshark:
⚡ Superb Speeds: Guarantees a smooth live streaming experience.
🌍 Huge Server Network: You can connect to a nearby server for a fast and stable connection.
😲 UNLIMITED Devices: Connect dozens of devices at the same time!
🔑Unblock Anything: Safe access to censored apps, websites and torrent sites.
😎 Best in Privacy: The VPN doesn't keep any activity logs, and so your activities are only known to you.
🔐 Top-notch Security: This VPN uses AES 256-bit encryption and provides multiple protocols alongside other security features such as a kill switch, DNS & IPv6 protection and WireGuard.
💳 30 Days RISK FREE Money-Back Guarantee: In case you do not like the service, you can get every penny back if you cancel within 30 days!
We got an exclusive 82% off for our community, making this premium VPN as affordable as
:
Special Offer: $12.99 $2.30/month
30-Days Money-Back Guarantee
The best torrents sites to download eBooks, for free!
1. Project Gutenberg
Project Gutenberg gathers a massive around digital books and cultural work. As a matter of fact, Project Gutenberg did publish the first electronic document and is the oldest digital library to this day. This Project gives access to 60.000 digital documents, and most of the items are the full texts of books in the public domain.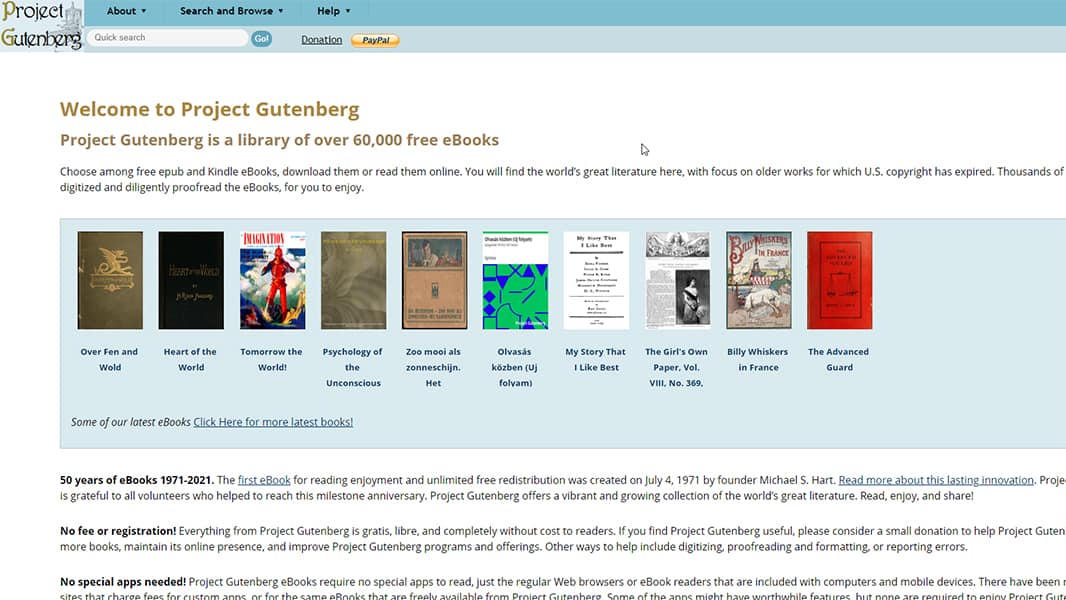 This platform is not only made for digital bookworms but also multilingual book lovers. That means hundreds of books in many languages, including French, English, Dutch, Spanish, and even Hindi. Moreover, the Project Gutenberg library is available through torrents, which is very practical for users.
🔗 Check the website at: Gutenberg.org
2. KickAss Torrents
KickAss Torrents have been around for decades now, and it still has one of the most significant communities today. It's also one of those all-in-one websites where you can find a torrent for almost any content. You can find books and movies, as well as many other resources.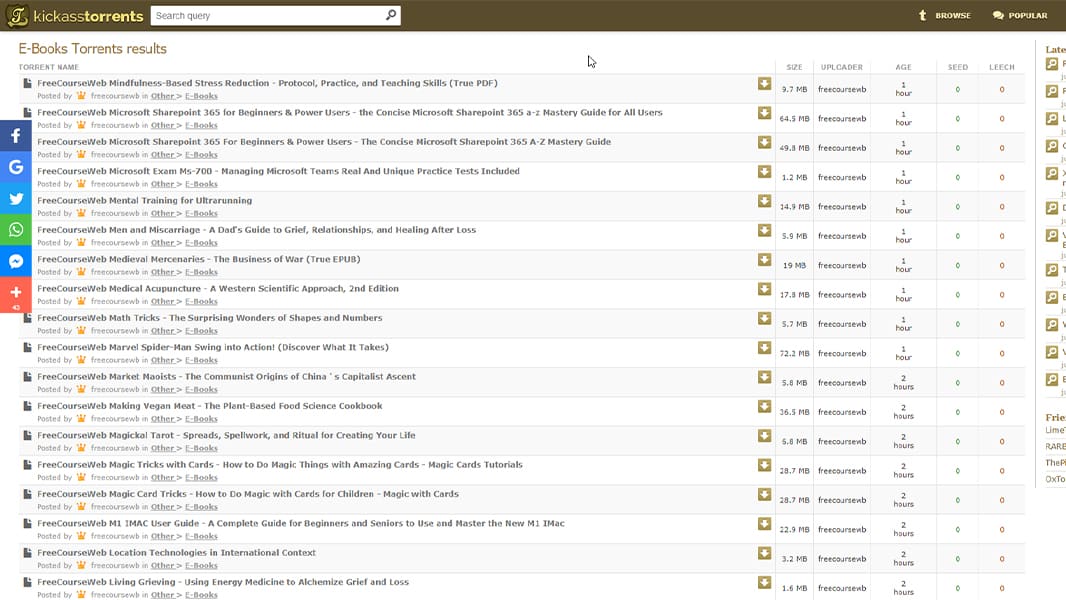 KickAss has a dedicated section for ebooks and digital documents. If you're looking for comics, magazines, novels, or mangas, you should be good! Just make sure to choose the torrents with many seeders so you won't have to wait for neverending download times.
🔗 Check the website at: KickassTorrents.to/other/e_books/
⭐ You may also like: the best torrent sites for comic books
3. LimeTorrents
If you are looking for a more friendly website, you should try LimeTorrents. With an always-growing number of ebooks, this platform has a very active community. Here, you can find Japanese books, American novels, Manuals, or European magazines.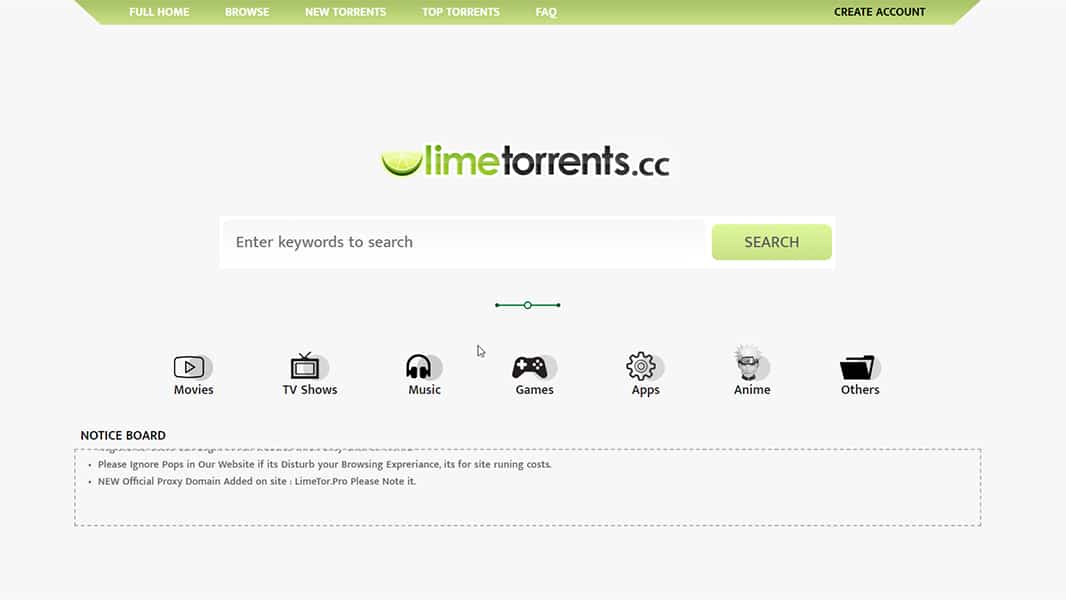 The website is well-optimized, with updated pieces of information available right next to each ebook. LimeTorrents gives a detailed overview of every content: file size, number of seeders and leechers, file quality, etc. Of course, you can browse the other sections of the website where you can find tons of content.
🔗 Check the website at: LimeTorrents.pro
4. 1337x
This one does not limit its libraries to ebooks: aside from those, you will likely be able to find any other type of content like audiobooks or movies. That said, 1337X has a very well-funded subsection where all the ebooks are stored.
Like LimeTorrents and other platforms, 1337x provides informative details about each torrent. Because many countries banned the website, you may want to use a reliable VPN if you want to enjoy all the features of 1337x. This is without any doubt one of the best torrents sites to download ebooks.
🔗 Check the website at: 1337x.to/sub/36/0/ , 1337x.is
⭐ You may also like: the best torrent sites for audiobooks
5. The Pirate Bay
This website is one of the best torrents sites to download ebooks and to find almost anything sharable as a file. When it comes to ebooks, The Pirate Bay has vast collections of books and documents. Of course, you will have to use the search bar or browse through categories, but it's usually worth the time.
On top of that, as the community is very active and spread worldwide, most of the torrents here are verified. As you may have noticed, some countries blocked The Pirate Bay. To avoid that and keep your data secure, the best way to bypass such limitations is still using a quality VPN.
🔗 Check the website at: ThePirateBay.org
6. TorLock
TorLock is another website with tons of torrents, and of course, ebooks are part of their massive library. There is even a dedicated subcategory for digital books and documents. The key argument of TorLock is simple: they host only verified torrents. Fake ones are not allowed.
Aside from that, TorLock uses a lightweight and easy-to-use user interface. Essential pieces of information, such as the number of seeds, are displayed next to each torrent.
🔗 Check the website at: TorLock.com/ebooks.html
⭐ You may also like: the best torrent sites to download and share music files
7. TorrentsDownloads
This one is another well-appreciated torrent website, with documents, movies, games, and so on. Of course, there is a dedicated subcategory for ebooks and other digital documents and magazines. There are more than 147000 books on this torrenting website. If you like audiobooks, you can find some too on TorrentsDownload.
There, you'll find many resources on almost every topic: whether you're into romance, mystery, or thriller stuff, there are tons of book collections! Last but not least, if you don't like PDFs, you'll find loads of ePub books on TorrentsDownloads
🔗 Check the website at: TorrentDownloads.pro/category/2/Books
8. MyAnonaMouse
MyAnonaMouse is a private tracker where you can find massive content libraries. Aside from digital novels and magazines, there are also comic books and educational ones. MyAnonaMouse's community gathers people from all over the world who love sharing and connecting with others.
For security purposes and to provide a better experience for its users, the website has precise rules. Unlike public torrent websites, MyAnoinaMouse (MAM) needs you to register an account. Otherwise, you won't even be able to see what is available on it. Also, don't forget to check the recommended torrent clients for this tracker, as it has some requirements.
🔗 Check the website at: MyAnonaMouse.net
9. Torrent Funk
Less-known by the general public, Torrent Funk is another website with tons of ebooks. Those are sorted under categories and subcategories: you just have to use the search bar and specify if you're looking for the most recent ebooks or the verified ones.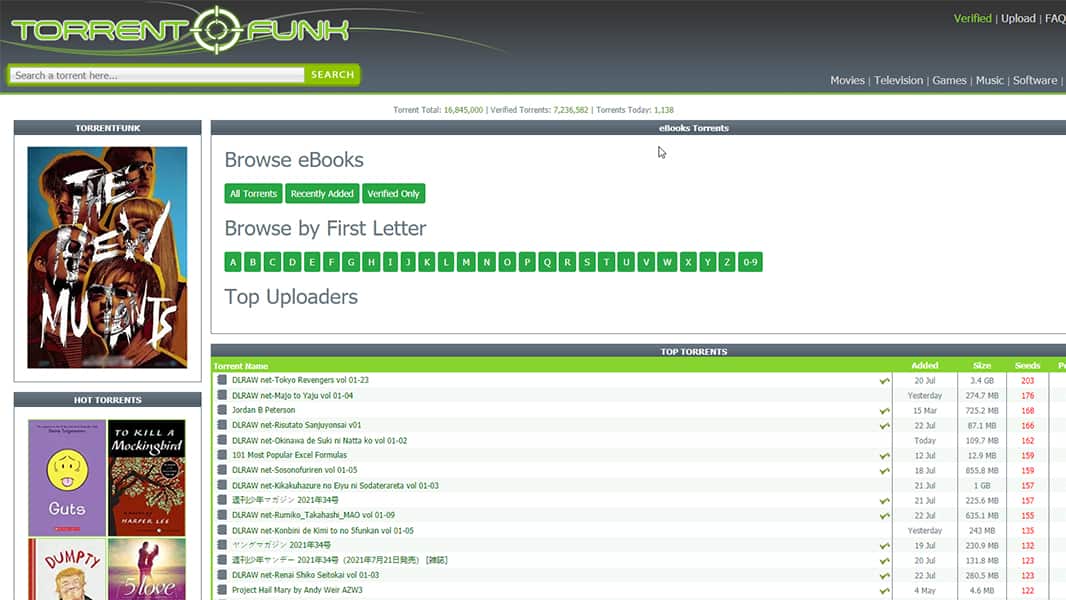 It is also an all-in-one platform, where you can find other types of content aside from electronic books and documents. As you can guess, there are many to choose from, whether you're a bookworm or not. Apart from that, this website works like any other torrent platform and is one of the best torrents sites to download ebooks.
🔗 Check the website at: TorrentFunk.com/ebooks.html
10. LibGen
Library Genesis is a great platform to find nice and free ebooks. Commonly known as LibGen, this website is most versed in indie ebooks and material. There are six main categories, making it easier to browse through the books (Scientific Articles, Fiction, Comics, Magazines, or Standards). Additionally, you can use advanced search options and filter your results by author or language.
You can then choose to download from direct links and sometimes through torrents, depending on the book. There are also other file types, like the popular .cbz. There is even a dedicated desktop application for hardcore fans! The only issue would be the poor optimization of the interface: information such as seeders and leechers are sometimes a bit hard to find.
🔗 Check the website at: LibGen.is
Surfshark is the best VPN for Torrenting.
We got an exclusive 82% off for our community!
Special Offer: $12.99 $2.30/month
30-Days Money-Back Guarantee
What are torrent files, and which purpose do they serve?
What is the torrent network?
For those who don't know what exactly are torrent files, we got you covered! This particular network allows users to share files from their computers. And that without having to upload them first on a server.
When you share or download torrent files, you are using a peer-to-peer (P2P) network. In simpler terms, instead of connecting to an external server, your computer will directly reach another computer to access files.
Torrents: how does it work?
In detail, this kind of network uses a P2P communication protocol to « break » shared files into tinier bits of data. That way, files are shared way faster throughout the network. More importantly, it's one of the best ways to quickly send or download massive files, even with a bandwidth-limited Internet connection.
Once a user downloads a file, he becomes a seeder. In other words, he is now sharing the file he just downloaded. That means the following user who wants that file will download it from multiple sources instead of one.
Useful terminology if you use Torrents
The different types of torrent users
Within the torrent community, you can find three types of users:
First, we have the original uploaders. They may have compiled or compressed the file and shared it across the BitTorrent network. There are many of them providing content to a large number of categories.
Following next, we have the seeders. They already finished downloading the concerned file and are now contributing sharing it.
Last but not least, we have the leechers. Those users are the ones who are actively downloading a file.
Torrent client: what for is it?
When you download torrents from a website, you get a file with the extension .torrent. That particular file will be handled by a specific software: the torrent client. There are many alternatives available like Vuze, uTorrent, BitTorrent, or Deluge.
Once you have your .torrent file, you can open it with the torrent client and then proceed to download your files.
Are torrents legal?
To put it short: yes, torrents are legal. That said, we need to understand that not every content obtained through torrents is safe nor legal. Many content and software advertised there are pirated ones, which may lead to legal issues afterward.
👉 To keep your browsing history safe and away from lurking eyes, you may need to use a strong and reliable VPN service while browsing/downloading torrents.
Wrap up
If you didn't know where and how to download ebooks with torrents, now you know! With this article about the best torrents sites to download ebooks, you should be able to find any book and download it easily. We tried to list all useful websites so you can focus on finding your favorite ebook.
Keep in mind that not every file is unharmful when it comes to torrents. The best way to keep your privacy safe is using a reliable VPN like Surfshark. That way, you'll stay anonymous, whatever you are browsing on the Internet.
Enjoy your eBooks!