COVID-19 Lockdown continues to frustrate and it seems as if everybody is running short of ideas to stay calm until the Coronavirus spread diminishes. Luckily we are here to help with the list of the top movies to watch online in HD during the COVID lockdown. You might have already watched a few but it doesn't matter because when the mood changes, the movie also changes its meaning. I watched Bird Box a few months back but I didn't like the movie at that time but since the Coronavirus outbreak, I watched Bird Box thrice because the situation has made me realize the intensity and significance of the message.
Where to Watch HD Movies during the COVID Lockdown?
There are various options you can choose from including Plex, Kodi, Netflix, and more but the Stremio is the one I like the most. Unlike Kodi, you don't have to spend a lot of time to install add-ons. Let me explain with this example.
The image below states 'No streams were found' after I searched for The Lion King on Stremio. This is because I didn't yet install any of the best Stremio add-ons.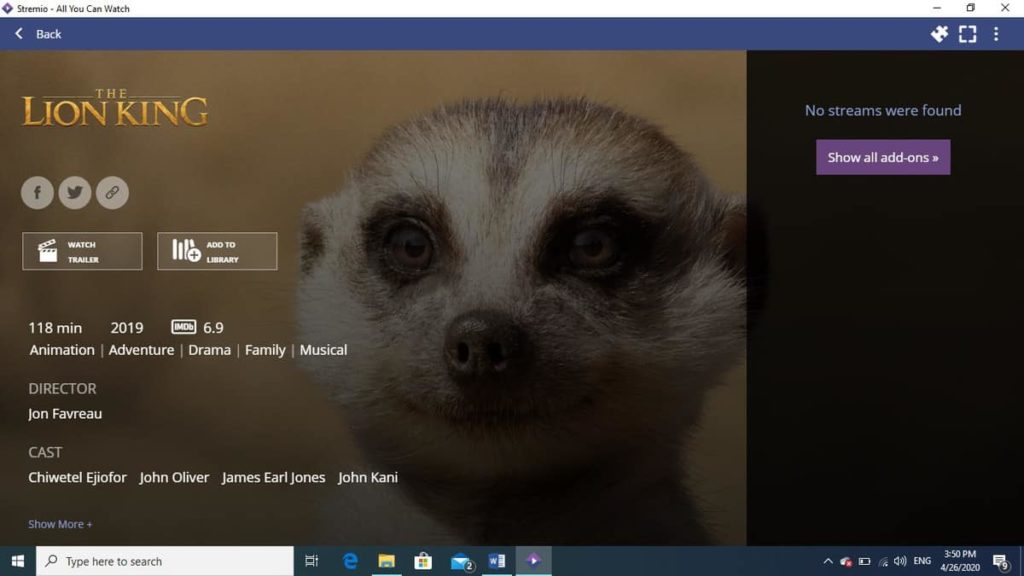 How to Install the Best Stremio Addons?
If you do not have Stremio, that's super easy to get also and I'd recommend you read some of our earlier guides like – How to Install Stremio on Android Smart TVs or How to Install and Setup Stremio on Amazon FireStick. Once you've got Stremio installed, the next step is adding Stremio add-ons. You can easily install the best Stremio add-ons by selecting the add-on icon on the top panel of the Stremio interface (or on the menu if you can't find it on the top bar).
The system will take you to the list of Stremio add-ons. Just hit the install button in front of the add-on you want. There is no need to find repositories or go through the long installation process for each add-on. You can install the best Stremio add-ons in seconds simply by hitting the install buttons.
I'd love you to check this new Virus Outbreak Movies Stremio addon added recently.
Now, check our list of the Best Stremio Addons of the year and install a few of them, simply clicking on the install button.
Once done, return to the home screen (Board) and search for your favorite movies you want to watch during the COVID lockdown.
Now, after installing the best Stermio addons, I once again searched for The Lion King and it presents me with a series of options as you can see in the screenshot below.
Install the Best VPN for Streaming in 2020
Don't take anything for granted. Stremio is an exceptional, smooth, and highly interactive media organizer but if you use this platform without a VPN service, you might be inviting trouble. The reason is, most of the Stremio add-ons contain Torrent links. ISPs and government agencies are already making sure to restrict the use of Torrent sources to eradicate copyright violations.
Surfshark is the best VPN service for various good reasons. It uses its exclusive encryption algorithm that protects your data. The information of your online activities travels through a virtual data tunnel and the encryption makes sure that no hacker or watchdog stands a chance to breach the code.
Surfshark has a huge network of dedicated servers spread across the globe. This global network of Surfshark servers does not save the log of your online activities. In addition, it allows you to easily bypass regional restrictions on certain premium content by using the IP address from the most suitable location.
Surfshark protects the internet connection from limited bandwidth. These days, the COVID lockdown has forced everyone indoors and there is too much burden on the ISPs due to the excessive use of the internet at any given time. If you want to enjoy smooth and fast buffer-free streaming then make sure to install Surfshark.
Surfshark is the best VPN for Stremio. We managed to get an exclusive 82% of Surfshark.
Click here to save 82% of Surfshark now!
Top 5 HD Movies to Watch during COVID Lockdown
1. The Lion King (2019)
This movie doesn't feature a pandemic or lockdown situation but still, I rate is number 1 during the COVID lockdown because it takes you away from the frustrating situation in our cities. At least for a few hours, your mind remains closer to nature far from the modern-day frustrating happenings. While the original animated movie is still exceptionally good, this "live" action remake is also worth watching.
2. Bird Box
If you think you must watch a movie featuring the lockdown situation similar to what some people are facing during the Coronavirus outbreak then watch Bird Box. I watched this movie earlier on Netflix but I didn't like it and mainly agreed with its low rating on IMDb. But now I love it because things have changed since I watched it for the first time. Now it relates to facts because, at the time of its release, nothing could be called real. It teaches you how strange life is, what you think surreal can turn into reality.
3. Into the White
If you are alone and there is nobody you can tell tales to or share your thoughts then watch Into the White (2012) again even if you have watched it before. Because this is the movie that shows you how impossible circumstances can change your lives and the whole philosophy low had been carrying with you for long.
4. The Hateful Eight
The Hateful Eight is one of my all-time favorites for various reasons. The suspense is exceptionally balanced with logic. Normally, in a movie most of the characters are victims and only a few play a negative role. But in this movie, all characters change from good to bad and from evil to truthfulness. The thing I like about this movie is that the characters spend most of the time in a lockdown situation inside a hut. If you never watched this movie before, this is going to be a surprise treat for you during the COVID lockdown.
5. 1917
1917 is pretty much a new version of Saving Private Ryan. The plot flows in such a way that it takes your soul to a 100-year old journey as it absorbs your whole existence. I don't think this movie is better than SPR by any means but it is a good attempt to reproduce something exceptional.
Conclusion
Yes, you can easily watch the top HD movies during COVID lockdown but don't forget to install the VPN before you use Stremio. This platform has add-ons that use torrent links. You need to be extremely careful when using such community add-ons because copyright violation of premium content can put you in trouble. Surfshark allows you to stream anonymously ensuring 100% privacy.