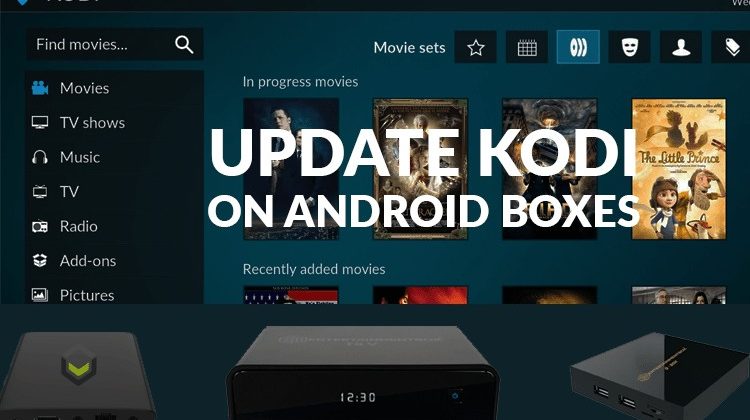 Learn how to update Kodi on Android TV Box without losing addons and settings. Follow our easy guides to update Kodi manually or using Google Play Store.
Updates are an essential part of any software. It ensures any bugs or security breaches to the software is corrected and allows for an easier flow of information within the software. Support for the Kodi app has lessened tremendously over the years. For users who are less technical it may be confusing to figure out how to update Kodi and not keeping up with necessary updates can really make it harder for you.
From personal experience with the app I can vouch for how important it is to update kodi. I have been known to not update my app and add-ons when prompted to. I just wasn't in the mood to wait for it and simply just want to watch my favourite show. It started with me losing a few add-ons. IT didn't bother me as much because they weren't ones I was using very often. I'd left my kodi app unattended for a period of months as I was traveling. When I got back I noticed something. All my add-ons were gone alongside all my settings. I thought someone had deleted my app and reloaded it thinking it would be fine.
That's when I learned how essential it was to update kodi. If not executed each time you are prompted you face having to re-personalize your app and going through the process of redownloaded all your addons back.
What to do when upgrading Kodi
I've never gone as far personalizing as to change the skin of my app. However, if you are planning to update kodi and have changed the skin you will need to change back to the default skin. Skins, unfortunately, are not backward compatible and if the new update happens to not support it you will end up with a black screen. If you do get this black screen you will need to reinstall the entire app.
After you update kodi don't try to activate your old skin as it may not be compatible with the new version. You will need to find a new skin that is supported by the update.
The new version of Kodi, Kodi 17, is a tricky one. Many users have experienced trouble downloading simply because their box was outdated and still working on Android 4.4. If you have an outdated Android Box, consider taking a look on our selection of the Best Android TV Boxes, these manufacturers release periodic updates to keep your box always up-to-date. Before downloaded to avoid any stress I'd recommend backing up your kodi and also ensuring your box is up to date as well.
If everything goes well, the backup won't be necessary, it's just a plus in case you love your addons / settings and don't want to take risks. To create a backup you can use indigo or install the official kodi backup addon.
How to update Kodi through Google Play Store.
You'll need to find your play store of course. Go to your box main menu, find the Google Play Store icon and enter.
To make it easier, use the search engine bar in the play store to search for the kodi app.
Click on the app. The latest version, Kodi 17, will be the one in the store currently. If you are still unsure a description of what version is currently available is typically there as well.
If your app is already installed it may simply state for you to update. Click the update button and wait for it to be completed.
Open your kodi app as normal but don't start messing around as yet. Give the app time to convert your addons and settings first. 
How to update Kodi manually.
If you find yourself wanting to update your app manually to avoid losing certain add-ons there is a way to do this. I typically update my app this way mostly because I don't particularly like to deal with the Google Play Store.
When updating manually it's best to first check what version of kodi you have. If you don't know how to do this simply go setting in the app and view your system info. This will notify you what version you are currently using.
Go to the boxes the main menu and click on the app's icon and enter your file manager.
Click on Android, then data. You'll notice a file that should be called org.xbmc.kodi. You will need to rename the file. Note: don't change the name too much add a few letters to the beginning because you will need to change it back later on.
Once you've completed that go back to your home screen and select settings. Then other, then more settings and scroll down till you find apps.
Select your kodi and uninstall the version currently on your box.
Now, this is the part that I prefer. Go to an internet browser and search for where you want to download your kodi app from. You can use the official Kodi downloads page.
Note: You should be shown the latest version alongside versions compatible with your box. Click on one of the ARM versions, make sure that you know if your box is 32 or 64bit.
Once it's finished downloading you can go back to your file manager and go to downloads and you should see it at the top of the list.
Select the file and install it to your box.
Note: DO NOT OPEN KODI AS YET.
Using your file manager go back to android and change back the name of the file you changed earlier. The reason you did this was to save all your settings and add-ons so that when you deleted and reinstalled kodi they would still be available on your system. Now you need to rename it back to its original name before launching your kodi app to retain all the information.
Now when you launch your kodi app it will have the version you just installed and your original settings and you can go ahead and watch your favorite movie again.
Conclusion
How you choose to update your kodi app is simply up to you as the user. I prefer to update kodi manually but you may be someone that prefers to update kodi via the google play store. Whichever one you find is easier for you should be the one you stick with. Just always remember to back up your app or you will find yourself starting from scratch when updating you kodi app.
[kkstarratings]