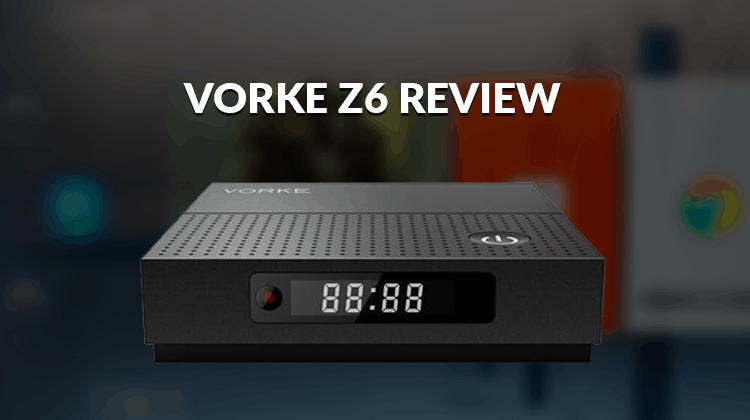 The Vorke Z6 is one of the better Android TV boxes I've played with, and while it has a lot to recommend it, it does also have some flaws.
Design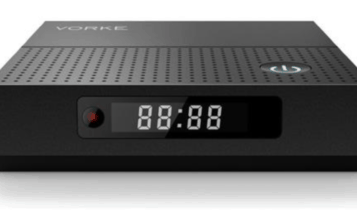 Overall, it's a very pretty unit made entirely of black ABS plastic. It has a passive cooling system and the interface itself is very simple and easy to navigate.
It is a very small box that it takes up very little space and the LED Clock on the front is surprisingly useful.
Unboxing the Vorke Box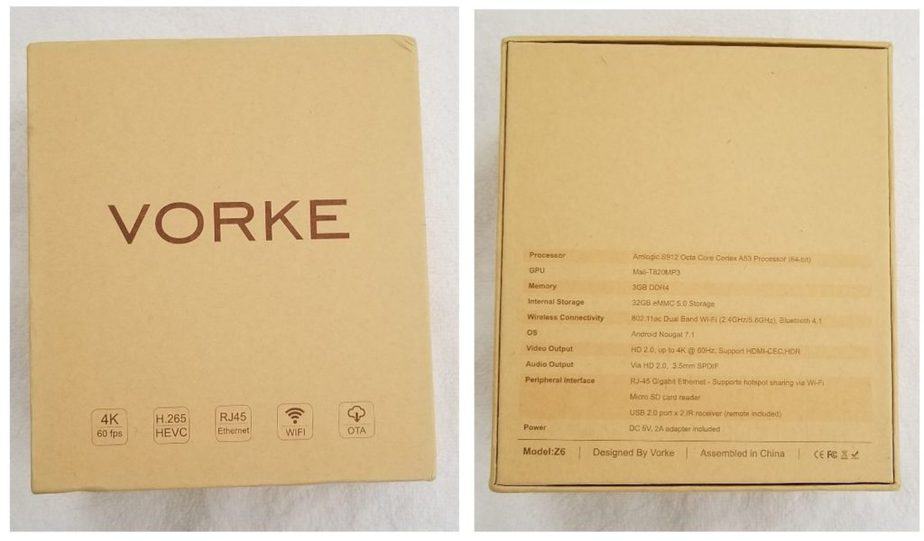 Simple clean packaging with all of the information that you need at your fingertips!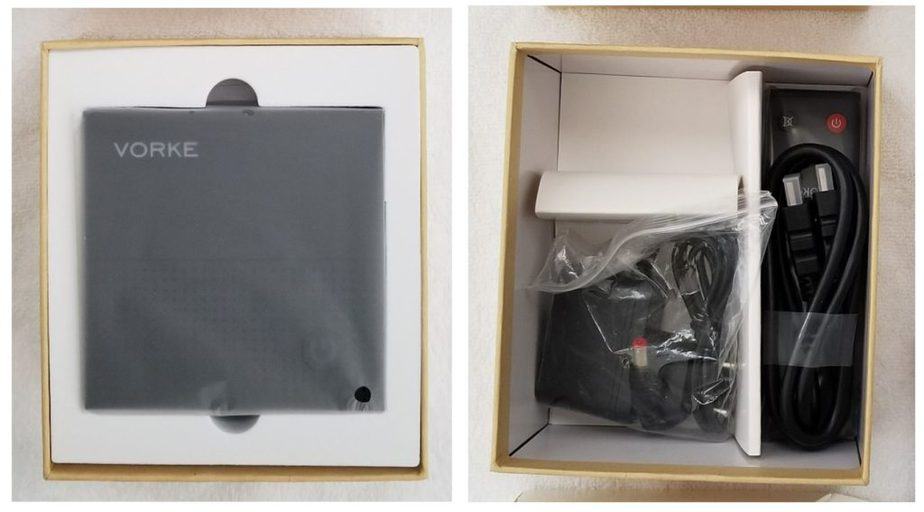 Everything you need is in the box. Power cable, HDMI, Remote & the Vorke Z6
HDMI, 2 x USB and Gigabit Ethernet – lots of connections!
Vorke Box specs
The Vorke Z6 ticks all of the boxes with regards to the specs. It offers a host of different connectivity options and tries to meet every possible scenario.
| | |
| --- | --- |
| Connectivity – WiFi | dual-band (2.4/5.8GHz) WiFi 802.11 a/b/g/ N and AC |
| Connectivity – Bluetooth | Bluetooth 4.1 support built-in |
| Connectivity – Ethernet | 100/1000 MB Ethernet support |
| AV | HDMI 2.0 |
| USB | 2 USB 2.0 port |
| Memory | 3 GB RAM |
| Storage | 32 GB eMMC (upgradeable through Micro SD) |
| Processor | Octacore Amlogic S912 |
| OS | Android 7.1.2 (Android Nougat) |
| Kodi | Kodi v17.4 |
| Google Play Store | Installed |
Vorke Box Features
Overall I've been quite pleased with this box. It's a significant upgrade to my older boxes (GooBang Doo MXIII) and the launcher is simple and easy to use. Overall the box looks nice and as it's a simple black square it will fit in regardless of the décor taking up a minimal amount of space.
Kodi 17.4 was already installed on the box I tested as was Mobdro (which we've spoken about in depth before), however, Kodi did not have any add-ons already installed so you'd need to follow one of our guides to find the best Kodi Add-Ons for your box and the associated installation instructions.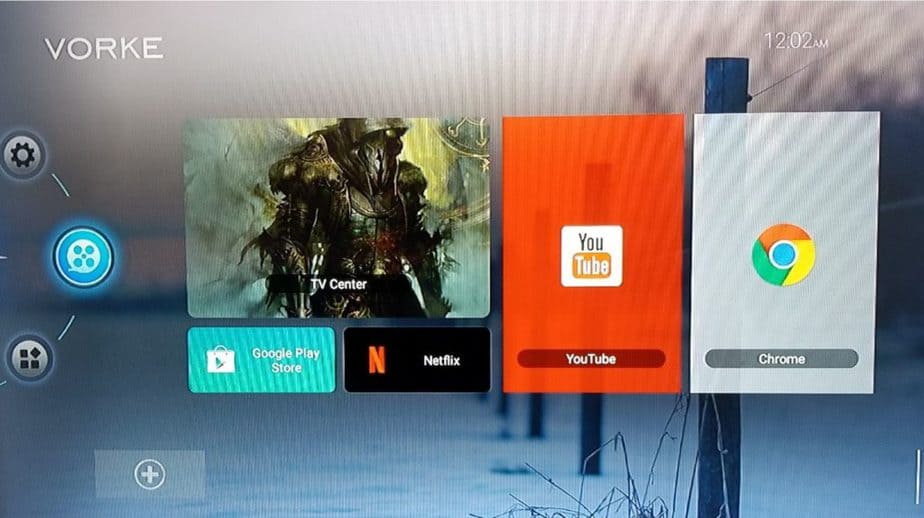 If you click on the TV Center link, it takes you straight to Kodi. You can then set up the PVR if you're interested in live streaming and have an antenna or other IPTV Service.
You can add other apps to the home screen fairly easily by clicking on the "+" symbol at the bottom left. You then just need to put a checkmark in the app or apps that you want on your home screen and they will appear as a ribbon on the bottom.
You can also access Kodi through the Apps section as well as any other apps you might install in the future.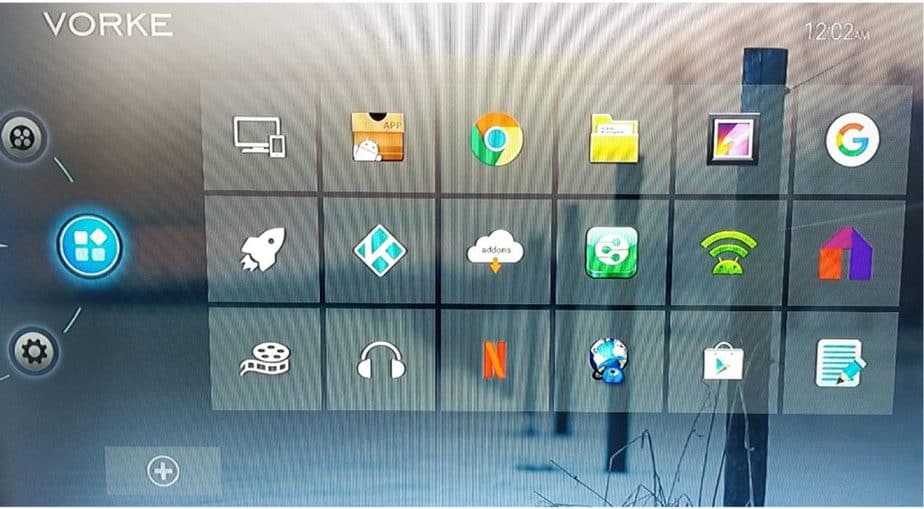 Installing Apps
You have two options to install new apps. You can either use the Android Play Store or if an app is not in the play store, install it directly from the ".apk". I would definitely recommend the play store wherever possible.
Installing from the Play Store
The Play Store is directly accessible from the home screen and once you sign in with your Google account you can even remotely install apps on the box via the Google website which I've found to be quite useful.
Once you've found an app that you are interested in, simply click install and … you're done. It really could not be much easier!
Installing from the App website
When installing from a website you need to ensure that Install from Unkown Sources is set to on which is actually the default setting for the Z6. If you have however changed it to off, simply go to Settings > Security & Restrictions > Unknown Sources and move the setting back to on.
Once you've verified that unknown sources is on, simply navigate to the website you are interested in using Chrome (from the home screen) and enter the URL of the site in the address bar. Click on the download link.
Once the .apk file has been downloaded to your system, you can either click on it directly or go to the app installer to launch the installation.
For a SAFE and simple example of installing an app from a website, I'd suggest you review our post about Installing Terrarium on your Fire Stick. It will give you a good app to install and play with as well as all of the instructions you'll need to follow.
Internet Speed Test & Performance
I used WiFi for my testing primarily and this is where things got a little bit confusing. The Z6 connected quickly and easily to my Internet router (TP Link Archer) but speed tests using the built-in tool were atrocious.
As you can see on the screen capture below, the built-in "speed test" on the Vorke Z6 only offers a max speed of 10M and when I initially used it, I was getting under 1.6M as you can see.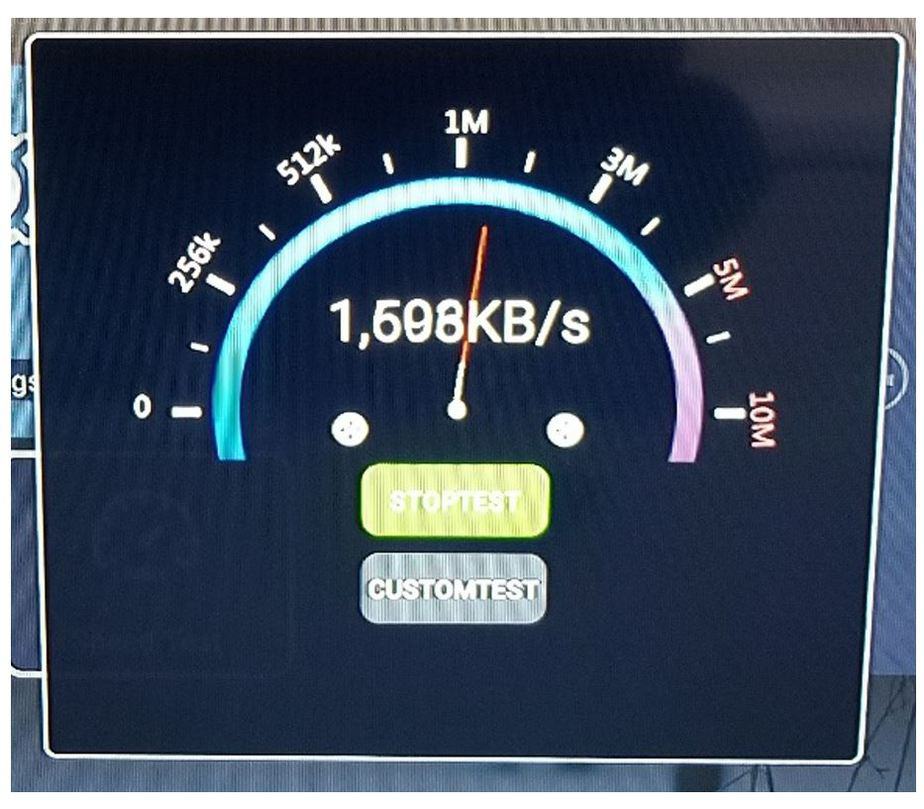 From the same room and connected to the same router, I tested on my laptop (Surface Book) and as you can see there is a fairly massive difference.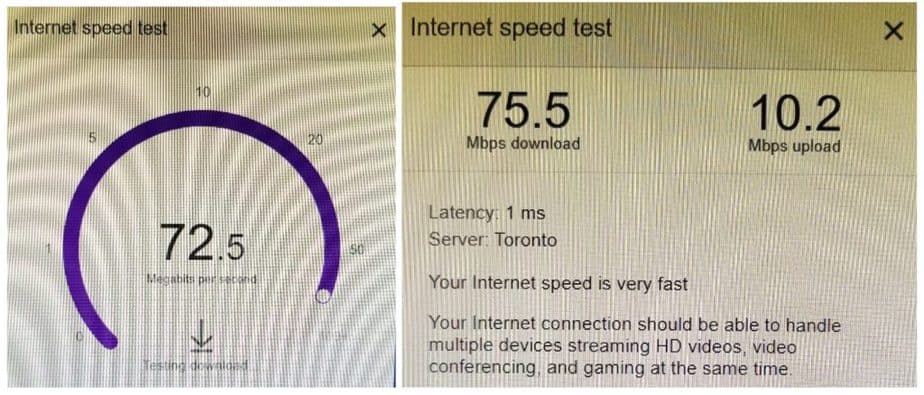 So initially I thought that the Z6 just had crappy WiFi but that didn't really make too much sense as all the video I attempted to play, launched quickly and easily and had minimal if any buffering.
I've since tested using a standard Internet Speed test (speedtest.net) and web browser, similar to my laptop and connectivity is significantly better. While it does not match the speed on my surface book, it's a much more reasonable 35MB.
When I moved the box itself to another TV – one closer to my router and connected via WiFi I got the sorts of speeds I was expecting. While still not at the same level as my computer it was significantly better, but to be honest, I was expecting even more as it was now sitting literally beside my router!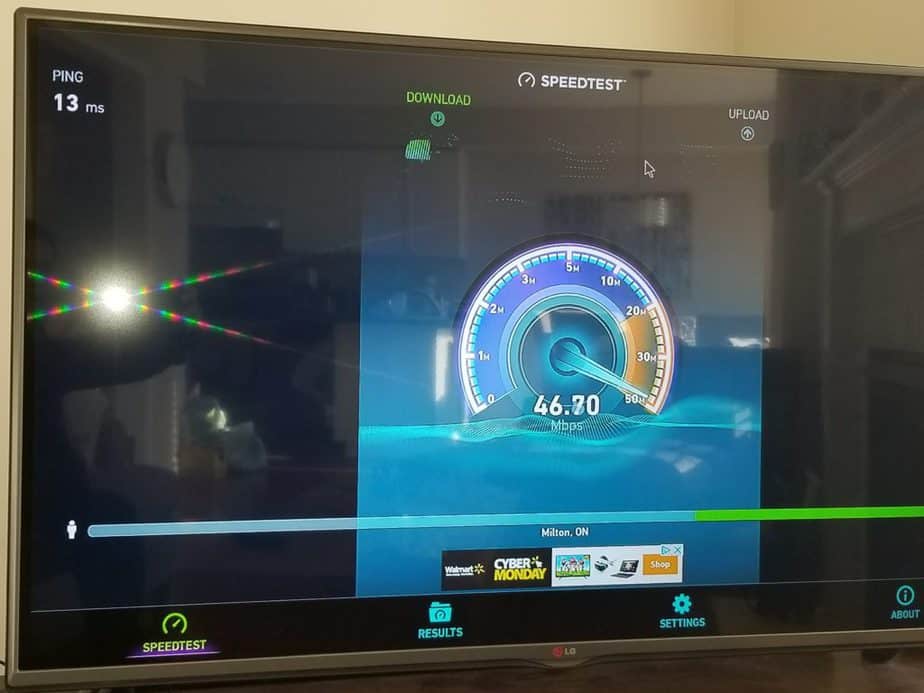 The issue does not seem to be the Z6 itself, rather it's the configuration of the built-in speed test app.
Pros
Menu & Interface – Overall the Z6 is simple and easy to navigate. All the "settings" are stored together in the same place as are all the apps. The most commonly used apps are in the home (main) screen and it's easy to add additional ones to the menu.
Speed & Performance – Despite what you'd expect from the speed test provided by Vorke, I had very little (if any) buffering in any of the video's I trialed over a period of a week. Picture quality was excellent and the streams loaded and played quickly and easily.
Storage – The built-in 3GB RAM and expandable 32GB eMMC storage are huge positives in the Z6's favor. I suspect a large reason that I had no buffering was due to the RAM and as I continue to play with this box over the coming days and months I know I'm going to really appreciate that extra storage capacity.
4K Support – The Vorke Z6 supports 4K media so as long as you have the right hardware, you can really use this to its fullest potential. You'd need to find the appropriate sources and streams of course & your TV would also need to support 4K but as long as those boxes are ticked, the Z6 is your golden ticket!
Cons
Shipping Costs – As this unit ships from China, the time to receive it was ok (dispatched at 25 Oct received at 3 Nov – DHL) but the I had to pay a customs fee of about $23. This was a bit of a pain as it was an unexpected additional cost and while I know its not necessarily a negative aspect of the box itself, it is something to bear in mind.
Lack of battery in remote – Other units I've tested in the past have included batteries for the remote, but you need to have some handy if you want to use this unit "out of the box".
Auto On – With the Firestick, when you turn the TV on, you need to simply press the nice big center button and the Firestick turns on. Unfortunately, the Z6 requires some manual intervention and you need to manually power it on as the remote does not seem to have this capability for some reason.
Remote – The remote itself is just It does what its supposed to with regards to navigating the menu's and programs on the screen, however, text entry is atrocious and takes way too long. The mouse functionality works after a fashion but you have to point it directly at the front LED otherwise it will not go where you want it to.
Speed Test App – This is probably the biggest negative with the Vorke Z6 as its simply confusing. I really do not know why it was even included as it would be better to have the speed test app (which you can get from the app store) as that is 100% more accurate and useful.
Conclusion
Overall a very solid unit that is simple and easy to use straight from the box. I'd suggest upgrading to an air remote with a built-in keyboard as not only was this easier to use, the IR connectivity was greatly improved over the one provided by Vorke.
The interface menu is very user-friendly and intuitive and 4K support is a huge benefit. I've been extremely pleased with the Z6 over the past couple of weeks of testing and I'm looking forward to enjoying it for many moons to come!
Want to read more box reviews? Check them here.